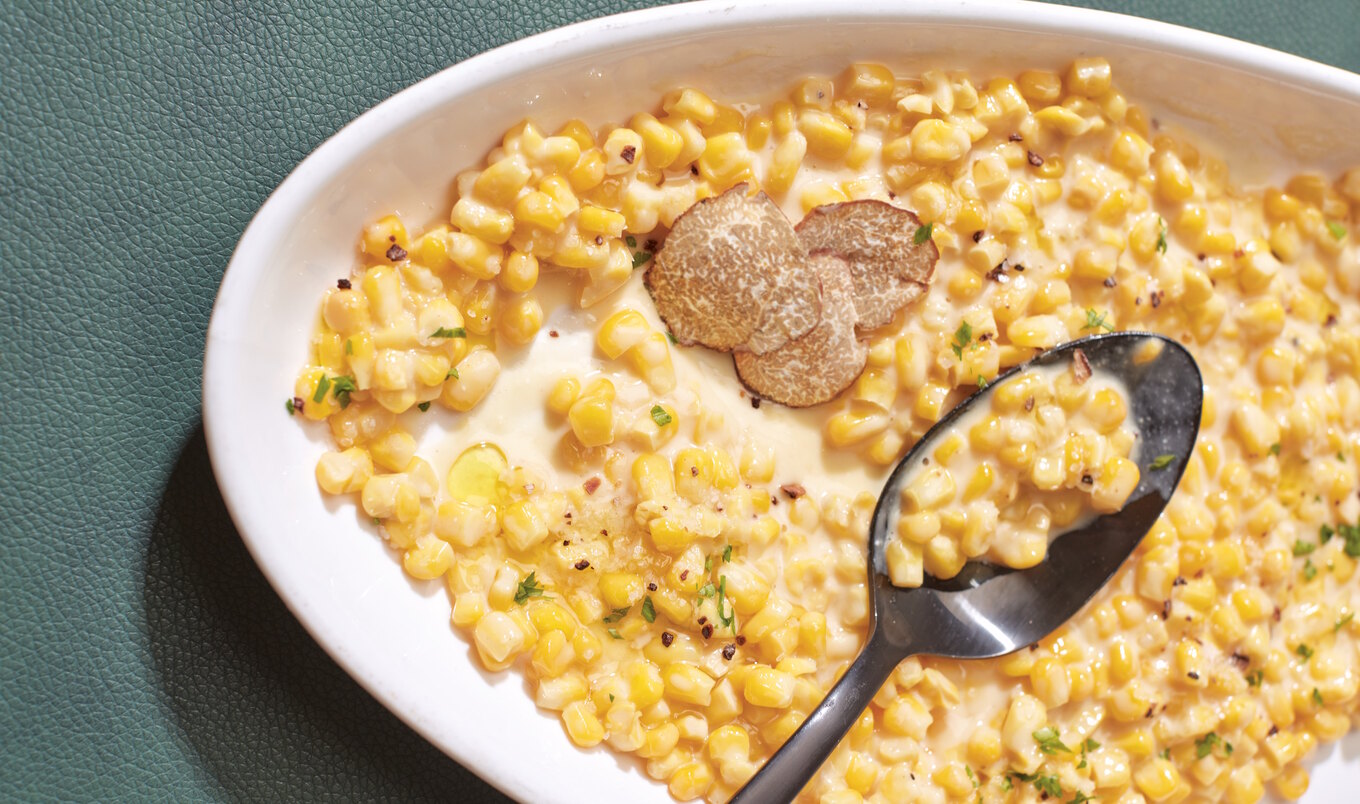 This decadent creamed corn recipe is infused with the deep, pungent flavor of truffles and the rich, creaminess of homemade béchamel.
November 21, 2022
Opt for an elegant, comforting at-home meal and splurge on this must-try truffle creamed corn recipe from the Unbelievably Vegan cookbook. Pair with garlicky greens and barbecue tofu for a complete meal.
What you need:
For the béchamel sauce:
1 bay leaf
½ small yellow onion
2 whole cloves
¼ cup vegan butter
¼ cup flour
2½ cups unsweetened vegan milk
1 teaspoon fine pink Himalayan salt
½ teaspoon ground white pepper
¼ teaspoon freshly grated nutmeg
For the creamed corn:
1 cup béchamel sauce (see recipe)
4 cups fresh or frozen corn kernels, thawed if frozen
3 tablespoons nutritional yeast
3 tablespoons vegan cream cheese
2 teaspoons sugar
1 teaspoon truffle salt
1 tablespoon vegan butter
1 tablespoon truffle oil
1 tablespoon minced fresh flat-leaf parsley, for garnish
Freshly shaved truffle, for garnish
What you do:
For the béchamel sauce, place bay leaf on flat side of onion half. Secure bay leaf in place by pressing in cloves. Set aside.
In a medium saucepan over medium heat, melt butter. Add flour and whisk to form a paste. Cook, whisking constantly, for 1 to 2 minutes, being careful not to let it turn golden (turn heat down if needed).
Continue whisking vigorously and slowly pour in milk. Whisk until smooth, then add prepared onion half. Bring to a simmer and cook until slightly thickened, 4 to 5 minutes. Turn off heat. Stir in salt, white pepper, and nutmeg. Remove and discard onion.
For the creamed corn, in a large saucepan over medium-low heat, combine béchamel sauce and corn and cook, stirring frequently, for 5 to 8 minutes, until corn is tender and heated through.
Stir in nutritional yeast, cream cheese, sugar, and truffle salt. Mix well. Stir in butter. Transfer to a serving dish. Drizzle with truffle oil, and garnish with parsley and shaved truffle.