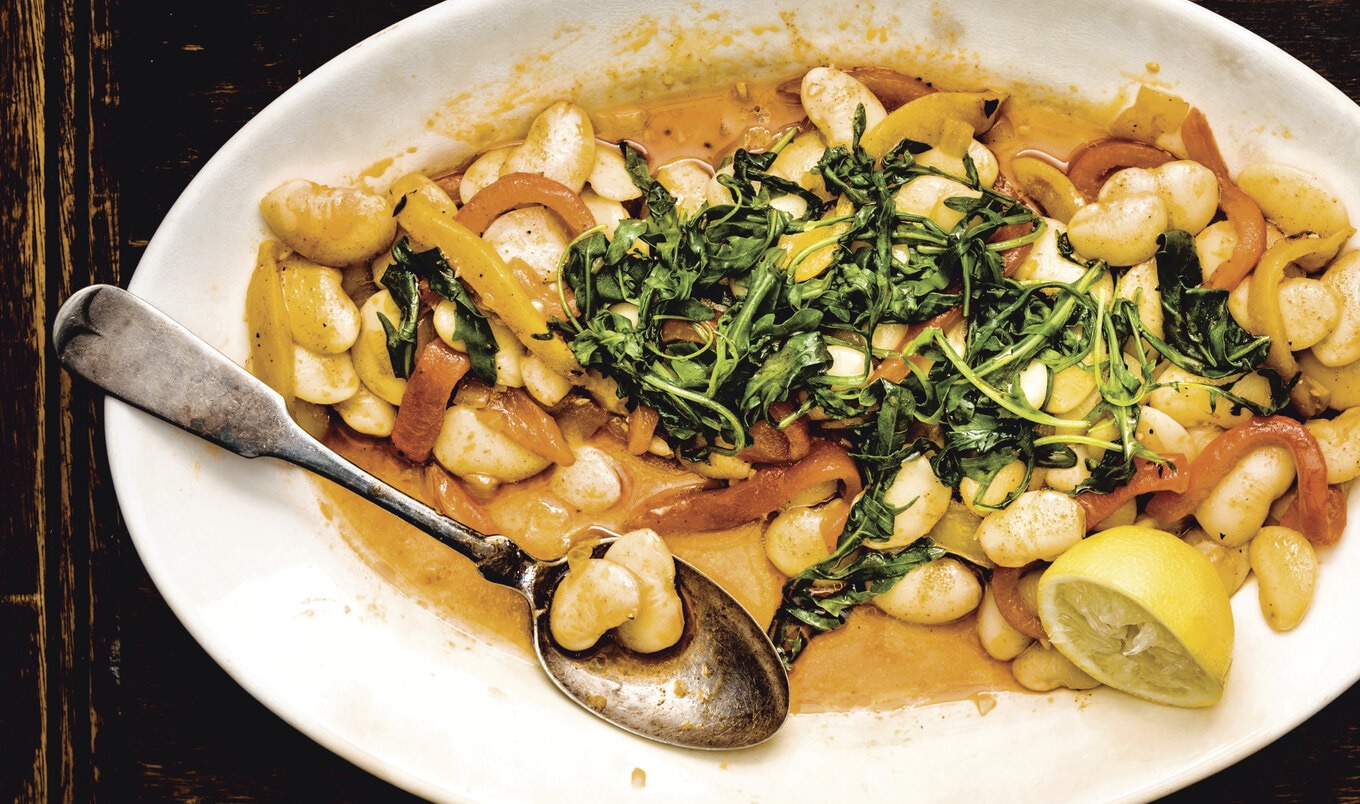 Smoky roasted peppers provide a bright contrast to the delicate, buttery flavor of big lima beans in this dish.
March 24, 2023
The pili pili oil in this salad from Bryant Terry's Vegetable Kingdom cookbook adds the subtlest kick—you'll notice it, but it doesn't overpower. Peppery arugula adds freshness, and a squeeze of lemon brightens everything in this warm salad.
What you need:
For the Pili Pili Oil:
2 teaspoons smoked paprika
2 (2-inch) thyme sprigs
2 (2-inch) rosemary sprigs
9 small fresh bird's-eye or Thai chilis
1 cup olive oil
For the salad:
1 pound dried large white lima beans, soaked in water and 3 tablespoons salt overnight
1 bay leaf
1 large yellow onion, half diced, half left intact
5 garlic cloves, 3 cut in half, 2 minced
1 dried red chili pepper
1½ teaspoons salt, divided, plus more as needed
2 large red bell peppers
2 large yellow bell peppers
2 large orange bell peppers
2 tablespoons olive oil
2 tablespoons Pili Pili Oil, plus more for drizzling
½ teaspoon ground white pepper
8 ounces baby arugula (about 12 loosely packed cups), washed and spun dry
1 lemon, halved
¼ teaspoon flaky sea salt, for finishing
What you do:
For the Pili Pili Oil, in a small saucepan over low heat, combine all ingredients and warm, stirring occasionally, until olive oil starts to sizzle and paprika has completely dissolved. Immediately remove from heat and set aside to cool. Transfer to a small jar, seal, and refrigerate for a few days before using.
For the salad, drain beans, place in a large saucepan, and add water to cover by 2 inches. Bring to a boil over high heat. Skim off any foam and decrease heat to medium-low. Add bay leaf, halved onion, halved garlic cloves, and dried chili pepper. Partially cover and simmer, stirring occasionally, until just tender, adding water as needed to keep beans covered, 60 to 90 minutes (the cooking time will depend on freshness of beans).
Once beans are just tender, add 1 teaspoon of salt and simmer for 10 more minutes. Drain beans. Remove bay leaf, onion, garlic, and chile, and discard. Set beans aside.
Turn on broiler, place bell peppers on a baking sheet and char on all sides. After properly charred, place peppers in a heatproof container and cover for 15 minutes, until cooled and skins have loosened. Peel off charred skin (don't wash peppers, as this will decrease flavor), then cut off stem end, and remove core and seeds. Seed and thinly slice bell peppers. Set aside.
In a large saucepan over medium-high heat, warm oil until shimmering. Add diced onion and cook, stirring occasionally, until soft and just starting to brown, 5 to 7 minutes. Add minced garlic and remaining ½ teaspoon salt and cook, stirring, until fragrant, 2 to 3 minutes. Add lima beans, bell peppers, and pili pili oil to pan. Raise heat to high and cook for 1 minute, gently stirring to combine and warm ingredients through. Turn off heat and stir in white pepper.
Divide lima bean mixture evenly among four plates. Add arugula and 2 tablespoons water to same pan. Set pan over low heat, cover, and cook for 2 to 3 minutes, until arugula wilts. Place a handful of arugula over each serving, then drizzle with more pili pili oil and a squeeze of lemon. Finish with a sprinkle of flaky salt and serve.
Here at VegNews, we live and breathe the vegan lifestyle, and only recommend products we feel make our lives amazing. Occasionally, articles may include shopping links where we might earn a small commission. In no way does this effect the editorial integrity of VegNews.