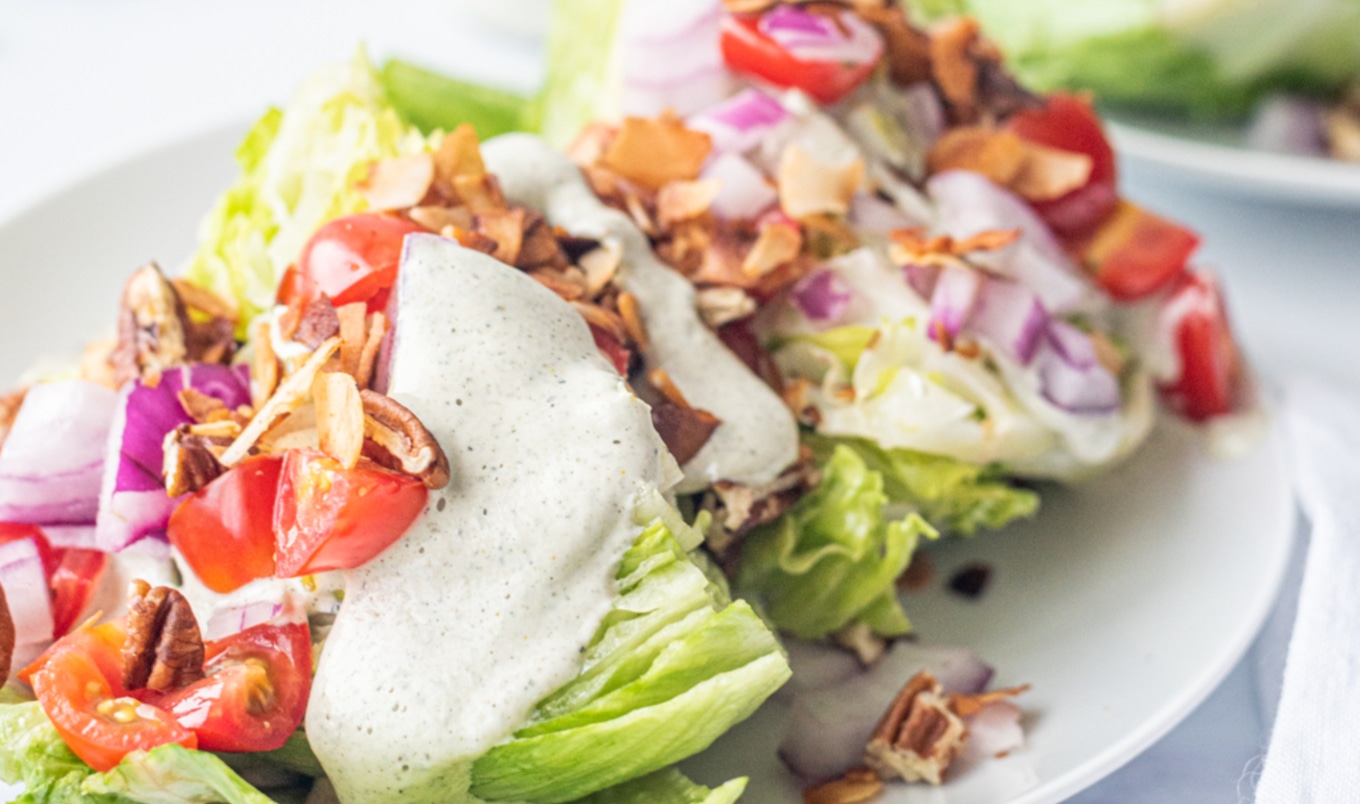 This crisp, creamy, smoky vegan wedge salad is completely oil-free, making it a perfect green, yet indulgent, accompaniment to any dinner or barbecue.
January 21, 2023
Make extra coconut bacon and creamy dressing from HealthyGirl Kitchen for quickly dressing up your weeknight meals such as loaded baked potatoes, fries, grain bowls, and more.
What you need:
For the coconut bacon:
1 cup large unsweetened coconut flakes
1 tablespoon soy sauce
1½ teaspoons liquid smoke
¼ teaspoon salt
1 tablespoon maple syrup
For the dressing:
¾ cup hemp seeds
1 tablespoon dried parsley
1 tablespoon dried dill
½ teaspoon garlic powder
½ teaspoon onion powder
½ teaspoon salt
3 tablespoons lemon juice
1 cup water
For the salad:
1 head iceberg lettuce, cut into quarters
2 cups halved cherry tomatoes
½ cup chopped raw pecans
¾ cup diced red onion
What you do:
For the coconut bacon, in a medium nonstick pan over medium heat, add coconut flakes, soy sauce, liquid smoke, and maple syrup. Mix until evenly coated. Saute for 5 to 10 minutes until crisp and golden, stirring continuously to avoid burning. Remove from heat and set aside.
For the dressing, into a blender, add all ingredients and blend until smooth, about 1 minute.
Onto four serving plates, place iceberg wedges. Drizzle with dressing, then top with equal amounts tomatoes, pecans, onion, and coconut bacon.