Lemonade seems like a fairly unassuming beverage, but this sweet, refreshing summer drink actually has quite the history. It was the star of the temperance movement, for example, which aimed to limit the consumption of alcohol across the US in the 1800s. And long before that, it was carried in tanks on the backs of 17th-century Parisian Limonadiers, who sold cups of the drink on the city streets to make money. And long before that, medieval Egyptians made an early version of lemonade called Kashkab with citron leaves, fermented barley, and mint.
Over its long history, the recipe for lemonade has continuously evolved. There was a time when cookbooks called for gelatin and eggs, but today, it's usually made with three simple ingredients: lemon juice, water, and sugar. That said, there is no single, right way to make lemonade. Here, we've gathered some of our favorite vegan variations of the fair-weather staple to keep you cool all summer long.
What's the best sugar for lemonade?
Aside from lemons, one of the main ingredients in lemonade is sugar. But which type should you use? Some recipes call for cane sugar, others brown sugar, and some finely ground golden caster sugar, and the truth is, there is no wrong answer. But the type of sugar you use will alter the resulting texture and taste of your drink.
If you go for granulated, for example, it may not dissolve as quickly, and so you'll end up with most of it sinking to the bottom. One way to get around this is by making a syrup first, which involves simply heating water and sugar together until the latter dissolves, before mixing it with lemon juice. If you opt for brown sugar, you'll notice that the taste is a little different, as this type of sugar has a deeper, more toffee-esque flavor.
Regardless of the type of sugar you choose, it's also important to check you're using a vegan variety (yep, not all sugars are vegan, as they are sometimes filtered through animal bones). You can find our vegan-friendly sugar recommendations here.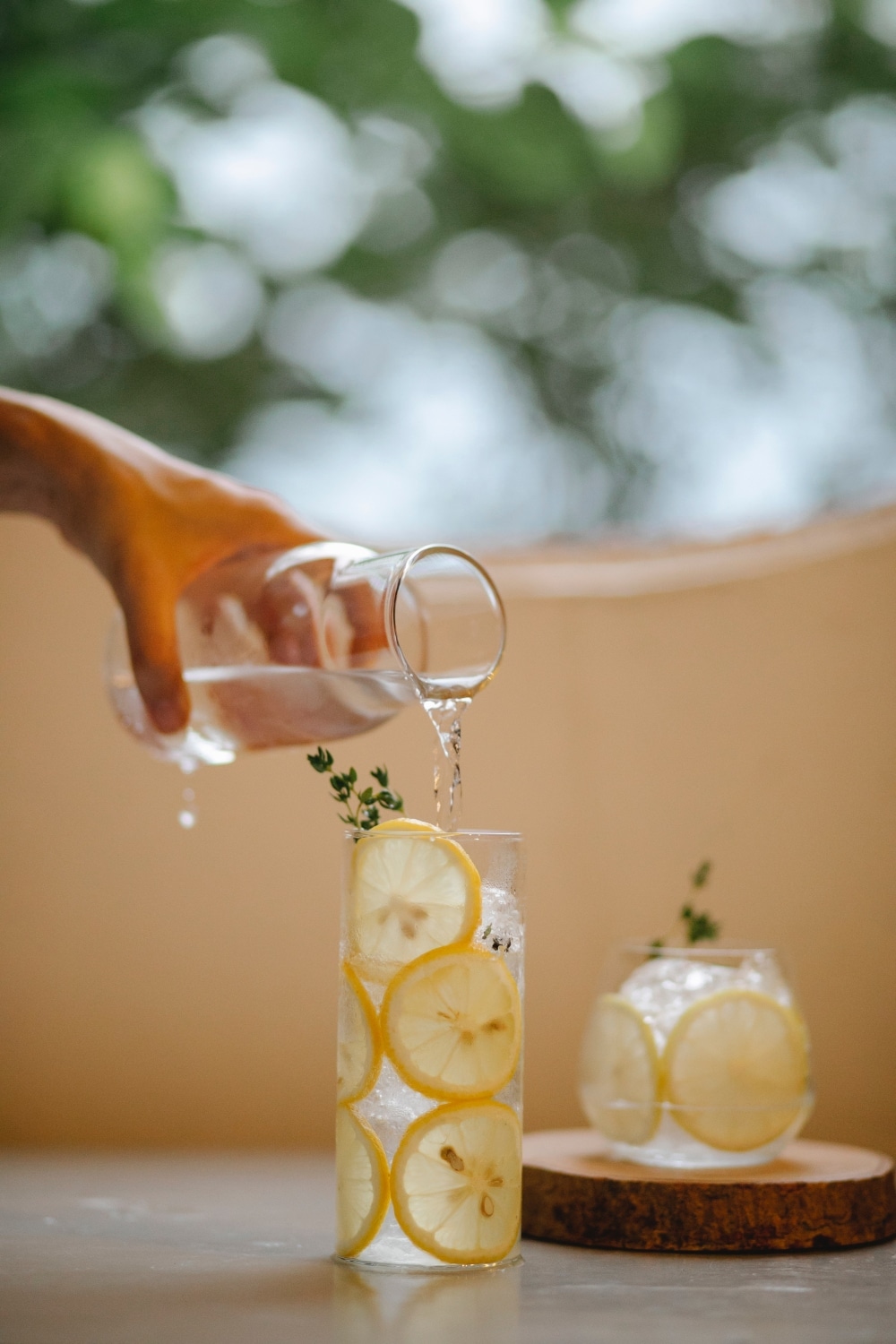 Pexels
How to sweeten lemonade without sugar
If you'd prefer not to load up on sugar, this isn't an essential part of the recipe. Instead, you could opt for a sweetener, like stevia, or try maple syrup or agave nectar. Many also choose to use honey in their lemonade recipes, but, because this ingredient comes from bees, it's not vegan. That said, agave does a pretty good job of mimicking the sweetness, taste, and texture of the popular gooey liquid.
7 vegan lemonade recipes
There is nothing wrong with regular, simple lemonade, but if you fancy jazzing up this summer beverage a little, you can also add in other types of fruit, or you could even mix in some milk and make it a smoothie. To give you a little inspiration, here are some of our favorite vegan ways to make lemonade.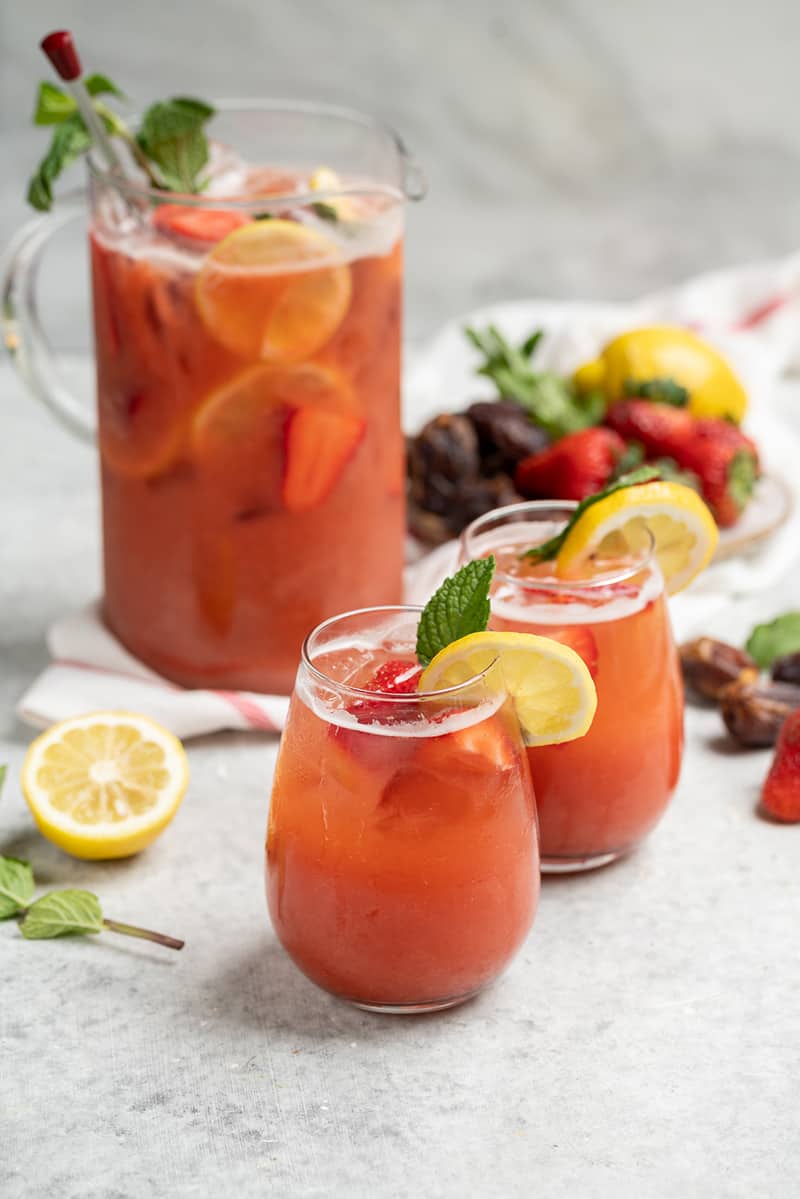 Sweet Simple Vegan
1 Strawberry Lemonade
Combine two summer classics in one refreshing beverage with this tasty, sweet strawberry lemonade recipe. This recipe is totally sugar-free—instead, it doesn't use stevia or syrup, but one simple whole-food ingredient: dates.
Get the recipe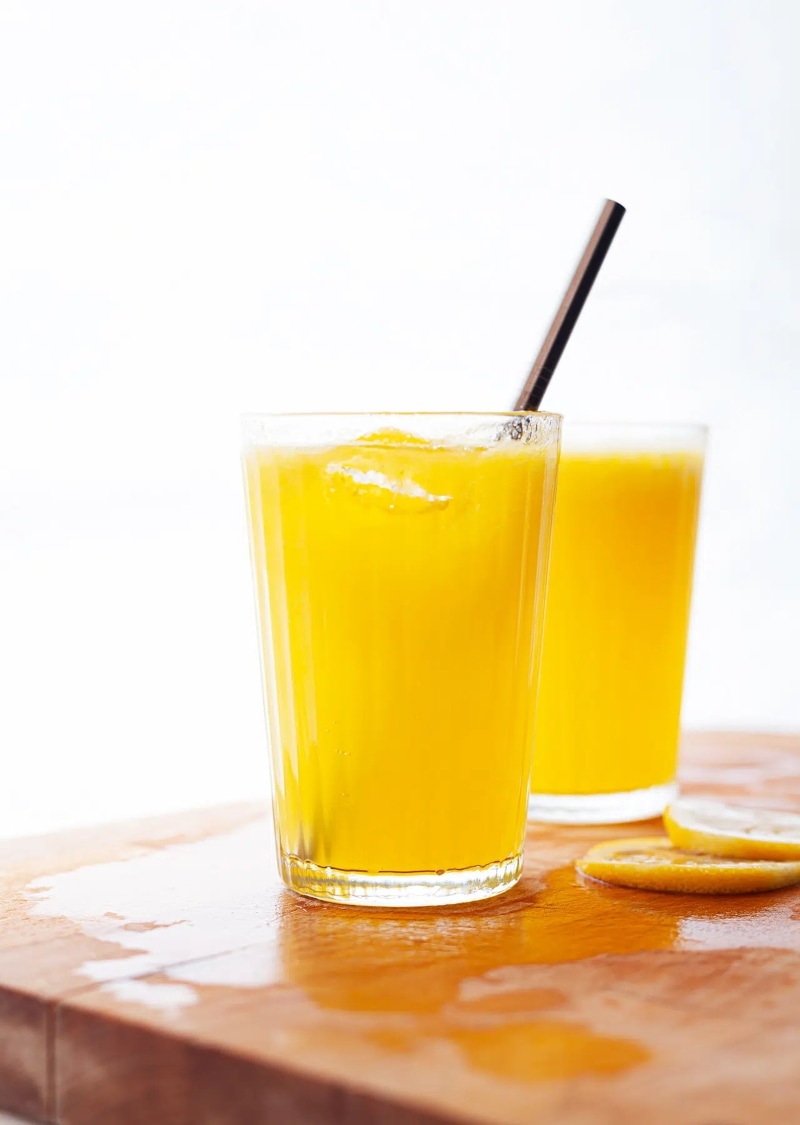 We Are So Vegan
2 Mango Lemonade
Add an ultra-summery, tropical twist to your regular lemonade recipe by adding some juicy mango. This recipe calls for caster sugar, and for a little extra fizz, sparkling water.
Get the recipe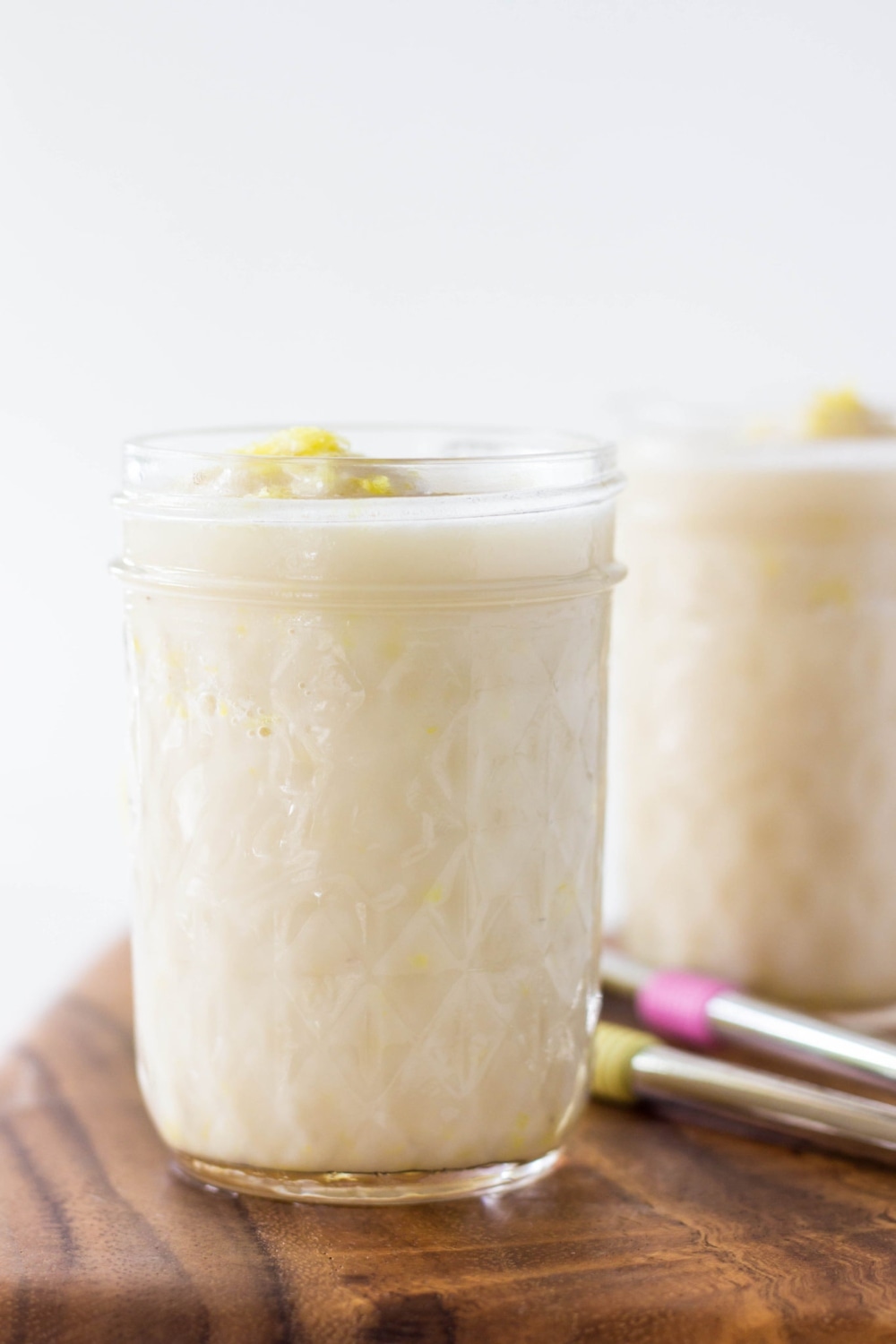 Wee Little Vegans
3 Creamy Lemonade Smoothie
Lemonade can be deliciously creamy, and this recipe is the proof. Stick to lemon juice for that zesty lemon flavor, and mix with banana, frozen almond milk, and a little maple syrup for a refreshing, cooling, summer smoothie, perfect for sipping outside in the sunshine.
Get the recipe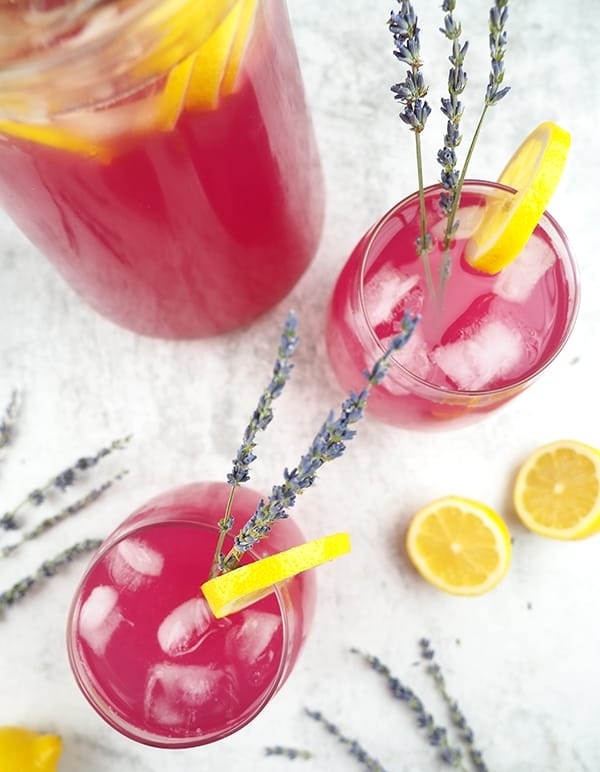 Dianne's Vegan Kitchen
4 Lavender Lemonade
No, we're not suggesting you mix essential oils and lemons. Instead, find food-grade lavender, boil and simmer, and then, after it's cooled, mix together with lemon juice and agave nectar for the perfect, cooling beverage that is just the right mix of floral and citrus flavors.
Get the recipe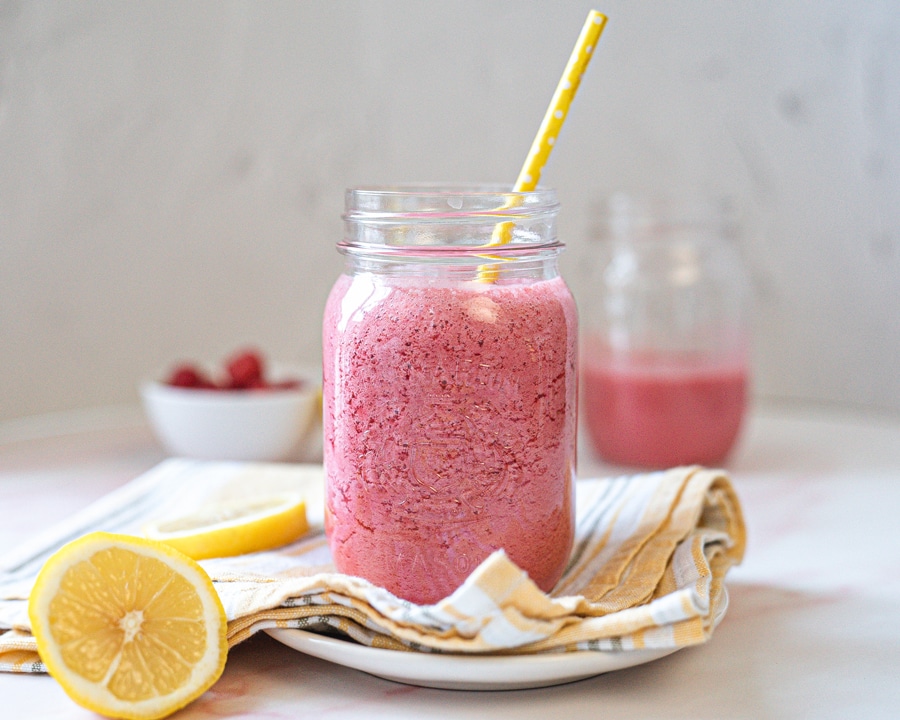 The Edgy Veg
5 Creamy Pink Lemonade
Creamy pink lemonade usually calls for condensed milk, but not this recipe. Instead, make the refreshing summer classic vegan by opting for cashew cream instead. Don't forget to top with frozen fruit for a deliciously cold refresher on a hot and sunny afternoon.
Get the recipe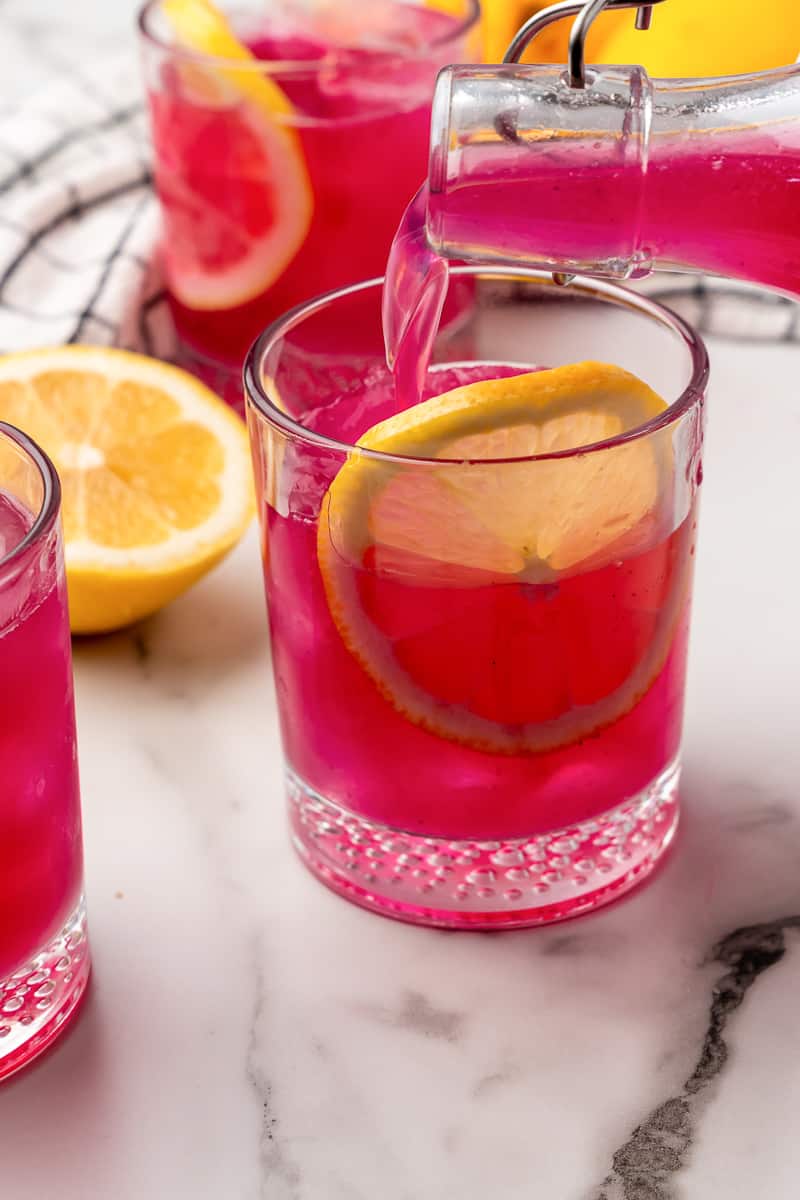 Veg Kitchen
6 Dragonfruit Lemonade
If you love dragonfruit, you're going to love this lemonade recipe even more. The mild sweetness of the dragonfruit blends perfectly with zesty lemons to create an ultra-refreshing drink you'll want to make over and over again.
Get the recipe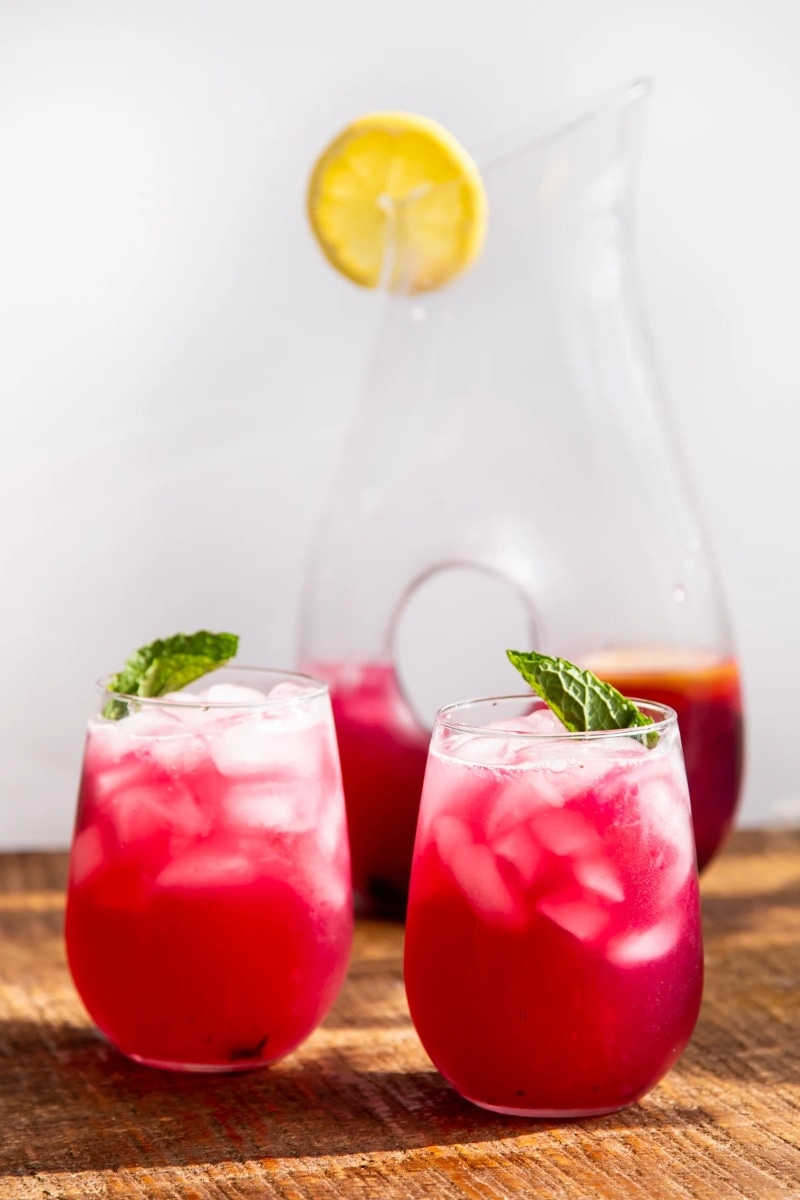 Vegan Richa
7 Blueberry Lemonade
Blueberries are nutritious and delicious, which makes them the perfect addition to lemonade. For extra refreshing flavor, this recipe calls for mint leaves, as well as three to four tablespoons of sugar.
Get the recipe
For more on vegan recipes, read:
Here at VegNews, we live and breathe the vegan lifestyle, and only recommend products we feel make our lives amazing. Occasionally, articles may include shopping links where we might earn a small commission. In no way does this effect the editorial integrity of VegNews.