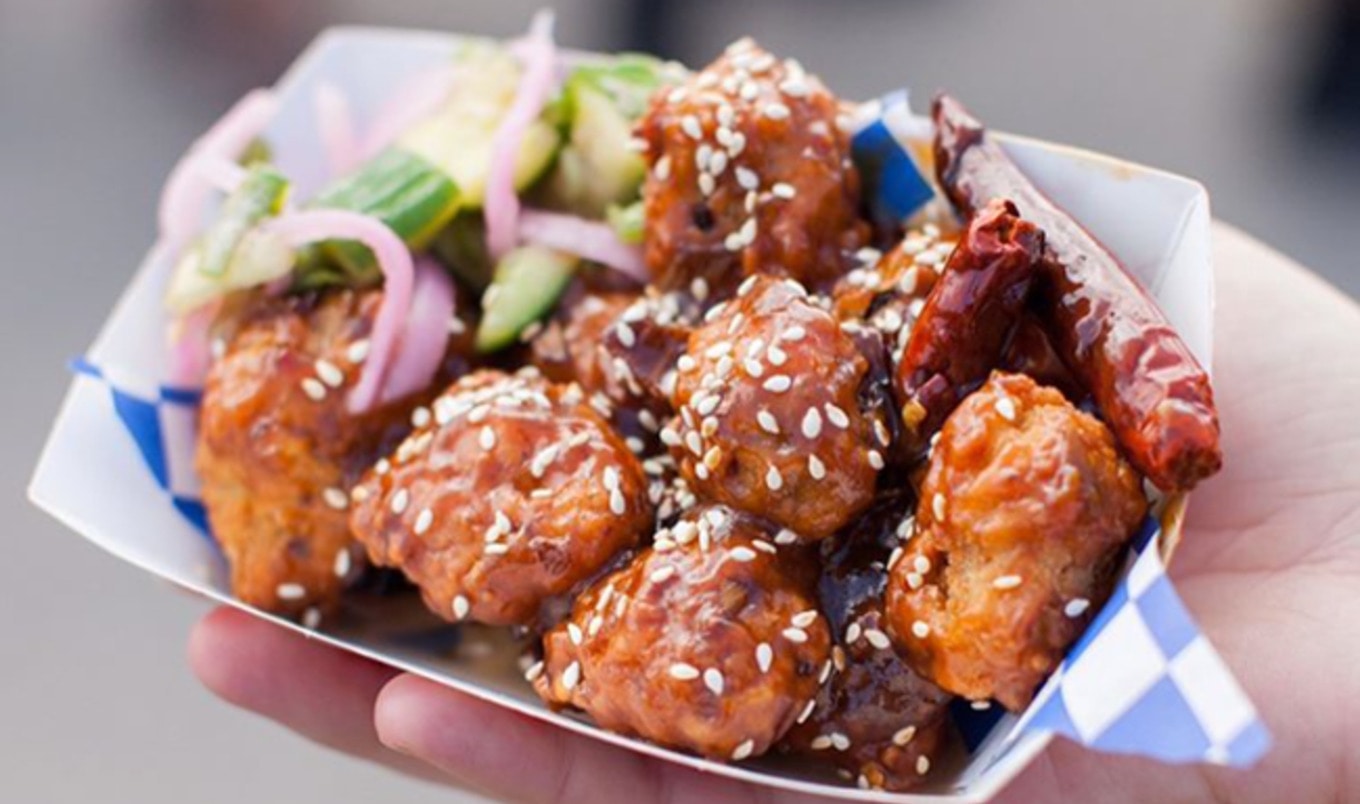 North Hollywood event attracts more than 20,000 people for a day of vegan food and shopping.
March 27, 2017
---
From cupcake kabobs, vegan macaroni and cheese, raw pressed juices, sustainable consumer goods, and plant-based t-shirts, the 2017 Vegan Street Fair was the center of the plant-based world Sunday. More than 150 booths and food trucks lined Chandler Street in North Hollywood, while the event attracted approximately 20,000 visitors, along with dozens of popular vegan social media influencers such as VeganFatKid, Badass Vegan, Jason Wrobel, and Nicole Derseweh. Even the much-loved giant purple cow, Happy Cow, entertained the masses. I packed my notepad, cash, and comfortable walking shoes for an all-day excursion to see what I could learn from my fellow fair-goers … and, of course, to eat a lot of vegan food. Here are four takeaways from my experience.
 
1. Vegan Street Fair is for everyone
According to Vegan Street Fair founder Jessica Schoech, "The vegan street fair is not for vegans," adding that this plant-based exposition of sample-sized vegan goods is a marketing tool to attract non-vegans to the plant-based lifestyle. The event is free to attend and is located near public transportation, two incentives she hoped would attract those who are curious about going vegan. Between bites, perusing the booths, and hungrily eyeing other people's food, I interviewed my fellow fair-goers to see if Schoech reached her target audience. Out of the 100 random strangers I spoke with, 50 were vegan, 17 were vegetarian, and 33 were omnivores. Although my sample size was minuscule in comparison to the overall attendance, these numbers certainly suggest a small victory in terms of drawing in omnivores.
 
2. Omnivores enjoy vegan food as much as vegans do
During my interviews, I asked the interviewees why they came to Vegan Street Fair. Vegans were there for the abundance of cruelty-free options conveniently located within a few city blocks. They also came to get a taste of up-and-coming vegan restaurants such as the soon-to-open Cruciferous (their General Tso's Brussels sprouts won the event's Best Savory dish). In regard to the non-vegans, although many were grouped with at least one vegan, a surprising number (approximately 75 percent) claimed that they enjoyed vegan food and trying new things. Vegan cuisine is carving itself a new perception in today's food culture by becoming an exciting category of food in the way that Mexican, Italian, and Japanese cuisines (for example) have.
 
3. Indulgence is fun
Finding a salad was difficult at the Vegan Street Fair. Instead, the edible fare ranged from dumplings and chili fries to meatloaf sandwiches and various sweet treats. However, it was obvious from the enormous lines that tacos, soul food, and doughnuts were most popular. Taqueria La Veganza, Southern Fried Vegan, and Donut Friend catered to hour-long lines throughout the entire event. Yoga-urt, a dairy-free soft-serve shop, and Scandylous Delights, a vegan vendor that sold frappés and funnel cakes, also experienced consistently long lines of hungry sweet-tooths. There were a few juiceries and kombucha stands to balance the heavier options, but this is a fair, and people go to fairs to indulge. When making my personal selection of what to try, I decided on the perfect juxtaposition: kale cookies 'n' cream ice cream from by Chloe. My selection was a sneaky way to get my kale quota for the day.
 
4. The best way to change someone's mind is through their stomach
The Vegan Street Fair confirmed that food can be an effective tool to encourage a more ethical way of eating. Not everyone is willing to sit and watch a documentary on the atrocities of animal agriculture, but few will pass up something as comforting and familiar as a slice of pizza. Plant-based chefs and small-business owners demonstrated their ability to veganize anything, and make it taste as good—or better—than its animal-based counterparts. We can do our part by sharing with others and showing them that vegans eat more than just "rabbit food." People might not change overnight, but we can easily create positive change one vegan taco at a time.
 
Tanya Flink is an Orange County-based vegan, foodie, and certified Master Personal Trainer.