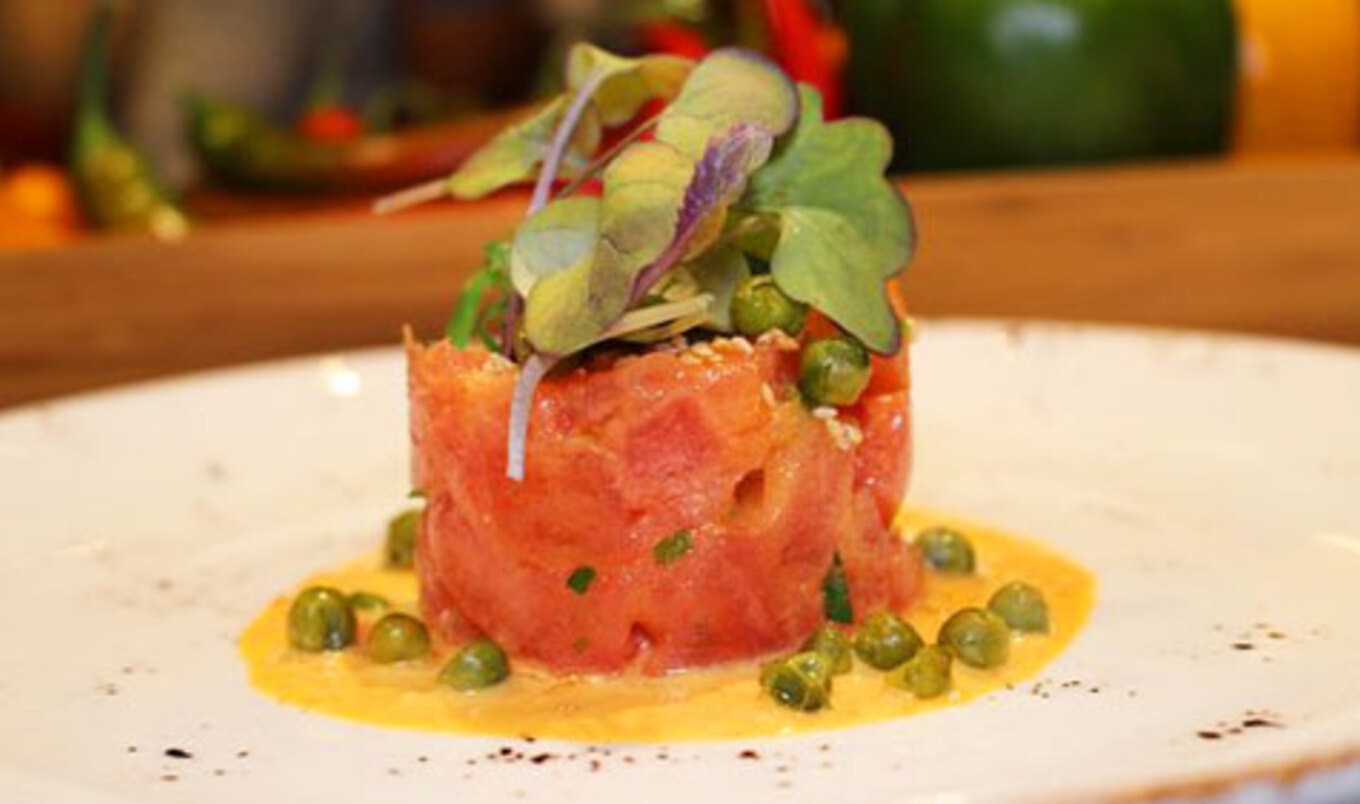 Dominican Republic's most colorful, action-packed city is home to a flourishing vegan scene.
August 21, 2017
---
With year-round high temperatures in the 80s, there's always something lush blooming in the Dominican Republic's buzzing capital of Santo Domingo, a tropical metropolis home to nearly 3 million residents. But behind the scenes, a vegan dining scene is also beginning to sprout thanks to forward-thinking locals disenchanted with the country's overly meat-based cuisine. Looking for an average vegan experience? Look elsewhere, as the city's collection of plant-based eateries was created by those on the fringe of Dominican society, including Buddhists, Adventists, and healthy-living enthusiasts. For visitors, this diversity provides unique cruelty-free dining experiences that blend traditional Dominican cuisine with international flavors, all served in a beautiful tropical setting. Here are some of our favorite vegan-friendly locations in Santo Domingo.
Where to dine
Get familiar with traditional Dominican dishes at Raíces, a cafeteria-style joint featuring a veganized version of bandera dominicana (aka, Dominican flag: rice, beans, and soy- or gluten-based meats), as well as salads, soups, and those must-have thick slices of ripe avocado served on the side. Ask about the sancocho, a hearty stew showcasing the region's staple tubers and vegetables, including potato, batata (sweet potato), yucca, yautía (taro) and plátano (green plantain). For a lighter lunch that satisfies, head to C-Orgánico in the slower-paced Gascue neighborhood located just minutes from the 500-year-old colonial section of the city. This organic vegan lunch spot includes a daily special (plato del día) comprised of simple dishes such as yam and ginger soup, cracked corn salad, and quinoa tabbouleh, and specialties such as mushroom-based ceviche and plantain casserole. Wash down these foods with a fruit-and-vegetable-based green smoothie, and—if you're feeling adventurous—ask for a shot of mouth-puckering noni juice, which is said to have health benefits. Also tucked away under Gascue's leafy canopies is La Fábrica Contemporánea, a bohemian café that serves a vegan mofongo—a mound of fried green plantains garnished with fresh vegetables.

For dinner, TIME Vegetarian Kitchen in the Colonial Zone is the only restaurant offering a fine-dining experience. Try the vegan Wonton Ravioli, a three-piece pasta assortment, each with a different vegetable-based creamy filling. Not feeling fancy? Relax at Kalenda, a colorful corner vegetarian café with a variety of vegan offerings such as the mushroom burger served on thick wheat toast or vegetable sushi wrapped in sliced avocado. For vegan-friendly Asian cuisine, Bambú is the standout. With a lush tropical patio that transports you far from the noisy Rómulo Betancourt Avenue out front, the restaurant's Plato de Meli salad (sans cheese) is a must-eat due to the mushroom-based meat.
What to do
Santo Domingo's Colonial Zone, a UNESCO World Heritage Site, still looks much as it did hundreds of years ago, complete with ornate Spanish architecture and narrow cobblestone streets. For history lovers, there's a surprise waiting around every corner. The impeccably preserved Catedral de Santa Maria la Menor is not only the city's first cathedral but also the first in the New World. A few blocks away sits the dominating Alcazar de Colón, built under Christopher Columbus' nephew Diego. Within its walls is a wealth of historical artifacts from the colonial period. Duarte Park—marked by a center statue honoring national hero Juan Pablo Duarte—functions as an outdoor nightclub and lounge that attracts large crowds of partygoers on weekend nights. The corner colmado—a cross between a liquor store and a convenience store—supplies much of the beer and rum that fuels the frenzy into the early hours of the morning.

As you'd expect from a Caribbean city, Santo Domingo caters to dancers. Every Sunday, Grupo Bonyé plays Latin music near the ruins of a monastery built in the early 1500s. Locals and visitors compete for space on a makeshift dancefloor while crowds gather to watch, drink, and socialize. Finally, resisting the beach is nearly impossible, and Santo Domingo offers two options for those looking to relax in the sand. Boca Chica and Juan Dolio are located less than an hour to the east and are reachable by public transit. Nicer coach buses, which depart daily from the city center, can get you to other well-known tourist areas such as Punta Cana and Puerto Plata.
Treat yourself
Venture to the more modern Piantini neighborhood to find Vita Healthy & Fit, where this juice bar's raw chocolate cheesecake impresses with a layer of thick mousse between a crunchy bottom and a creamy topping (plus a drizzle of chocolate to top it off). Back in the Colonial Zone, Roma Café's selection of water-based gelatos (in flavors such as passionfruit, pineapple, and strawberry) calls out to passersby on Calle El Conde, the main street slicing through the sector. Or, save your sweet tooth for Esquisiteces Postres, located on a corner in the nearby residential Cuidad Nueva neighborhood, just a few blocks from the colonial section. Here, traditional sweets are made with fruit and sugar only, forgoing the usual honey component. Try the jalao, made with shredded coconut, or the coca con batata, a mixture of coconut and sweet potato.
Theresa Boehl is editor of BeachDeals.com and author of the e-book Vegan in Santo Domingo.