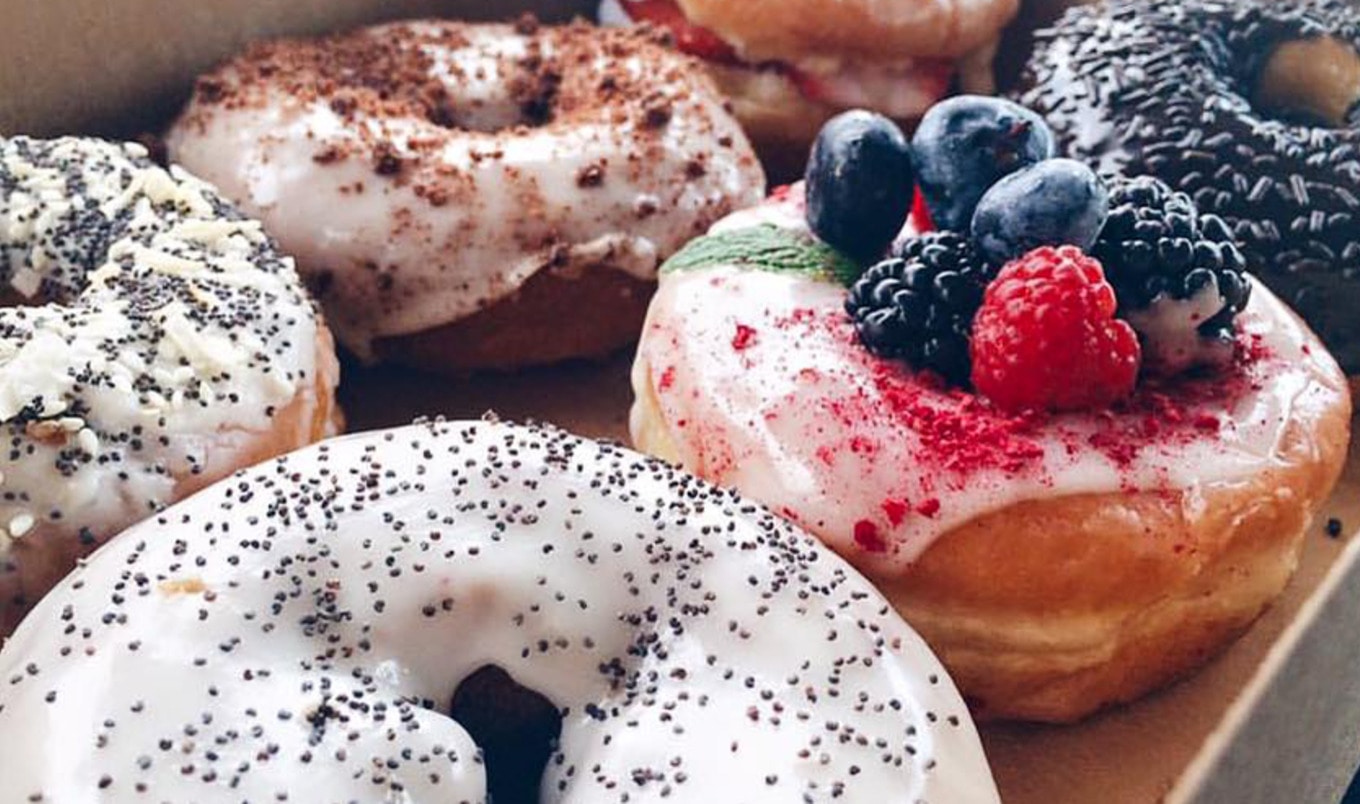 What are people eating in our number one vegan city in America? Read on to find out …
August 17, 2017
---
To celebrate VegNews naming the Top 10 Best Vegan Cities in America (found in our May+June 2017 issue), we asked our favorite vegans to explain why their winning town should be atop every meat-free traveler's list.
Los Angeles is experiencing an upward trend towards plant-based eating, with more plant-based eateries opening and an increasing number of vegan festivals and events, all of which reflect a change in behavior and eating choices. Existing restaurants are taking notice by updating menus and including vegan options to satisfy this newer, more conscious market. Los Angeles is home to a diverse community of people who hold varied cultures, beliefs, and diets. As a vegan whose home base is the City of Angels, I feel spoiled by the choices. In fact, there are a plethora of options when it comes to vegan restaurants—from Ethiopian, Cuban, Mexican, and Persian to Mediterranean, Japanese, Indian, and Italian. Here is a list of my top vegan spots in Los Angeles.
Top 2 vegan eateries
1. Crossroads Kitchen: Dimmed lights, a full cocktail and wine menu, a celebrity sighting here and there, and yummy sophisticated-looking (and tasting) food make Crossroads Kitchen perfect for celebrations or special occasions. Share a champagne toast and experience the spectacular seasonal Seafood Tower with friends, or start the evening with Artichoke Oysters, and follow with Lentil Flatbread and Tagliatelle Bolognese. Whatever you order, it will be a memorable dining experience.

2. Fala Bar: Fala Bar is always vegan, fresh, and organic and according to them contains "no fake sh*t." The eatery offers plates, burgers, sweet potato fries, and some of the best falafel in town. The Fala Me to Kalefornia Salad is fresh, crisp, nourishing, and non-gmo and would be better named "Fala Me to Heaven" if they didn't already have that salad on the menu as well.
Top 3 non-vegan restaurants with vegan options
1. Kitchen Mouse: Kitchen Mouse is a favorite breakfast and brunch spot to many Angeleno vegans, vegetarians, and carnivores. Located in Highland Park, the restaurant serves a fully gluten-free menu and anything can be made vegan (the only non-vegan item on the menu is egg). Highlight dishes include Snickerdoodle Pancakes, chilaquiles, and Moros Cakes.

2. Bar Amá: Bar Amá is a reimagined cantina that serves Tex-Mex comfort food. Not only can you treat yourself to a refreshing margarita but the eatery also serves some of the best chips and guacamole in town. Other menu item standouts include carrot enchiladas and the tangy, mouthwatering Cauliflower & Cilantro Pesto.

3. Un Solo Sol: Un Solo Sol serves International cuisine spanning from Mexican (enchiladas), Salvadorian (pupusas), Peruvian (portabello mushroom saltado), Persian (ghorme sabzi), and Caribbean (black beans and plantains). Although it might seem like Un Solo Sol doesn't have a focused menu, everything I've tasted has been delicious, making it a very memorable experience.
Favorite vegan item in Los Angeles
Locali is a casual deli that serves the best Reuben this side of the Statue of Liberty … and it happens to be vegan! Between two perfectly "buttered" pieces of toasted rye bread is the yummiest flavor combination of tangy sauerkraut, melted vegan cheese, Russian dressing, and vegan deli meat. Vegans and non-vegans alike return for this explosion of culinary delights.
Ultimate vegan meal
If I were to throw a party for my friends and family and have it catered, I would treat them to the ultimate vegan meal put on by my favorite places with some of my favorite dishes. I'd begin the evening with endive cups filled with "cashew-tuna," coconut, ginger, lemongrass, peanuts, shallots, green onion, cilantro, and Thai chili lime from Satdha Kitchen. For a warm appetizer, we'd have the spicy scallop roll from Shojin. Our starter would be the Brussels sprouts pizza from SunCafe with a side of macaroni and cheese (also from SunCafe). The main course would be the lasagna from Crossroads, and we'd end our night with the Green Tea Mousse Cake with Mochi from Pomegranate.
First-stop for a visiting friend
Organix is a Los Angeles vegan institution. More specifically, it's a small market tucked in a neighborhood called Eagle Rock. Organix has a full vegan deli menu featuring items such as an array of burritos, a Barbacoa jackfruit taco, a Bakin' Western Bacon Cheeseburger, and a Puerco barbecued sandwich. Usually served on a bun, I order it on their gluten-free bread and savor every juicy bite. Jackfruit is perfectly seasoned and grilled, then stacked with cabbage slaw, pickles, and vegan mayonnaise. Enjoy the sandwich with a side of fries, one of the many kombuchas they offer, and dessert from the grab-and-go case, and you have yourself the most comforting and satisfying meal.
Top three vegan desserts
1. Yoga-urt: Nestled in Glendale sits a dessert shop called Yoga-urt, where handcrafted, house-made, probiotic soft-serve yogurt is on offer. They have fun, yummy toppings and freshly-made cones, and you can even build yourself a delicious brownie sundae! If you're visiting Los Angeles and are vegan, this is a must-try.

2. Donut Friend: Donut Friend is always bustling with patrons picking up freshly-made "designer doughnuts." My favorite doughnuts have always been the ones covered with sprinkles and those filled with red jelly, but at Donut Friend, I build my own or pick up my faves: Custard Front Drive, Drive Like Jelly, Jets To Basil, Strawberry Lab (with chocolate sauce), S'morrissey, and Mint Town.

3. Cocobella Creamery: What's better than 31 flavors of ice cream? Amazing flavors and textures of vegan, dairy-free ice cream! With soy-free, nut-free options, and flavors such as Unicorn Magic, SB&J, Blueberry Cheesecake, Cookies 'N Cream, and Mint Chip, Cocobella Creamery has something for everyone to enjoy.
Favorite non-food activity
I love going for a run before dusk at RAT Beach in Torrance and watching the beautiful sunset because the environment is so serene, soothing, and grounding.
Vegan king/queen of Los Angeles
DJ, musician, singer/songwriter, 30-year vegan, animals-rights activist, and restaurateur Moby is who I consider the Vegan King of Los Angeles. He uses his celebrity to reach the masses—to spread vegan love and to shed light on animal rights. Even more? All proceeds from his restaurant, Little Pine, are donated to animal-rights organizations.
One amazing vegan thing in Los Angeles every city should have
Every city should have a Vegan Street Fair. This free event is open to the public and features more than 150 vendors selling all the best vegan eats, drinks, and swag. What better way to expose all things vegan to the public?
Yvonne Ardestani is a French-trained chef who is reinventing classic meals without the use of meat, dairy, eggs, honey, or gluten.
For more of VegNews' Top 10 Best Vegan Cities, check out what locals have to say about:
Chicago
Dallas
Detroit
Las Vegas
Miami
New York City
Oakland
Philadelphia
Portland