There are few cities in all of North America more fascinating than Montréal. Blending urbane cosmopolitanism with distinctive neighborhoods, the French-speaking city brims with joie de vivre. No matter if it's winter, when the city is blanketed in snow, or summer, when the days are long and the grass is green, Montréalers make the most of every day.
The city has a thing for festivals. In wintertime, Igloofest invites electronic music fans to warm up by dancing the night away, while the Fête des Neiges brings families out to enjoy crisp, cold sunny days. Summer features endless festivals, with at least 30 dedicated to LGBTQ+ pride, bicycling, dance, fashion, street art, fireworks, circus, comedy, and film as well as plenty of different styles of music, including the grandparent of them all: the Festival International de Jazz de Montréal.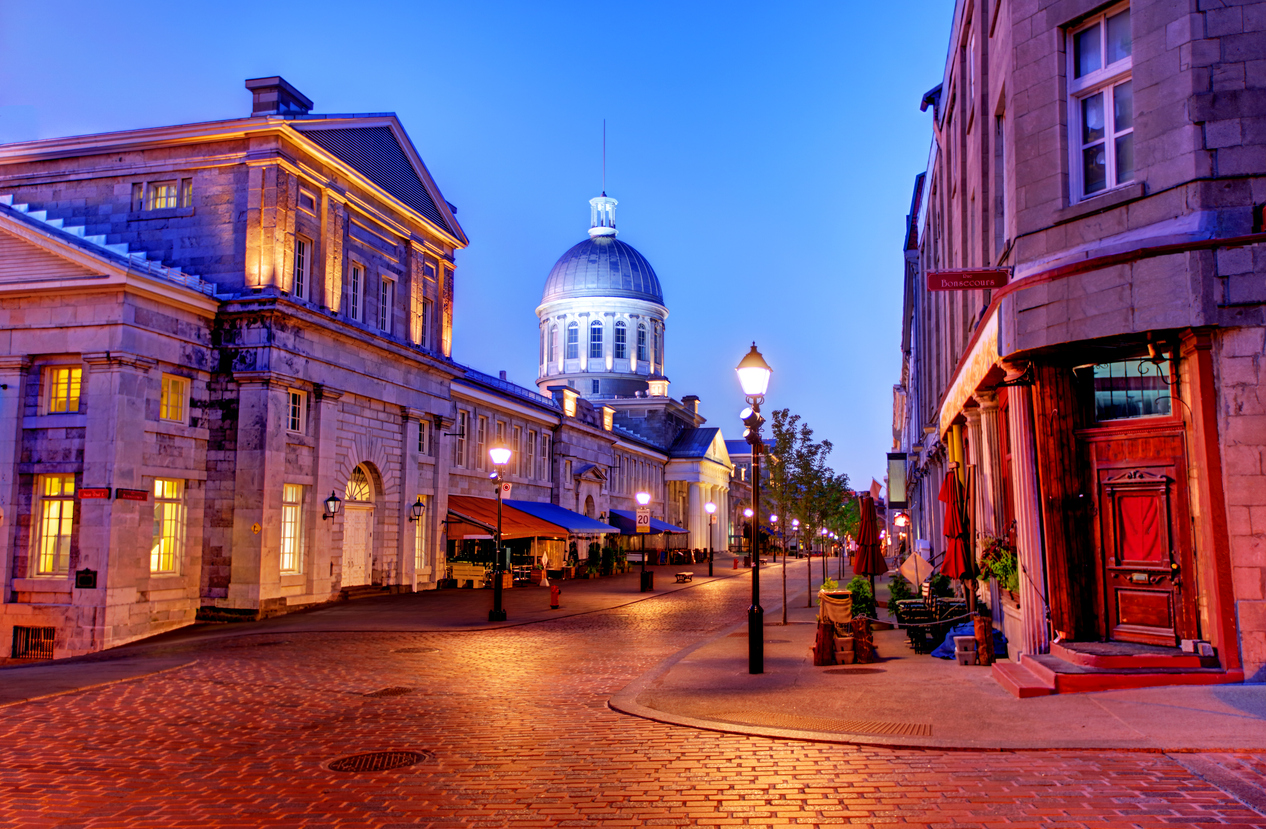 Getty
Even if there's not a festival happening when you visit (if you come in October or November, don't miss the Montréal Vegan Festival), the city has a lot to offer. Walk along the Saint Lawrence River waterfront, where a busy port has given way to a floating spa and broad swathes of ice skating. In summer, the still-functioning system of locks lifts boaters through verdant parkland as bikers and dog walkers look on. When you're tired of postindustrial natural beauty, head up the hill through the ancien régime charm of Vieux Montréal where centuries-old buildings attest to the city's rich history as a seat of power in New France.
It's not surprising that a city loaded with refined sophistication leavened with a friendly, inclusive attitude features plenty of vegan options. But Montréal takes it further than most: my shortlist alone included nearly 40 different vegan restaurants.
Montréal's vegan evolution
I started with Aux Vivres on Saint Laurent Boulevard, one of two locations. At 26 years old, Aux Vivres is Montréal's oldest vegan restaurant, and it retains that historical 1990s vegan charm. The menu features old-school staples like bowls, burgers, and Indian-inspired dishes. I fell upon the Bacon Caesar Bowl, full of romaine, capers, shredded carrots, and cherry tomatoes topped with savory coconut bacon, grilled organic tofu, and a tangy, creamy Caesar dressing.
In the past few years, Montréal's vegan scene has evolved dramatically.
"People

here are very open-minded," says Christian Ventura, Montréal's most prominent vegan restaurateur. "For the size of the city, there are a lot of vegan places."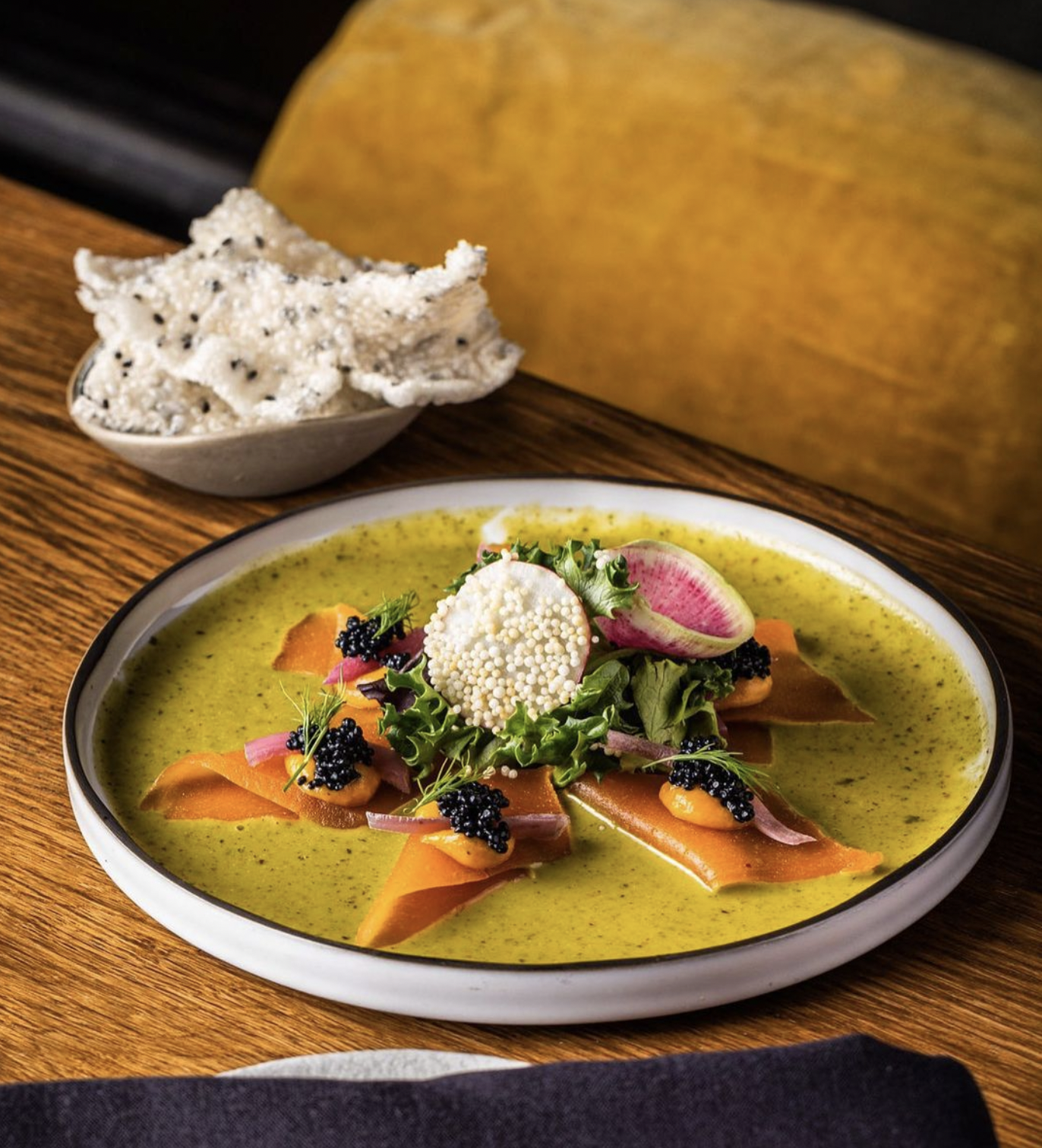 Sushi Momo
When it opened in 2014, Ventura's flagship Sushi Momo was the first vegan sushi restaurant in Canada. The stylish interior of wood and brick is a perfectly moody backdrop for a date night (be sure you get reservations in advance), and every plate is a precisely composed sculpture that redefines what is culinarily possible. "Sushi doesn't mean fish," says Ventura. "It means vinegared rice. It could be fish, but it could also be vegetables—something people have been neglecting."
The 3 Champions roll, one of the menu's most popular, features enoki, oyster, and portabello mushrooms with avocado in an inverted roll finished with a truffle oil emulsion. It's topped with little spheres of bubu arare (tiny rice balls seasoned with sesame oil and dark soy sauce), giving a crunchy backbeat to the savory melody of the rest of the ingredients.
Ventura's other spots include Bloom Sushi, a simpler vegan sushi concept, and the self-explanatory Bvrger.
Montréal's vegan dining scene
Vegan dining in Montréal also has a heavier side at places like Mimi & Jones, where chef-owner MJ Guertin serves up hefty vegan cheeseburgers and a Reuben of toasted rye encasing smoky, thin-sliced housemade seitan and tangy sauerkraut.
"I'm trying to make a difference, because business as usual is unacceptable," Guertin says passionately as she slides a frosty vegan chocolate milkshake my way; it's thick, cool, and delicious without being overly sweet—that's the job of the coconut whipped cream, sprinkles, and cherry on top. "Animals don't have a voice," she adds. "So I had to open my big mouth and do something about it."
When Mimi & Jones opened in 2019, it started a revolution. The vegan diner concept has caught fire in Montréal, which has a tradition of heavy, gut-busting fare.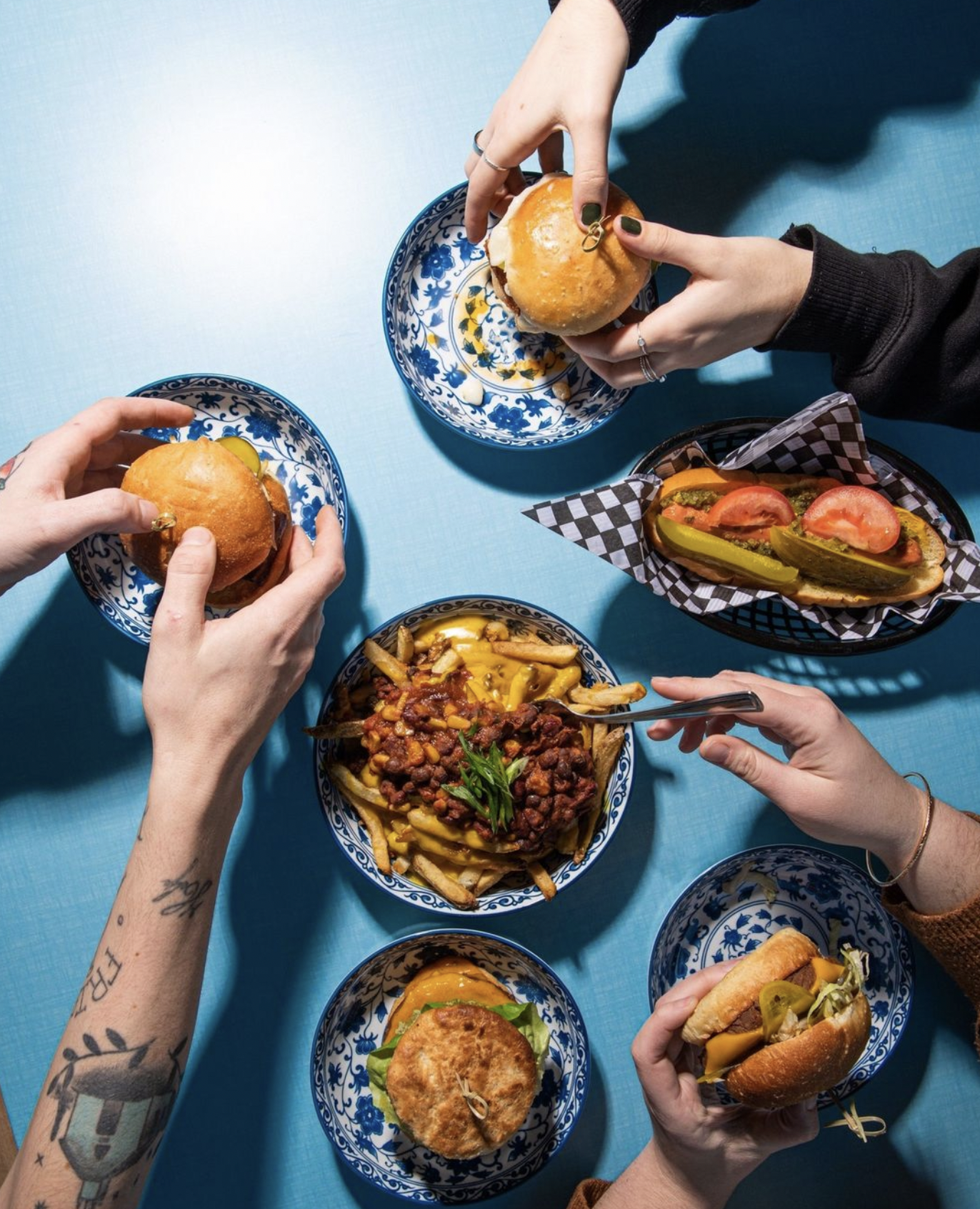 Maynard
At Maynard, chef-owner Brodie Somerville has taken up the format with an emphasis on local organic ingredients: half the ingredients are sourced on the Island of Montréal itself, and Somerville has banished vegan go-tos like nuts, lemons, and avocados because of the climate impact of bringing them to Canada. Maple syrup is the sole sweetener he cooks with.
I sampled a big dish of poutine—the queen of Québécois comfort food that looks to the uninitiated like a mound of French fries, cheese curds, and gravy, and yet is as soothing and satisfying as being rocked in your mother's arms. "Poutine is love on a plate," says Somerville.
His sure hand with the fryer is evident across the menu: standouts include Pogos (corn dogs), wings made from oyster mushrooms, and the revelation of my visit: Oreos deep-fried in a Dr. Pepper batter. They were crisp on the outside, soft and warm on the inside, with a sweetness and fragrance that could bring you to your knees.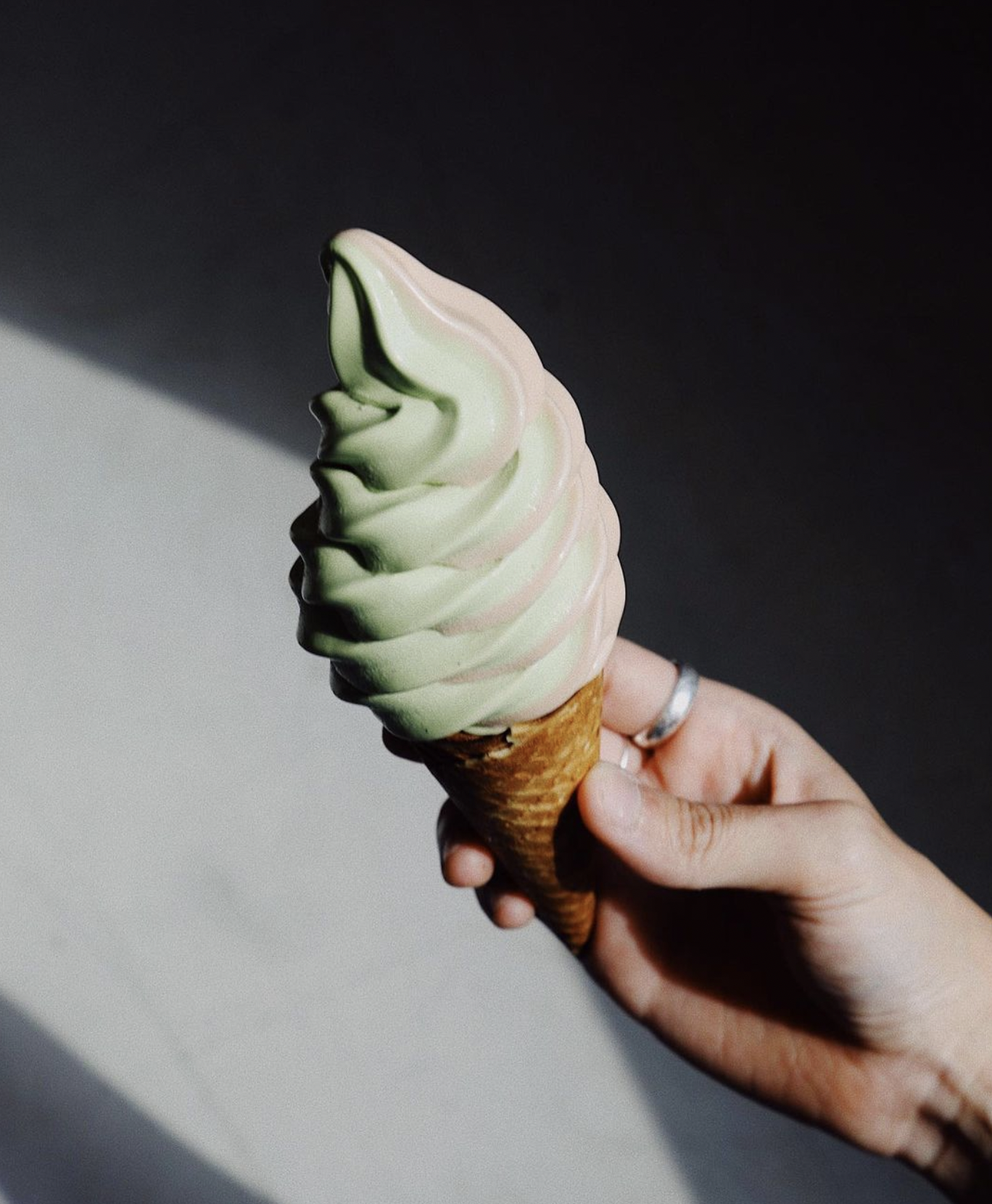 SWIRL
If you visit during the warmer months, don't miss nearby SWIRL (not far from fully vegan Chez Zac Pizzeria). Swirl, which is open seasonally (closed in winter, call ahead in spring and fall), has crafted a perfectly satiny soft serve with an organic coconut milk base. Flavors change every two weeks as different local fruits come into season. A swirl of creamy vanilla with the cool fruitiness and citrus tang of blueberry yuzu is heaven in the summer sun.
A proper gastronomic experience
Montréal has become an incubator of vegan chains. There are six outposts of Copper Branch, a vegan restaurant franchise that started here and now has nearly 40 locations across Canada. And both Guertin and Ventura have opened new restaurants (Jones Café and Bloom, respectively) that are designed to be replicable.
With not much time left in my visit, would my last meal in Montréal be at faux-meat-heavy vegan Thai restaurant ChuChai? Or at one of the branches of the casual bistro Lola Rosa? Perhaps one of the branches of the other casual bistro LOV? What about Mediterranean at one of the Green Panther locations? More heavy but trendy eating at Burger Fiancé? Or maybe continue with vegan Japanese at Ohana Sushi or Umami Ramen & Izakaya?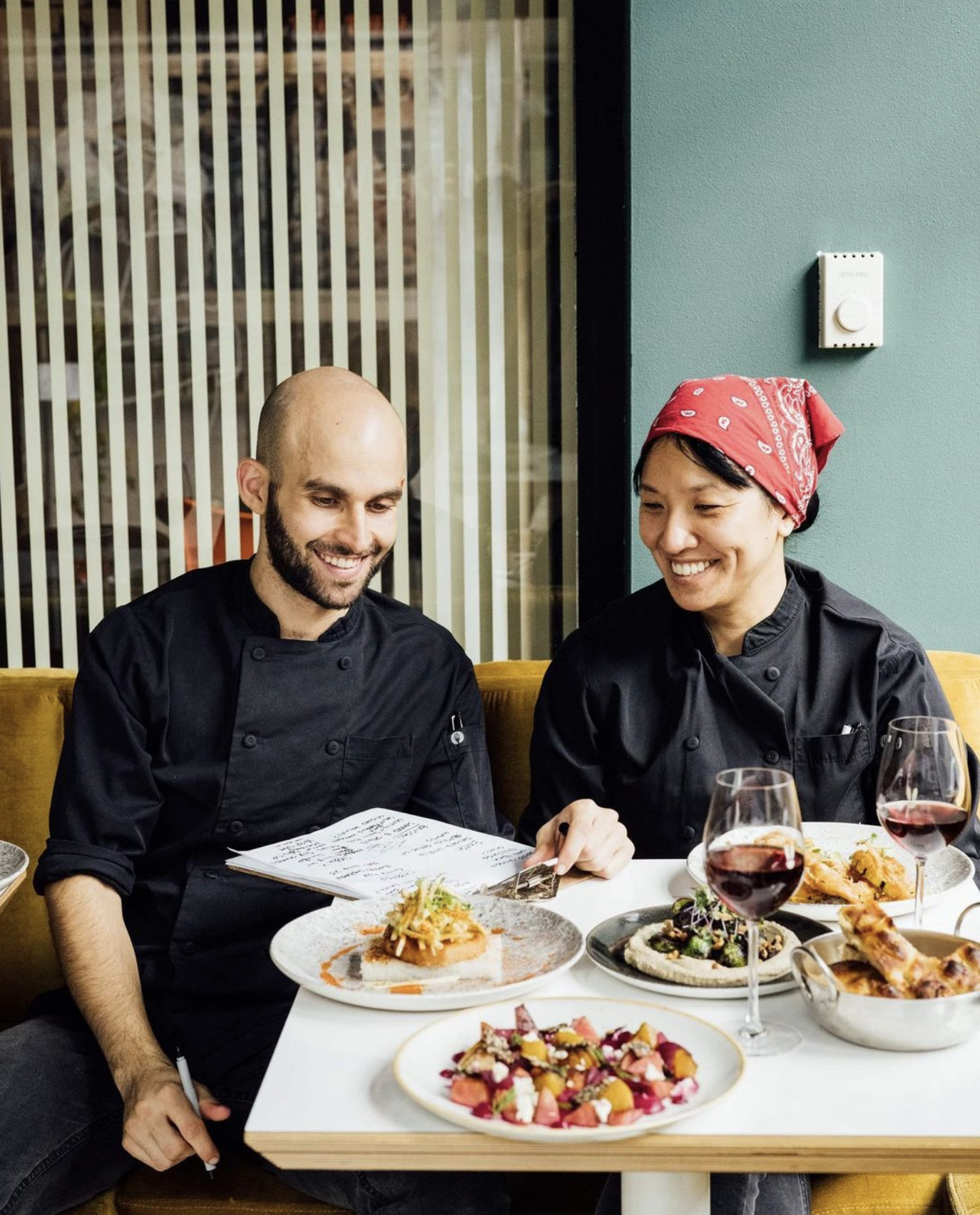 Bistro Tendresse
I decided it was time to get fancy. Bistro Tendresse, on Rue Sainte-Catherine Est, is a bright, elegant space in the heart of Gay Village—Montréal's most happening LGBTQ+ neighborhood. Owner ​​Catherine St-Cyr opened Tendresse four years ago to round out the city's vegan options. "What was missing for me was a place to drink good wine and have a proper gastronomic experience as a vegan," she says.
The food at Tendresse is a feast of carefully constructed dishes of well-executed vegan gastronomy. King oyster rounds prepared in a calamari style—with a light rice flour batter, a wedge of lemon, and herb aioli—were crisp with tender and toothsome flesh that almost made me want to stop right there and eat order after order.
Tendresse's inventiveness was on full display with its savory waffles. Stacked with sautéed mushrooms, radish slaw, maple truffle mayo, balsamic reduction, and fresh herbs, this dish achieved a unified and fascinating personality despite the wildly unusual combination of ingredients. Similarly, the edamame falafel and shaved fennel salad, with its tiny balls of crispy but light falafel atop ribbons of fennel in a tangy dressing, brought together diverse ingredients to create a coherent, delicious experience.
I left with the perfect food buzz (okay, there was wine involved, too) for a stroll through the lively nighttime streets, reflecting on the quality of the vegan dining here. I thought back to something Maynard's Brodie Somerville had said that perfectly encapsulates Montréal's impeccable dining scene: "The most important ingredient in food is love."