Despite a centuries-old culinary tradition of butter, cheese, cream, and meat, a trip to Paris can be filled with divine vegan food at every meal. The cultural emphasis on organic and seasonal ingredients combined with the country's recent embrace of plant-based dining has made for truly outstanding vegan options throughout the city, from dedicated vegan boulangeries to white tablecloth fine-dining establishments.
The evolution of vegan dining in Paris
The concept of vegetable-forward dishes is not entirely new in French cuisine. In fact, France has been a revolutionary player in the world of plant-based food. Renowned chef Alain Passard shocked the world in 2001 when he decided to remove meat from the menu at L'Arpége in Paris. Despite the bold move, Passard kept his Michelin star as a vegetarian restaurant. The forward-thinking chef put emphasis on fresh, local, and organic produce by buying land outside of Paris to grow his own vegetables. Although Passard eventually brought back fish and poultry to the menu, the impact was still felt in the culinary world.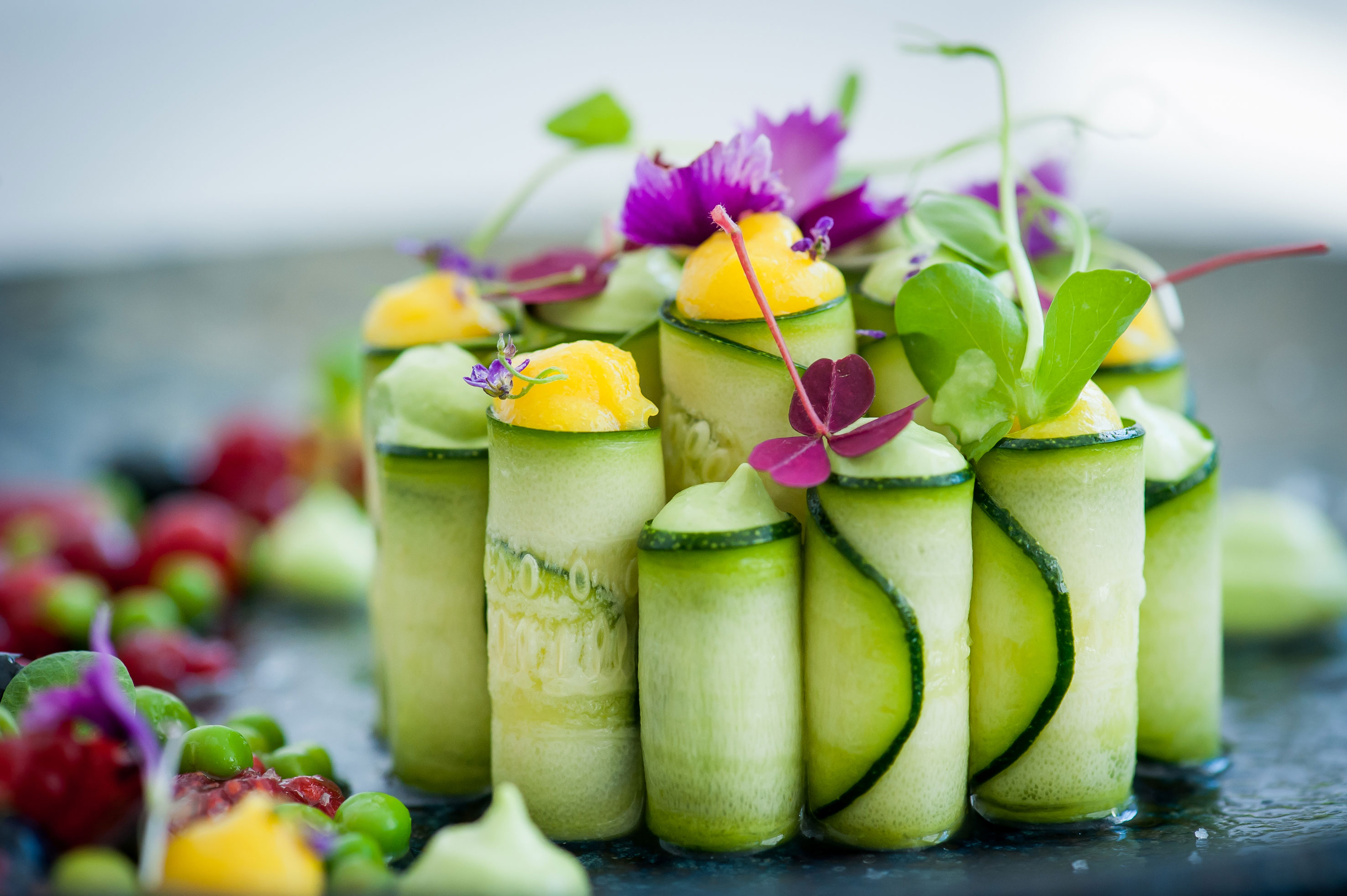 Claire Vallée
Decades later, restaurant ONA by chef Claire Vallée made history as the first vegan restaurant in France to earn a Michelin star. Located near Bordeaux, the restaurant, which closed as a result of the pandemic, was completely free of animal products, right down to its furnishing and decor.
In 2021, Michelin-starred Chef Alain Ducasse took a turn at a mostly plant-based concept. The visionary opened Sapid, located in Paris' 10th arrondissement, with a strong focus on sustainability, reducing food waste, and utilizing natural ingredients at affordable prices. Earlier this year, Ducasse launched Burgal—a vegan burger pop-up that took over a kiosk in the city's Place de la Bastille.
Ducasse has been incorporating vegetarian dishes in his restaurants since the '90s, not only to appease the occasional plant-based customer but to align with his own environmental ethics. "We will be careful of the planet, [mindful] of its scarce resources, of the men and women who cultivate, who fish, who collect," Ducasse told France Info.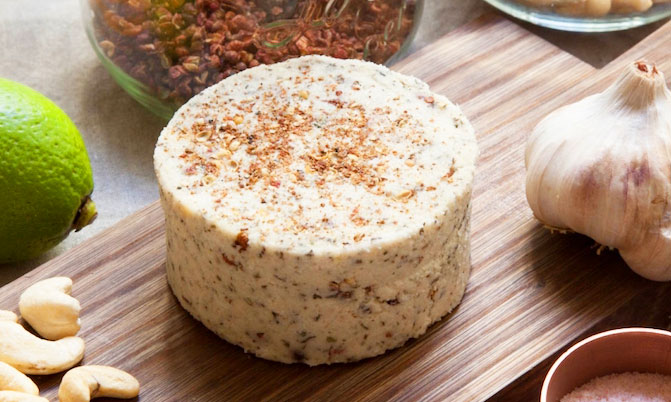 Jay & Joy
Paris is also home to the first vegan fromagerie, or cheese shop, in France. Jay & Joy launched in 2016, combining plant-based innovation with the tradition of artisan cheesemaking. The organic shop offers a delicious variety of vegan cheeses from brie to goat cheese in addition to several gluten-free and soy-free options.
10 vegan restaurants and cafés in Paris
There's no doubt part of the Parisian charm comes from its historic roots and centuries-old traditions, but this hasn't prevented the city from embracing modern ideas by way of plant-based cuisine. While planning your visit to the Louvre and trip up the Eiffel Tower, take a moment to add a few of these notable vegan Parisian eateries to your itinerary. Note: while many restaurants and cafés in the city offer vegan options, all the restaurants and bakeries listed below are exclusively vegan for your convenience.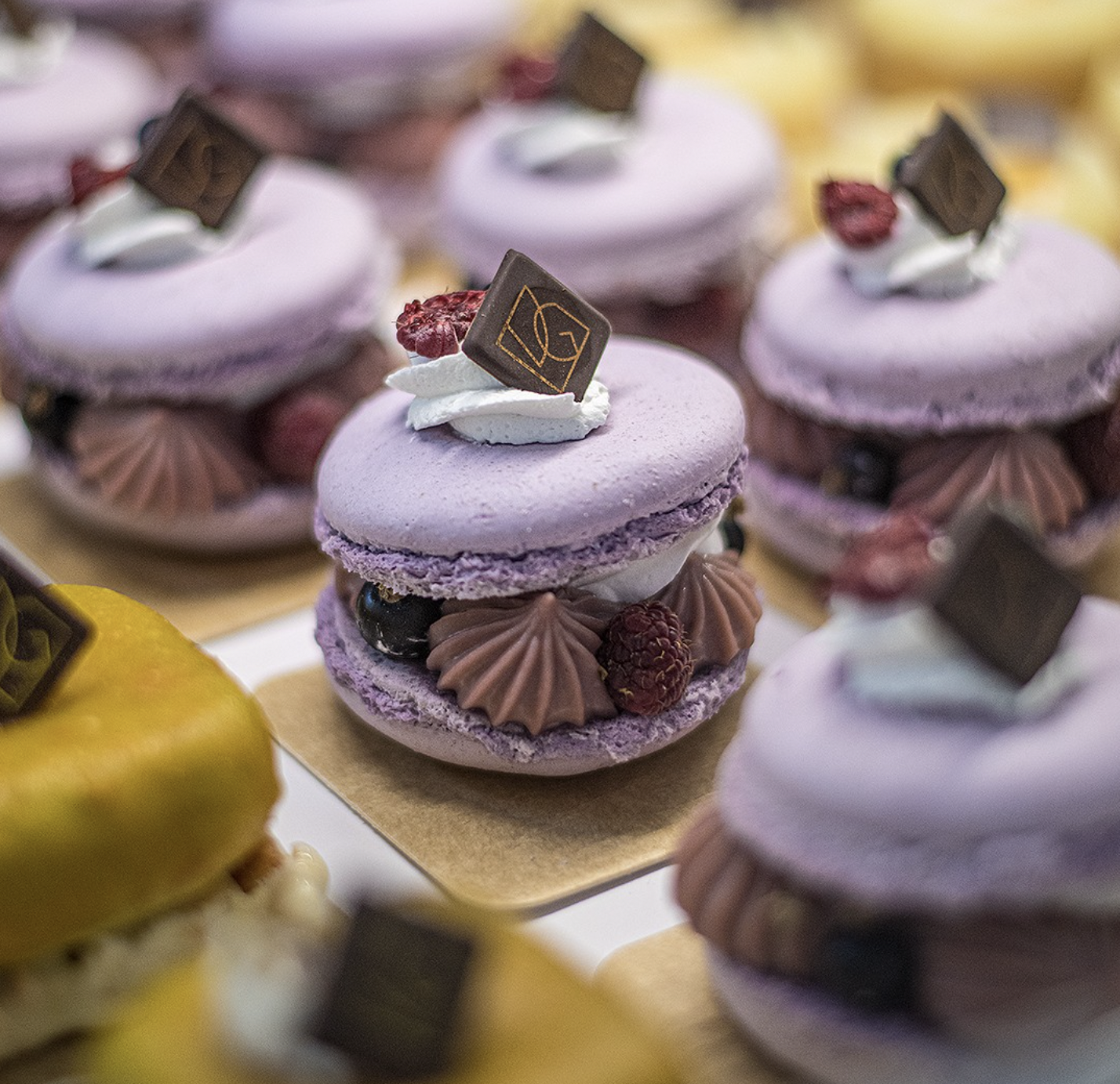 VG Patisserie
1 VG Patisserie
VG Pattiserie takes pride in being the first plant-based pastry shop in Paris. It's one of the top recommendations when searching for vegan food in the city, and for good reason. Here you can find typical French pastries such as croissants and pain au chocolat plus an array of other desserts and savory options. Go early to get your pick of the delicate macaron flavors and take advantage of the freshly made baked goods.
Find out more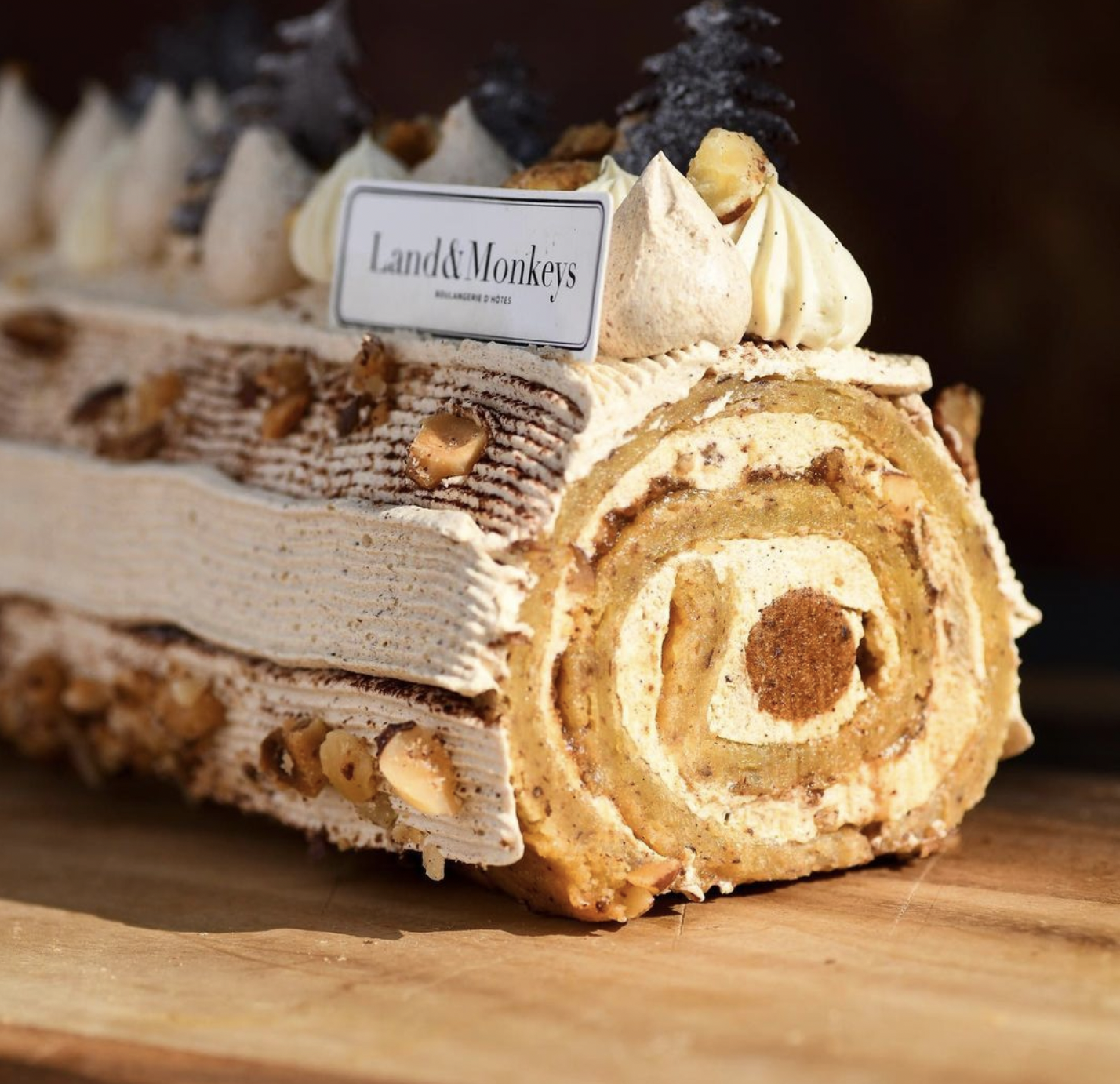 Land & Monkeys
2 Land & Monkeys
While not the first, Land & Monkeys is another completely plant-based boulangerie that you'll want to visit more than once during your stay. The shop makes every single French pastry you can imagine and more. From seasonal treats like bûche de noël to daily tarts and freshly made breads, there's something for every craving in this pastry case. There are five locations throughout the city, making it a nearly effortless addition to your daily sightseeing adventures.
Find out more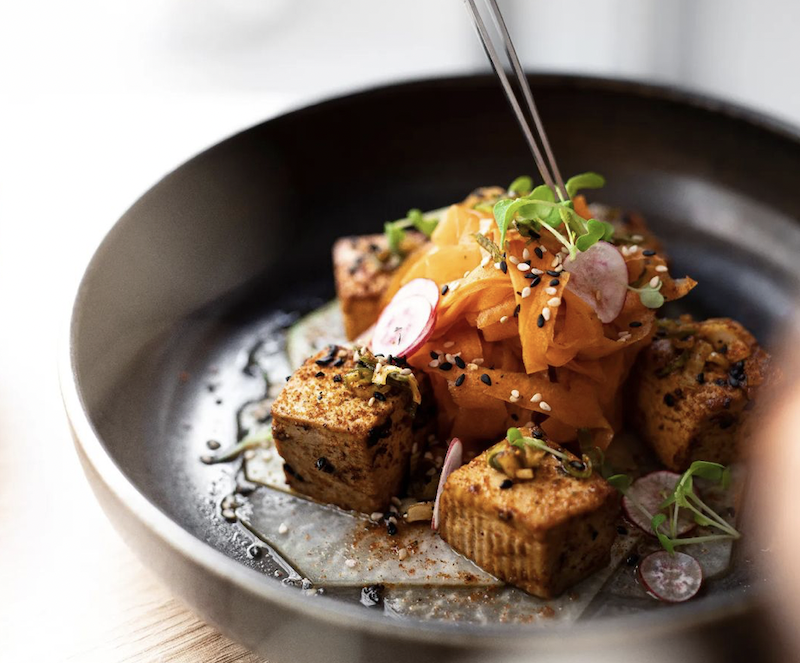 The Friendly Kitchen
3 The Friendly Kitchen
If you're looking for vegan fine dining in Paris, this is the place to go. Tucked in a quiet street in the 11th Arrondissement, The Friendly Kitchen has beautiful and decadent dishes highlighting the best of what plant-based food can offer. You can also find a great selection of vegan French wines, cocktails, and non-alcoholic beverages. The Friendly Kitchen menu changes seasonally to capitalize on the best ingredients, but no matter when you go, it'll be an experience to post about.
Find out more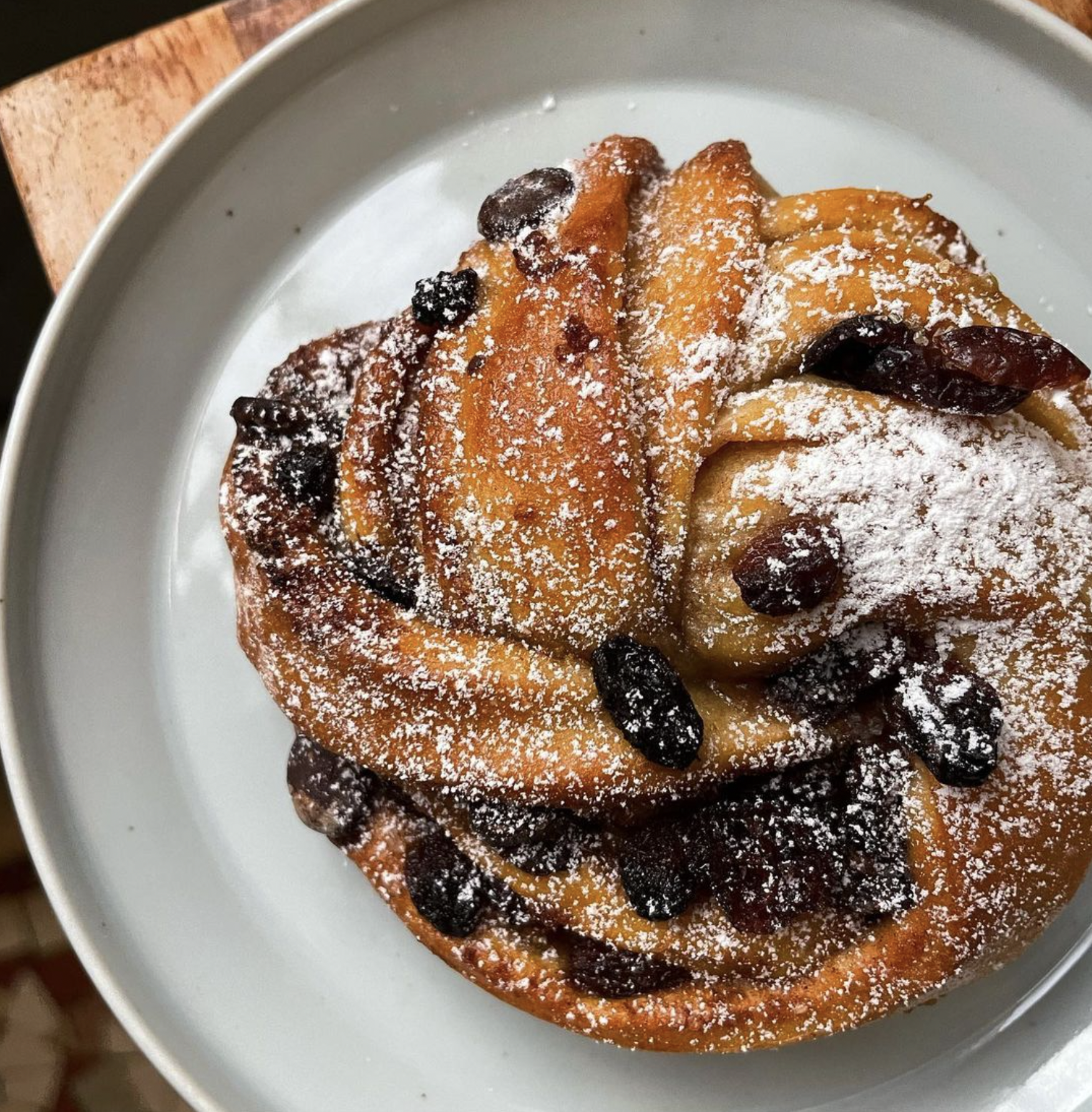 Grounded
4 Grounded
This is the best spot to escape the hustle and bustle of Paris and enjoy a quiet morning. Grounded is a fully plant-based café offering a small selection of breakfast toasts plus truly fantastic coffee and espresso beverages. The sweet, twisted bread rolls are a local favorite, and the filling flavors change with the seasons.
Find out more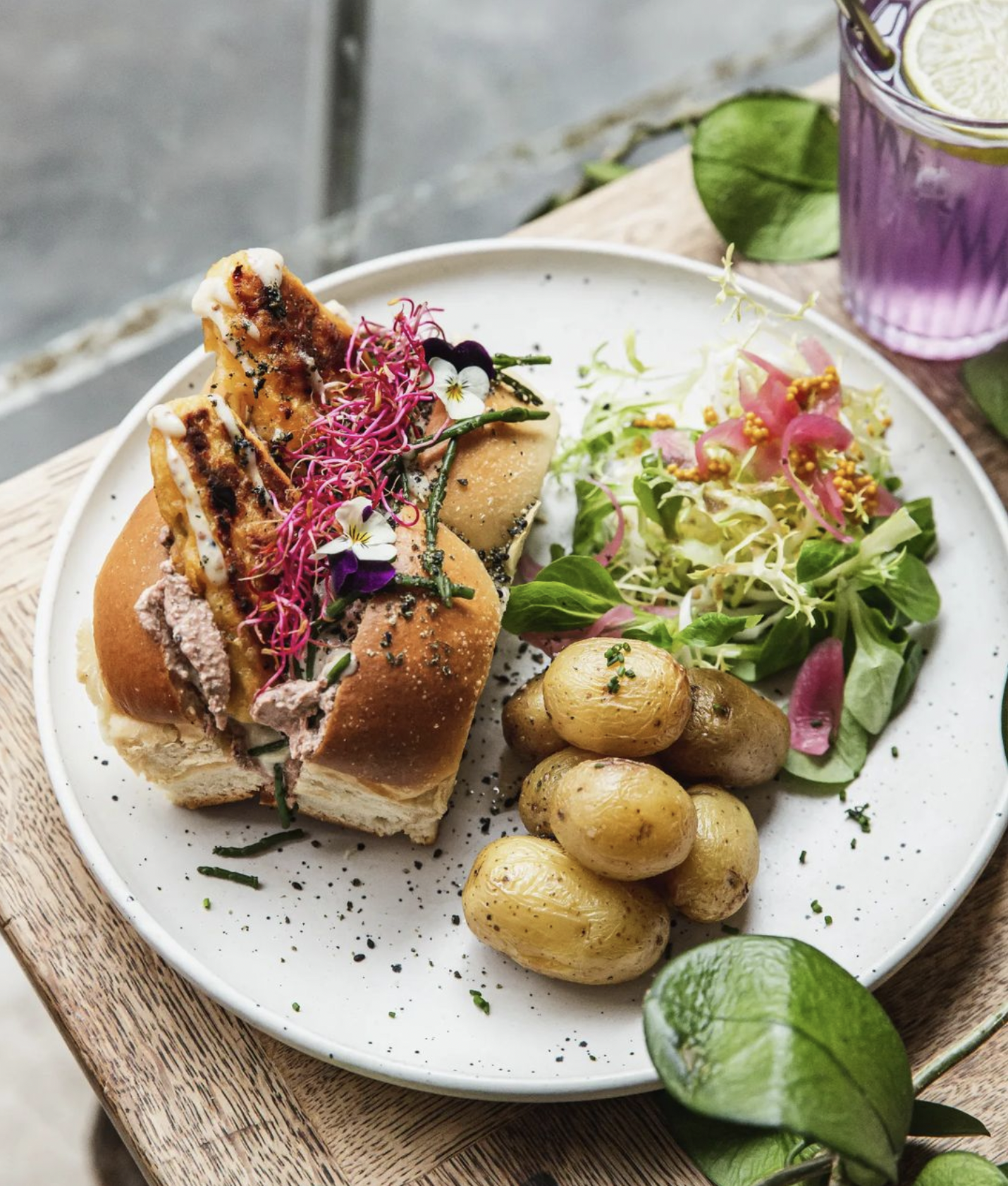 Aujourd'hui Demain
5 Aujourd'hui Demain (Today Tomorrow)
This retailer and restaurant offers a very unique vegan experience. Swing by at brunch or dinner for a casual meal at the restaurant, then stroll next door to the market. The food menu features satisfying burgers, salads, and bowls along with non-alcoholic and alcoholic beverages, and the shop sells everything from vegan clothing items to snacks, frozen foods, and even skincare. It's a great opportunity to enjoy a filling meal and tick off everyone on your souvenir list.
Find out more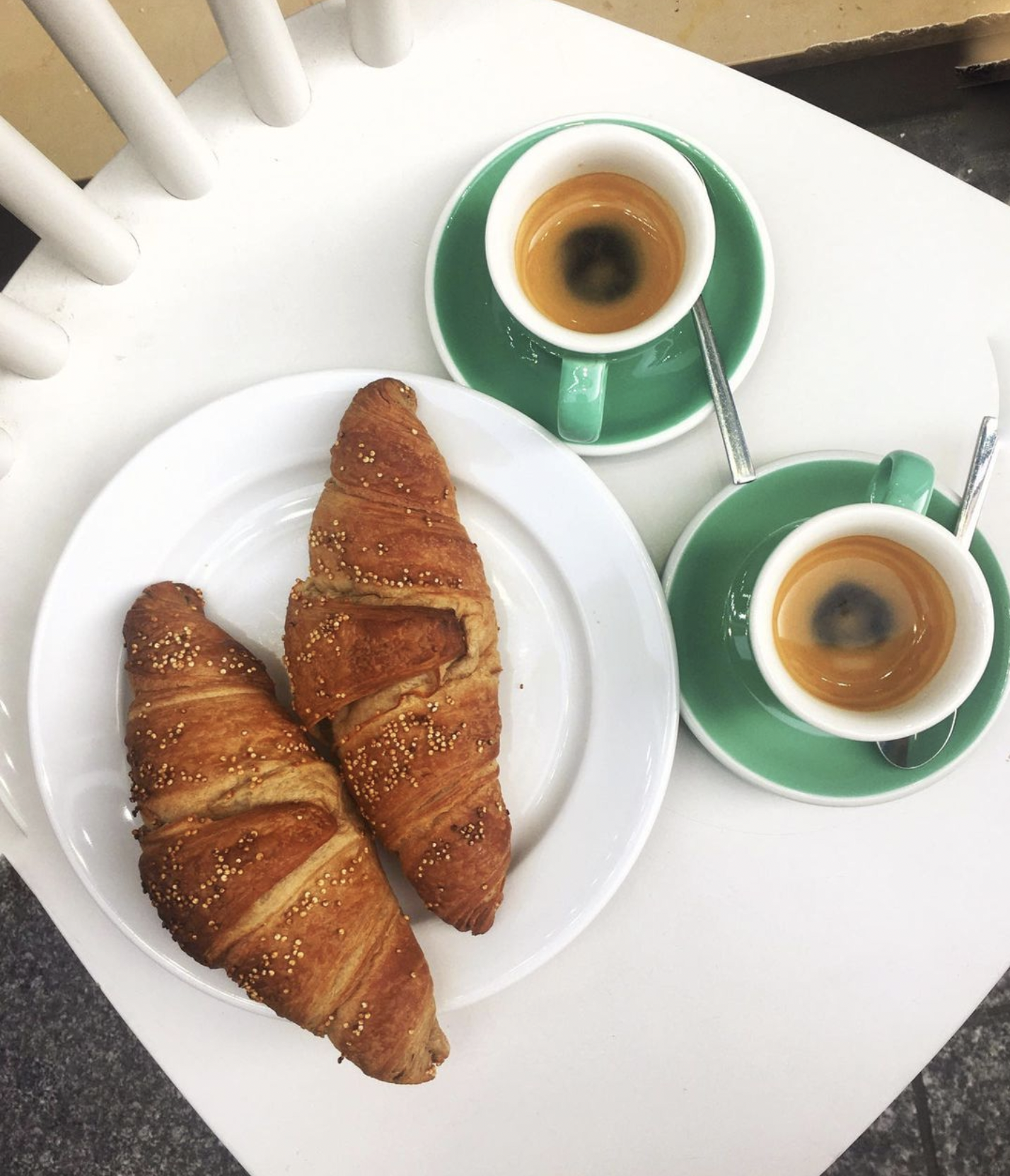 Cloud Cakes
6 Cloud Cakes
Come for the pastries, and stay for the breakfast options. This adorable Parisian coffee shop makes excellent macarons alongside heartier options such as avocado toast, pancakes, and granola yogurt parfaits. For a taste of everything, order the Cloud Breakfast. The comprehensive spread includes a croissant, breads with butter and jam, juice, and a hot coffee drink of your choice. Cloud Cakes has two central locations—one on Notre Dame road and another in the 2nd Arrondissement.
Find out more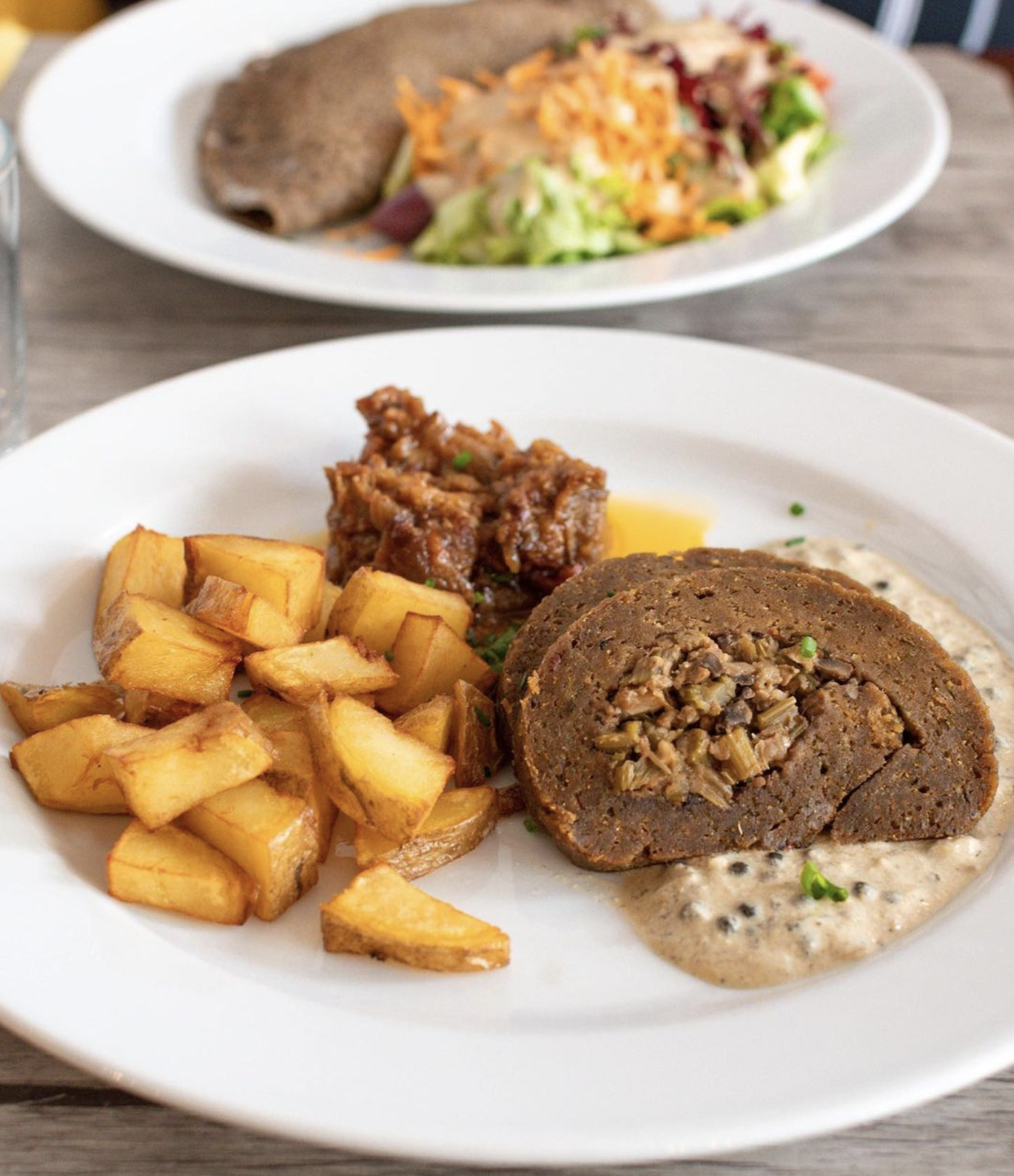 @charlottedcpy/IG
7 Le Potager du Marais
Savor classic French cuisine crafted with vegan ingredients at this quaint plant-based restaurant. The menu checks off nearly every dish that comes to mind when you think "France"—there's French onion soup, savory crêpes, mushroom pâte, and more. You could easily dine here more than once during your stay and enjoy something different every time.
Find out more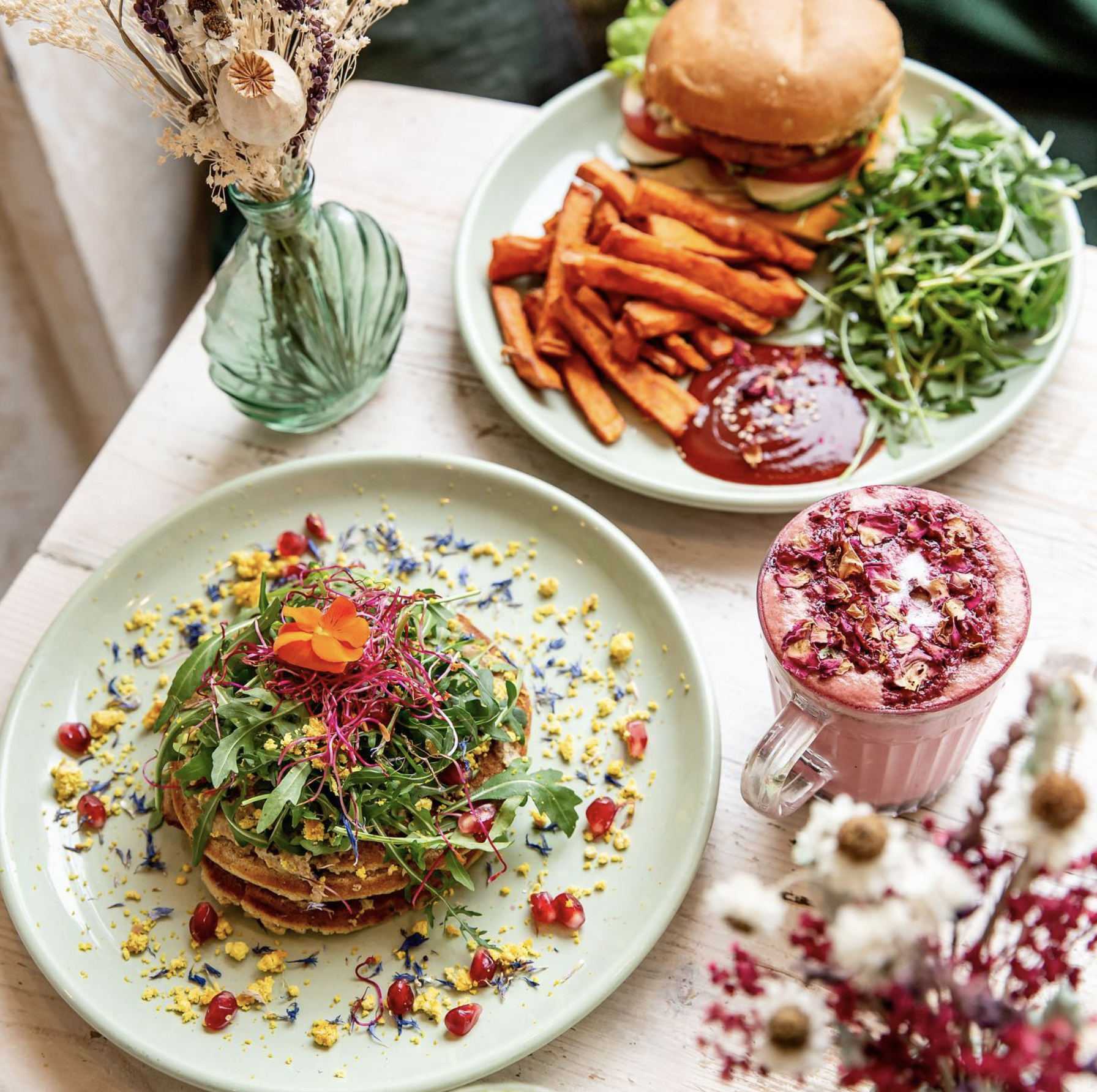 Abattoir Vegetal
8 Abattoir Végétal
Located on the Left Bank, this French bistro focuses on beautiful vegetable-driven, mostly organic, and gluten-free dishes. Although the menu varies slightly depending on the season, the savory pancake is a must if going for brunch. For dinner, try the cheese plate and seitan bourguignon. Local tip: make a reservation a few days to a week in advance, as tables book up quickly.
Find out more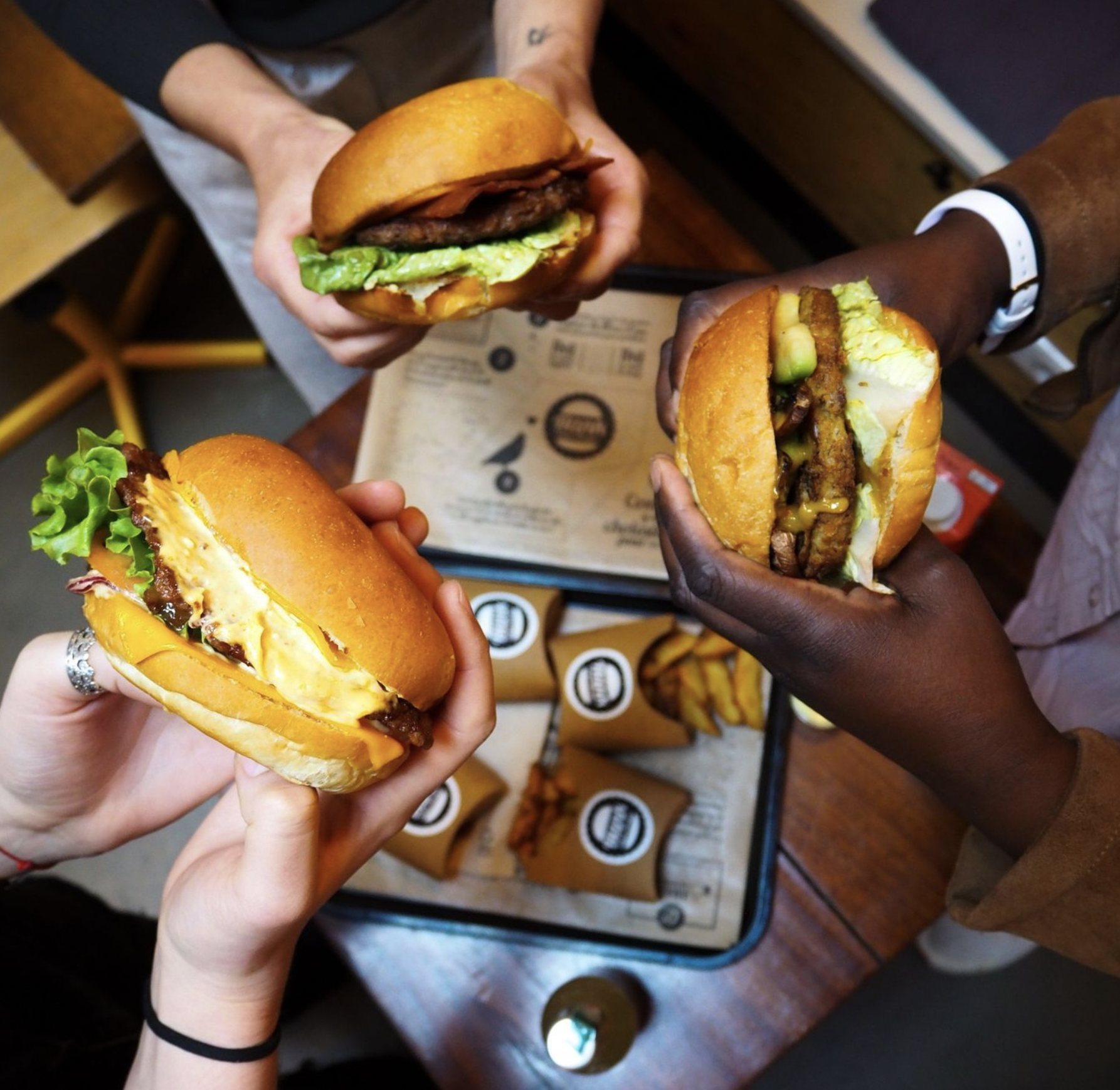 Hank Burger
9 Hank Burger
If you're craving a quick, comforting, and reliable meal after a long day of sightseeing, head to Hank Burger. The quick-service concept specializes in fast-food items such as burgers, chili cheese potato wedges, and milkshakes. We love that customers have the freedom to choose their patty. The joint offers a "meaty" vegan patty, wholesome vegetable patty, and its signature Sea and Land patty. Hank Burger has two locations in the city: Paris Junior and Paris Marsh.
Find out more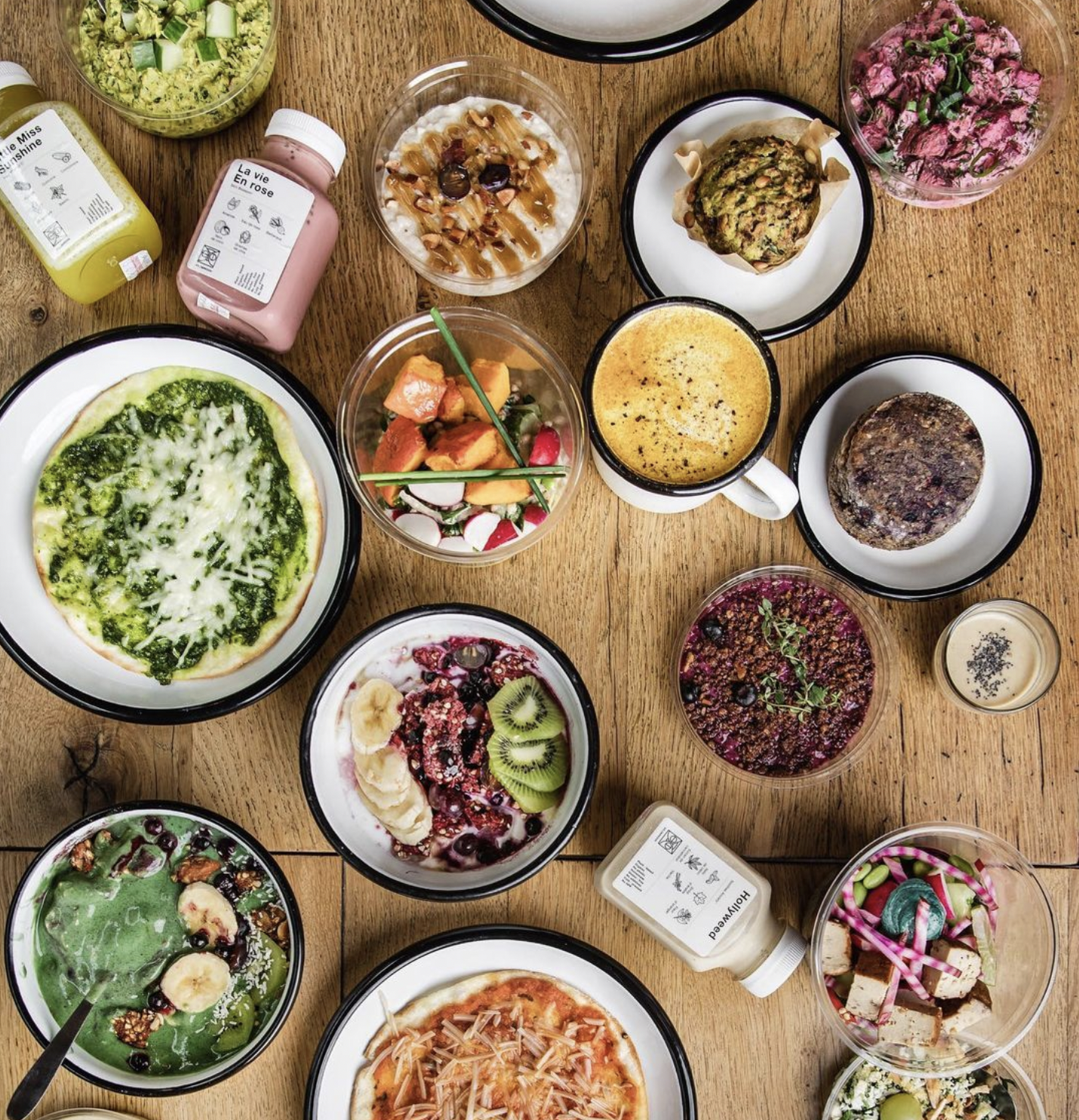 Wild and the Moon
10 Wild and The Moon
This health-focused café is a great place to recharge during your trip. At Wild and The Moon, you'll find fresh juices, wellness shots, salads, and smoothie bowls as well as hot meals which are all gluten-free and organic. You'll also discover an impressive takeaway section with healthy snacks and bites for tourists and locals on the go. Wild and The Moon has eight locations throughout Paris, so you don't have to veer far from your itinerary to get your health food fix.
Find out more
For more vegan finds in Paris, read: