Legendary French chef Alain Ducasse just opened his first vegan burger concept Burgal, a kiosk in Place de la Bastille in Paris. From restaurants to chocolate shops, the chef currently operates more than 80 properties, most of which are focused on fine dining. With Burgal—which gets its name from the combination of "burger" and "vegetal"—Ducasse offers burgers that are made entirely from vegetable components with a patty that features zucchini, lentils, onions, quinoa, carrots, and parsnips.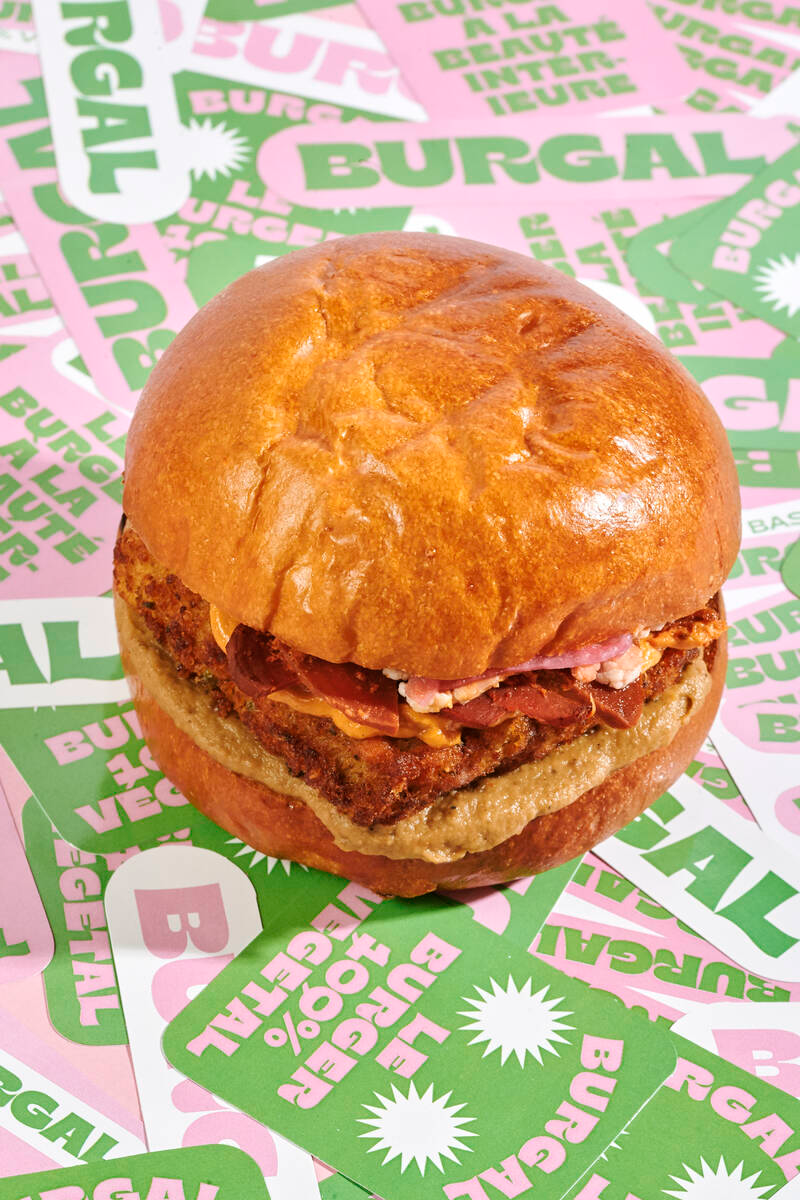 Pierre Lucet-Penato
The burger is served on a vegan bun and comes topped with eggplant caviar, a spicy vegan mayo, and pickles. The burger can be ordered as a meal with a side of vegetable or chickpea chips and vegan chocolate mousse for dessert.
"We are not in the field of imitation meat. Our products contain no additives or dyes and it is not our intention to move towards meat analogs," Quentin Vicas, development director for the Ducasse group, told French media outlet Liberation. "It is the first vegetable burger of our group. The origin is to be found a few years ago, and to the irritation of Mr. Ducasse, in seeing people ruining their health and the planet by eating low quality hamburgers."
The pop-up will run until June 30 and Ducasse is considering adding the vegan burger to his other properties should it prove successful.
Michelin-starred chefs explore vegan cuisine
During his four decade-long career, Ducasse has amassed 21 Michelin stars, putting him in an elite category of chefs with Joël Robuchon and Gordon Ramsay. While Burgal is his first fully vegan concept, Ducasse has been a champion of meat-free cooking for much of his career and recently opened Sapid, a new restaurant in Paris where Ducasse reimagines French cuisine as vegetable-forward with animal products only used as seasoning.
Eleven Madison Park
Ducasse is undoubtedly a giant in the culinary world but he is not the only Michelin-starred chef to explore plant-based cuisine. Last year, chef Daniel Humm announced that legendary New York City fine-dining restaurant Eleven Madison Park would reopen after a pandemic-induced hiatus as a nearly vegan restaurant—with milk and honey available for tea service. The new Eleven Madison Park menu focused on the versatility and beauty of vegetables, including beets that underwent a 16-hour preparation process that came to the table in a clay jar.
Humm boldly changed the menu at the iconic eatery—previously known for its honey lavender duck and other animal-centric dishes—to explore more eco-friendly options in light of the current climate crisis. "In the midst of last year, when we began to imagine what Eleven Madison Park would be like after the pandemic—when we started to think about food in creative ways again—we realized that not only has the world changed, but that we have changed as well," Humm said of the change at the time. "It was clear that after everything we all experienced this past year, we couldn't open the same restaurant."
Despite some early critique of the transition, Humm is continuing innovation at Eleven Madison Park with a new spring menu that focuses on exquisite preparations of seasonal vegetables, including Carrot Tartare with Sprouts and Anise; Celery Root Tamal with Chestnut; and a radish course that explores the root vegetable in three ways: Roasted Radish Broth, Black Truffle and Radish Tart, and Marinated Radish Salad with Horseradish and Sea Fennel.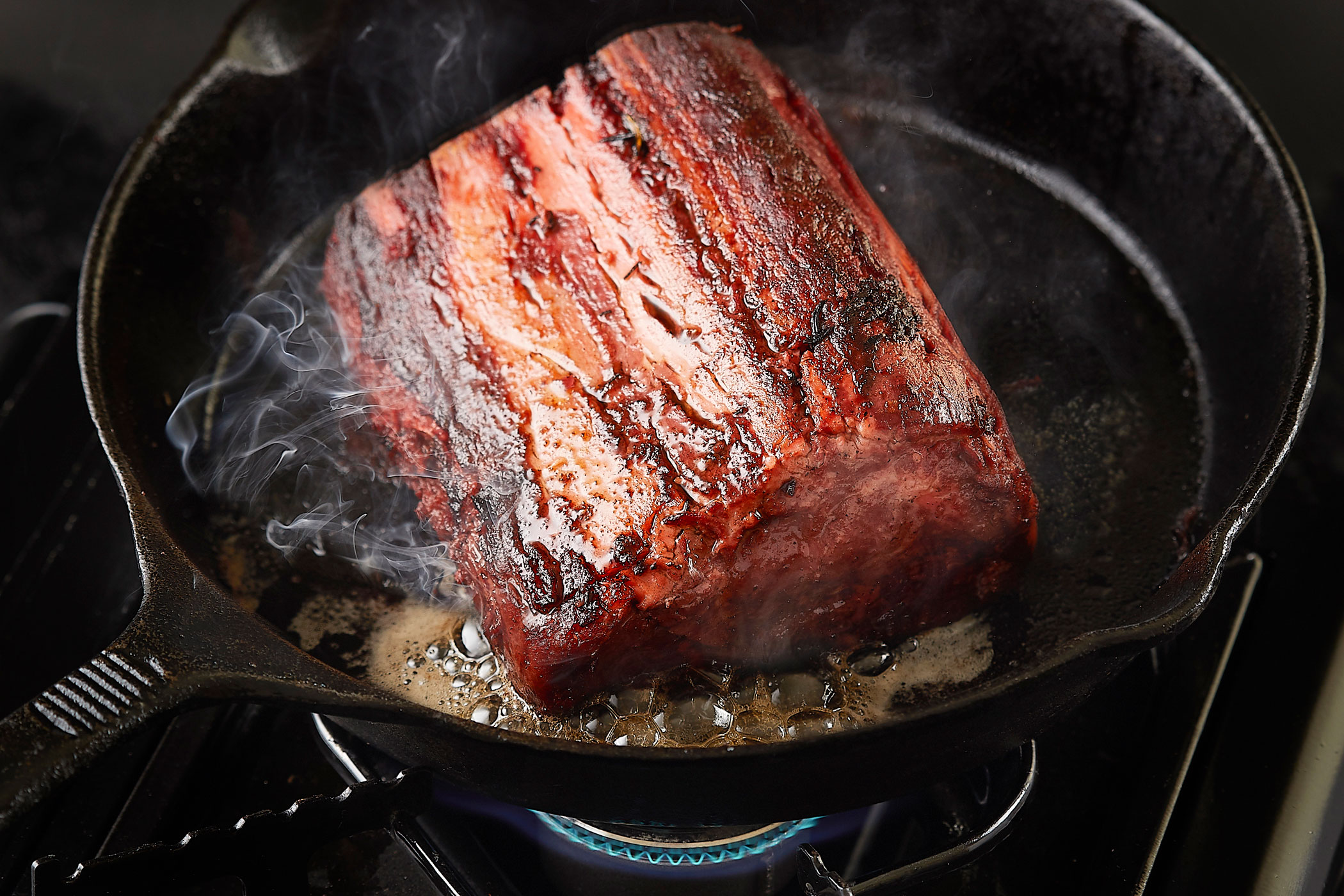 Redefine Meat
And Humm is joined by a growing number of Michelin-starred chefs who are taking the plunge into new menus and ingredients that respect animals and the environment. Over in the United Kingdom, Marco Pierre White—known as the first British chef to be awarded three Michelin stars—updated the menu at his 22 steakhouse locations with the addition of whole-cut vegan lamb and beef made by Israeli startup Redefine Meat. And Gordon Ramsay—who was previously a vocal critic of veganism—has firmly jumped on the plant-based trend with new menu additions at his properties worldwide, a campaign promoting Silk's oat milk, and frequent forays into vegan recipe testing.
The world of fine dining has always been about exploration and experimentation and with the climate crisis raging on, Michelin-starred chefs are looking for other solutions to keep their menus fun without damaging the planet. Dominique Crenn—the first woman in the United States to ever be awarded three Michelin stars—is doing this by looking at cultivated meat as the next chapter of culinary innovation. The chef partnered with Northern California food-tech company UPSIDE Foods as a chef ambassador and plans to add its cultivated chicken, pending regulatory approval, to her Atelier Crenn menu in San Francisco where she has not served meat from land animals since 2018.
For more about vegan fine-dining, read:
9 High-End Restaurants You Didn't Know Were Vegan-Friendly
France Just Got Its First Michelin Star for a Vegan Restaurant
The Las Vegas Strip Gets Its First Vegan Fine-Dining Restaurant