Michelin-starred chef Alain Ducasse is getting ready to open Sapid, a fine-dining restaurant in Paris that will focus on plant-based dishes. At Sapid, Ducasse is flipping traditional French cuisine on its head by putting vegetables at the forefront and using animal products only as seasoning. "We will be careful of the planet, [mindful] of its scarce resources, of the men and women who cultivate, who fish, who collect," Ducasse told France Info. "It will be 95-percent vegetable food. And the seasoning will be animal protein. It will be fish."
The chef owns a number of restaurants around the world and is no stranger to plant-based cooking. "Since 1996, I have been making a vegetarian menu in Monaco. It was natural that we should be able to demonstrate that it is possible to create a restaurant where only plants are the reference," Ducasse said. "Vegetable protein is more than sufficient to meet the nutritional needs of an individual."
In addition to opening plant-forward Sapid, Ducasse is also working to add plant-based fare at his two Michelin-starred restaurant Le Meurice in Paris. "At Le Meurice, we are going to reinvent contemporary French cuisine, always with a strong vegetal influence, with a young team," the 64-year-old chef shared.
During his four decade-long career, Ducasse has amassed 21 Michelin stars, putting him in an elite category of chefs with Joël Robuchon and Gordon Ramsay, who hold 31 and 17 stars, respectively. Ducasse is also the first chef to get three Michelin stars at the same time for restaurants in three different cities.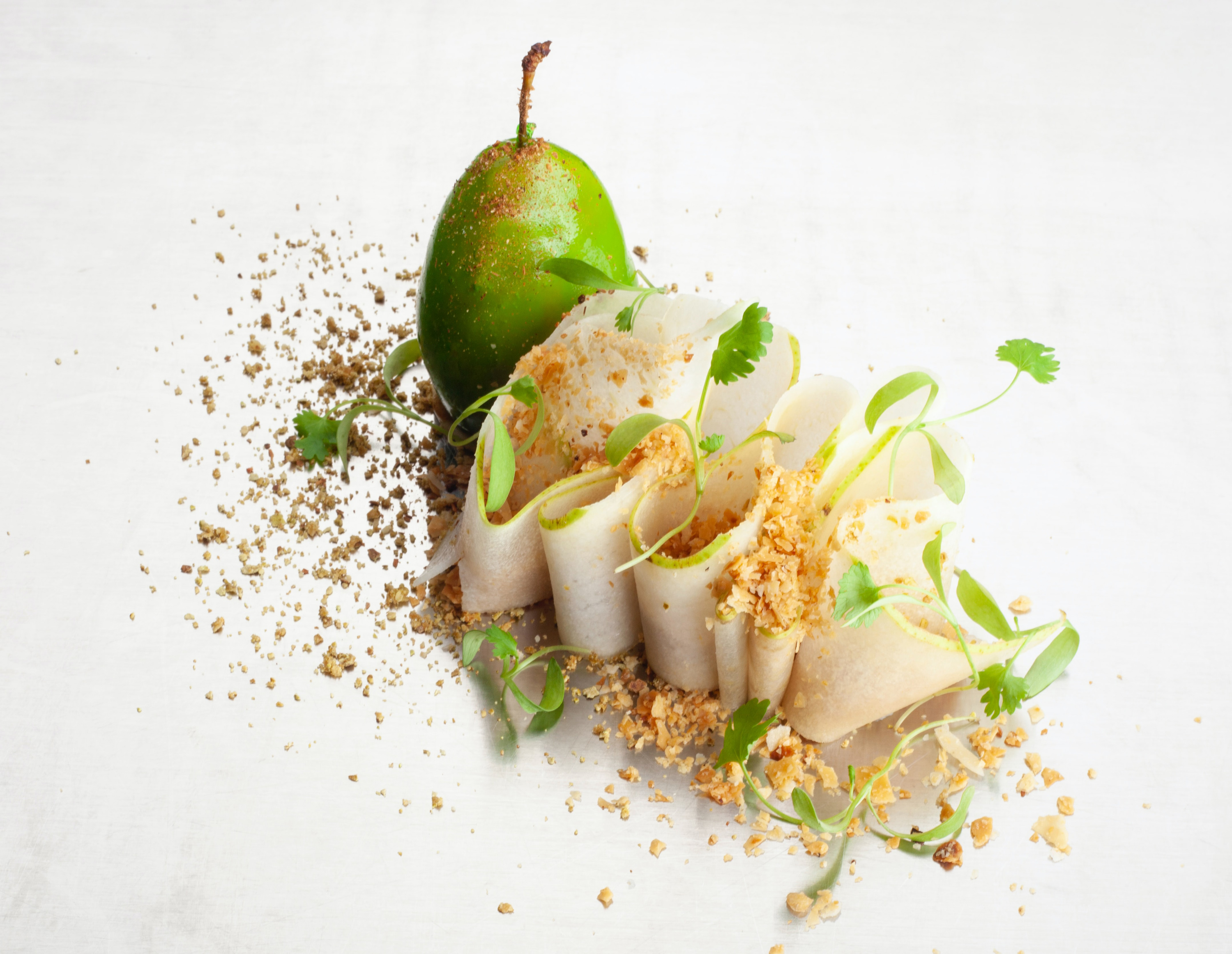 Michelin-starred chefs embrace plant-based
Sapid is part of a growing trend among Michelin-starred chefs who are rethinking the future of fine dining. While prior iterations of upscale tasting menus focused entirely on animal proteins, chefs are starting to see the value of plants as center-of-the-plate ingredients that are healthier for people, animals, and the planet.
A former critic of veganism, Ramsay has adapted to the palatable plant-based shift by adding vegan dishes to his restaurants, experimenting with vegan bacon recipes on social media, and, most recently, becoming the face of a campaign for Silk's oat milk. "Well, it took my kids getting on me, but now I really enjoy cooking more plant-based dishes at home and in my restaurants," Ramsay said.
In Los Angeles, Michelin-starred chef Josef Centeno is also experimenting with plant-based cooking. The James Beard Award-nominated chef is replacing dairy with plant-based alternatives to give diners more choices without sacrifice. At his Tex-Mex eatery Bar Amá, the acclaimed chef partnered with So Delicious to use the brand's vegan cheese in place of dairy in some of his most popular dishes, including Cheddar Almond "Queso" and Chile Relleno.
Perhaps the biggest jolt in the fine-dining world was chef Daniel Humm's plant-based transformation of world-famous Eleven Madison Park, which reopened this summer after a long pandemic-induced slumber. "In the midst of last year, when we began to imagine what Eleven Madison Park would be like after the pandemic—when we started to think about food in creative ways again—we realized that not only has the world changed, but that we have changed as well," Humm said. "It was clear that after everything we all experienced this past year, we couldn't open the same restaurant."
While dry-aged duck used to be the main attraction at the influential New York City restaurant, 16-hour smoked beets, served in a ceramic pot that is broken tableside, are now in the spotlight. Milk and honey are the only non-vegan options on the menu and are offered to guests during coffee service. The rest of the $335 tasting menu consists of luxurious vegetable dishes that pave a new way forward for fine-dining. "It was this last year that has made me rethink everything. It was in the darkness that we found the answers," Humm recently posted on Instagram. "Cooking with plants has been so joyful and free."