World renowned chef Gordon Ramsay—who was previously a critic of veganism—recently shared a new recipe for vegan bacon on TikTok. In the TikTok video, the bacon is made in three stages. First, Ramsay whisks together a marinade of granulated garlic, nutritional yeast, paprika, cayenne pepper, maple syrup, soy sauce, sriracha, and vegan butter. A few spoonfuls are mixed into a bowl of crumbled tofu. Then, Ramsay cuts strips of rice paper that are dipped into the marinade and placed on a baking pan. A few spoonfuls of the crumbled tofu are then sprinkled on each strip of rice paper, covered with another strip, and then pressed together. After baking in the oven, the rice paper appears crispy and oily—similar to traditional animal-based bacon—as the crumbled tofu between the two layers of rice paper acts as the bacon fat while it is baking.
The TikTok video goes on to use the vegan bacon to make a vegan BLT sandwich. Ramsay spreads vegan basil aioli on toasted bread, tops it with lettuce, tomato, the vegan bacon, avocado, and another slice of toasted bread. "I'm turning vegan," Ramsay says at the end of the video, "for lunch."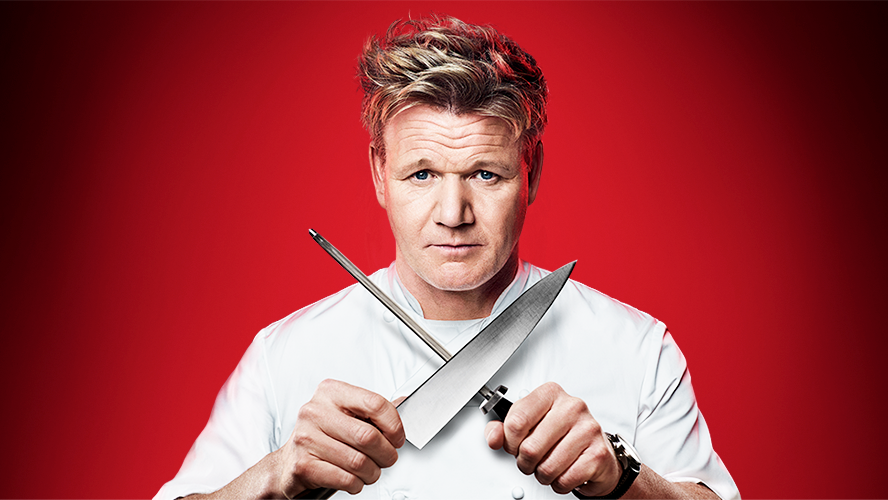 Gordon Ramsay's bringing home the vegan bacon
In recent years, Ramsay has made himself out to be one of the biggest critics of veganism. He would frequently joke about vegans and once stated that he was allergic to them. But in 2018, the chef added a vegan Charred Aubergine Pizza to his Gordon Ramsay Street Pizza restaurant (now called Bread Street Kitchen) in London. At the time, he shared a photo of the new menu item on Twitter with the caption: "Going to give this #vegan thing a try."
After receiving positive feedback from fans about the new vegan dish, Ramsay continued to experiment with plant-based cooking. In January 2019, he implemented a full plant-based menu at his restaurant in celebration of Veganuary—an annual challenge that promotes veganism and encourages people to go vegan for the month of January. Ramsay's Veganuary menu featured pumpkin soup dotted with truffle oil, a superfood salad, risotto made with wild mushrooms, eggplant-topped pizza, and a selection of desserts ranging from chocolate avocado mousse to banana-based ice cream. The chef also created a vegan version of his famed Beef Wellington using beets instead of meat.
Bread Street Kitchen
In 2019, Ramsay's vegan take on the traditional British Sunday Roast grabbed the attention of famed vegan hater and Good Morning Britain host Piers Morgan. When Ramsay tweeted a photo of the vegan Sunday Roast, Morgan commented: "Oh, for f*ck's sake, Ramsay … not you, as well? This looks utterly revolting." Not long after, Ramsay set Morgan straight during an appearance on the Late Late Show with James Cordon. "So, Piers Morgan is now a food critic? Go and f*ck yourself," Ramsay said. "Here's the thing … veganism is on the rise and we ought to adapt and yeah, eat a slice of humble pie."
Gordon Ramsay is now promoting plants
Earlier this year, Ramsay took his newfound love of the plant-based lifestyle one step further by welcoming the first vegan contestant, Josie Clemens, to the most recent season of his cooking reality show, Hell's Kitchen.
Ramsay also recently became an ambassador for a new campaign by vegan brand Silk to promote its oat milk. The G.O.A.T. campaign promotes Silk's oat milk as the Greatest of All Time (G.O.A.T.) milk and features celebrity ambassadors who are the G.O.A.T. in their own right. Ramsay, who was named the G.O.A.T. of Yelling in Kitchens, took to social media to promote the campaign. "Well, it took my kids getting on me, but now I really enjoy cooking more plant-based dishes at home and in my restaurants," Ramsay said. "Let me tell you, I know greatness when I taste it, and I am loving Silk Oatmilk for both sweet and savory recipes."
For more about celebrity chefs, read:
Meet the Chefs on Food Network's First Vegan Episode of 'Beat Bobby Flay'
Michelin-Starred Chef Marco Pierre White Now Serves Whole-Cut Vegan Lamb
Dominique Crenn Announces Plans To Serve Lab-Grown Chicken

JUST LAUNCHED! Get our 10 Easy Vegan Summer Meals recipe book as a FREE instant download.
JUST LAUNCHED! Get our 10 Easy Vegan Summer Meals recipe book as a FREE instant download.