The Food Network just made history with its first vegan episode of Beat Bobby Flay. Launched in 2013 and currently in its 30th season, Beat Bobby Flay is a cooking competition show where two chefs face off for the chance to compete against celebrity chef and host Bobby Flay. On this monumental episode, Tamearra Dyson (chef-owner of soul food restaurant Souley Vegan) and Adyre Mason (chef-owner of Alabama-based The Veggie) faced off for a chance to proclaim, "I beat Bobby Flay."
In this celebrity-studded episode, the two vegan chefs were judged by Food Network personality Sunny Anderson and billionaire, Shark Tank investor, and vegetarian Mark Cuban. In the first round of the competition, the vegan chefs each completed a dish using a secret ingredient selected by Flay: red potatoes. Dyson's red potato and coconut milk étouffée proved victorious against Mason's German-inspired potato salad, which The Veggie chef finished off with fried watercress and Calabrian chilies, a favorite of Flay's.
After winning over the judges with her étouffée, Dyson faced off against Flay in round two, where she selected the dish they would each be making: plant-based burgers. Ultimately, Flay's smokehouse vegan burgers (topped with dairy-free cheese and oatmilk onion rings) not only fell short of the win but very literally fell apart. It was Dyson's seitan-based double decker burger, served with gooey cheese and fresh pickles, that officially made her the first vegan chef to win the cooking competition show.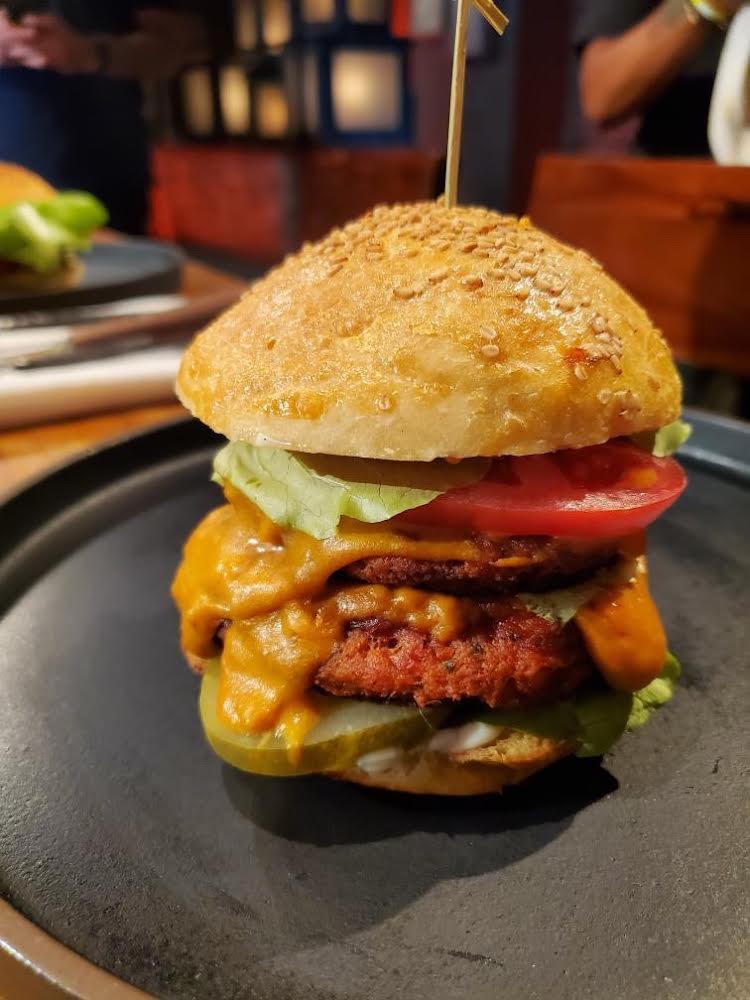 "[The show] is more than just a competition," Dyson told VegNews. "I have so much respect and admiration for [Flay]. It was an honor to appear on his show, and the competition itself was beyond what words can describe."
First vegan chef on Beat Bobby Flay: Souley Vegan's Tamearra Dyson
Dyson, who founded Souley Vegan in 2009, is no stranger to the Food Network. The plant-based entrepreneur, who was raised on vegetarian food, has been featured in Diners, Drive-Ins, and Dives, where host Guy Fieri sampled her okra gumbo—a dish that's also earned Oprah's stamp of approval. Throughout her career, Dyson has cooked for a roster of high-profile celebrity clientele, among them Stevie Wonder, Erykah Badu, and Eric Benét.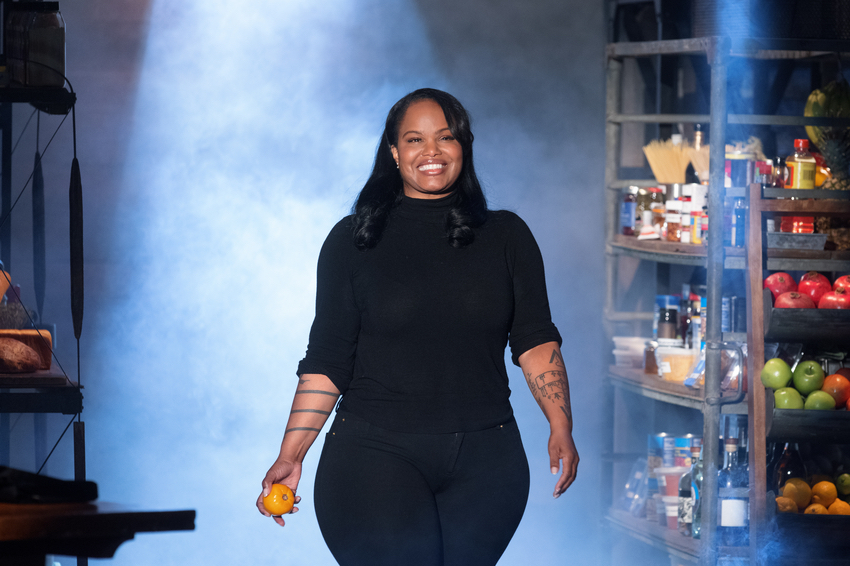 Food Network
But before Dyson rose to fame, she was a single mother with just $26 in the cash register looking to grow what would become her plant-based empire. Despite critics, she was undeterred, ultimately walking away from her nursing studies to open one of the country's premier vegan soul food restaurants.
More than a decade after the grand opening of Souley Vegan in Oakland, CA, Dyson launched three ghost kitchen outposts in San Francisco, Los Angeles, and Las Vegas—all during the ongoing COVID-19 pandemic. More recently, Dyson announced her latest venture last year: The Back Porch. The Cajun bar, located behind the flagship location of Souley Vegan, will serve upscale bites and cocktails in its large outdoor space.
Vegan chef Adyre Mason is ready for battle
Dyson's competitor was Mason, the engineer-turned-chef who helms The Veggie, a vegan catering and meal delivery company that opened its first brick-and-mortar café last year.
"Beat Bobby Flay is one of my favorite shows," Mason told VegNews. "It was literally a bucket list item to try to be on the show one day." After learning the show was casting for its newest season, the chef applied to compete but assumed significant time would pass before she heard anything back. "Being a vegan chef, I figured it would be a while, if ever, that I heard from the show. I was utterly shocked when I was contacted just four days after submitting my application. I'm still so humbled and stunned."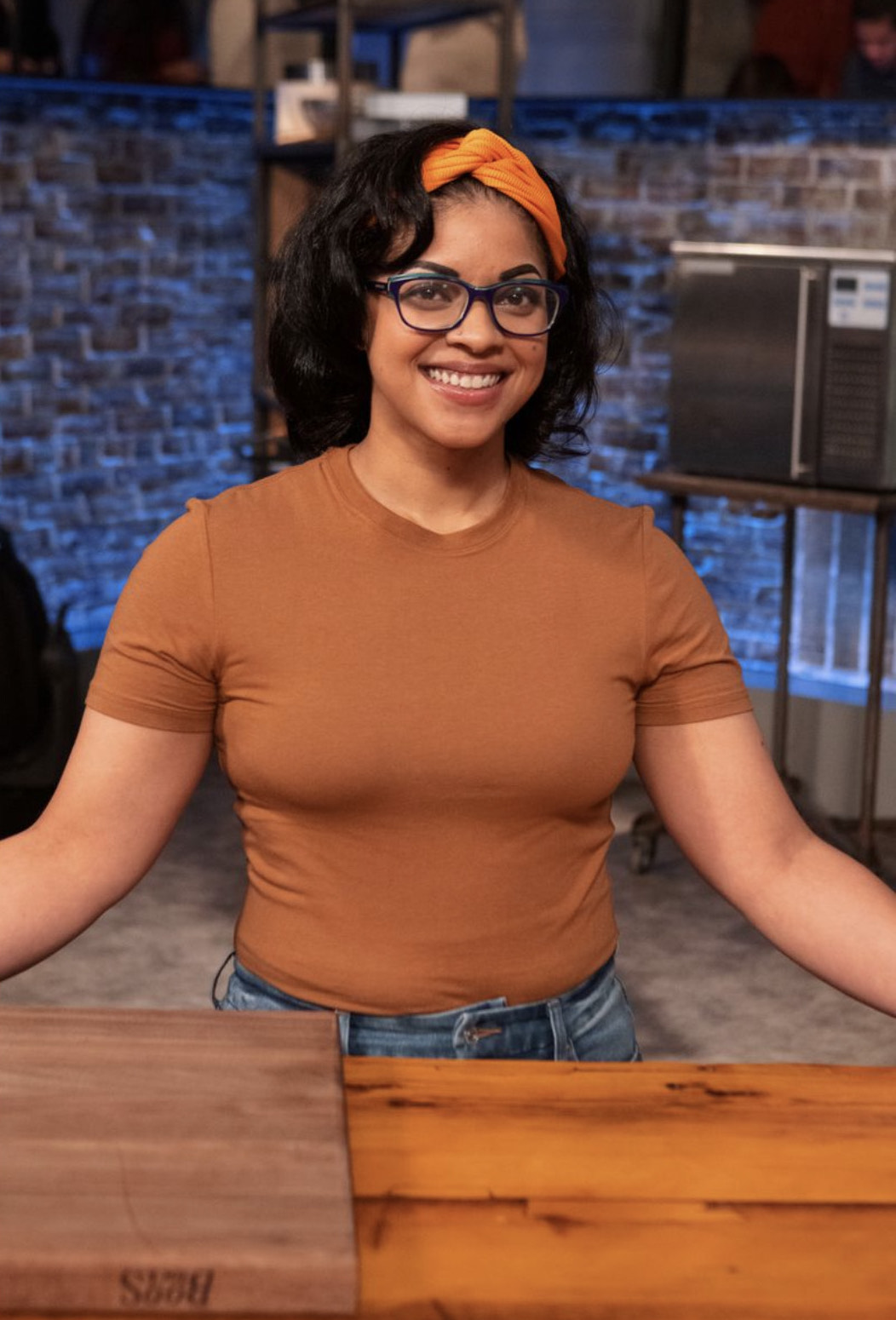 Food Network
Long before Mason stepped foot on set, she and her mom were fans of the network and regularly tuned into a variety of its original shows, Flay's included. But how did this former engineer come to helm her own vegan café? Mason credits her late mother for encouraging her passion and being a source of motivation.
Unhappy with her engineering career, Mason began working on a business plan for a food venture but never completed it. After her mom suffered from multiple strokes, Mason tried to convert her to a plant-based diet but was unsuccessful. She died just four months later, and Mason's grief set a fire to the flame.
After working as a Weapon Systems engineer for an Army program for 10 years, Mason quit her job, cashed in her 401(k), and focused on launching The Veggie to help improve people's health—a topic she is personally familiar with. Mason herself transitioned to a vegan diet in her early 20s to help treat joint pain, high cholesterol, digestive distress, and adult acne. In 2018, The Veggie came to fruition, and two years later, Mason opened The Veggie Quick Service Café to help make healthy vegan food more accessible to her community.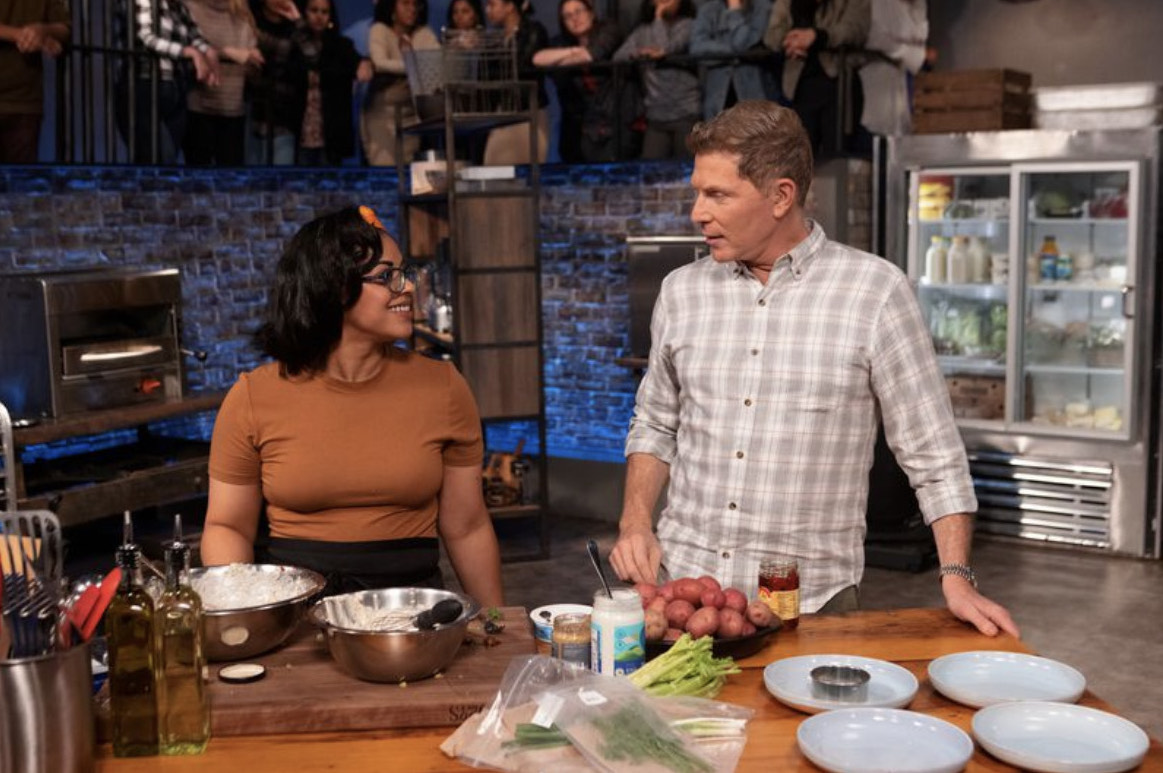 Food Network
The vegan chefs face off on Beat Bobby Flay
Although Dyson and Mason didn't know each other prior to filming, the two hit it off instantly. "[Chef Mason] is great. We connected immediately," said Dyson. "We had a lot of things in common, and we encouraged each other." Mason, similarly, found inspiration in Dyson. "She doesn't know this, but [Dyson] said something seemingly small, but so wise, that was a huge shift for me, and I've kept it with me daily since meeting her," Mason said. "I feel honored to have cooked alongside her. She is truly a vegan legend in my eyes."
For the chefs, appearing on Beat Bobby Flay is monumentous, and starring in the show's first vegan episode is the cherry on top. "When I learned this was a historic episode, I was speechless," said Mason. "All I wanted to do when I started this business was to find a way to keep pushing forward in life after the devastating loss of my mother and to honor her memory. I didn't anticipate being part of history."
This episode, too, serves as a major milestone for veganism, Mason notes. "We've seen vegan entrepreneurship highlighted over the last few years as people have expanded options at restaurants or as companies [create plant-based] products, but we don't always see actual vegan food made by vegan chefs at the forefront. This is a great moment for vegan food and vegan cooking."
For more about these vegan chefs and businesses, read:
How Oakland's Souley Vegan Became a Soul Food Empire
A New Black Woman-Owned Vegan Café Is Coming to Alabama
The VegNews Guide to Vegan Black-Owned Businesses