San Diego's food scene is often overlooked and underappreciated thanks to its neighbor to the north—the glittering vegan food mecca of Los Angeles. However, this SoCal city's burgeoning plant-based dining culture is helping California's second-largest city make a name for itself on the culinary stage.
From high-end meals to the best cookie you've ever eaten, peel off that wetsuit and park your bike at one of these vegan San Diego eateries.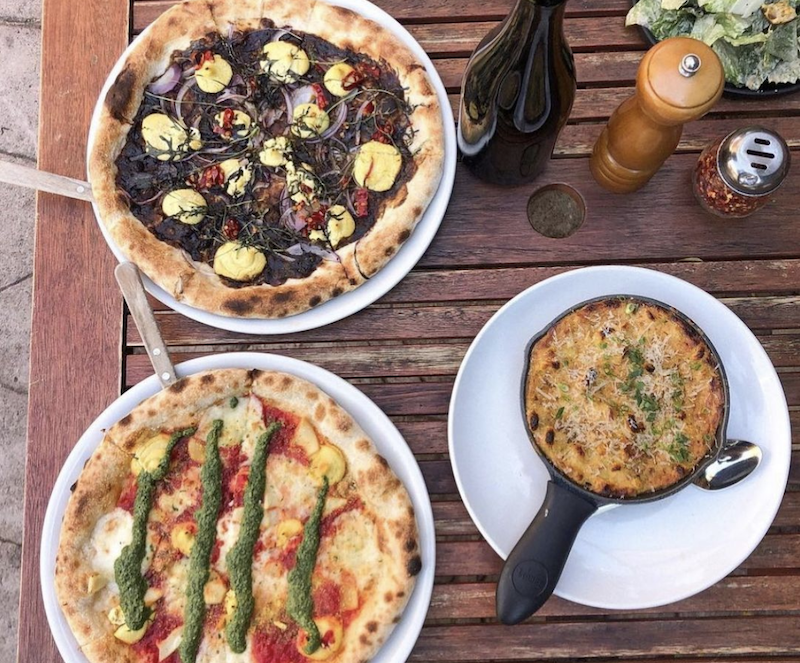 Donna Jean
1 Donna Jean
Located just two blocks from the tree-lined streets of Balboa Park, diners of all kinds flock to Donna Jean to enjoy homemade vegan pizza and pasta. Named in homage to chef Roy Elam's late mother, the restaurant boasts a spacious patio and herb garden for customers to enjoy year-round. Locals love this spot for a date night while others regularly order the speckled wood-fired pizza to-go. Made with a blend of vegan gouda, ricotta, parmesan, and mozzarella, the customer-favorite Four Horsemen pizza has been on offer since the restaurant's inception.
Find out more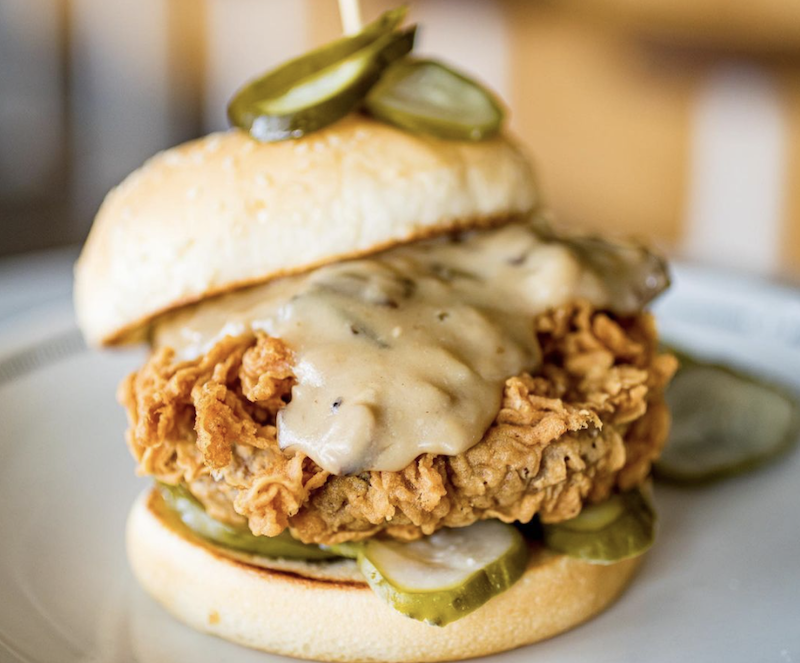 KINDRED
2 KINDRED
What do eclectic cocktail bars, metal tunes, and gastropub culture have in common? Nothing, at least not until kindred opened its doors back in 2015. The LED-illuminated ceiling, vibrant pink walls, and retractable garage-door-style window set the stage, but the food and cocktails steal the show at this South Park hotspot. Begin the night with the tangy, spicy chargrilled seitan skewers before grabbing hold of the best vegan barbecue sandwich west of Memphis. Come back for brunch on the weekend and enjoy pancakes topped with caramelized banana and bourbon butterscotch or the Benedict served with luscious cauliflower hollandaise.
Find out more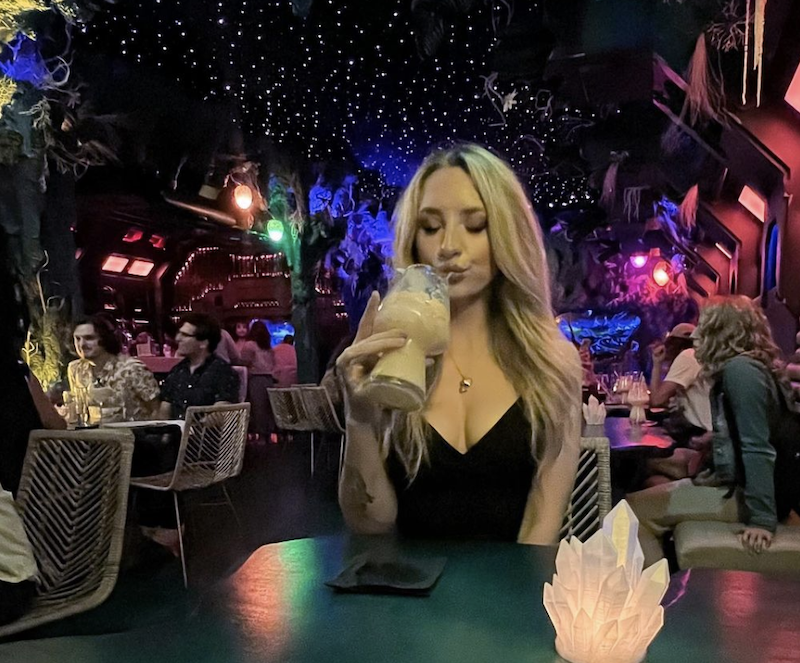 Marimunchies/Instagram
3 Mothership
A spinoff of Kindred's themed cocktail nights, Mothership is a hot new concept (as of August 2022) that somehow cohesively combines a tropical bar with outer space vibes. The food and beverage menu is distinct from its parent restaurant, offering inventive cocktail options alongside satisfying apps and entrées. The space offers just enough sensory overload to allow yourself to escape the outside world while not feeling overwhelmed.
Find out more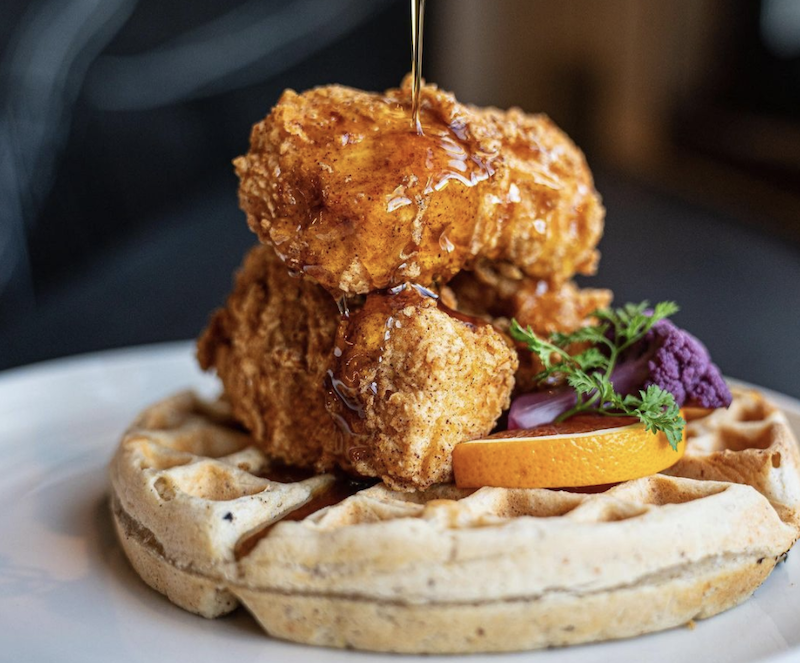 The Plot
4
The Plot
It's not often that anything lives up to the hype, but The Plot delivers with a menu that is mindful yet approachable. Located in the northernmost part of the county, this restaurant focuses on local ingredients—from the onsite produce garden to its secret San Diego supplier of fresh tofu. Velvety pink peppercorn cream sauce and lentil caviar give a nod to fine dining while the salty sweetness of chicken and waffles ground the menu. The Plot is perfect for date night or anytime you want to treat yourself to a nourishing, hearty meal.
Find out more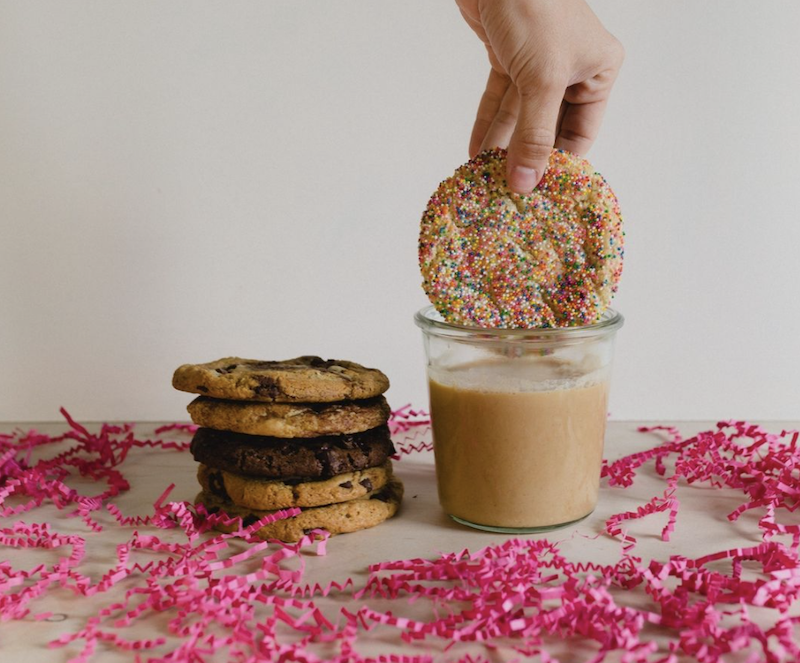 Maya's Cookies
5Maya's Cookies
Not all pop-up food retailers find the success necessary to graduate to a brick-and-mortar, but then again not all pop-ups feature bites as decadent nor as memorable as Maya's Cookies. Born out of the desire to find vegan cookies that passed the taste, texture, and aroma test, owner Maya Madsen got to work crafting what would become the nation's largest and most successful female and Black-owned vegan cookie retailer. Flavors vary from White Chocolate Espresso to Birthday Cake and Brown Sugar Butterscotch to Classic Chocolate Chip with several gluten-free options. Madsen developed a foolproof shipping standard so even those outside of the San Diego and San Marcos areas can enjoy her edible delights.
Find out more
Grains
6
Grains
Sibling co-owners Napatr Chayodom and Katiya Hendricks borrowed inspiration from the brewery-centric University Heights and North Park neighborhood when planning out their business. Grains' craft beer selection complements a versatile menu of Asian cuisine with an influence of bar food. Think fried shiitake mushroom appetizers served with plum sauce; sesame balls filled with red bean paste; pepper-glazed chicken strips with scallions; and a classic Philly cheesesteak sandwich thrown in for good measure. To sample more than your fill at a discounted rate, swing by for happy hour (Monday-Thursday, 3-5pm) for 15 percent off all food and drinks.
Find out more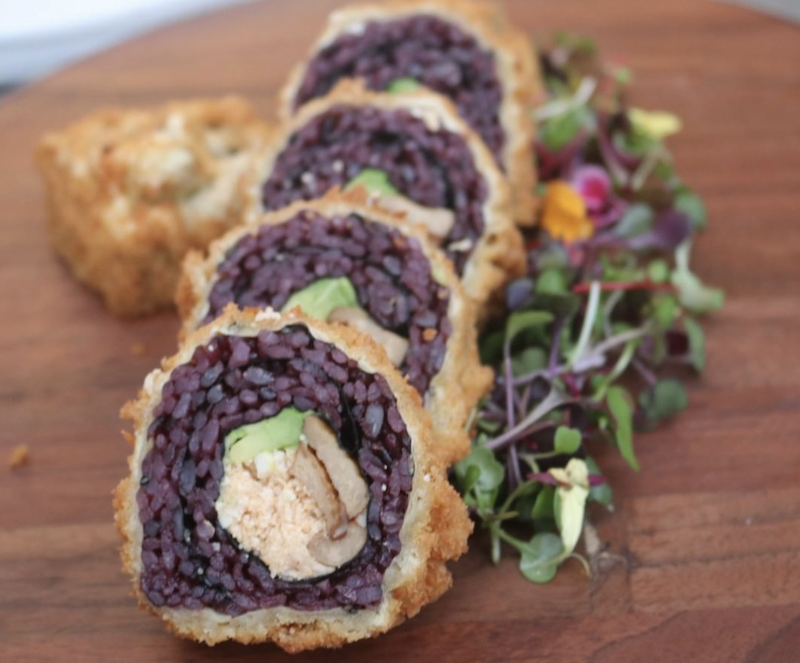 \The Yasai
7The Yasai
Globe-trotting chef Junya Watanabe fuses food and art with a westernized take on Japanese classics at his Convoy and Little Italy sushi restaurants. Here you'll find Instagrammers charmed by intricately constructed vegan sushi while hungry patrons slurp up silky, handmade ramen noodles floating in a creamy dashi. When dining in, don't sleep on the Yasai Specialty Creations. These quirkily-named cut rolls are some of the best items the kitchen cranks out. For take-out, take advantage of the omakase bento box for a little taste of everything.
Find out more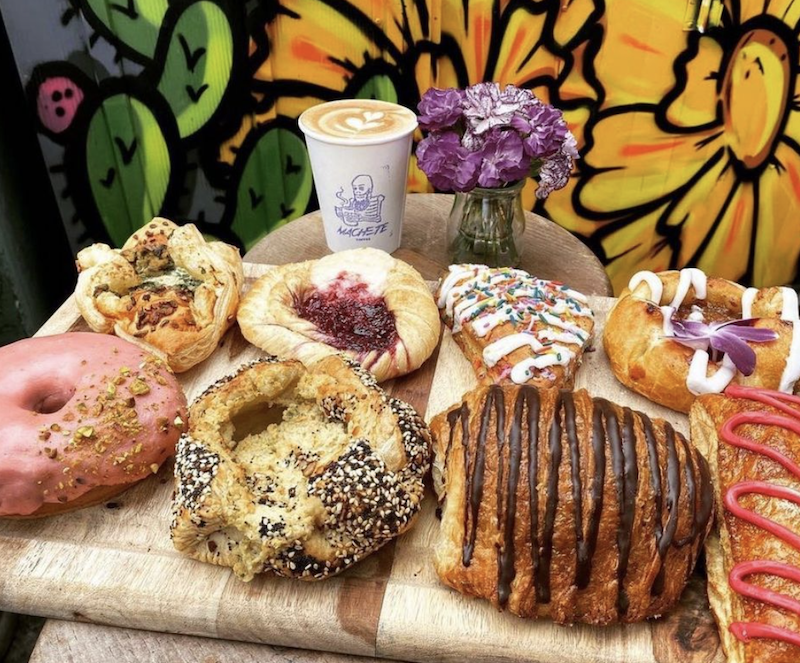 Split Bakehouse
8Split Bakehouse
Owner Vanessa Corrales made the leap from selling directly to coffee shops to setting up her own storefront in Grossmont Center in February 2021. The international selection of baked goods encompasses ube-filled brioche, confetti-sprinkled scones, pain au chocolat, Thai tea pastry cream-infused cruffins, and so much more. The menu is continuously evolving, and fresh pastries are made every three hours to guarantee a superb, just-out-of-the-oven quality. Can't decide? Let the baker choose for you by pre-ordering the Chef's Choice Variety Box. It's a wonderful surprise every time!
Find out more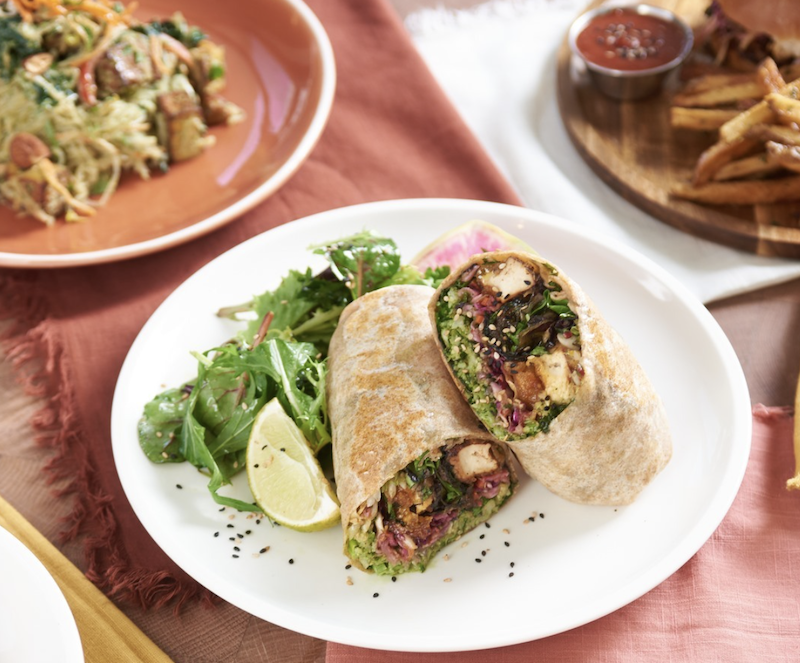 Cafe Gratitude
9Cafe Gratitude
Think what you will about this affirmation-themed restaurant, but there's no denying the food is good. Go ahead and roll your eyes when you tell the waiter "I Am Humble" (translation: I'd like the Indian dahl bowl) and "I Am Dazzling" (translation: "with the Caesar salad")—you're going to enjoy what you order even if you feel a bit cringy asking for it. Keep those affirmations coming to order dessert. The I Am Divine (strawberry shortcake parfait) and I Am Remarkable (raw mocha cheesecake) are truly worthy of their descriptions.
Find out more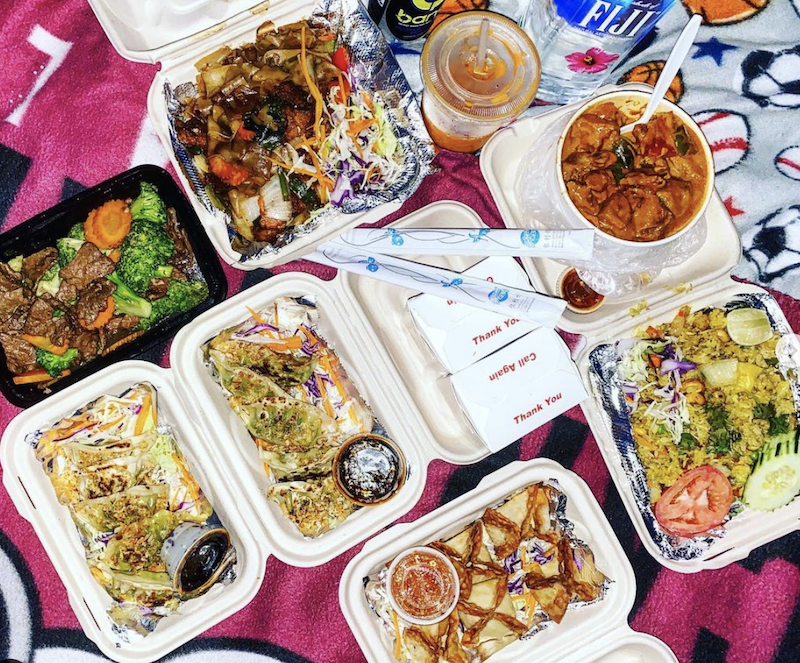 @Q_Eats/Instagram
10Veganic Thai
The minute this plant-based Thai cafe opens, the inescapable aroma of drunken noodles and multi-colored curries flood the streets of Hillcrest and draw a mixed crowd of plant-based and gluten-free eaters. Unlike many other Southeast Asian vegetarian restaurants in San Diego, this menu completely omits egg and dairy, offering relief to the wary vegan by ensuring no modifications are necessary. Grab your spring rolls, Tom Kha, and sweet mango sticky rice to-go or enjoy the outdoor patio seating.
Find out more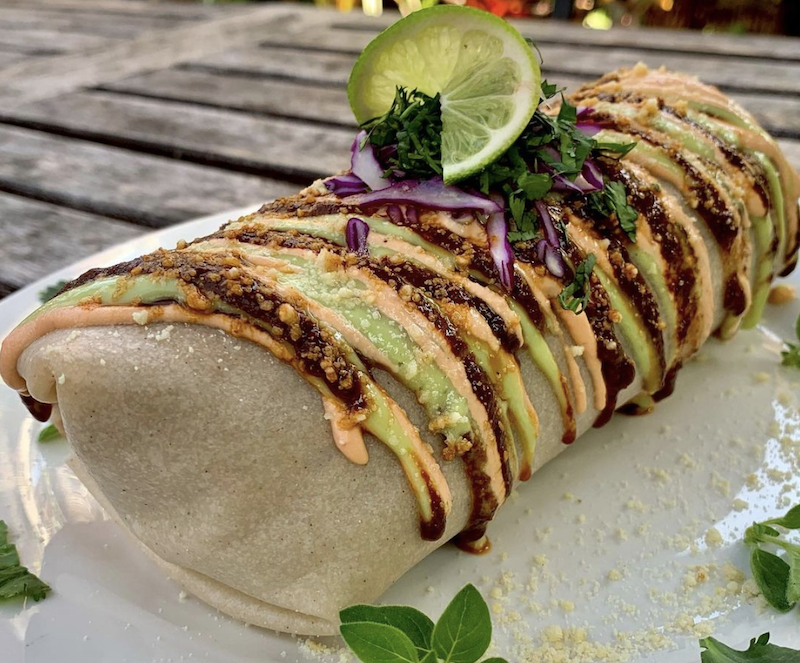 Peace Pies
11Peace Pies
The entirely raw menu is a reflection of this zero-waste restaurant's bohemian Ocean Beach neighborhood. Beach-dwellers swear by the Mystical Mushroom Quesadilla, Loving Lasagna, and namesake Peaceful Pizza. Save room for dessert—the tiny spot dedicates an entire refrigerated section to its raw pies, brownies, truffles, and cheesecakes. Pro tip: you can find a few grab-and-go Peace Pies items at Jimbo's throughout San Diego County.
Find out more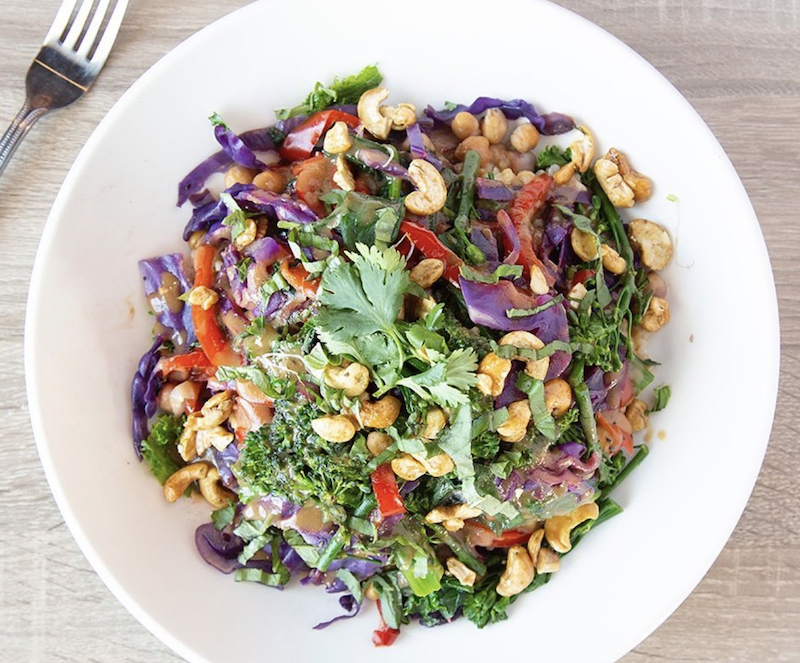 Trilogy Sanctuary
12 Trilogy Sanctuary
With a smoothie selection as expansive as its rooftop view of the Pacific Ocean, this yoga-studio-meets-all-day-eatery prides itself on organic and nourishing ingredients. Sit back with a plate of Buffalo Cauliflower Tacos and watch the aerial yoga class, or sign up for a yoga session and refuel with the Nourish Green Bowl afterward. It's not just a restaurant, Trilogy is truly a vegan sanctuary.
Find out more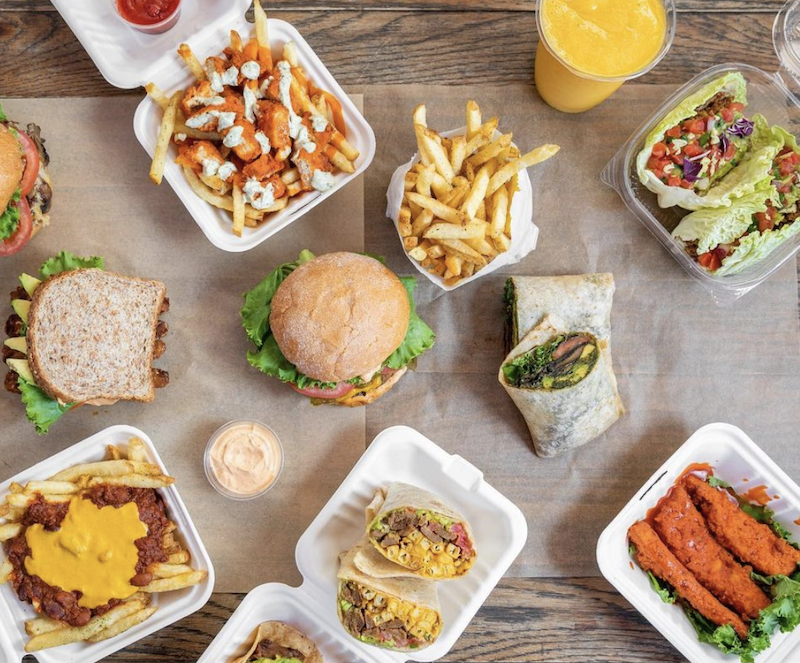 Evolution
13Evolution
As San Diego's first vegan fast-food restaurant, Evolution has set the bar high. It was one of the first restaurants in the city to adopt completely biodegradable packaging—what appear to be plastic utensils and containers are in fact byproducts of wheat and corn which will eventually be reabsorbed back into the soil. The familiar fast-food favorites are also exceptional—from the flaky fish street tacos to the In-N-Out-style EVO Burger. Like any quality fast-food restaurant, its shakes (both raw and classic) are not to be missed.
Find out more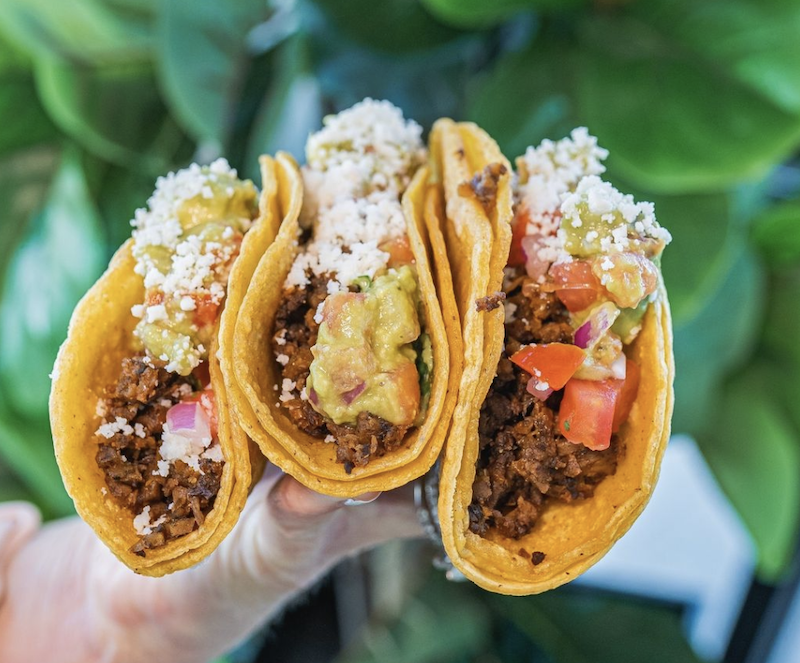 Tacotarian
14 Tacotarian
This Las Vegas transplant is proving it has what it takes to meet San Diegan's high expectations for tacos. The menu features a solid range of Latin-style plant-based meats from seitan-based carne asada to mushroom chorizo. Of course, there are tacos, but customers may also be swayed by the Cali Burrito, quesadilla, tortilla soup, or plantain con mole. Essentially, one could eat here for lunch and dinner for two weeks straight and still try a new option every single night.
Find out more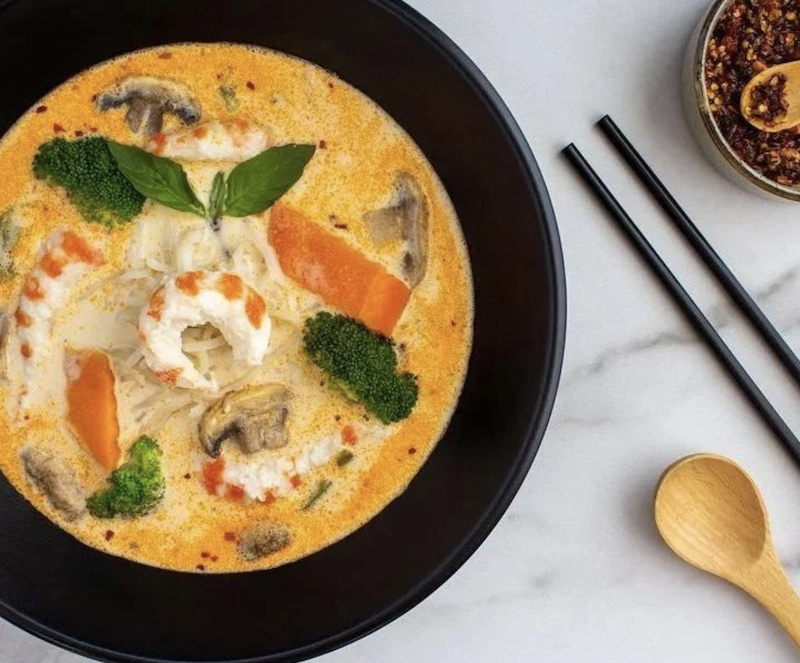 Sipz
15 Sipz
Those who suffer from indecisiveness beware–this pan-Asian micro-chain offers a savory and sweet menu nearly as dizzying as The Cheesecake Factory. Pro tip from a local: the sushi is solid and you can't go wrong with any of the vegetable and rice dishes. The Crab Rangoon is also something you need to try at least once, as it's the only vegan version of this Americanized dish we've ever come across. Regardless of what you order for dinner, don't leave without a slice of the ube cake. You may be tempted by the brownies, cheesecakes, and cookies that line the pastry case, but there's something about that moist and delicately sweet ube cake that makes us return to it every time.
Find out more

Jared Cross is a writer, avid traveler, and environmentalist based in San Diego, California.
For more on vegan finds in Southern California, read: