Minnesota's burgeoning vegan scene is sure to give NYC a run for its money.
January 22, 2017
---
In 2016, Minnesota raised some eyebrows with the opening of Minneapolis' all-vegan shop Herbivorous Butcher—where brother and sister team Kale and Aubry Walch create succulent plant-based meats, cheeses, and meals to serve their increasingly veg-curious community. We tracked down the shop's marketing director Laura Van Zandt—who is also conveniently the local vegan food blogstress behind One Girl, Two Cities—to give us the scoop on the Twin Cities vegan scene. Sure, New York City seems to welcome a new vegan joint every day, but Van Zandt assures us that the Twin Cities does not pale in comparison. Join us as we explore the vegan nooks and crannies of St. Paul and Minneapolis with our favorite tour guide.

Pizza Nea
A Neapolitan pizza joint that proudly advertises their use of Herbivorous Butcher's meats and cheeses, Pizza Nea is where you go to craft your perfect vegan pie. Swap dairy cheese for the Butcher's mozzarella and go to town with veggie toppings. Or, try Van Zandt's new favorite: The Carciofo, loaded with roasted peppers and artichokes, which she adds sausage crumbles for a little extra flavor.
 
Fasika
Ethiopian cuisine has always been a veggie lover's paradise, and Fasika does not disappoint. This cozy and laid-back eatery offers the Vege Sampler, an all-vegan platter with your choice of seven different dishes served with plenty of delicious, spongy injera bread. A perfect date night spot that Van Zandt says is made better by digging into delicious food with your hands.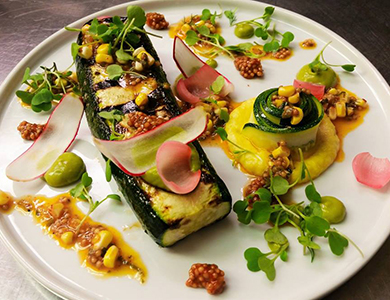 Tongue in Cheek
Speaking of places to bring a date, Tongue in Cheek offers a daily dish called "The Vegasm." The play on words alone is enough for us, but the unique components of the dish pique our interest. The Vegasm is a rotating dish, made from varied ingredients based on what they have available. Van Zandt has bravely had the mysterious dish on three occasions, and reports that all have been both delicious and satisfying.
 
The Hard Times
"A greasy spoon kind of breakfast spot," Van Zandt says that The Hard Times is an easy choice. This vegetarian restaurant is open 22 hours a day and offers vegan options aplenty. The Vegan Helter Skelter comes with perfectly cooked hash browns and their inexpensive vegan baked goods are worth a visit alone. Van Zandt warns that the service can be spotty and their taste in tunes is not for everyone.
 
French Meadow Bakery & Cafe
With locations in both St. Paul and Minneapolis, the French Meadow Bakery & Cafe has options for everyone—and their vegan selections are clearly marked on their extensive menu. The eatery serves vegan breakfast fare such as cornmeal waffles, blueberry corn pancakes, and a hearty menu item called the "Classic Vegan Breakfast" which consists of tofu scramble, hash browns, sausage, and sprouted toast. Veggie burgers are a lunch favorite and for dessert, Van Zandt will never turn down the bakery's Frozen Peanut Butter Rice Crispy Bar—a veganized rice crispies treat made with peanut butter and served with vegan frozen custard and chocolate ganache. Did we mention brunch cocktails?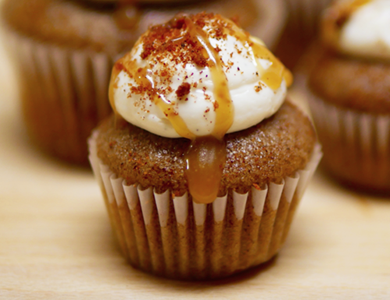 Vegan East
Have a raging sugar craving but too lazy to leave the comforts of hotel or home? Twin Cities cupcake startup Vegan East makes it so that you don't have to move a muscle by delivering their completely vegan treats straight to your door. Van Zandt predicts that their decadent cupcakes will soon find a brick-and-mortar forever home. Our fingers are crossed!
 
Herbivorous Butcher
Of course this tour would not be complete without popping into Van Zandt's home base. Come for the housemade meats and cheeses, stay for the delicious deli sandwiches, then head to Herbivorous Butcher's partner restaurants to check out how chefs put their plant-based products into action. Our tour guide suggests spending the day sinking your teeth into the BLT at The Depot Tavern, the Pepper Jack Cheeseburger at Keys Cafe, and the Korean BBQ Sandwich at The Howe Restaurant + Bar. Van Zandt says that what the Twin Cities lack in fully vegan restaurants, they make up for in creative plant-based menu options thanks in (large) part to the growing distribution channels of Herbivorous Butcher's cruelty-free products.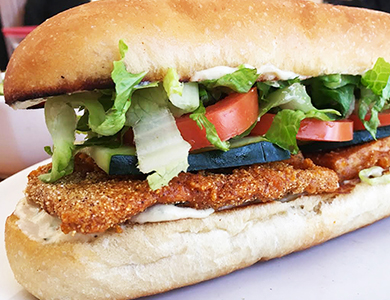 J. Selby's
This St. Paul restaurant opened to great big crowds and our voracious vegan tour guide was treated to two menu items from the get-go, served straight from the source at chef Rick Berdahl's house. Van Zandt reports that she's most excited about the Buffalo Soy Curl Sandwich and the Spicy Tofu Sandwich which she says, "are both bursting with mouthwatering flavors and a good mix of textures". Here's to hoping we're double fisting these two sandwiches in the Twin Cities soon!
Photos courtesy of Herbivorous Butcher, Laura Van Zandt, Tongue in Cheek, Vegan East