What if I told you there was a vegan-friendly city located in an area of the country where long-term climate change projections were relatively promising, everything you needed was a ten-minute drive away (or a short walk, depending upon your neighborhood), and houses were still comparatively affordable?
If you think I'm talking about Portland, OR, you'd be wrong—though it is true that perhaps this city is following in the footsteps of Portland, back before the hipsters put a bird on it.
The plant-based heaven I speak of is Rochester, NY—the third-largest city in the Empire State (pop. 205,000). Also known as "Lilac City," due to a massive annual Lilac Festival that blankets the town in bright purple, Rochesterians love this place for its tight-knit community, surprisingly bustling nightlife, and stunning green spaces.
If you're interested in a town that caters to vegan sensibilities, here's why Rochester should be on your radar.
13 Reasons Why Rochester, NY is the Best Small City for Vegans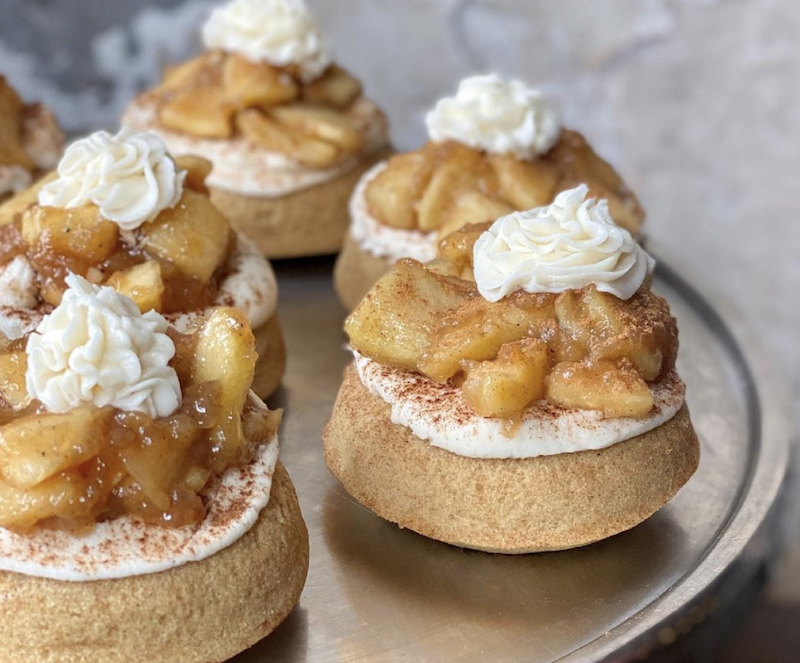 The Red Fern
1 Vegan and vegan-friendly restaurants
There are a small handful of vegan restaurants here serving 100-percent plant-based fare. Stand-outs include Red Fern, boasting a "Compost Plate" that is the ethical alternative to the city's iconic "Garbage Plate (traditionally containing a cacophony of various types of meat with dairy-laden side dishes); "New Ethic Pizza (it also has a spin on a garbage plate featuring Beyond burgers); Allah's Kitchen (the Culture Bowl is basically a better version of a soul food plate); Natural Oasis Cafe (for next-level Ethiopian food); and new bakery, Hollycake House (consider your croissant cravings met, vegans).
There's also a vegan butcher shop (yes, you read that correctly) that will fool both you and your meat-eating uncle. Mom-and-Pop shop Grass Fed is redefining plant-based meats with its small-batch selections made from all plant-based ingredients. With kosher offerings including everything from brisket to butter chicken and even pâté, this shop boasts an old-school flair (think Lower East Side, 1930s), complete with an adorable deli scale to measure your pastrami slices.
On top of those all-vegan mainstays, the vegan-friendly options abound in this town—with standouts including the always-charming Voula's Greek Sweets and, for a date night, romantic Owl House.
2 Vegan food service
Or you could just stay in and have your food cooked and delivered to you. SweetPea Plant-Based Kitchen delivers whole foods-based vegan meals to your house, and there are a number of plans to choose from.
Rotating specials include Gigante Beans "Oreganata" with Tomato and Broccoli Rabe, BBQ Beetloaf with Red Flannel Hash and Cabbage Slaw, and Chick n' Jack Salad Pita. So even when your workday-from-home is over, you don't need to change out of your pajama bottoms (no judgment).
3 Rochester Area Vegan Society
Not only does Rochester have vegan food options everywhere you turn, but it also boasts the iconic Rochester Area Vegan Society (RAVS), which has been around for more than 30 kale-infused years.
RAVS features regular events—both online and in-person—as well as a variety of different types of potlucks, picnics, and publications (oh my!). Some of the highfalutin' go-to plant-based experts on the itinerary include notable MDs Neal Barnard and Caldwell Esselstyn. Get your beans ready and tune in.
4Sweet Sanctuaries
Rochester is right next door to the Finger Lakes, which is one of the country's most beautiful vacation destinations, and also the home of some fabulous farm sanctuaries. From the granddaddy of them all, Farm Sanctuary itself—whose original sanctuary is located right outside Watkins Glen—to the brand new Sweet Farm, which just moved to the area from California to do its dynamic climate-friendly sanctuary work, and with lots of in-between, it's sanctuary heaven here. Add that to the wineries, the NASCAR racing, the gorgeous gorges, the university (heard of Cornell?), and the lakes themselves, and you have a built-in vacation destination right in your own backyard.
5 Rochester Lifestyle Medicine
One of the most special perks of Rochester is that there is an entire lifestyle medicine facility that is rooted in a plant-based ethic. Focused on preventative care and self-care, lifestyle medicine offers a holistic take on modern-day medicine.
Rochester Lifestyle Medicine steps it up a notch by being entirely plant-based, offering a varied mix of online programming that helps people transition to a wholesome plant-based diet, as well as in-person one-on-one meetings with MDs who offer both impeccable bedside manner as well as a genuine desire to help you troubleshoot everything from life stressors to what to eat for breakfast.
6 Long-term climate change projections
Most vegans I know care a helluva lot about the planet and understand the deep connection between climate change and animal agriculture (animal ag is the second-largest contributor to greenhouse gas emissions and is a leading cause of biodiversity loss and deforestation, amongst others).
Rochester is considered a climate-refuge city, due to its lack of extreme weather conditions and its easy access to fresh water. This is the primary reason I moved up here, and I'm seeing more and more people making this choice. The green city also has the infrastructure to support a rapidly growing population, which is good news because Rochester might double in population in the next half-century.
7 Strong activism scene
As someone who deeply cares about animal rights—both by itself and also as a cause that sits at the intersection of multiple social justice issues—I am lit up by the strong activist community in the city.
This includes everything from a Rochester-based chapter of hunger-relief organization Food Not Bombs (which is and has always been vegan) to various antiracism efforts (this is more than necessary since this city, like so many others, suffers from racial-based violence—including three police killings of Black people by police in the past two years), to a tremendous amount of volunteer opportunities with the Center for Youth (from sponsoring meals at shelters to providing transitional housing to youth experiencing houselessness). There are more than enough opportunities here to put your passion to good use (and no excuses not to).
If you're seeking more inspiration than that, head on over to the historic Mt. Hope Cemetery where, among other historical heroes, you'll find the gravesites for Susan B. Anthony and Frederick Douglass.
8 Access to nature, beaches, and festivals
There are so many green spaces in Rochester that it's hard to list them all. Renowned nurserymen Ellwanger and Barry planted their roots (so to speak) right here in Flower City, home to the world-renowned annual Lilac Festival (amongst a handful of other lively festivals that bring in tourists from near and far year after year). If, like me, you're a Manhattanite-turned-Rochesterian, take note that the vast and artful Highland Park is designed by famed landscape architect Frederick Law Olmstead—who also designed Central Park.
The city also boasts stunning, nature-filled experiences such as the Sunken Garden and the Lamberton Conservatory (I became an annual member for less than twenty bucks). In the mood for urban nature? There's an enormous waterfall downtown (amidst a downtown revitalization project) that will leave you speechless.
As for beaches, you'll have your pick of several gorgeous ones on Lake Ontario—from boardwalks to rustic to state parks and everything in between. It's hard to imagine that a city as hopping as Rochester also offers such a stunning array of outside green spaces, but it's blissfully true.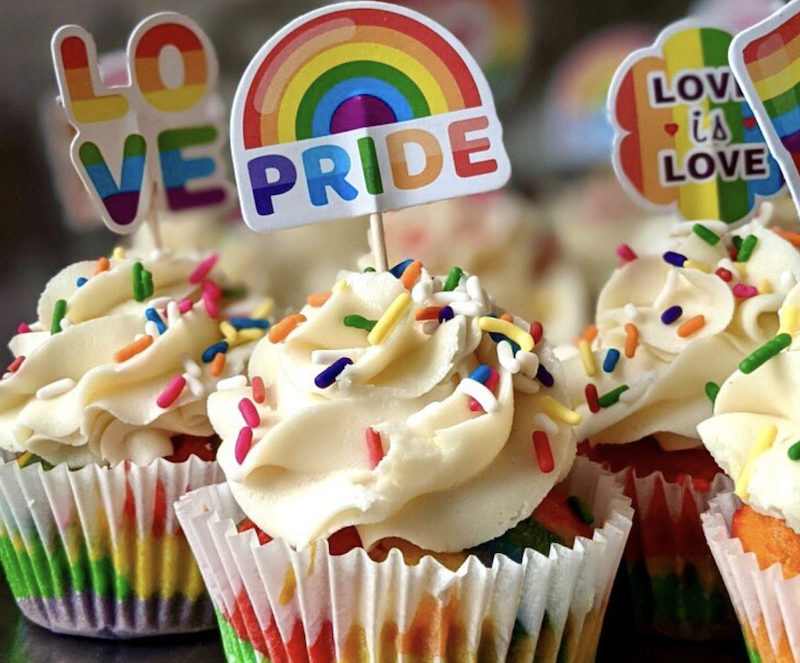 The Red Fern
9 Gay bars, nightlife, and culture
It's possible I'm projecting here since I happen to love the queer scene, but forward-thinking Rochester has several venues to choose from—including Alex, which has the added perk of offering a very vegan-friendly menu (including Pizza Logs featuring vegan cheese and a vegan egg roll wrap), and the quaint, queer coffee shop, Equal Grounds.
The nightlife in "The Roc" is lit, so plan on partying down at Roar or Lux Lounge, or slowly sipping your wine at the more buttoned-up Avvino. Beer snob? The extensive scene here will not leave you thirsty; Rochester is also home to the iconic Genesee Brewery ("Jenny," as it's fondly called, is totally vegan, as is the very popular Genny Cream Ale).
10 No brain-drain here
Rochester is home to genius innovators, past and present. Drawn here by leading higher education facilities including Rochester Institute of Technology, University of Rochester, and Eastman School of Music, wide-eyed students of all ages in this city are notoriously big thinkers about everything from music composition to advanced astrophysics. And since veganism is the future, those on the plant side will fit right in.
11 Relative affordability
Astoundingly, the median cost of a home in the United States is about $375,000, making "the American dream" of homeownership a near impossibility for most people. In Rochester, however, the average cost of a home is teetering around $195,000, making it much more likely for many to go the route of buying.
There are obviously a million caveats here—since nearly five percent of people in this country are unemployed, and more than 37.2 million people are living in poverty. If you're privileged enough to not be part of those stats, you might find your future dream home in Rochester's very active real estate market, which features many old, gracious, and well-cared-for homes on tree-lined streets.
If you do, be sure to explore energy-optimized solutions for your home, such as solar and geothermal (check out ACES Energy) as well as insulation (check out Wise Home Energy) to keep your heating and cooling bills down and your conscience up. While, yes, there is snow here, you can keep your home cozy and warm without wrecking the planet.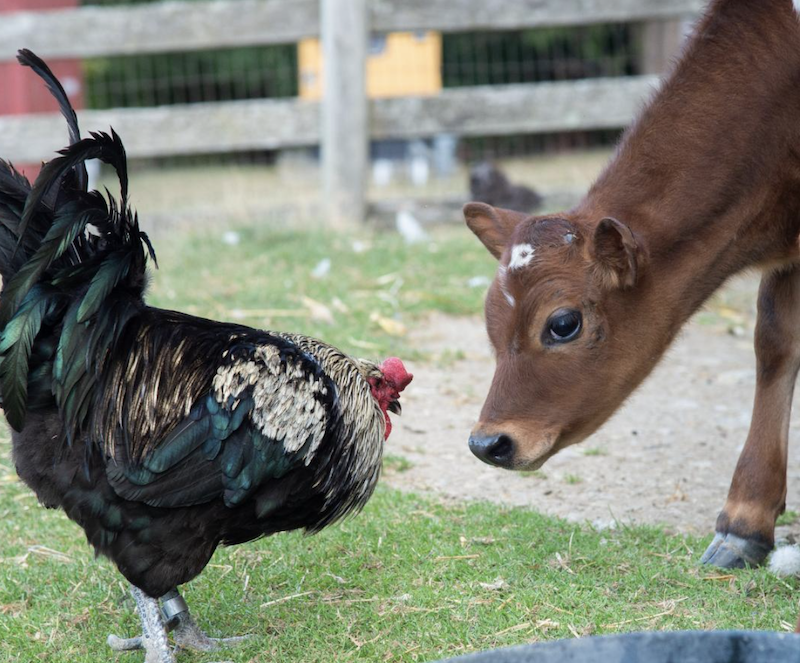 Farm Sanctuary
12 Close proximity to the airport, Amtrak, and many big cities
Let's be real: There is still a global pandemic and many of us are still not traveling unless absolutely necessary. But whenever it feels safer to gallivant about, Rochester is your perfect home base.
Not only are both the airport and the downtown Amtrak station a very short ride away, but there are also more day-trip destinations you could reach by car than I could possibly mention. If you've already eaten your way through The Roc (impressive!), head an hour-and-a-half downstate to Syracuse for an IG-ready lunch at Strong Hearts Cafe (they had me at Chocolate Banana Milkshake).
Still hungry for more? Cross the close by border to Toronto where vegan options await on every corner—you might even make a weekend of it (be sure to have your negative Covid test on hand or the country won't let you in).
13 People are kind
Though the rest of the country might consider all of New York state to be on the east coast, this Western New York city has more of a midwest feel; thus, it has long been known for its genuine neighborly charm. As a small city, Rochester has a vibe that is endlessly chill (and no, I'm not referring to the cold winters—but rest assured that the city is well-prepared to deal with the snowfall, including plowing the sidewalks for you).
Within a few weeks of moving here, my neighborhood hosted a block party where my wife and I felt earnestly welcomed. My neighbors had caught wind of our veganism and generously offered ample plant-based dishes to share.
This kind spirit is not unusual, so if you're seeking an open-armed welcome, make your way to western New York. I'll be waiting for you with a meatless casserole.
For more vegan-friendly cities, read:
The 8 Best Places to Eat Vegan in Detroit
How to Eat Vegan in Tijuana, Mexico
The 8 Best Vegan Restaurants in Stockholm