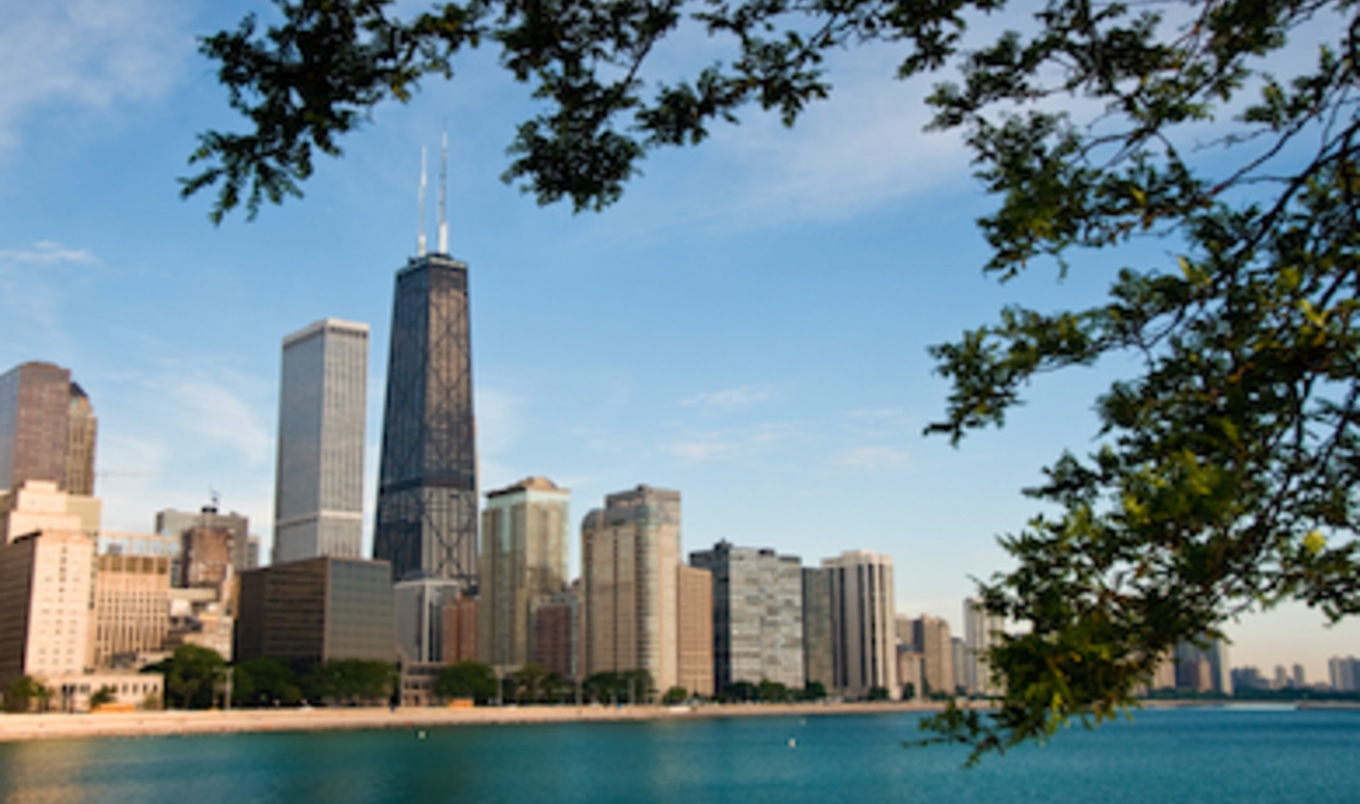 Take advantage of the Midwest's glorious fall to discover its best vegan eats and adventures.
October 1, 2012
---
Upon leaving the Midwest, I have grown nostalgic for this underrated section of land: the unconditional niceness of the rural folk; the unassuming coolness of the city dwellers; the unwavering pride of the locals who wouldn't choose to live anywhere else. Growing up in a town right outside Chicago by Lake Michigan, I have always revered the majestic crisp autumn weather, which is infamous for lasting a total of seven days before the grueling sub-zero winds start to blow in. Until this happens, savor the fall season by taking a tour of the seven biggest cities in America's heartland. You'll enjoy the cities and the season before everyone and their uncle is crowding your house, flannel-equipped, watching seasonal movies on repeat and grimacing over freshly plowed driveways getting caked with more snow.
Chicago, IL
Chicago Diner: There's no doubt the Chicago Diner is nearly every veg Chicagoan's favorite hotspot. The spicy Buffalo style wings are to-die-for, and the creamy soy shakes are delicious and delightful. If you want to try something a little different but with all of the familiar smells and flavors, check out Karyn's Cooked, where you can order a Taco Salad Bowl served with heapings of grilled seitan, onions, lettuce, pico de gallo, guacamole, and soy cheese in a flaky, whole-wheat shell.
Millennium Park: Have you ever seen a colossal-sized silver bean smack dab in the middle of a city? In Chicago you will, especially if you're gallivanting around Michigan Avenue. Enjoy the cliché of taking a picture of yourself in the reflection. This picture calls for a pose involving a pout, peace sign, or tongue out—no exceptions.
Second City: Why not finish the night bent over laughing at this famous comedy club where Tina Fey, Mike Meyers, Chris Farley, and Bill Murray all got started? The renowned house of shenanigans provides first-class entertainment and comedic splendor. A couple rounds of margaritas on me (in spirit)!
Columbus, OH
Northstar Café: This vegetarian-friendly eatery is a great place to dine for lunch or dinner. Even meat-lovers can attest that Northstar knows how to concoct savory and sweet combinations that can make your taste buds perform handstands (figuratively, of course). Everything on the menu screams perfection, especially the vegan Buddha Bowl, filled with pan seared organic tofu, brown rice, and veggies, and the vegan Big Burrito stuffed with black beans, roasted sweet potatoes, and salsa.
Hal & Al's: Hit up this fried-food paradise and gobble up a meat-free hot dog paired with a fried sampler plate of avocados, pickles, and mushrooms dipped in beer batter. This is the ultimate hangout for vegans looking to chow down on quick, cheap, and tasty bar food. Another reason this place rocks? It offers generous daily deals. One-dollar tacos? Si, gracias.
The Santa Maria: In 1492, three ships sailed out to sea; the Santa Maria being one of them. Smack dab in the heart of Columbus, OH is the most authentic replica of Christopher Columbus' seafaring dinghy. Take a guided tour and let your imagination set sail to way back when.
Detroit, MI
Seva: Located near Midtown and Wayne State, this is Motor City's premier dining destination for meat-free grub. The atmosphere is casual, but the food is decadent and delicious. While every dish on the menu is totally tempting, General Tso's Cauliflower (tempura battered cauliflower dipped in a sweet and sour sauce) is the undeniable favorite.
Motown Historical Museum: This is a popular tourist attraction, and for good reason. Don't miss out on the matchless menagerie of Motown memories. If you belt out to the Jackson 5, Diana Ross, or Marvin Gaye in the car when no one's in the passenger seat, take a closer look at the city's roots and legacy in producing Motown melodies.
Fox Theatre: Constructed in the late 20s, this theater was the first ever to be engineered with built-in equipment for sound films. Fox Theatre is the city's sparkling crown jewel as it is one of Detroit's most beloved, stunning, and historical edifices. Some of the biggest names in the entertainment industry perform at this ornate theater, including Jerry Seinfeld and John Legend. But if you're feeling a bit more rowdy and it's hockey season, a Red Wings game never ends on a dull note. (Let's just hope the lockout ends soon!)
Indianapolis, IN
SoBro Café: When in Indianapolis and in need of some comfort food, head to SoBro Café. This eclectic establishment provides its guests with internationally inspired dishes and works hard to cater to all appetites (including gluten-free ones!). Some of its mouth-watering dishes include Bar-B-Q Lentils and the Peanut Sauce Temptation, which deliciously combines tempeh, vegetables, coconut peanut sauce, and brown rice.
Saraga International Grocery: Who knew you could feel like a worldwide traveler in Indianapolis? This hidden gem blows any other market out of the water. You can find local food from Africa, Asia, the Caribbean, Latin America, and the Middle East. Not only is this place multi-culturally fabulous, it's pretty cheap too—especially when you compare a trip to this establishment versus a trip to a handful of continents.
Monument Circle: The gorgeous plaza is one of the best spots in this city. Bring a book or a copy of the latest VegNews, sit on the steps and admire the beauty of one of Indiana's proudest monuments. Take a free guided tour and learn about the why this monument is so special.
Kansas City, MO
FüD: Flavorsome food is ready to be eaten at this uniquely named eatery, which is supposed to be pronounced "food." With a focus on vegan food that is organic and local, this restaurant caters to guests with specific dietary and ethical concerns. Fresh juices are served up daily in addition to the TuneRahh Sandwich, a green jackfruit "tuna" salad stuffed inside two slices of seven-grain or gluten-free bread, and caramel shakes chock-full of superfood powers.
Mud Pie Vegan Bakery & Coffeehouse: Get your java on at this fabulous coffee and confectionary shop. If you're a fan of cinnamon rolls or gluten-free cupcakes, Mud Pie serves only the best. Enjoy a dairy-free latte while you pop on your headphones, and relax in the friendly and homey ambiance.
The City Market: Enjoy wandering through farmers' markets? This unique venue, the largest farmers' market in the region, provides visitors with a diverse mix of dining, shopping, amusement, and more—all in one. Since opening in 1857, the City Market has grown to become one of the best places to purchase food, crafts, and flowers straight from producers.
Milwaukee, WI
Lake Front Brewery: It's not a proper trip to Milwaukee without a visit to a brewery. My favorite is Lakefront Brewery, which hosts a bevy of vegan friendly ales, stouts, lagers, and more. My favorite? Wheat Monkey—a light bubbly and crisp pale wheat ale.
Beans and Barley: Just like its namesake, this eating house is laid out in two parts: café and market. Feast on the juicy Balsamic Tofu Sandwich and then go for a quick stroll through the shop's aisles, which sell products ranging from essential oils to dairy- and egg-free cookies.
At Random: Serving unique drinks and maintaining a 1960s décor charm, At Random never fails in providing a fun night out on the town. The signature drink at this cocktail lounge is the Tiki Love Bowl, which is a mixture of rum and fruit juice that is lit on fire. Don't expect to drink this thing alone, because consuming this concoction actually requires you to hold your loved one's hands and jointly glug in merriment. If you need some food to balance your buzz, stop by neighborhood pizza joint Classic Slice, where you can grab yourself a piece of vegan pizza sprinkled with dairy-free cheese (plus any other toppings you desire).
Omaha, NE
Blue Planet Natural Grill: How do baked French fries with garlic ketchup sound to you? If you think "delicious," keep reading. With a natural, wholesome spin on taste bud-popping cuisine, this eatery not only cares for the environment, but also for its patrons' hungry stomachs. This grill isn't entirely vegan or vegetarian, but makes up for it in its assortment of meat- and dairy-free dishes.
Lauritzen Gardens: Want to marvel at some greenery? You will be impressed with this outdoor peaceful oasis and botanical garden, which boasts 100 acres of lush land. This is the perfect place to stretch your legs, zen out, and relish all that autumn has to offer. Meditation, commence.
Bob Kerrey Pedestrian Bridge: Walk the longest pedestrian bridge to link two states; stretching out to about 3,000 feet, this bridge connects Nebraska and Iowa. On this spectacular bridge you can saunter over the Missouri river accompanied by fellow wanderers and bikers, take deep breaths of fresh air, and catch a look at downtown Omaha when you reach the Kodak-worthy spot.
These seven bustling cities are great places to start your travels through the heartland. But to really uncover all of the Midwest's glory, venture off the dotted line and explore unknown territories, discovering other much-loved metropolises including Minneapolis, MN, St. Louis, MO, or Madison, WI. Find your walking shoes and map—I mean, car and GPS—and get roadtrippin' before the snow starts to fall.