Nestled between the Santa Ynez Mountains and the Pacific Ocean sits Santa Barbara, a coastal town of unmatched natural beauty. Beyond its pristine beaches, oceanfront parks, and hikes with breathtaking views, the city has a vibrant culinary scene that will impress even the most discerning veg-seeking foodie. Head to Santa Barbara, less than 100 miles up the coast from Los Angeles, to slow down.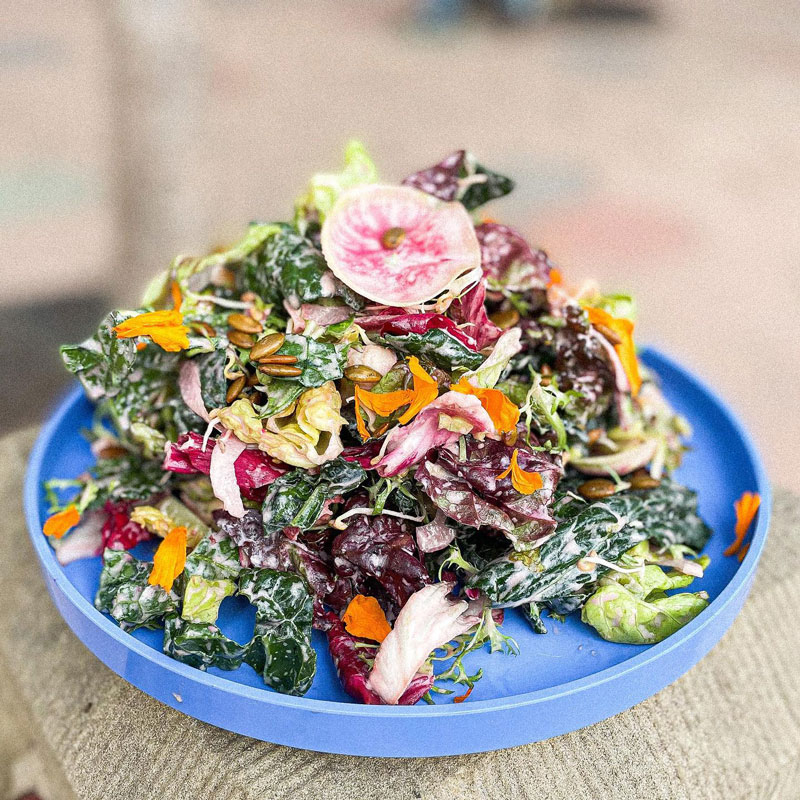 Satellite
1
Satellite
While traipsing State Street—one of the main thoroughfares in Santa Barbara—stop to dine and unwind at Satellite, a natural wine bar and fully vegetarian restaurant where you can munch on light bites while soaking up wine insight from knowledgeable staff. Don't miss dishes like the house focaccia served with confit garlic, and the Yoga Pants Salad, made with whatever's local and freshest from the farmers' market.
Learn more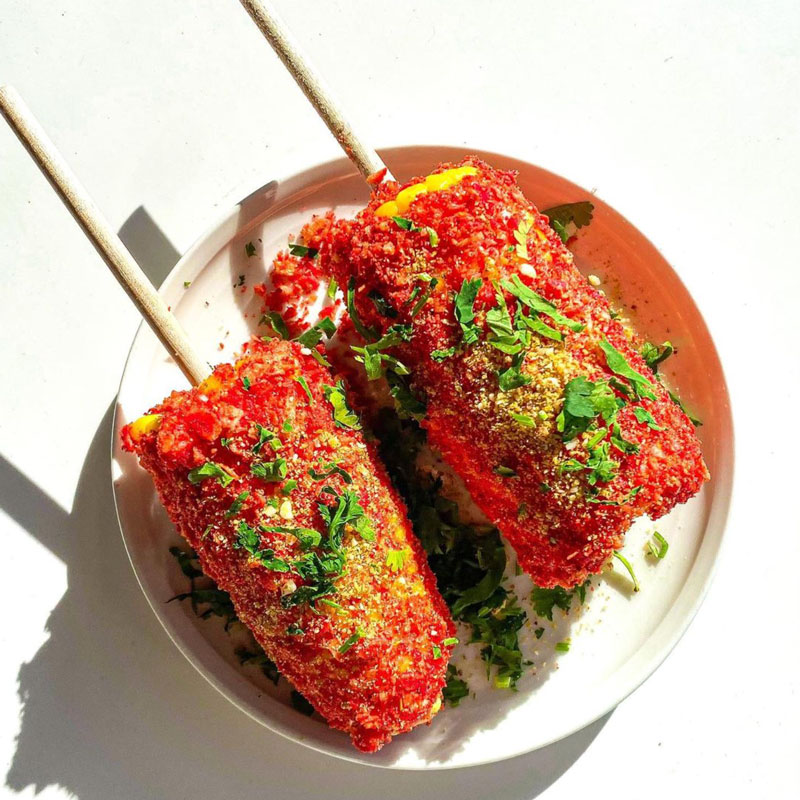 Rascal's
2 Rascal's
If there's one local chef who has risen to popularity and affectionately become synonymous with the vegan food scene in Santa Barbara, it's Dalan Moreno, chef and founder of Rascal's. Moreno's Mexican-inspired dishes are meticulously crafted down to the last detail, including milling the corn in-house for their freshly made tortillas. Make sure to try one of Moreno's fan-favorite dishes, the spicy elote: corn topped with vegan mayo, crushed Takis, almond parmesan, and cilantro.
Learn more
Green Table
3
Green Table
For clean eating at its finest, Green Table, a vegetarian daytime restaurant, has you covered with plentiful vegan options; it's also all gluten-free and organic, with nearly everything made from scratch using locally sourced ingredients whenever possible. If visiting for lunch, try The Raw Veggie Wrap, a house favorite. Or, when your pastry-and-a-drink mood hits, pop in for the made-from-scratch banana bread. Sweet treats should definitely be paired with one of their specialty matcha lattes.
Learn more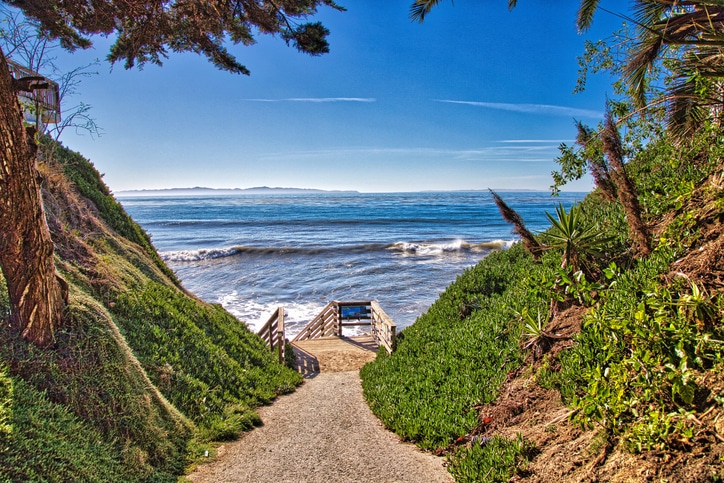 Getty
4
Inspiration Point
In Santa Barbara, self-care is the name of the game, and with so many nature excursions to be enjoyed, there's no shortage of places to start. To earn your panoramic views, set aside two hours to trek up Inspiration Point. For an easier and more leisurely outing, the Douglas Family Preserve has a labyrinth of flat trails perfect for meandering and taking in oceanfront views—you can even bring your pup along for some off-leash fun. Or head to Shoreline Park, with long sidewalk paths sandwiched between lingering grassy runs. Don't miss the somewhat hidden staircase to access the beach and wade in the tidepools during low tide.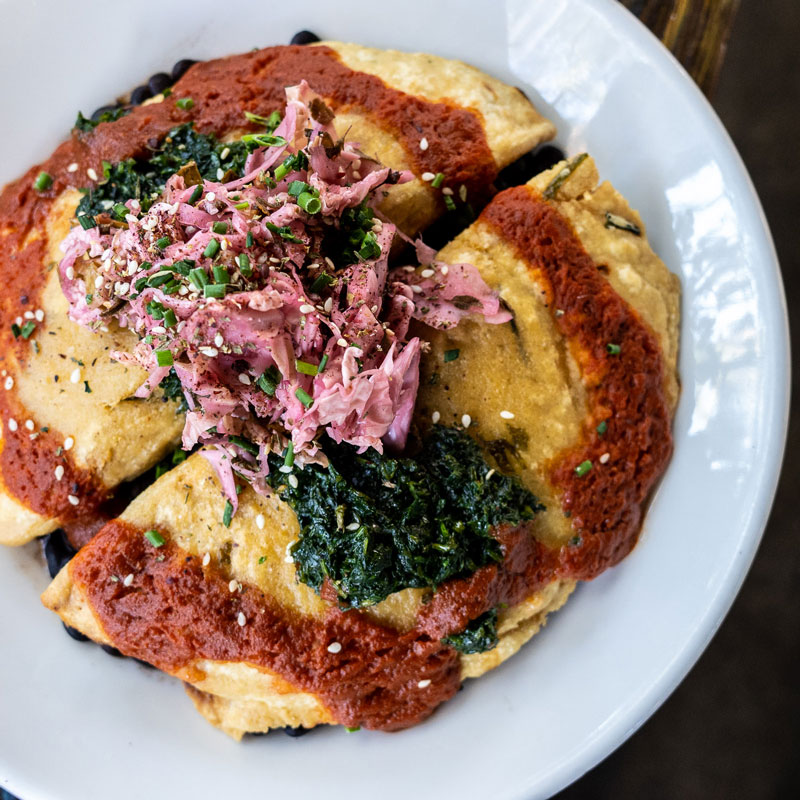 Mesa Verde
5
Mesa Verde
After working up an appetite, make your way to the nearby Mesa neighborhood and pop into the vegan Mesa Verde for some plant-based Mediterranean-inspired eats. You'll have a choice of dishes brimming with unique and surprising flavors like the Squash Blossom Quesadilla and the Mushroom Umami Burger, to name just a few crowd-pleasers. And because you are in Santa Barbara after all, a glass of organic wine alongside a slice of rich chocolate cake with maca, blueberries, and candied macadamia nuts is a perfect way to round out your meal.
Learn more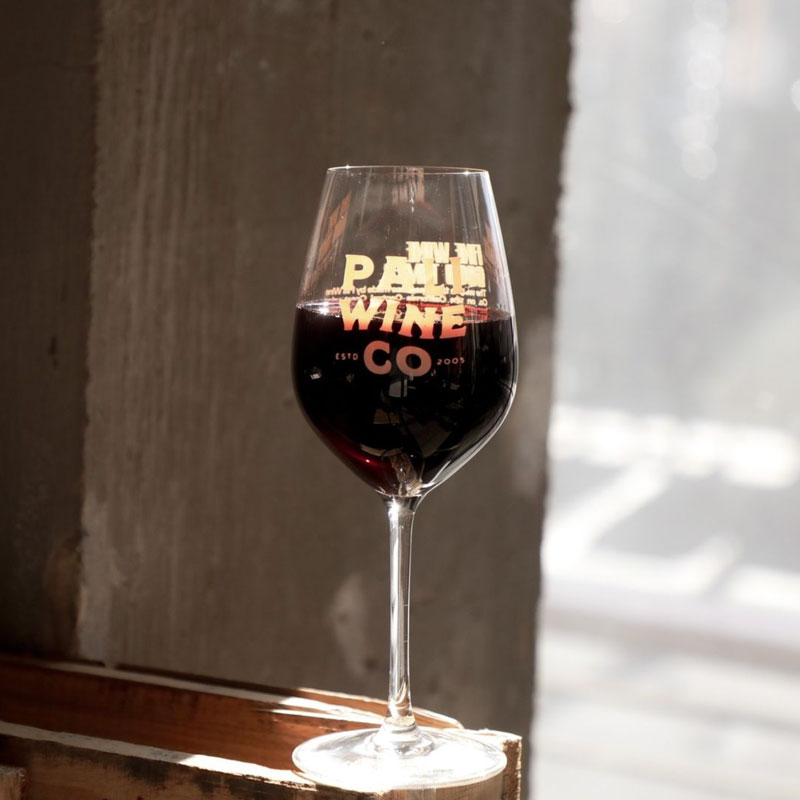 Pali Wine Co.
6
Pali Wine Co. Wine Garden
Just a few blocks from the Santa Barbara pier is The Funk Zone, a hip area downtown for tasting room galavanting. Head to Pali Wine Co. Wine Garden, serving more than 30 varietals sourced locally from California's Central Coast. Opt for a flight, or try some of the newer, funky, natural wines as you soak in the scene. They also offer a few light vegan snacks, a perfect complement to your vino. For some fizz with your ferment, head down the street to Flying Embers, where you can chill with some hard kombucha. After sampling here, you just might become a hardcore hard 'booch convert.
Learn more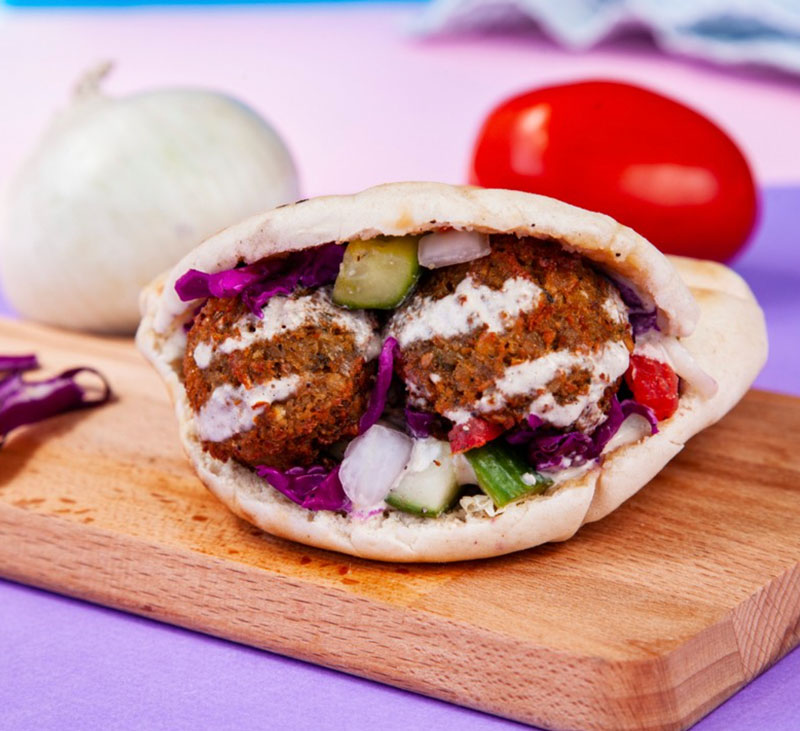 Fala Bar
7
Fala Bar
At the Santa Barbara Public Market, a casual, bustling food hall with a variety of food vendors, the all-vegan Fala Bar will have you smitten. The familiar falafel is great, but the stars of the show are the falafel burgers. If the five options leave you with choice paralysis, opt for the greens-infused Kale Burger. It's a hefty, crispy patty topped with avocado, pickled purple cabbage, grilled onion, lemony kale, and housemade Thousand Island dressing on a soft brioche bun.
Learn more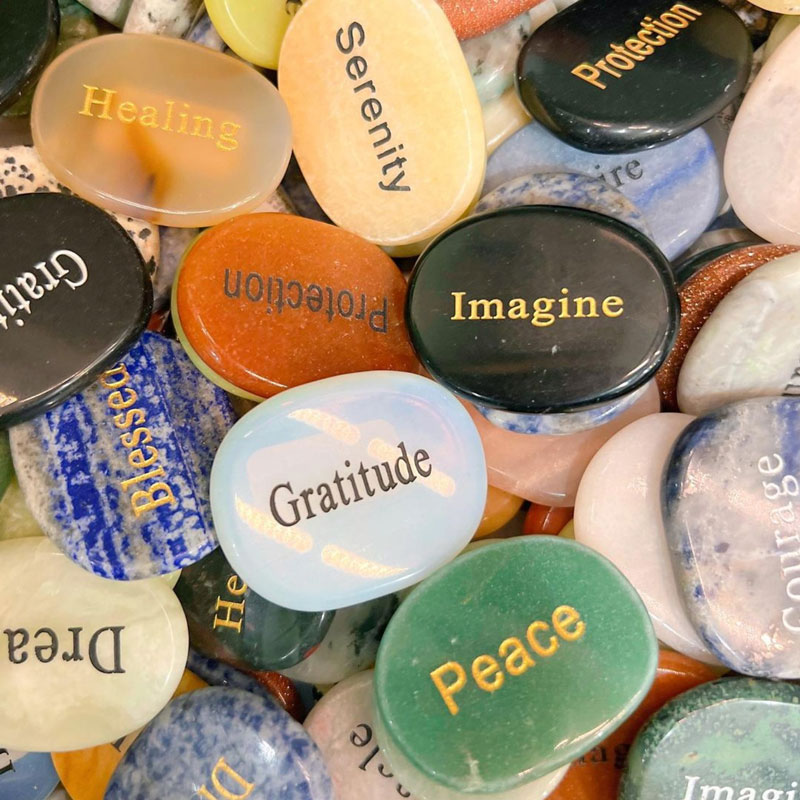 Paradise Found
8
Paradise Found
In the heart of downtown, the multicolor storefront of Paradise Found will usher you in and leave you perusing the selection of books, crystals, jewelry, and other soul-boosting items for hours. You can even book an appointment with an intuitive reader for some deeper one-on-one exploration. Want to keep the positive vibes going? Head 15 minutes south of the city to the little oasis that is The Sacred Place for stunning gardens and cozy pockets to lounge while having a hot tea.
Learn more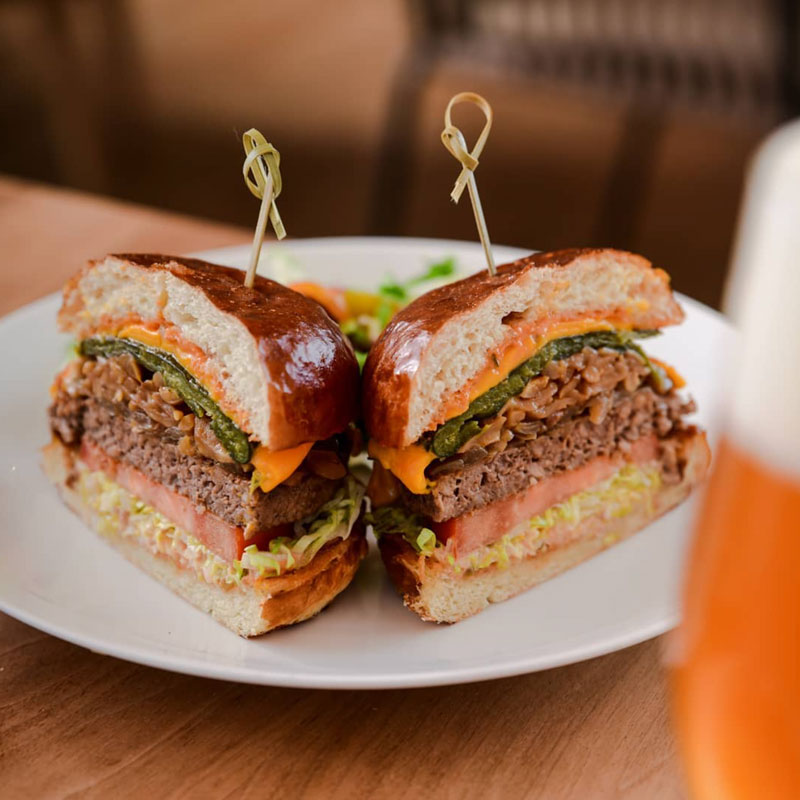 Oliver's Montecito
9 Oliver's Montecito
Cruise Coast Village Road down south of Santa Barbara to the city of Montecito—a charming enclave where you'll discover coffee shops, boutiques, and the star-of-the-town restaurant: Oliver's Montecito. Take a seat at the year-round outdoor dining area flanked by fairytale-like light-strung trees and start with Artichoke Crab Cakes, made from hearts of palm and served with spicy aioli. From there, let your palate run wild with refined dishes ranging from dragon fruit ceviche to scallop pesto bucatini. And keep your eyes peeled: Oliver's attracts a seriously star-powered clientele, so don't be surprised to brush elbows with a celeb or two.
Learn more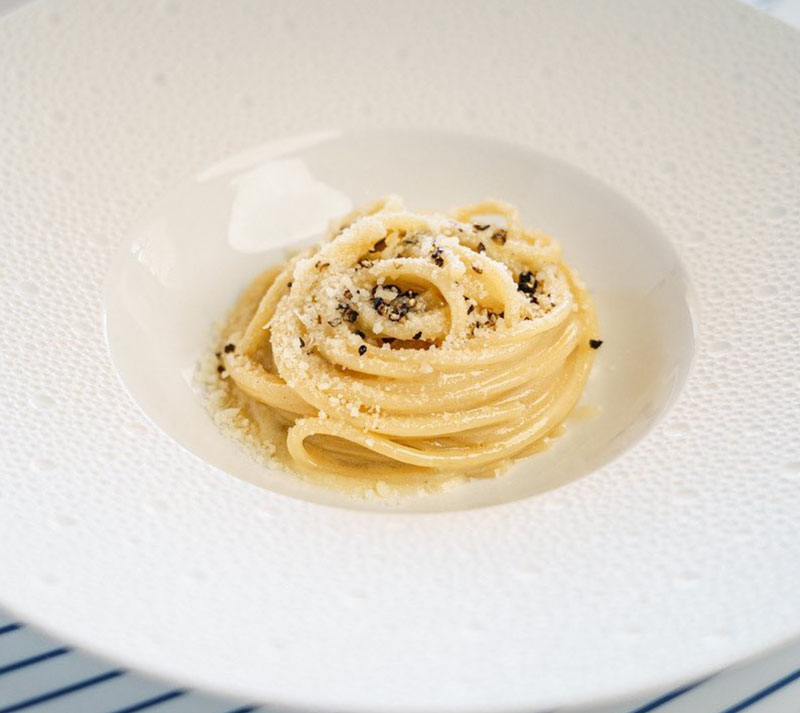 Caruso's
10
Caruso's
Rosewood Miramar Beach resort in Montecito is a breathtaking beachfront property, home to Caruso's restaurant, which is sure to sate your appetite for a fine-dining moment. Book a four-course, prix fixe, Southern Italy-inspired vegan tasting menu in advance, and spoil your taste buds as you gaze onto the ocean horizon. You'll have your choice of several options for each course, but keep an eye on the creamy Cacio e Pepe for your main. Save room for the dessert course—everything from chocolate mousse amalgamated with peanut butter to a sumptuous classic cheesecake is to die for.
Learn more
For more vegan city guides, read: