Grab your crop tops and sunglasses—after a two-year mandated hiatus, Coachella is just around the corner. This mainstream music festival in the California desert is famed for its major headliners and all-day parties, but since Nic Adler took his place as Culinary Director, the multi-weekend event has swiftly become a destination for food enthusiasts as well. A vegan and co-founder of Monty's Good Burger, Adler has ensured an abundance of equally exciting vegan options at Coachella. Check out these vendors plus surrounding vegan-friendly spots when you need to refuel between the outstanding performances.
Coachella kicks off the festival season beginning April 15. Between the stalls at Indio Central Market and the elaborate Outstanding in the Field dinner, there'll be a mouthwatering and satisfying vegan option at every price point and craving.
Indo Central Market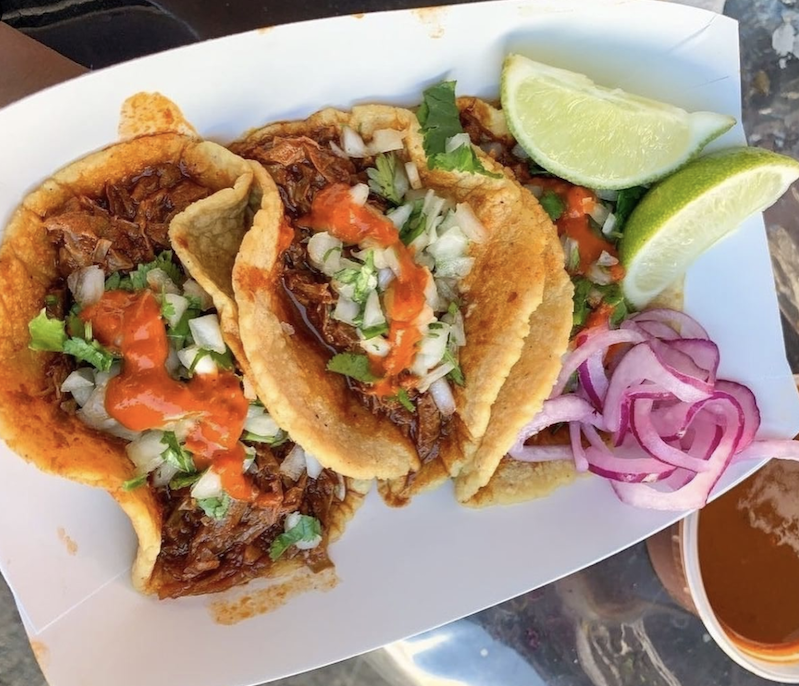 Cena Vegan
1 Cena Vegan
This family-owned vegan pop-up dominates the Los Angeles food scene, so it's only fitting that it has a spot at the state's biggest music festival. Opt for Cena when you're craving vegan tacos, nachos, or a soul-warming burrito the size of your head.
2 All Dat Dim Sum
When the sun goes down and the weather turns chilly, warm up with a soft and pillowy vegan bao bun. Stuffed with meaty mushrooms and other veggies, these comforting handholds will get you over the hump of daytime to nighttime.
3 Dayglow Coffee
Give the adult beverages a break for an expertly made non-dairy latte. The coffee purveyor will have its expert baristas and a professional-grade espresso machine ready to fulfill your caffeine needs.
4 Milk Box Bar Boba
Technically a snack and a beverage, these vegan-friendly milky boba teas are perfect for staying cool and satisfying minor hunger pangs. Don't worry if you're not able to fit this one in—the brand sells DIY boba boxes online, too!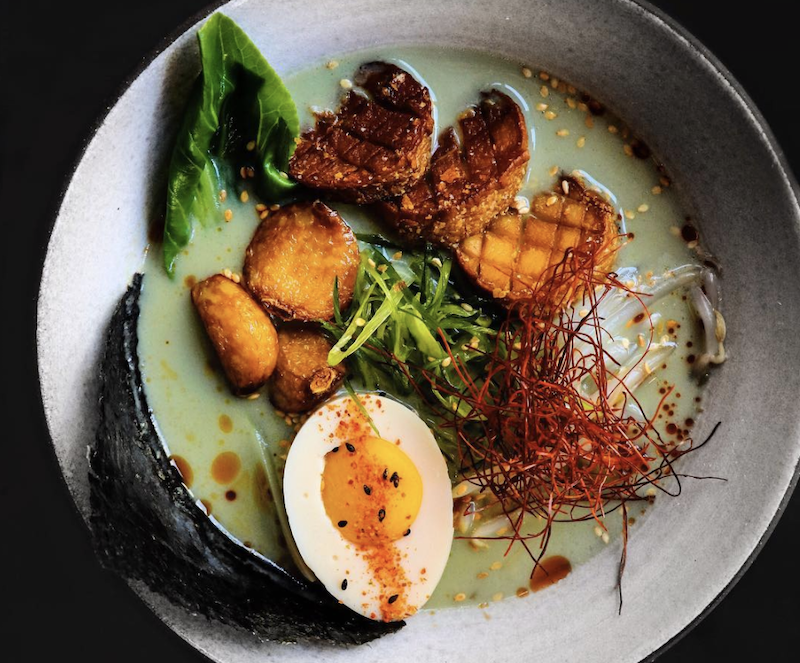 Ramen Hood
5 Ramen Hood
The days might be sweltering but the desert nights are bound to be a bit chilly—especially for those rocking tank tops and cut-off shorts. Cozy up to a comforting bowl of vegan ramen complete with a vegan egg.
6 Slutty Vegan
Finally, Californians and out-of-state West Coasters can try this legendary vegan burger joint. Plan your visit accordingly, as there is bound to be a very long line. Don't be surprised if it's over an hour.
7 Sumo Dog
You'll find this unique hot dog pop-up conveniently located next to the beer garden inside the Indo Central Market. Top your vegan Field Roast sausage with any number of pre-set toppings like the Sumo Dog (wasabi relish, pickled peppers, teriyaki, furikake, and minced onion) or The Romeo (guac, pico de gallo, tempura crunchies, and cilantro).
8 Sus Arepas
Sink your teeth into a super-stuffed vegan arepa at least once during your festival experience. The masa-based, portable sandwich is packed with sliced avocado, seasoned black beans, and fried plantains. You won't find anything else like it under the Indio food tent.
9 Sweetfin Poke
Looking for a meal that won't slow you down? Fuel up with a vegan poke bowl. Layered with tender sushi rice, sweet potato, avocado, carrots, cucumber, and edamame, this daytime meal will tie you over through the afternoon encores.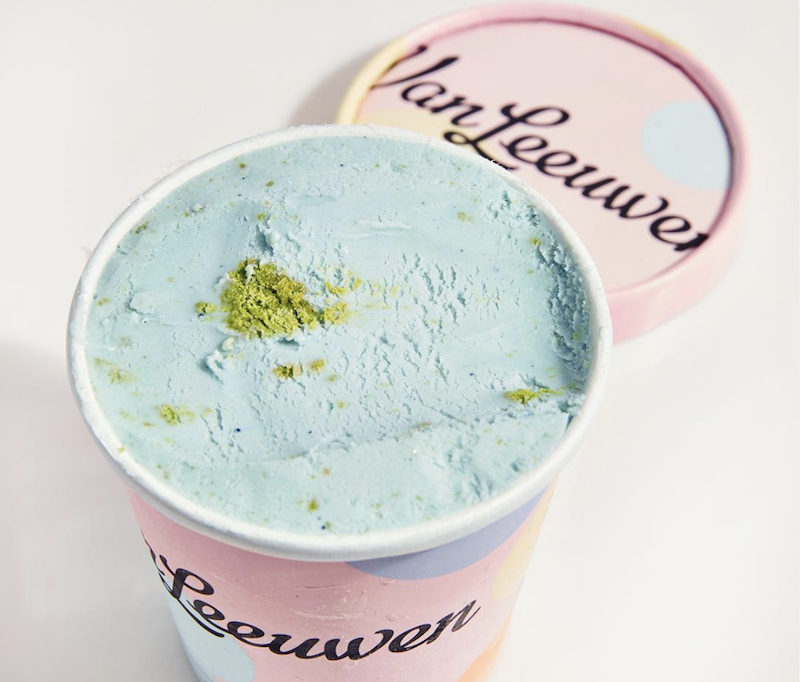 Van Leeuwen
10 Van Leeuwen Ice Cream
Reminder: you're in the desert, and it's going to get hot. Cool off with a scoop or two of sweet non-dairy ice cream. Flavors range but Van Leeuwen is sure to have favorites such as Planet Earth, Mint Chip, and Chocolate Chip Cookie Dough.
12 Peaks VIP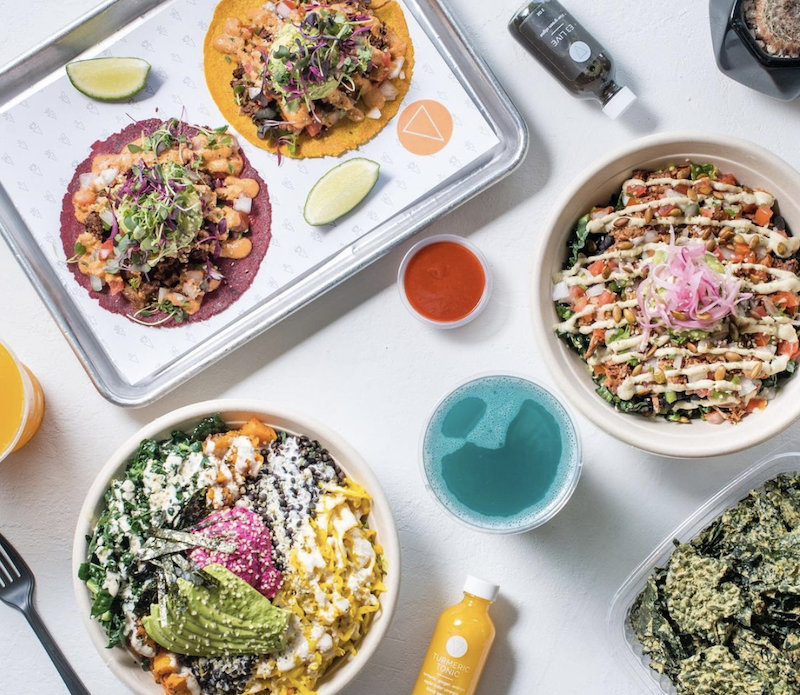 Vibe
1 Vibe
Those with food sensitivities, rejoice! This healthy vegan chain is known for its allergen-friendly meals that deliver on taste and satiety. You can't go wrong with the Mediterranean Bowl.
2 Craig's Vegan
Craving something sweet? A scoop of Melrose Mint Chip or Sunset & Strawberry will set everything right.
3 Backyard Bowls
Need something refreshing but not quite ready for ice cream? Swing by this açaí and smoothie bowl concept for an energizing bowl of blended fruit and crunchy granola toppings.
4 El Chino Grande
Check out this culinary fusion concept by chef Chris Yang for an outstanding Yuba 'N Rice dish made with Hodo Foods tofu, sesame yuba, short-grain rice, and crunchy cabbage slaw. Who knew festival food could be this magnificent?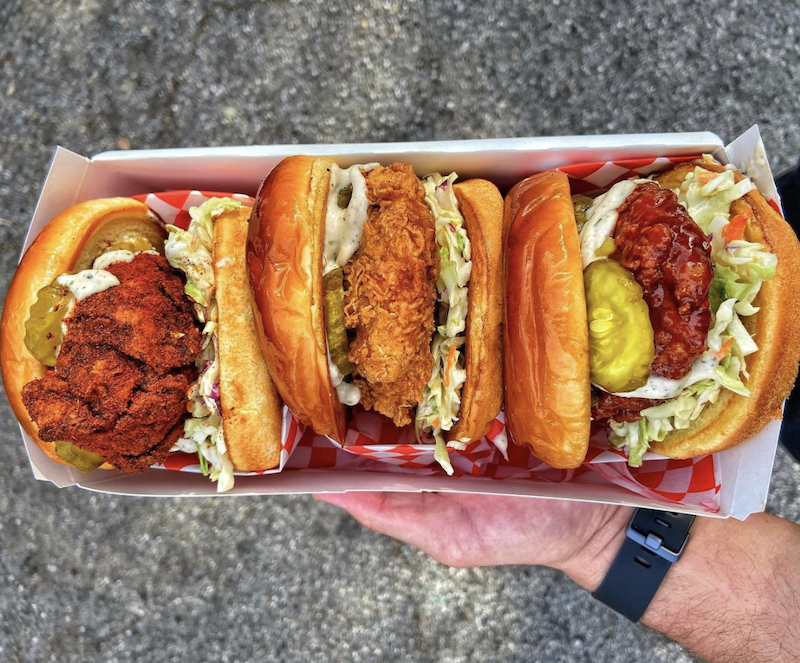 Lettuce Feast
5 Lettuce Feast
Sometimes, all you want is vegan fried chicken. If that sentiment hits you while rocking out at Coachella, take a break from the music to grab a plant-based fried chicken sammie at this local legend vendor.
6 Maneatingplant
Go ahead and slurp up some deliciously spicy noodles in front of thousands of people. One bite and you won't care if you have chili flakes all over your face. The less bold can take the safe route: puffy bao buns stuffed with fried mushrooms, cilantro, and chili oil.
7 Ronan
There's a reason this Neopolitan-style pizzeria is in the VIP section. Don't expect a cheap slice operation here—it's all about high-quality ingredients and multi-day fermented dough at Ronan. The vegan option—Tomato, Tomatho—features bright cherry tomatoes, squash blossoms, garlic, and oregano on a super-thin, puffy-rimmed crust.
8 Tacos 1986
If you're quite settled in the VIP area and not keen on traversing the grounds to get to Cena Vegan, this taqueria will have options for you. Seasoned mushrooms are the star for vegans, accompanied by guacamole, onions, cilantro, and salsa ranchera on a handmade corn tortilla.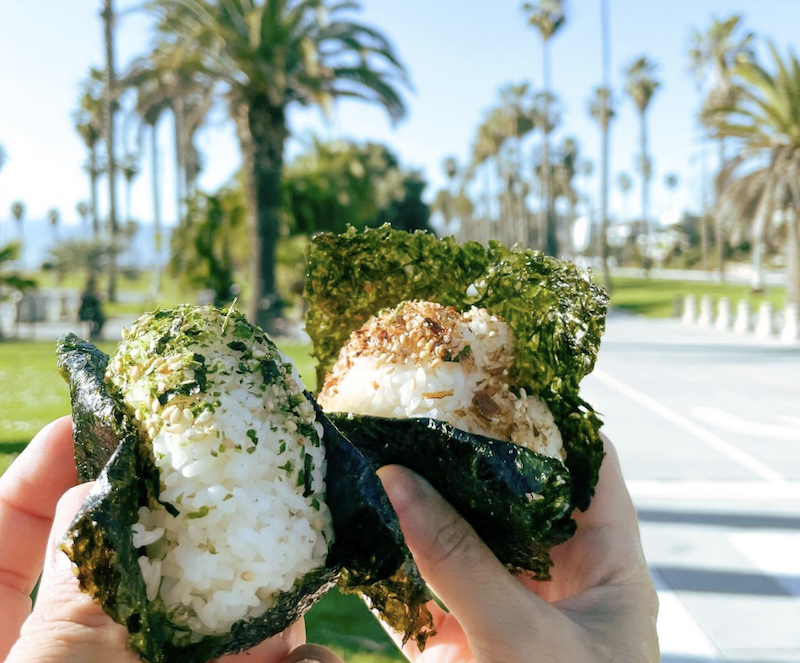 Sunny Blue
9 Sunny Blue
When it's not quite time for a meal but you're in desperate need of a substantial snack, grab a plant-based omusubi from this vegan-friendly vendor. The street food is comprised of a furikake-dusted rice ball stuffed with your choice of vegetable-based filling. We're big fans of the Miso Mushroom—a filling of king oyster and enoki mushrooms in a homemade miso glaze.
Rose Garden VIP
1 Post & Beam
Serving up elevated festival fare only for Weekend 1, grab your plant-based crab cakes while they last! We guarantee these are not like the frozen variety you find at the store.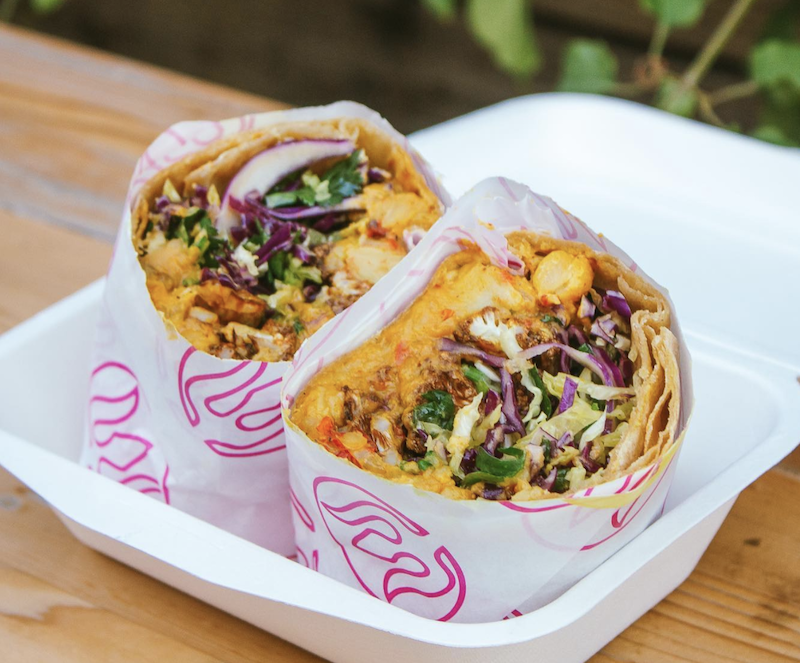 Bridgetown Roti
2 Bridgetown Roti
Heads up: this vendor will only be on-site during Weekend 2 (sorry Weekend 1 attendees). The vegan Chana and Sweet Potato Roti wrap will fill you up for hours after the sun sets on the California desert scene.
Terrace
1 Salt and Straw
Coachella is plenty big enough for more than one vegan-friendly ice cream purveyor. Salt and Straw switches up its vegan flavors by the season, but you can always count on the Freckled Mint Chocolate Chip and Marionberry Coconut Sherbet to be in stock.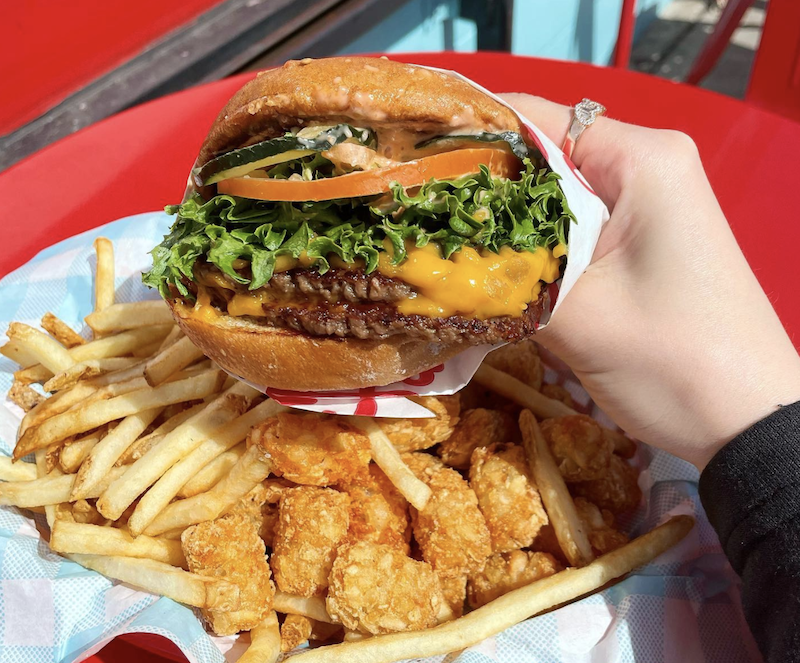 Monty's Good Burger
2 Monty's Good Burger
A music festival would not be complete without the vegan rendition of In-N-Out. Grab yourself a plant-based Double Burger along with fries and a shake for the ultimate California-cool experience.
Coachella Courtyard
Trill Burger
Get a taste of this Houston-based smash burger concept while you can. Order the somewhat secret Vegan Trill Burger for a super juicy and crispy double patty served with grilled onions and dairy-free cheese on a squishy burger bun.
Outstanding in the Field Dinner
In celebration of Earth Day, this transcendent table-to-farm dining experience is going plant-based. On April 22, Outstanding in the Field will host chefs Ayinde Howell and Makini Howell of Plum Bistro to cater a four-course vegan dinner for 275 guests. Tickets will go fast, so secure yours today.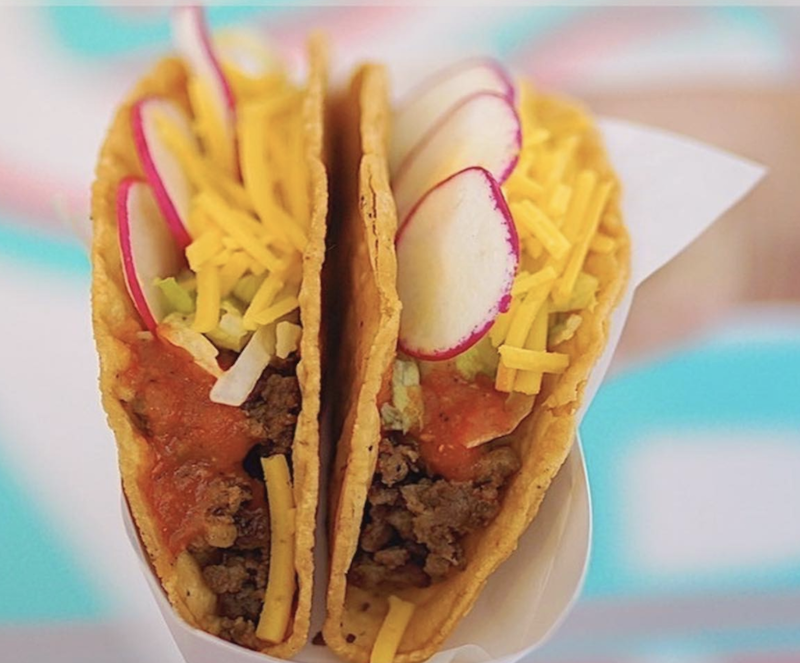 Chica's Tacos
SOHO House
You'll need a pass to get into this exclusive, celebrity-studded tent, but if you're fortunate enough to score one, you're in for a treat. Los Angeles taco chain Chica's Tacos will be on site serving up a completely plant-based menu that pays homage to Mesoamerica, according to co-founder Chris Blanchard. He gave us the run-down of the entire menu: "We are honored to have our plant-based ground meat partner in Abbot's Butcher who is powering our award-winning Crispy Taco topped with Chicas Taco Sauce, citrus tossed lettuce, radish, and Daiya shredded cheddar. Other offerings include a fajita-style jackfruit taco, plant-based queso, guacamole, plant-based paletas (popsicles) from Daiya, assorted salsas, and non-GMO corn tortillas chips. Our late-night menu will include plant-based nachos with Abbot's Butcher." Be warned, with a lineup like that, you may not want to leave the tent.
Vegan options in the surrounding area
Breathe a sigh of relief. There are vegan options outside of the festival grounds. On your way out to Coachella, the first sign of vegan civilization you'll encounter is Chef Tanya's Kitchen. The founder of Native Foods sold the company in 2012 and moved inland. Her name-brand restaurant boasts two locations—one in Palm Springs and one in Palm Desert—and offers hearty plant-based sandwiches, bowls, desserts, deli sides, and more. Take advantage of the grab-and-go refrigerated options to stash at your hotel or Airbnb. Closer to Indio, you won't find completely vegan spots other than a handful of juiceries, but there are vegan-friendly eats. Your Pie and Cork and Fork both offer vegan pizzas with non-dairy cheese (the latter even offers a full vegan menu of appetizers and entrées). For decent Thai, seek out My Thai and check the vegan box when you place your order online—guaranteed animal-free!
For more vegan eats, read:
The 12 Best Vegan Products Coming in 2022
The 2022 Veggie Award Winners Are In
The 100 Best Vegan Products of All Time