When tattoo artist extraordinaire and makeup mogul Kat Von D first met musician Leafar Seyer (of the cholo-goth band Prayers) 14 years ago, she knew their paths would cross again someday. "We remained kindred spirits," says Von D. "[But we] didn't become romantic until we played together during his last tour." Fast-forward to present day, and the soulmates have cemented their bond in a fantastical, crimson celebration. Their stunning wedding ceremony began with guests stepping onto the thick vegan fur carpet of an all-white, carnation-adorned room—decked out in 12-foot inverted crosses and white vegan-leather furniture. The Beverly Hills Hotel ballroom was also transformed into an extravagant, blood-red fantasy with scarlet cave walls and a rose-covered ceiling. Dual contortionists wrapped in latex bodysuits carried Von D's delicate red veil as she moved about in a matching gown to meet Seyer.
"The vibe was absolute love."
Wedding planner Michele Fox Gott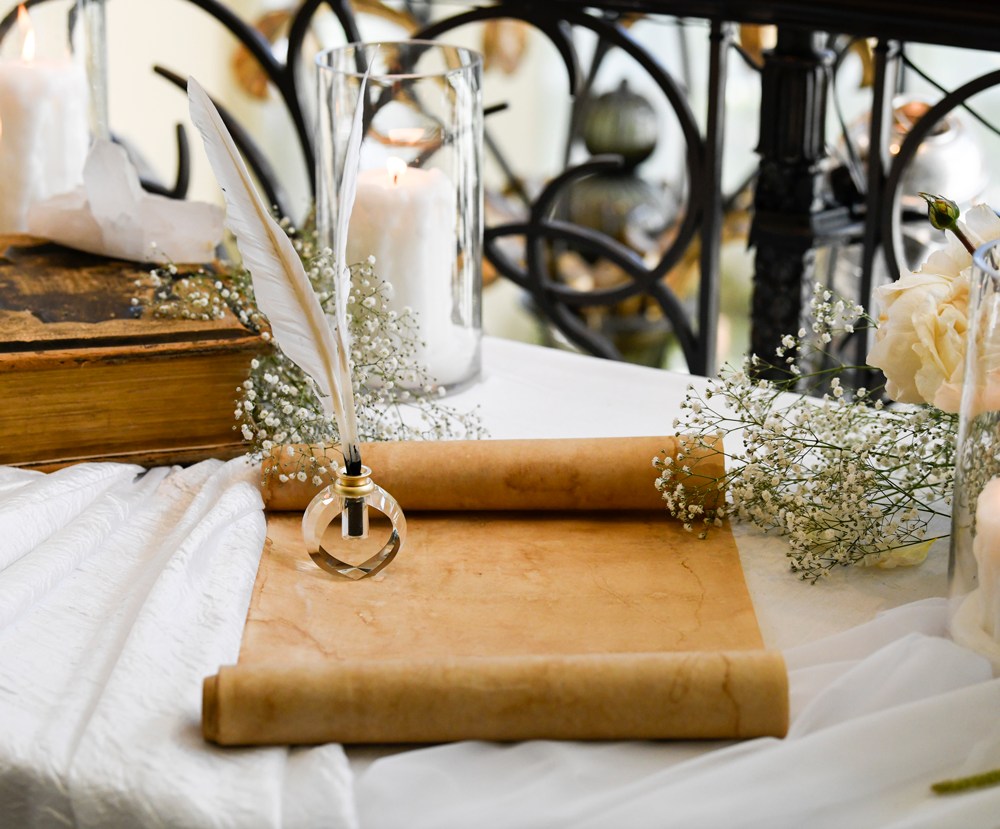 Look Fotografia

The venue
The iconic Beverly Hills Hotel, positioned on the city's storied Sunset Boulevard
The décor
Von D's aesthetic vision? Phantom of the Opera meets Dante's Inferno.

The music
Von D serenaded Seyer with a soothing rendition of Nick Cave's "Into My Arms," which she sang while playing a cherry-red grand piano.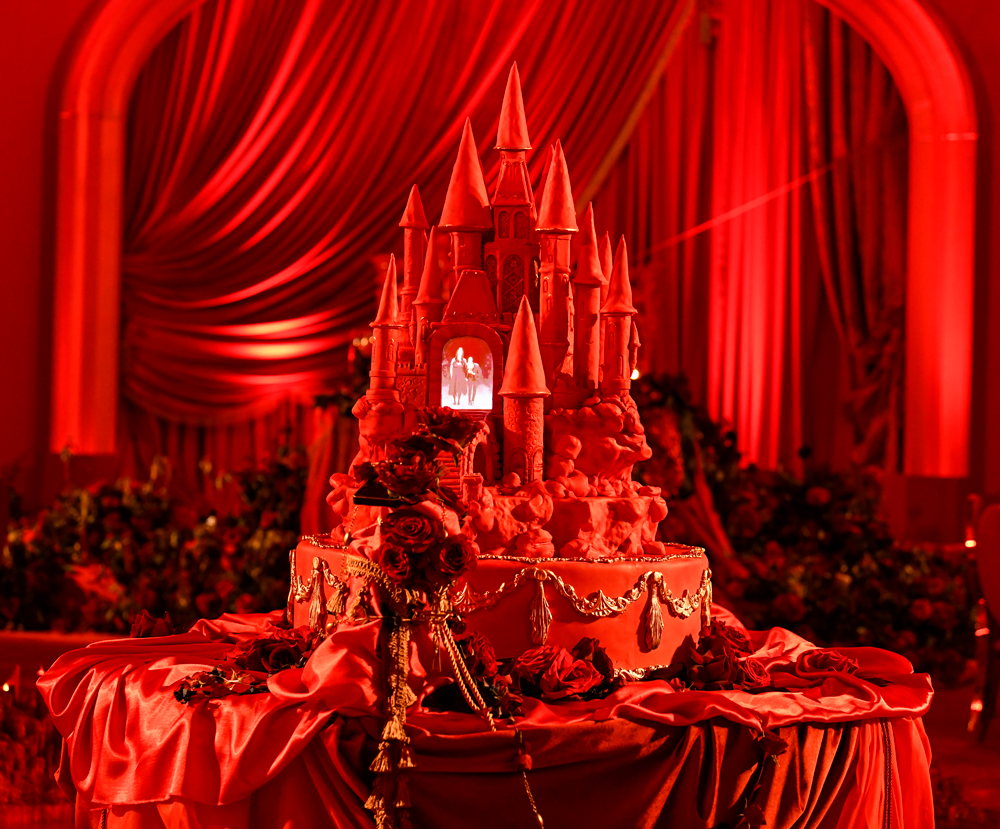 Look Fotografia

The cake
A dramatic red velvet castle cake adorned in gold leaf and spiretopped towers—inspired by Von D's ancestors' castle in Europe—with footage of the bride and groom projected onto a screen at the castle door's entrance in lieu of a traditional cake-topper
The proposal
Seyer surprised Von D by showering the bathroom floor with roses and carnations. He dropped to his knee and presented platinum rings engraved with the words "en vida y en muerte" that the two had designed themselves.
The gifts
The couple requested donations to one of Von D's favorite animal-rights organizations, Animal Equality, in lieu of traditional gifts, raising more than $20,000. In turn, guests were gifted with a special Kat Von D Beauty vegan lipstick—in glamorous black with shimmering gold flecks—crafted just for the occasion.
The honeymoon
Von D and Seyer spent their honeymoon staying in, reading books on home births, and "eating delicious vegan dinners" in a French-style château close to California's gorgeous Yosemite National Park.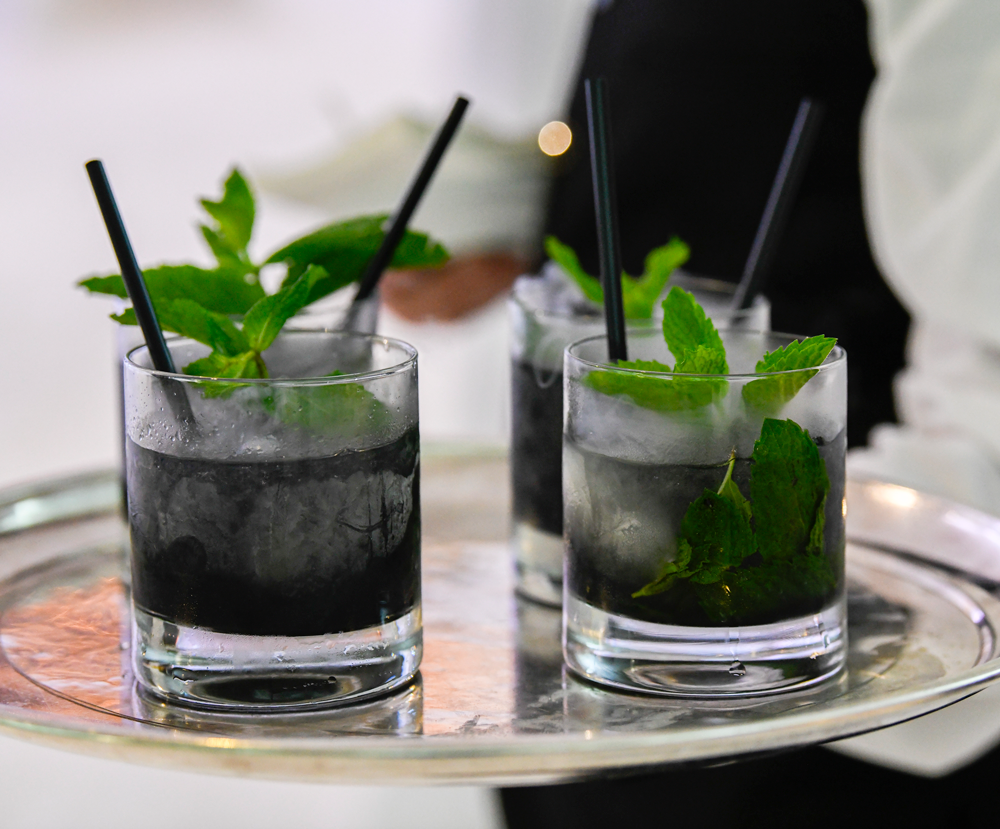 Look Fotografia

The menu
Hors D'oeuvres
Heirloom Tomato Tartare
Petite crispy pastry cone, basil, and aged balsamic-infused tomato
Veggie Sushi Rolls
Cucumber, carrot, avocado, and fluffy white rice
Blue Tacos
Blue corn tortillas, chipotle, potatoes, Casamigos Reposado tequila, and avocado mousse
Vegetable Spring Rolls
Crisp spring roll wrapper, mélange of spring vegetables, and a sweet-spicy dipping sauce
Potato Croquettes
Yukon Gold potatoes, fresh herbs, vegan cheese, and charred onion-chive dip
Crispy Coco-not Shrimp
Coconut-coated vegan shrimp with a spicy peanut sauce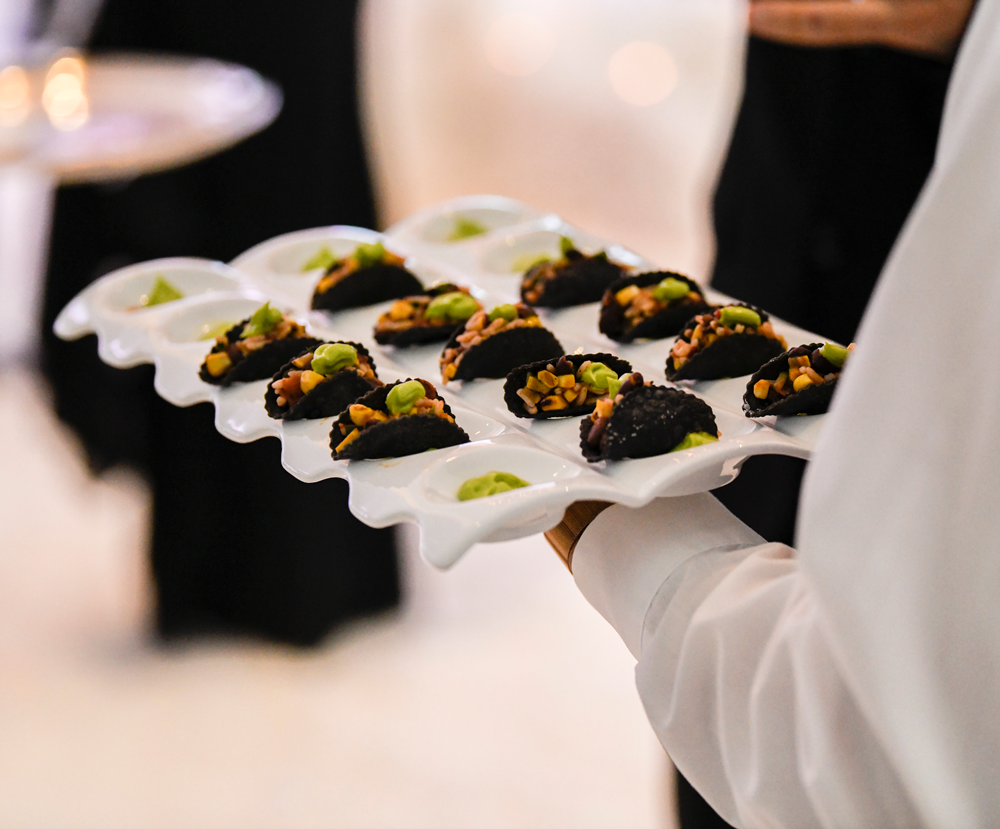 Look Fotografia
Five-Course Dinner
Spicy Corn Empanadas
Chipotle masa, potato relish, and cilantro
Farmers' Market Salad
Mâche, heirloom baby beets, citrus supremes, and pickled shallots in a mango vinaigrette
Brentwood Corn Tortellini
Fire-roasted corn, peppers, leeks, creamy vodka sauce, and sautéed vegetables
Harvest Roast
Mini vegetable-seitan roasts, toasted marshmallow-topped sweet potato gratin, and glazed
Brussels sprouts drizzled with Thai basil syrup
Stone Fruit Croustade
Flaky pastry, sweet cashew cheese, assorted stone fruit, sweet blackberry coulis, coconut cream, and mint oil
Want more vegan weddings? Purchase our special wedding issue featuring Mary and Neil's vegan wedding! Check out all of our 2019 vegan wedding couples here, 2018 couples here, 2017 couples here, our 2016 couples here, and our 2014 couples here!