A study abroad rendezvous in France and months of digital dating led to this picture perfect French wedding.
July 13, 2017
---
The place: Grez-Neuville, France
RSVPs: 87
Honeymoon: Pau and Aix-en-Provence in the South of France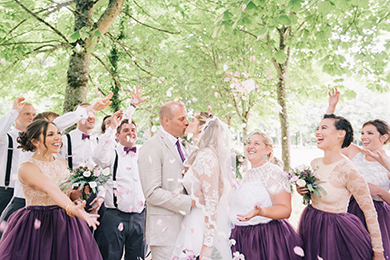 The cake: Vanilla cake with vanilla buttercream, raspberries and blackberries, and edible flowers—plus macarons, lemon tartes, strawberry cream cake, raspberry cheesecake, peach madeleines, and chocolate truffles
Menu standouts: Lemongrass seitan skewers, butternut squash ravioli with truffle butter, mushroom-and-cheese crêpes
Guest swag: Donations to People for the Ethical Treatment of Animals in honor of each guest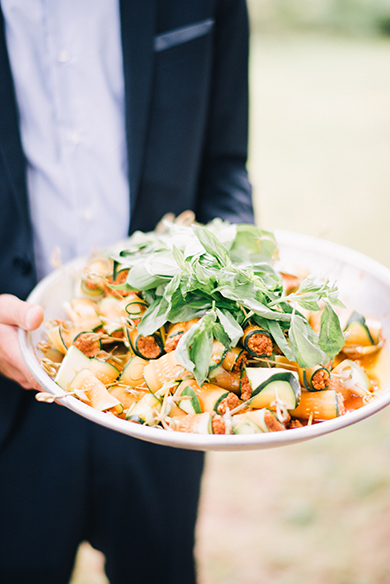 Emily and Pierre's story: Having met in France while studying abroad, Ohioan Brobeck and Londoner Wooldridge started dating post-graduation via Skype. After a few months of digital dates—and in-person rendezvous in Bali and Paris—Wooldridge hopped across the pond to permanently join Brobeck in her New York digs.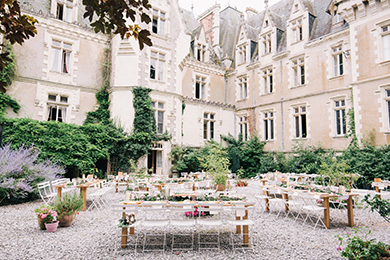 The wedding day: Wanting to get married in France where they first met, the couple chose the Loire Valley for their nuptials. The 14th century-chateau wedding was a vegan-glam affair, with tables named for different species of farm animals, catering by Paris hotspot Gentle Gourmet, and notable guests including Chloe Coscarelli and Vaute founder (and bridesmaid) Leanne Mai-ly Hilgart.
Want more vegan weddings? Purchase our special wedding issue featuring Emily and Pierre's vegan wedding! Check out all of our 2017 vegan wedding couples here, our 2016 couples here, and our 2014 couples here!