News
Perfect Holiday Prep
With the best DIY gifts, fresh-baked treats, and cool-weather tips, VN has your go-to guide for a very merry, eco-chic celebration. Who says the holidays have to be stressful?
December 10, 2009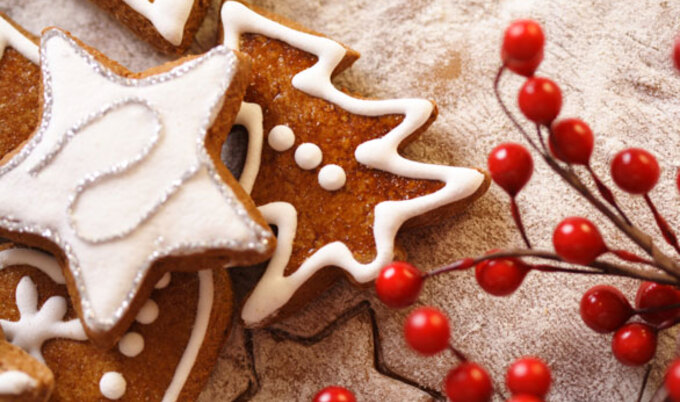 For a cozy night in before the madness of the holidays reaches maximum capacity, there's nothing more satisfying than lounging fireside, nibbling on something delicious, and making personalized, eco-friendly gifts for friends and family. While frantic throngs of shoppers mob the mall, make your pre-holiday prep ever so civilized with these handy tips.
Fire It Up!
If the environmental concerns regarding fireplaces make your head ache more than breathing particulate matter does, you and other eco-conscious fire enthusiasts will be happy to know there are now myriad sustainable approaches to getting your flame on, including some that sidestep wood altogether.
Consider the Java-Log. Made from used, dried coffee grounds (waste from the coffee industry) and vegetable wax, Java-Logs burn as long or longer than wood logs and produce 87 percent less carbon monoxide. They also divert 20 million pounds of coffee grounds that would otherwise wind up in landfills each year. Java-Logs are described as having a mild, sweet scent, though for those hoping to sneak a little caffeine buzz into your fireside idyll, you'll have to get it from another source—there are no caffeine emissions from these logs.
There are other sustainable fireplace options also made from reclaimed sources. CleanFlame logs are made entirely from wax-coated produce boxes, of which 600,000 tons are sent to landfills annually after use. Think of all that produce herbivores consume every year, and feel less guilty by using these box logs. Using CleanFlame logs helps stem that process, and they have the same burn time as traditional wood logs and can be used in patio fireplaces.
Goodwood fire logs, made with woodchips and sawdust waste from various sources, claim to create up to 50 percent fewer emissions with no added binders, as the natural resins in the wood bind the log through the compression process. These logs burn much cleaner than those made with petroleum-based binders and are considered carbon neutral. Contributing to global warming is the last thing you need to think about when relaxing by the fireplace.
Holy Craft!
It's likely that seasoned crafters have a glue gun in their hip holster, but what they may not know is most glue guns and sticks contain animal by-products and chemicals galore. Fortunately, there is an alternative for the eco-friendly glue-gun slinger. Amazing EcoGlue,vegan glue created by the same folks who brought us Amazing GOOP, is a super-strength earth-friendly power glue. EcoGlue is great for getting your craft on, acting as a durable adhesive for wood, stone, metal, tile, fabric, and even glass. It's 100-percent animal derivative-free, contains less than one percent volatile organic compounds (VOCs), is water-based, water resistant, and non-toxic, and is packaged completely in recycled products. The drawback? The watery consistency means that users have to wait while the glue dries to ensure a bond and is best suited for gluing on horizontal surfaces.
Need an acrylic yarn that is eco-friendly, wool-free, and still soft? Red Heart Eco Ways is a 70-percent acrylic and 30-percent recycled polyester yarn sourced from used plastics. Even the paper label is printed on recycled paper. Retailing for the same price as an average skein of yarn, it's soft, durable, and even better after soaking the garment in water and line drying. Not as soft as cotton yarns, Eco Ways is perfect for throw blankets, baby doll clothes and crocheting.

While more pricey than recycled cotton yarns ($6.99 a skein), when you purchase Nature's Choice Organic Cotton Yarn, you can be assured that it is grown and spun without the use of pesticides, herbicides or other chemicals. Recycled cotton yarns may use fabrics that would otherwise be discarded, but the cotton is typically grown using pesticides and heavily dyed with chemicals. Nature's Choice dyes are certified according to the Global Organic Textile Standard by the Institute of Marketecology. This yarn is perfect for cozy scarves and mittens and well worth the extra cost.
Not a knitter and wondering what to make? Give an extra eco-friendly gift by customizing a canvas tote for someone who always "forgets" to bring reusable bags to the grocery store. With a super-chic design, there's no excuse for leaving a tote at home. Many dollar stores carry the basic canvas tote, and then it's just a matter of finding a stencil. There are loads of websites that offer stencil ideas (think Banksy, not Martha), so finding one to fit the recipient's personality is a snap (though veg-oriented slogans are always in fashion). Pick up a brush and a small bottle of non-toxic fabric paint, such as Jacquard Textile Colors, and voilà! You have a totally original and practical accessory you can give away with pride.
Festive Feedings
Since you'll definitely need something to munch on while making your fantastic crafts by the fire, this gingerbread—from VN's own sweet vegan, Hannah Kaminsky—is the perfect thing. At once spicy and sweet, this bread boasts an aroma that will totally knock you out as it wafts from your oven. Leave the traditional molasses-y gingerbread for cookies, and serve this treat with a mug of hot cocoa and side of your favorite holiday music!
Serves 8
What You Need:
1/2 cup soymilk
1/2 teaspoon apple-cider vinegar
1/2 cup margarine, room temperature
1/3 cup sugar
1/2 cup maple syrup
1 teaspoon lemon zest
2 cups flour
1 teaspoon baking powder
1/2 teaspoon baking soda
1 teaspoon fresh ginger, peeled and finely grated
1/4 teaspoon white pepper
1/2 teaspoon cinnamon
1 teaspoon cardamom
1/4 teaspoon coriander
1/8 teaspoon nutmeg, freshly grated
1/4 teaspoon salt
1/2 cup pecans, chopped
What You Do:
Preheat oven to 350 degrees and lightly grease an 8 x 4-inch loaf pan. In a small bowl, combine the soymilk and vinegar and set aside.
In a large bowl or standard mixer, cream margarine and sugar, then beat in the maple syrup and lemon zest.
In a separate large bowl, sift together the flour, baking powder, baking soda, ginger, white pepper, cinnamon, cardamom, coriander, nutmeg, and salt.
Add in half of the dry mixture into the wet mixture, and mix well. Follow with half of the soymilk mixture, then repeat this process until everything is just combined. Fold in the pecans and pour the batter into the prepared pan.
Bake for 50 to 60 minutes, or until a toothpick inserted into the center comes out clean. Allow cake to sit for 15 minutes before turning onto a wire rack to cool.