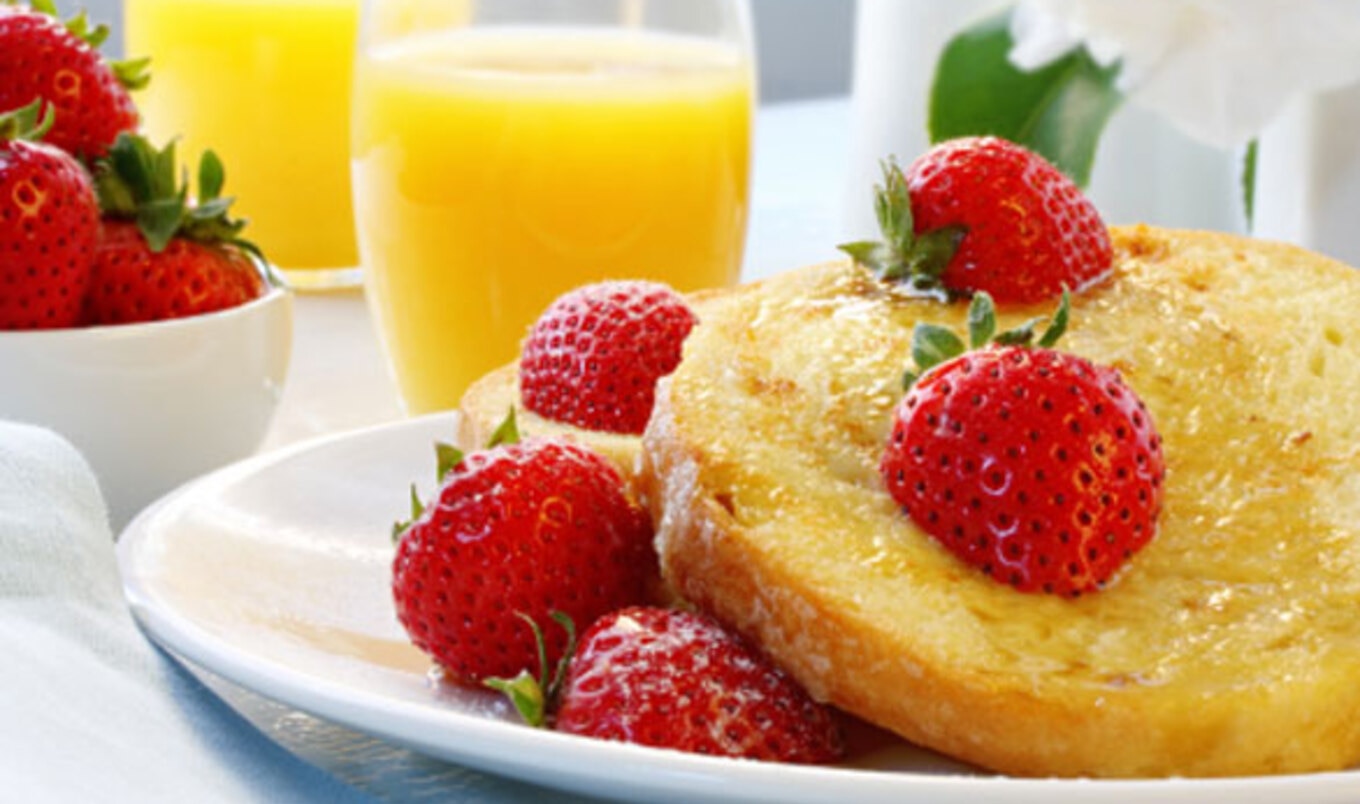 Spring's star ingredient—fresh, delicious strawberries—make your brunch burst with flavor.
May 6, 2009
If there's anything better than spring's bounty of plump, sweet strawberries, we don't want to know about it. Well, maybe it's time to rephrase that one: if you tell us that there's something better than a basket brimming with bright-red, perfectly ripe strawberries, we're going to have to go ahead and call you a liar. Because you are. There's just nothing that better signifies the emergence from winter than these crimson berries with their fresh, knockout flavor. Of course, the trouble with any strawberry recipe is restraining yourself from eating the entire basket before you've even gotten out your mixing bowls, but we think that this incredible, decadent French-toast-and-syrup combo will be worth the exercise in will power.
Since farmers market season has officially begun, we suggest heading to your local installment to stock up on locally grown, organic berries for this feast. Starting out with berries that are deep red and slightly fragrant will ensure that you get the sweetness you want. Of course, the homemade Strawberry-Rhubarb Syrup will add a luscious layer of sweetness, too. This dish is definitely a step up from the standard cereal-and-hempmilk morning routine, so invite some friends over and get out the fancy teacups!
Makes 8 to 10 slices
What you need:
1 loaf French bread
1-1/2 cups ripe bananas, sliced
1-1/2 cups vanilla soymilk
1 teaspoon cinnamon
1/8 teaspoon turmeric
1-1/2 tablespoons golden flaxseed meal
8 ounces firm tofu (not silken)
2 tablespoons raw cashew butter
1/2 teaspoon lemon zest, grated
1/2 teaspoon orange zest, grated
3 tablespoons sugar
1 tablespoon lemon juice, freshly squeezed
1 tablespoon orange juice, freshly squeezed
1 teaspoon cinnamon
1/2 teaspoon vanilla
1/4 teaspoon salt
2 cups fresh strawberries, sliced
Olive oil for frying
What you do:
Slice the ends off French bread. Starting at one end, measure 1/2-inch down loaf and slice the bread 3/4 of the way through. Measure another 1/2-inch, and slice all the way through. You will have a one-inch slice of bread with a slice down the middle. Repeat this procedure until the whole loaf is sliced.
In a blender, combine bananas, soymilk, cinnamon, turmeric, and flaxseed meal, and purée until smooth. Pour into a shallow dish. In a food processor, combine tofu, cashew butter, lemon zest, orange zest, sugar, lemon juice, orange juice, cinnamon, vanilla, and salt. Blend until creamy, then stir in strawberries. Spoon 3 tablespoons of filling into each bread pocket and gently squeeze shut (without overfilling).
Preheat a large nonstick skillet over medium heat and add 1 tablespoon olive oil. Dip each bread pocket into the batter, gently coating both sides. Fry bread slices for about 5 minutes on each side, or until golden brown. Continue with remaining slices. Serve immediately with warm Strawberry-Rhubarb Syrup. If not serving immediately, keep warm in a 175-degree oven on a wire rack.