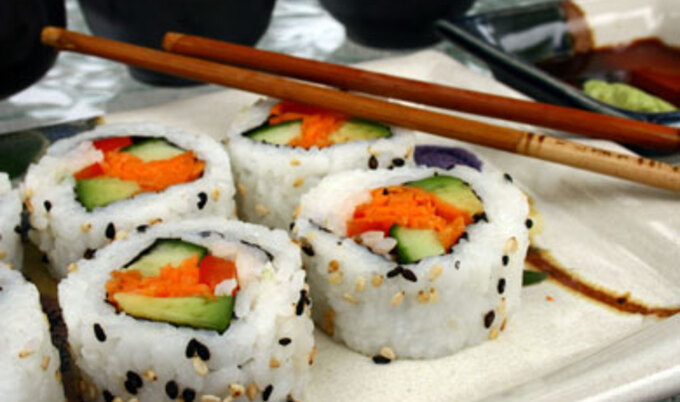 Vegetarian Sushi
A sushi roll, called nori maki, doesn't need to rely on a fishy filling.
Makes 6 rolls or 36 pieces
What you need:
2 cups short-grain white rice (sushi rice)
3 tablespoons rice vinegar
1-1/2 tablespoons sugar
1 teaspoon salt
6 nori seaweed sheets
2 tablespoons sesame seeds, toasted
6 thin asparagus spears, steamed for 2 to 3 minutes
12 strips of carrot, 1/4-inch thick by 4 inches long, steamed for 1 to 2 minutes
1 tablespoon wasabi powder
1 tablespoon warm water
2 tablespoons pickled ginger for garnish
Tamari soy sauce
What you do:
Place the rice in a bowl with enough cold water to cover it completely. Soak for 30 minutes. Rinse and drain the rice, then place it in a saucepan with 2-3/4 cups of water. Bring to a boil, then reduce heat to low. Cover and simmer for 15 minutes, remove from heat and let stand for 5 to 10 minutes.
While the rice is cooking, heat the rice vinegar, sugar, and salt in a small saucepan over low heat, stirring until dissolved. Remove from heat and cool to room temperature.
While the rice is still warm, transfer it to a wide, non-reactive container and spread it evenly using a rice paddle or large wooden spoon, gently separating the grains. Drizzle the reserved vinegar mixture of the rice and let cool.
Set the rice aside and cover with a damp cloth while you prepare the sushi. Do not refrigerate.
Place one sheet of nori on a bamboo sushi mat or a cloth napkin. Spread 1/2 cup of the rice evenly over the nori sheet to the edge on the sides and to within 1/2-inch on the top and bottom edges. Sprinkle the rice evenly with sesame seeds. Along the edge nearest to you, place one asparagus spear on top of the rice. Place two carrot strips end-to-end alongside the asparagus.
Beginning at the end closest to you, roll up the sushi mat or napkin, pressing firmly against the nori to roll around the ingredients. Use your fingers to keep the end of the sushi mat from rolling into the sushi. Continue rolling slowly up to the top edge. Wet the exposed edge of the nori with a little water to seal the roll. Gently squeeze the mat around the sushi roll and remove.
Using a sharp knife, cut the sushi roll into 6 pieces. Stand the pieces on end and place on a large platter. Repeat with the remaining nori sheets, rice, sesame seeds, asparagus, and carrot strips.
In a small bowl, combine the wasabi powder with the warm water to form a paste. Shape the wasabi paste into a small mound and place it on the sushi platter, along with a small pile of pickled ginger. Serve with small dipping bowls containing tamari. Sushi is best if eaten shortly after it is made. If you refrigerate it, the rice will begin to harden.
Click here for more delicious recipes:
DIY California Roll
Raw Teriyaki Noodles
Fresh Spring Rolls
Want more of today's best plant-based news, recipes, and lifestyle?
Get our award-winning magazine!
Subscribe