News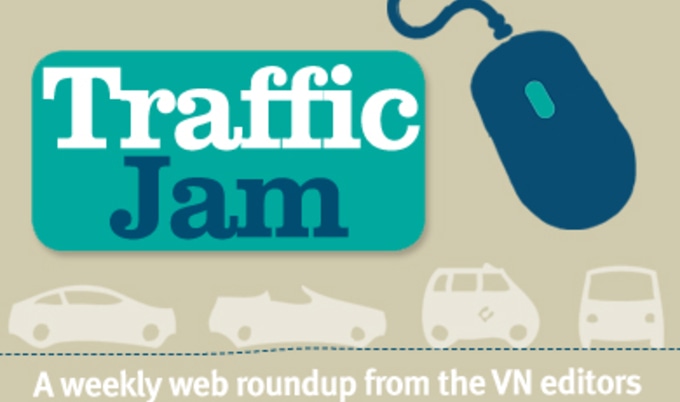 Traffic Jam: The Week Ending October 7
Giving you the best of the internet, one week at a time.
October 7, 2011
---
We here at VegNews love the crazy, wacky word of the internet. Without it, we wouldn't find fascinating stories, new vegan voices, mouth-watering recipes, and adorable videos of unlikely animal friends. And who wants to live in a world without those? We come across a lot—both bad and good—during our five days in the office every week, and while we can't share everything with you, we're jonesing to share more. So we present to you for your web-surfing enjoyment: Traffic Jam! Every Friday we'll post those little bits of web gold that the VN editors can't help but put in office-wide emails. From adorable puppy videos to op-eds on urban agriculture, Traffic Jam will provide you with five of the week's absolute must-click links (plus a Tweet or two).
1. The Veggie Grill has raised $11 million in equity from investors to continue its national expansion, and CEO Greg Dollayhyde says the fast-casual chain is expected to double in the next 15 months. If that doesn't mean a location down the block from the VNHQ, we're going to riot.
2. "Pumpkin breakfast sandwich?"—Assistant Editor Anna Peraino upon seeing this culinary delight on Healthy Happy Life, minus a few enthusiastic explicatives. Looks like Gourmet Live concurs.
3. Want to meet Scarlett Johansson? Head to BabyCakes NYC at 3am, and don't forget something to write with.
4. Good recently celebrated a sandwich week, and asked readers to nominate official state sandwiches. The results are in, and we are happy to report that California's is vegan! But, we have to say, any of our seven favorite sandwiches would thrill us more. The VNHQ is not home to sprouts fans.
5. And for our Tweet of the Week, a little food for thought from the savvy Kathy Freston:
"Did u know if 1 n 10 ppl on the globe stopped eating animals, it would free enough food 2 feed the 1 billion hungry?"—@kathyfreston
Please support independent vegan media and get the very best in news, recipes, travel, beauty, products, and more.
Subscribe now to the world's #1 plant-based magazine!
Subscribe