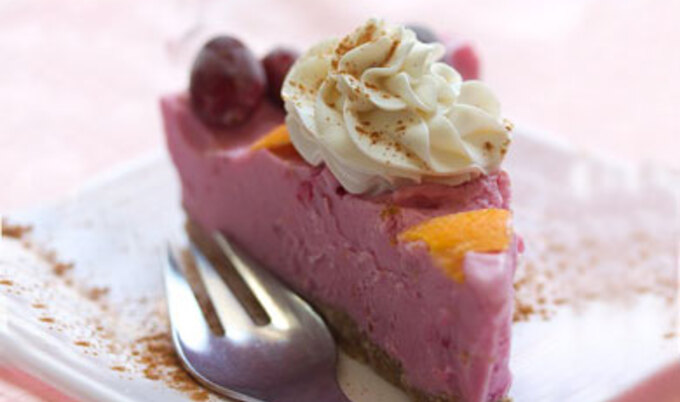 Gluten-Free Cranberry Orange Ice Cream Pie
This pie adds a delightful twist to traditional fall flavors.
A festive alternative to pumpkin pie, this dessert can be made well ahead of time and requires absolutely no baking! 
Serves 8 to 10
What you need:
For the ice cream:
1 cup fresh cranberries, plus more for garnish
1-1/2 cups granulated sugar
1/4 cup water
Zest and juice of one orange, plus more zest for garnish
1 12.3-oz package firm silken tofu
1 15-oz can full-fat coconut milk
For the crust:
1-1/2 cups pecans
1-1/2 tablespoons coconut oil, softened
1 teaspoon ground cinnamon
1/2 teaspoon ground ginger
1/4 teaspoon ground cloves
1/4 teaspoon ground nutmeg
1/8 teaspoon salt
Whipped coconut cream, for garnish
What you do:
1. In small saucepan over medium heat, combine cranberries, sugar, water, orange zest and juice and cook until cranberries are very tender, about 5 minutes, stirring often. Remove from heat and transfer cranberries to freezer-safe bowl. Let chill in freezer until cold.
2. In food processor, combine cranberry mixture, silken tofu, and coconut milk and blend until smooth. Chill in refrigerator until cold, about 15 minutes. Transfer mixture to ice cream maker and process according to manufacturer's instructions.
3. In food processor, combine all ingredients for crust. Pulse until crumbly and slightly clumpy. Into an 8-inch springform pan, press mixture. Chill crust in freezer until ice cream is finished processing.
4. Using a flat silicon spatula, spread ice cream evenly onto crust and top with orange zest. Garnish with a few cranberries. Let chill at least 2 hours and up to overnight. Serve with whipped coconut cream.
Photo by Allyson Kramer
Love vegan food and cooking as much as we do?
Get the BEST, editor-tested recipes inside every issue of VegNews Magazine. Find out why VegNews is the world's #1 plant-based magazine by subscribing today!
Subscribe