Food + Recipes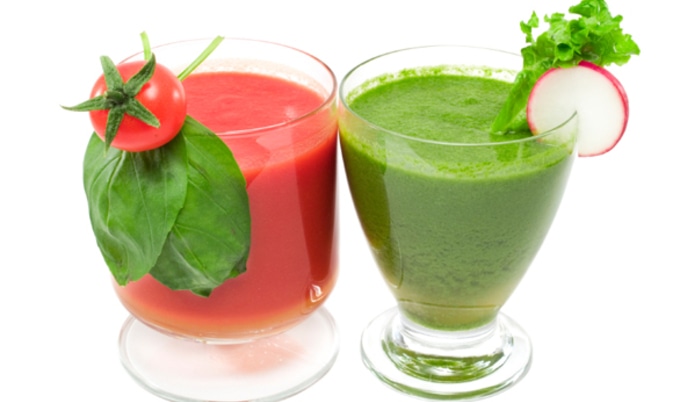 Juice Up
Craving fresh, flavorful fruit juice? Store-bought bottles pale in comparison to the homemade version, squeezed from ripe fruits and veggies. Here's how to get started juicing up!
---
Stores carry nearly every type of bottled juice imaginable, making it easy to get the recommended five-a-day allotment of fruit and veggie servings. But many consumers fail to realize that store-bought juices lack the full nutritional benefits that fresh-squeezed juices offer. In order to be stored and sold on supermarket shelves, most bottled juices are pasteurized, a process that kills bacteria and germs, but also many vitamins, minerals, and enzymes. Some companies then replenish the juices with added vitamins, sugar, and artificial ingredients to make them seem healthier and tastier. By juicing at home, drinks can be both nutritious and flavorful from the get go.
Fresh vegetable juices pack incredible amounts of nutrients, as drinking the liquid from big bunches of kale and celery is much easier than spending all your time eating salads. As Kris Carr puts it in her book Crazy Sexy Diet, "Juicing helps to slow and even reverse the aging process. It reduces inflammation, cleanses the body, regulates the bowels, and can even help peel off extra pounds." Is there a reason not to juice?
Not All Juicers Are Created Equal
From have-it-all department stores to local health-food shops, juicers are widely available. However, choosing the right machine can be a frustrating, time-consuming feat. Sometimes costing thousands of dollars, commercial juicers can often break the bank, and lower-end products just break, so it's important to spend time researching reputable, time-tested juicers that will match every budget. Expect to spend around $75 to $150 for a mid-line juicer that will do the job effectively.
First, decide what type of machine will give you the best-quality beverages for your buck. Centrifugal juicers grind the fruits and vegetables by spinning them through a grater, separating the juice from the plant matter. While using and cleaning centrifugal juicers is a breeze, the process of extracting the juice oxidizes the nutrients more rapidly, thus the juice should be consumed as soon as possible. Users of this type will save time by not having to pre-prep most of the veggies; just push them through the wide-mouth and watch the juice pour out.
Masticating juicers give more juice than centrifugals by using a screw-shaped gear to grind up the fruits and vegetables at a slower speed. The extra time these juicers take results in a more palatable and nutritious juice; think smooth, foamless, and nutrient-dense with a longer fridge life.
Juicing advocates favor twin gear juicers, which are able to process wheat grass in addition to the traditional apples, carrots, oranges, and celery. Bonus—they also can grind nuts into a smooth paste, allowing users to make customizable nut butters. Twin gear juicers slowly squeeze out every last drop from fruits and veggies between two gears, making juice that lasts up to three days. But with more mechanical parts to scrub, heavy and bulky bodies, and a higher price, twin gear juicers aren't the right choice for every kitchen.
To Juice or to Blend
Push a carrot through, get bright orange goodness. Shove an apple in, drink up the sweet, fragrant nectar. Throw in some kale leaves, load up on the nutritious emerald-green juice. Notice a pattern here? Unfortunately, the fruit-in, juice-out process deceives amateurs who think juicing is the best way to drink produce. On the contrary, the best way to drink certain fruits and vegetables can be by blending. For example, mushier items, like bananas, berries, and avocados, should be placed in a blender with fresh juice and consumed smoothie-style, rather than attempting to juice them, which would result in a mucked-up machine. Read the juicer's manual before starting; it will give you key tips, such as which veggies should be chopped before juicing. Also, to avoid clogging, clean the juicer after each use.
Get Creative
To get started, figure out what basic combinations taste best to you. Kris Carr writes, "A good rule of thumb is a three to one ratio: three veggies to one piece of fruit." Darren and Veronica Haynes of Juicer Recipes Now recommend Alkaline Juice, which is a mixed juice of one cup of spinach, half a cucumber, two stalks of celery with leaves, three carrots, and half an apple. Finally, try an all-green recipe from the film Fat, Sick, & Nearly Dead: two handfuls of parsley, two to three celery stalks, half a lemon, one thumb-sized piece of ginger, and as much kale, collards, spinach, and romaine hearts as needed.
Juicers allow for ultimate creativity in the kitchen, developing surprisingly delicious blends store-bought bottles would never offer. New combinations are the key to successful juicing. Kick up average juice by adding ginger, mint, and even basil. Turn any juice ruby red with the addition of beets. Or, top off a fresh glass with lemon zest, coconut shreds, or pomegranate seeds. Be bold with juice!
Want more of today's best plant-based news, recipes, and lifestyle?
Get our award-winning magazine!
Subscribe