Food + Recipes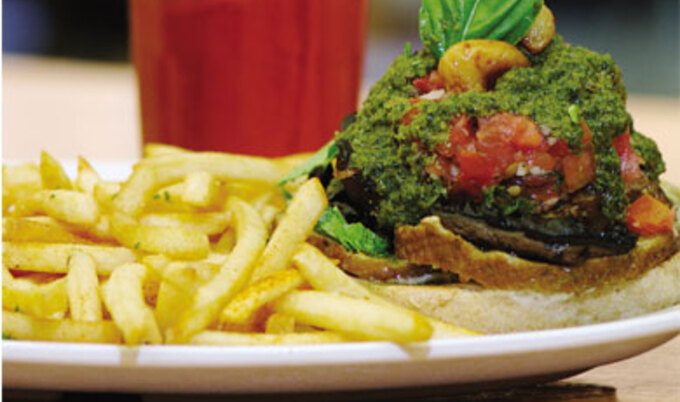 Southern California's Top 3 Veggie Burgers
Celebrate Meatout with three scrumptious SoCal burgers, or make your own at home.
---
I fancy myself somewhat of a veggie-burger expert, an aficionado of sorts, a connoisseur of patties between bread. I cannot get enough of them. In fact, I finished up a homemade burger just before I sat down to write this.
What is it about veggie burgers that keep us vegans coming back for more? Maybe it's that they are a familiar food, or that they are casual, fun, and filling. Or maybe it's because they are simply convenient and sometimes the only vegan option at a barbecue or chain restaurant. Whatever the reason, I know that I am always on the hunt for the next great burger. And I'm not going to settle for some frozen hockey puck! Of course, I love to go to the veg-only joints: They almost always knock it out of the ballpark when it comes to a good burger since they have all the good sauces and cheeses and know exactly what vegans want. But don't automatically discount the vegan options at omnivore restaurants because you just might be surprised with the care they take in making sure they have great-tasting choices. Three of my favorite veggie burgers available in my home of Orange County, CA never disappoint; and believe me, they're worth a trip!
The VG Cheeseburger
The Veggie Grill, Irvine, CA
A beefy, marinated veggie-steak patty that is juicy all the way through, this veggie burger is slathered up in all sorts of goodness: Chipotle Ranch, Veggie Grill cheese, lettuce, tomato, and onion. I order mine El Dorado Style, which means it's topped with jalapeños, caramelized onions, and ketchup.
The Veggie Patty
Slater's 50/50, Anaheim Hills, CA
The whole idea behind this place is "burgers by design," so you get to design your own burger from a plethora of toppings, breads, and spreads. There is so much to choose from, you're bound to make a delicious burger. Start with the thick and hearty scratch-made vegan patty. I top mine with avocado mash, grilled pineapple, mustard, jalapeños, and onions. (Be careful, as most of Slater's sauces and some of its breads contain animal ingredients!)
The Oklahoma Bacon Cheeseburger
Native Foods Café, Costa Mesa, CA
To be honest, this really isn't a burger, per se, but it is fabulous. And it's so ginormous, that even I can't finish it in one sitting. It's a mile-high pile of thinly sliced, house-made seitan, topped with melted cheese, crispy house-made bacon, caramelized onions, barbecue sauce, ranch dressing, lettuce, carrots, and tomato. But here's the kicker: It's topped with deep-fried pickle chips!
No tasty veggie burgers in your neck of the woods? Don't fret. Just make your own. Here's a recipe for Ranch Burgers to get you started. Does your town have a fantastic beef-free burger? Let us know in the comments!
Joni Marie Newman is the author of The Best Veggie Burgers on the Planet from Fair Winds Press.
Please support independent vegan media and get the very best in news, recipes, travel, beauty, products, and more.
Subscribe now to the world's #1 plant-based magazine!
Subscribe