News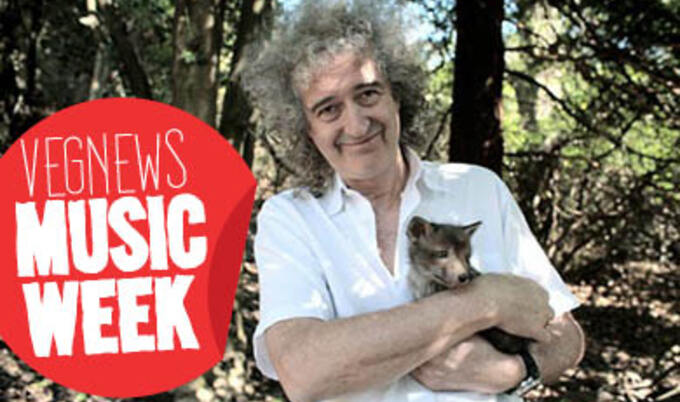 VegNews Music Week: The History of Pop Music and Vegetarianism
The illustrated history of contemporary pop and rock is paved with compassionate artists of all kinds.
June 2, 2013
---
For VegNews' 2013 Music Week, we will be sharing articles about and interviews with many of our favorite veg musicians. To kick off, VN Publisher Joseph Connelly shares his insights on how veganism and music became so entwined in the 20th­ century.
When you visit Farm Sanctuary in Watkins Glen, NY you may notice a small plaque on the outside of the Cow Barn that reads "In Appreciation to Tom Scholz For His Commitment to the Veal Calf Refuge." I first saw this in 1991, shortly after the sanctuary relocated to Upsate New York. And while more than 20 years have passed, the convergence of popular music and vegetarianism dates back much further.
Strawberry Fields
The Beatles began dabbling in meat-free eating after their infamous 1968 visit with the Maharishi Mahesh Yogi in Rishikesh, India. Paul McCartney has long been an outspoken vegetarian (He coined the popular saying "If slaughterhouses had glass walls, everyone would be vegetarian"), but less known perhaps is that the other three mop tops were all either totally or nearly veg. Ringo Starr, who will soon turn 73, has been virtually meat-free for close to 40 years and seems even more ageless than his former bandmate Paul. In a 1995 interview, McCartney said, "We all turned out to be veggie. Ringo's walking around with, like, a bag of seeds, so healthy."
Pop artist Peter Max, another ageless '60s icon, has also long been associated with rock music. His art was the inspiration for the instantly recognizable Yellow Submarine cartoons, and he has designed countless concert posters and album covers in his 50-plus-year career. Max, now 75, is a long-time vegan. He was influenced to go veg by his guru, Indian monk Swami Satchidananda. Satchidananda, in another veg-music connection, was the first speaker at the 1969 Woodstock Music & Art Festival, the celebrated event that spawned Lollapalooza, The Warped Tour, Bonnaroo, Coachella, and many others.
Green Guitarists
The '70s was the decade of underground veg musicians, predating the time when artists wore their ethics on their sleeves (or army helmets). Two of the more successful, well-known bands of the decade—Queen and Boston—share a little historical rock trivia: the driving force in each group is a tall, genius, dark-haired guitar god born in 1947. And these two men have a few other things in common.
Boston's founder Tom Scholz, who donated the money for Farm Sanctuary's aforementioned veal calf refuge, has a Master's degree in mechanical engineering from the Massachusetts Institute of Technology and invented the Rockman guitar amp. He's been vegetarian since 1979, and in 1987 he founded the DTS charitable foundation "to donate a major portion of his personal earnings from the music business for the promotion of the vegetarian lifestyle, and prevention of cruelty and suffering to animals both nonhuman and human." To date, DTS has funded nearly three dozen animal-, vegetarianism-, children-, and hunger-related charities.
Brian May has had a similar life story. Known for being Queen's lead guitarist, he earned a PhD in astrophysics (and also has an asteroid named after him). Recently, May has been outspoken against fox hunting and badger-culling in the UK, and in 2010 formed a nonprofit, Save Me (named after the Queen song), "that speaks out about the cruel minority in our society that feels it is their right to persecute and torture wildlife for sport." That same year, in a BBC interview (YouTube it), May said, "We as a species treat animals appallingly badly. And, unfortunately, the more your eyes are opened, the worse it gets." May is a long-time vegetarian and reportedly went vegan in 2010.
How Soon is Now
Moving into the '80s, vegetarianism and music became more openly tied, and dozens of popular bands and artists of the decade have long been "out" as veg-friendly, from Bryan Adams to "Weird Al" Yankovic. But what is arguably the seminal moment in the veg-music connection occurred on Valentine's Day, 1985 with the release of British alternative rock band The Smiths' second LP. The album cover is a Vietnam-era photo of Marine Corporal Michael Wynn with the phrase "Meat is Murder" scribbled on his helmet. VegNews' own Jennifer Pickens survived this decade, and eloquently sums up the importance of Meat is Murder. "The album became symbolic; I wasn't the only vegetarian in the world, and I wasn't the only person who felt this way!" The Smiths made it cool to be vegetarian. The stereotype of the long haired, tie-dyed, '70s hippie in Birkenstocks munching on carrots sticks and hummus was shifting.
The Smiths lasted just five years as a band and released only four albums, yet their influence on the indie music scene and vegetarian/animal rights issues is immeasurable. Much of this can be traced to the band's contentious lead singer, Morrissey, an opinionated, dark, brooding character who quickly became a quasi-deity to countless vegetarians and their splinter faction, the vegans. In other words, he was perfect for the role. Did Morrissey cherish the status? Shun it? Who knows? It is interesting to note that the carefree, gentle, passive image of a vegetarian was quickly changing as the '90s approached. It would soon be replaced by the concerned, aggressive, our-time-is-running-out angst of the Millennial vegan.
Higher Level
In the '90s, music also began to change, with divisions and subdivisions that hadn't previously existed. Rock split into classic rock, heavy metal, thrash, and others. Punk became alternative, grunge, indie, and later emo. Rap morphed into hip-hop, with MCs, DJs, and a vegan media mogul, Russell Simmons. The list of hip-hop artists who eschew animal products includes some of the biggest names in the genre, such as KRS-One, MC Lyte, Dead Prez, and members of Wu-Tang Clan.
With these sub-classifications lessening the distance between artist and fan, it became more acceptable for celebs to speak out about their pro-animal-welfare positions. The rise of People for the Ethical Treatment of Animals, Farm Sanctuary, and other organizations, followed by the internet (and more recently social media), meant that celebrities could effectively use their popularity to promote causes close to their hearts, as reaching the intended audience was easier than ever. Organizations and artists even collaborated to create numerous benefit compilation albums and public campaigns. Prince actually showed up at the Genesis Awards in 2000, and in 1996, at the March for the Animals in Washington, the Pretenders' Chrissie Hynde walked the DC streets with everyone else.
Into the Future
The plant-powered musician has become a full-on reality in the 21st century. Artists including Moby and Erykah Badu have graced the cover of VegNews, and many others have been featured inside. Todd Fink of The Giving Tree Band is one proud vegan artist who isn't afraid to mix his livelihood with his ethics. "Veganism is a part of our music but not in an explicit way. We believe that veganism supports the overarching goal of peace and harmony among all." Joy Askew is another vegan singer/songwriter whose music reflects her compassion. Askew's composition "Poor Man's Greed" is on the documentary Peaceable Kingdom: The Journey Home, and her latest CD, Drunk on You, includes four animal-themed tracks. Askew tells VegNews, "'All Be Saints' has a verse about Saint Francis and reflects my feelings about how overwhelming it can be to be aware of the cruelty inflicted on farm animals by humans every day. I'm asking, 'Why can't we all be saints?'"
In reality, there are quite a few saints doubling as musicians today who support animals. Farmed animal and vegetarian causes have become so well-accepted that the compilation CDs of the '90s and '00s have made way for live benefit concerts. The Woodstock Farm Animal Sanctuary alone has hosted performances or benefit shows by the likes of Tracy Bonham, Chrissie Hynde, Sean Lennon, Mercury Rev, and Neutral Milk Hotel, while Jon Anderson (of Yes), The B-52s, Shawn Colvin, Leona Lewis, Nellie McKay, and Moby have all performed at events for Farm Sanctuary and PCRM.
During the rock era, we have moved from having no idea what any artist thought about farmed animal issues to "in the closet" vegetarians to the gradual acceptance of meat-free diets. Once this happened, the doors opened to wider acknowledgement of the issues, coming full circle back to the concert venue. Seattle-based Action for Animals, one of many organizations doing veg outreach at live events, has taken its show on the road for more than a decade, mostly on the annual Warped Tour. Action for Animals president and founder Dave Bemel explains why. "Our goal is the education of kids, who are very receptive. They are a young audience, primarily teenage. Often this is the first exposure they have to what happens to farm animals." Bemel admits that he became vegan as soon as he found out how animals are treated, and sees every budding new vegan as an activist with the potential to save millions of animals a year.
Please support independent vegan media and get the very best in news, recipes, travel, beauty, products, and more.
Subscribe now to the world's #1 plant-based magazine!
Subscribe