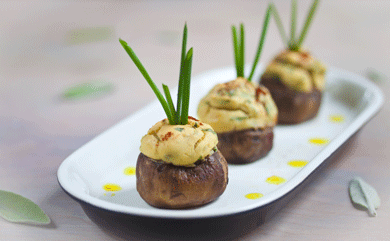 These mushroom hors d'oeuvres will win over any dinner guest.
February 23, 2014
Makes 40 appetizers
What you need:
40 white button mushrooms, stems removed
1-1/4 cups plus 2 tablespoons chickpea flour
3/4 cup water
2 tablespoons minced chives
1/8 teaspoon celery salt
1 teaspoon salt
2 garlic cloves, minced
1 teaspoon baking powder
3 sage leaves, minced
1/2 cup finely chopped mustard greens (leaves), dried well
Olive oil, for garnish
What you do:
Preheat oven to 375 degrees. Into an 8-inch round pan, place button mushrooms, tops of caps facing down.
In a medium bowl, mix flour, water, chives, celery salt, salt, garlic, baking powder, sage, and mustard greens until smooth. Transfer batter to a piping bag with a wide tip, and pipe filling into mushroom cap. 
Drizzle mushrooms with olive oil and bake for 30 to 35 minutes until mushrooms tops are puffed golden brown on edges. Serve hot.
Photo: Allyson Kramer