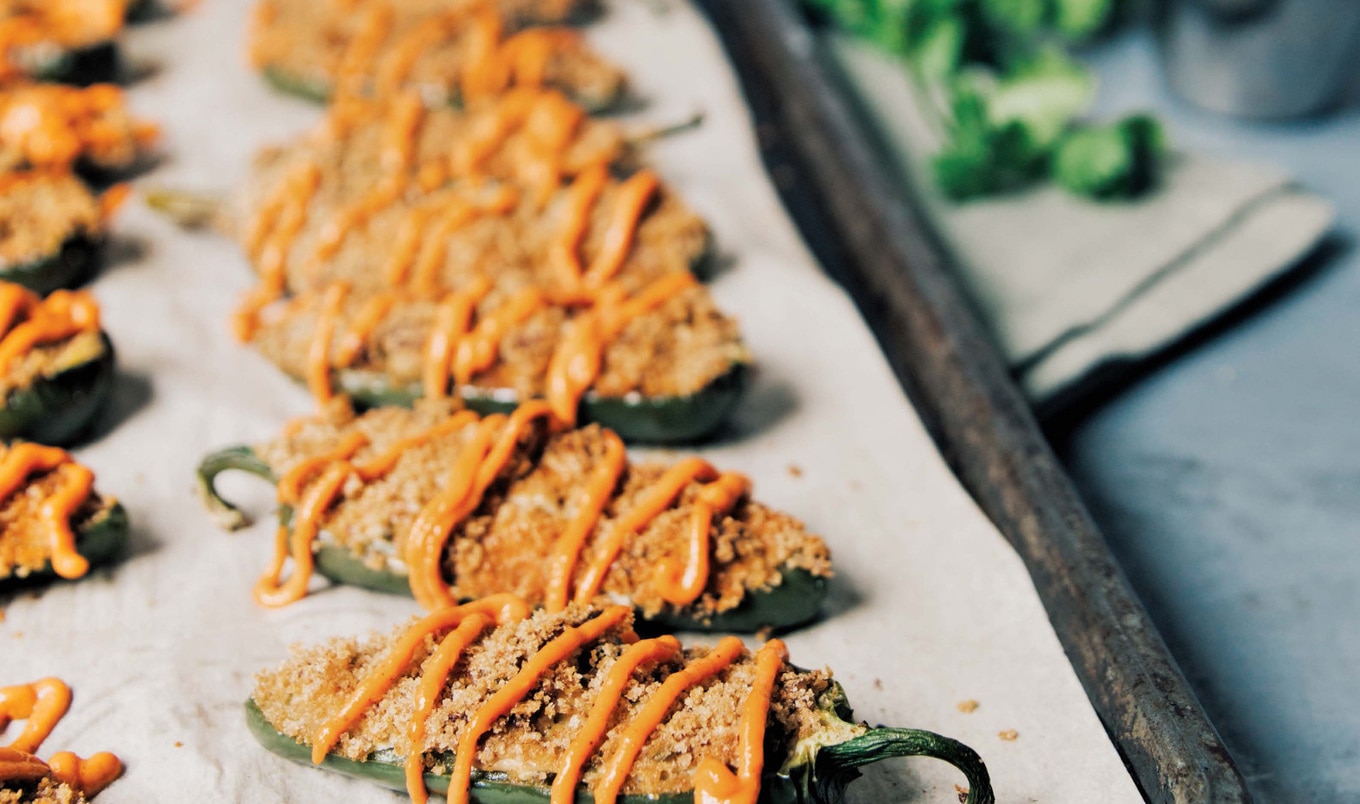 This smoky, meaty, vegan take on classic poppers makes a winning game day snack or appetizer.
December 31, 2022
Satisfy your cravings for a fiery, smoky, cheesy bite with these delicious poppers from Lauren Toyota's Hot for Food Vegan Comfort Classics cookbook. Serve them up with buffalo cauliflower wings and vegan sliders for the ultimate party platter.
What you need:
For the sundried tomato aioli:
1⁄4 cup dry-packed sundried tomatoes
1⁄2 cup vegan mayonnaise
2 tablespoons lemon juice
1⁄4 teaspoon chili powder
1⁄4 teaspoon mustard powder
1⁄4 teaspoon sea salt
1⁄4 teaspoon ground pepper
For the poppers:
1 cup vegan chive cream cheese
3 tablespoons finely chopped chives
2 tablespoons finely chopped cilantro
1 garlic clove, minced
1⁄2 cup chopped vegan bacon
8 jalapeño peppers
1⁄2 cup bread crumbs
1⁄2 teaspoon smoked paprika
1⁄2 teaspoon garlic powder
1⁄2 teaspoon sea salt
Vegetable oil spray, for coating
What you do:
For the aioli, in a small bowl, soak sundried tomatoes in warm water for 10 minutes and then drain. Into a blender, add sundried tomatoes and remaining ingredients and blend until smooth.
Preheat oven to 375 degrees. In a medium bowl, mix cream cheese, chives, cilantro, garlic, and bacon. Place in refrigerator. With a paring knife, cut jalapeños in half lengthwise and scoop out flesh and seeds, being sure not to break peppers.
In a shallow dish, combine bread crumbs with paprika, garlic powder, and salt. Line a baking sheet with parchment paper. Stuff jalapeño halves with cream cheese mixture. Some of the mixture should be slightly piling out of halves, but not overflowing. Sprinkle tops with bread crumb mixture, coating well. Place on baking sheet and lightly spray with oil.
Bake for 18 minutes or until golden brown. Serve immediately with aioli as a dip.