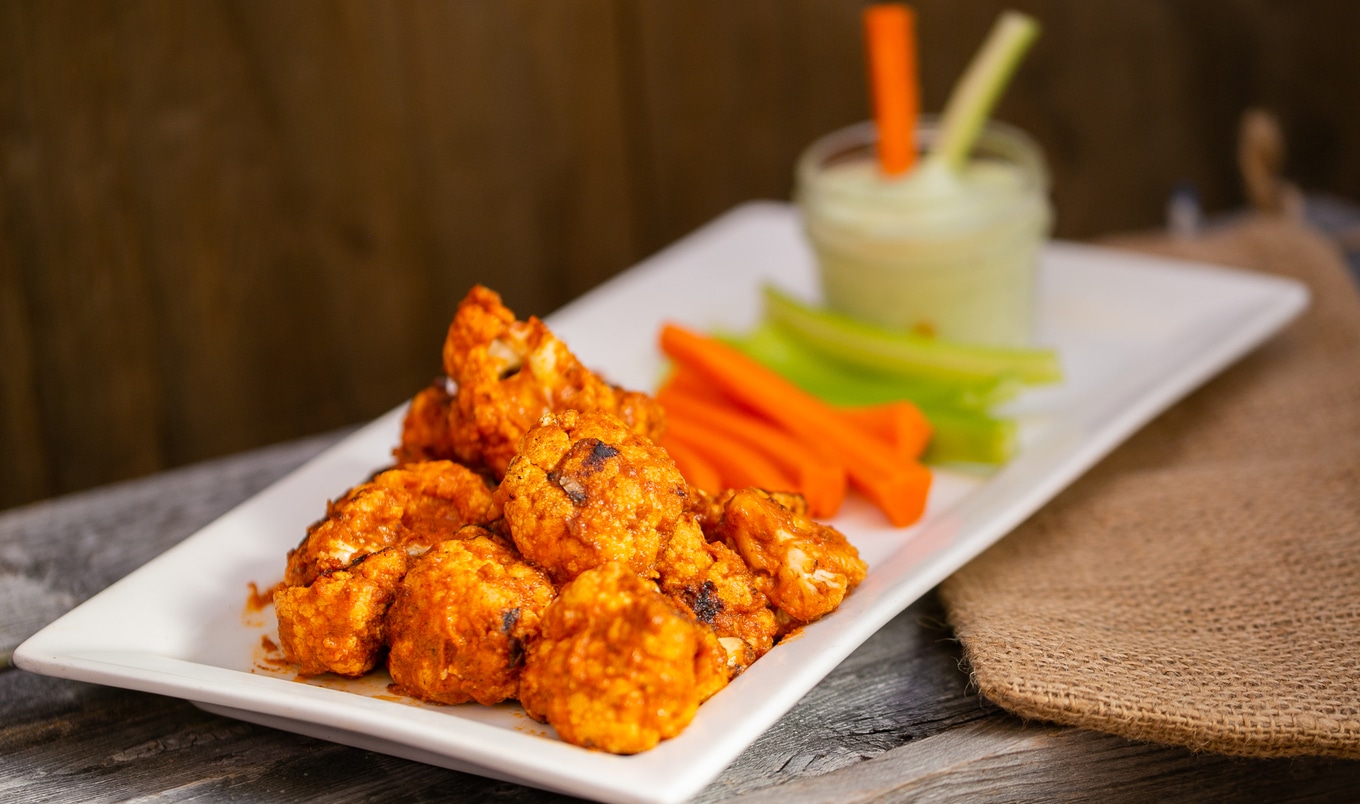 A cooling pesto-cashew dip provides creamy, herbal complexity with these jalapeño-spiced pan-fried cauliflower wings.
May 12, 2023
We've all had buffalo cauliflower wings by this point, but this recipe from the Healthy Living Through a Plant-Based Diet: A Trilogy Sanctuary Cookbook swaps the buffalo sauce for an aromatic homemade seasoning blend that still packs in the heat, but with earthier, peppery notes.
What you need:
For the seasoning:
⅓ cup grapeseed oil
½ jalapeño
¼ medium yellow onion
1 clove garlic
1 teaspoon oregano
1 teaspoon paprika
1 teaspoon chili powder
1 teaspoon salt
1 teaspoon cumin
1 tomato
For the cauliflower:
1 medium cauliflower, chopped into florets and steamed
1 tablespoon grapeseed oil
For the dip:
¼ cup vegan pesto
¼ cup cashews, soaked for at least 2 hours
1 tablespoon water
2 teaspoons lemon juice
For serving:
2 carrots, peeled and cut into sticks
3 celery stalks, cut into sticks
What you do:
For the seasoning, into a blender, add all ingredients. Blend on high speed until combined.
Into a large bowl, add cauliflower and pour mixture over and mix well. Let marinade for 5 minutes.
For the cauliflower, in a large frying pan over high heat, warm oil. Once hot, add cauliflower in batches and cook 6 to 8 minutes, turning occasionally until browned and crispy on edges. Repeat with remaining cauliflower.
For the dip, in a high-speed blender, add all ingredients and blend until completely smooth.
To serve, on a plate, arrange carrot and celery sticks with cauliflower wings and dip, and enjoy.