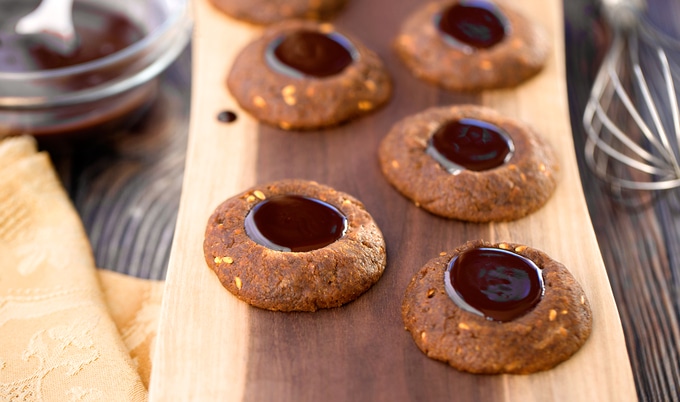 These ginger-infused gems with a fudge filling are both delicious and adorable. Bring a dozen to your next party!
December 19, 2015
Makes 24 cookies

What you need:
For the cookies:
1/2 cup coconut oil, melted
1/3 cup sugar
1/4 cup dark molasses
1 tablespoon almond milk
1-1/3 cup flour
1 tablespoon dry-roasted flaxseed
2 tablespoons pumpkin pie spice
1-1/2 teaspoons baking powder
1/2 teaspoon salt

For the fudge:
1/4 cup almond milk
1 tablespoon agave nectar
1/2 cup dark chocolate chips

What you do:
1. Preheat oven to 350 degrees. Line two large baking sheets with parchment paper and set aside.
2. Using the whisk attachment on your stand mixer (or an electric hand mixer), whisk together oil, sugar, molasses, and almond milk.
3. Remove whisk and attach the flat beater. To wet mixture, add flour, flaxseed, pumpkin pie spice, baking powder, and salt. Continue mixing on medium speed until dough forms.
4. Scoop out approximately 1 tablespoon of dough, roll into ball, and place onto cookie sheet. Continue with remaining dough. Then, using your thumb, carefully make a thump print into each ball.
5. Bake for 10–12 minutes. Remove cookies from oven, and place on cooling rack. If the centers have puffed up, carefully press down centers with your thumb.
6. While cookies are cooling, in a small saucepan over low heat add almond milk and agave nectar. Bring to a simmer, remove from heat, and add chocolate chips. Stir until chips are totally melted. Let the chocolate cool completely.
7. Spoon cooled fudge into the centers of each cookie.
Check out all of our 2015 VegNews Holiday Cookie Contest Winners!
First Place: Salted Caramel Cookies by Michelle Norton
Third Place: Mexican Hot Chocolate Cookies by Alison Sullivan

Click here for the 2012 VegNews Holiday Cookie Contest Winners.
Love vegan food and cooking as much as we do?
Get the BEST, editor-tested recipes inside every issue of VegNews Magazine. Find out why VegNews is the world's #1 plant-based magazine by subscribing today!