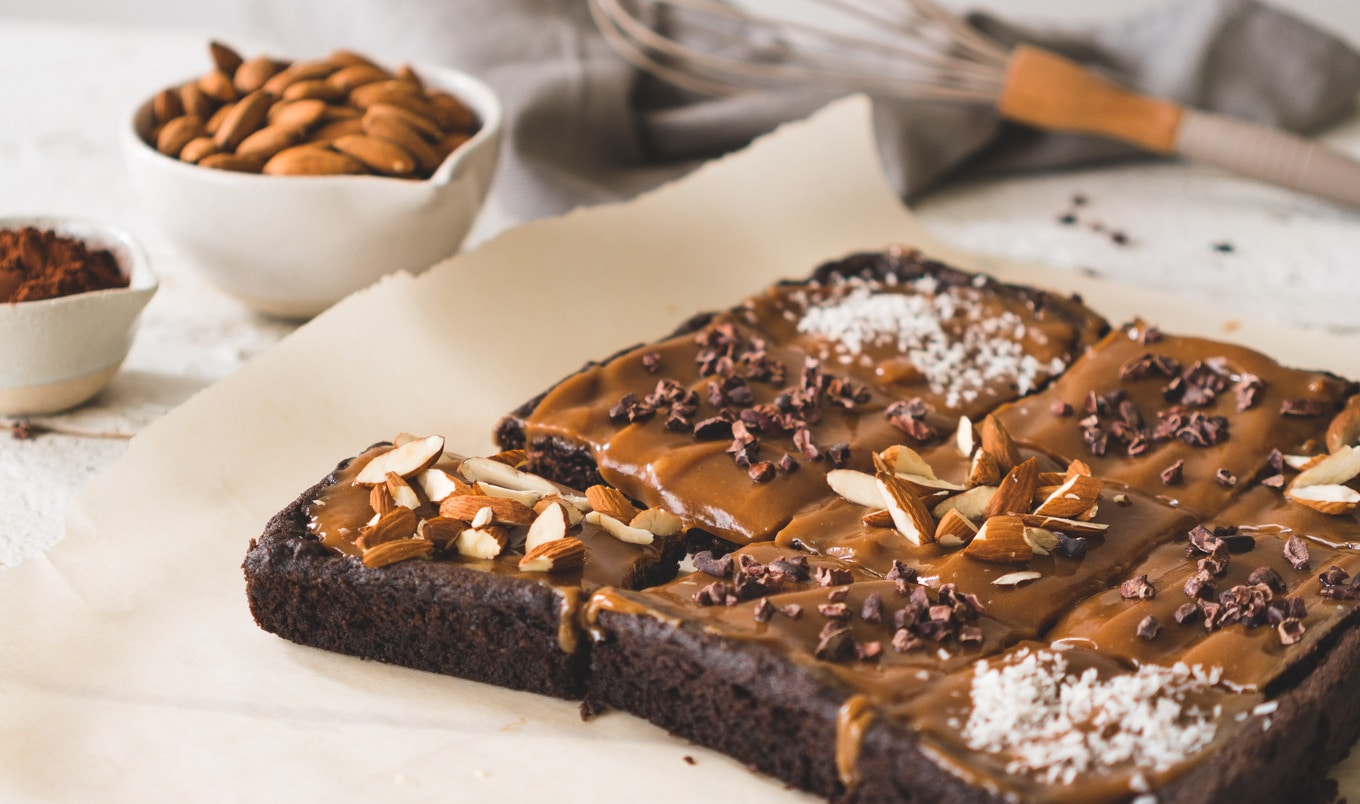 Prepare yourself to fall in love with dessert.
October 6, 2021
Fall is a great time of year to stay inside and bake, which is why we're bringing you simple yet decadent brownies that are as tender as they are delicious. Topped with a sweet, rich almond-butter frosting, this is just the recipe to satisfy that chocolaty craving. Our advice: double the batch because these brownies will disappear quickly.
What you need:
For the brownies:
½ cup vegan butter
½ cup cane sugar
¼ cup almond milk
1 tablespoon vanilla extract
1¼ cups white flour
¼ cup cocoa powder
1 teaspoon baking soda
1 teaspoon baking powder
⅓ cup vegan chocolate chips
For the frosting:
½ cup unsalted almond butter
⅓ cup coconut oil, melted
⅓ cup maple syrup
2 teaspoons vanilla extract
½ teaspoon salt
What you do:
1. Preheat oven to 350. Grease a 9x9 baking pan and set aside.
2. For the brownies, into a mixing bowl, mix butter and sugar. Add milk and vanilla extract, and mix well.
3. Into a separate bowl, combine flour, cocoa powder, baking soda, and baking powder. Slowly add half the wet mixture to the dry mixture and stir to combine. Add the remaining wet mixture, ensuring that the batter is well mixed. Fold in the chocolate chips.
4. Transfer to baking pan and bake for approximately 25 minutes, or until a toothpick comes out clean.
5. For the frosting, into a small bowl, whisk together butter, oil, syrup, vanilla, and salt.
6. Remove brownies from oven and allow to cool completely before frosting.
7. Spread the frosting evenly atop the brownies, cut into squares, and serve.