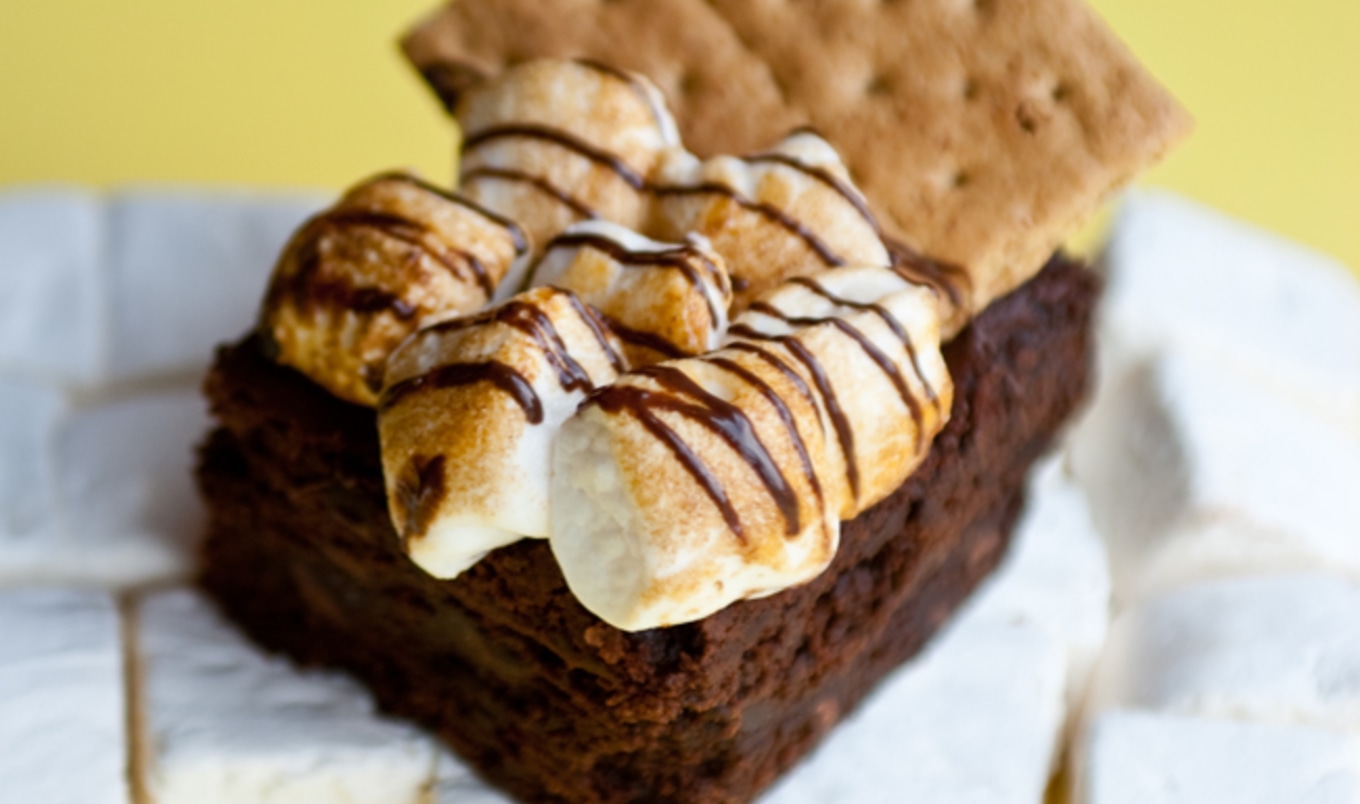 This dessert combines coffee, s'mores, and brownies, making it the perfect weekday treat.
February 27, 2023
In need of a satisfying weekday dessert? This simple recipe combines two of our favorites: s'mores and brownies! Plus, with the addition of brewed coffee, we could almost call this the ultimate breakfast treat.
What you need:
½ cup plus 2 tablespoons brewed coffee
1 tablespoon vegan butter
3 ounces dark chocolate (58% or darker), finely chopped
2¾ cups plus 1 tablespoon sugar
¾ cup plus 3 tablespoons cocoa powder
1½ teaspoons salt
⅔ cup canola oil
½ cup plus 1 tablespoon water
1 tablespoon vanilla extract
2 cups plus 3 tablespoons all-purpose flour
1 teaspoon baking powder
1¾ cup chocolate chips, divided
4 cups mini vegan marshmallows
24 graham cracker squares
What you do:
Preheat oven to 350 degrees and grease a 9x13-inch baking pan. Using a double boiler, heat coffee, butter, and dark chocolate, stirring until chocolate is melted and ingredients are thoroughly combined.
In a stand mixer, combine sugar, cocoa powder, and salt, and mix together with the paddle attachment. Add oil, water, and vanilla, and mix to combine. Add coffee mixture and mix.
In a separate bowl, mix together flour and baking powder. Stir in ¾ cup chocolate chips. Add dry ingredients to wet ingredients and mix until all ingredients are incorporated.
Pour batter into prepared baking pan and bake for 45 to 55 minutes, or until a toothpick inserted in the center comes out clean. Cool completely, then cut into squares.
Once brownies are cooled and cut, melt ½ cup chocolate chips in a microwave. Drizzle melted chips over the brownies. Pile marshmallows onto brownies over melted chocolate chips. Using a pastry torch, flame marshmallows until you get some browning, being careful not to burn them. Sprinkle remaining chocolate chips on top.
Break graham cracker squares in half and press into the marshmallows so that they stand upright. Or crush in a plastic bag and sprinkle on top.