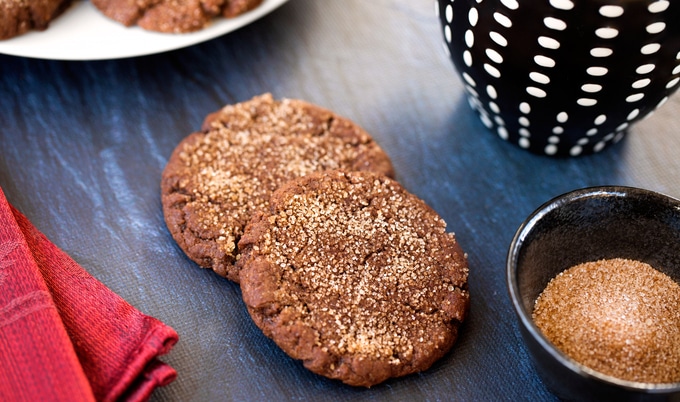 December 19, 2015
Makes 15–20 cookies
What you need:
For the cookies:
1-2/3 cup flour
1/2 cup cocoa powder
1/2 teaspoon cayenne pepper
1/2 teaspoon cinnamon
1 teaspoon baking soda
1/4 teaspoon salt
1/2 cup canola oil
1/4 cup maple syrup
1 cup sugar
2 teaspoons vanilla
3 tablespoons almond milk

For the sugar topping:
1/3 cup sugar
1 teaspoon cinnamon
What you do:
1. Preheat oven to 350 degrees. In a large bowl, sift flour, cocoa, cayenne, cinnamon, baking soda, and salt. In a separate medium bowl, whisk canola oil, maple syrup, vanilla, milk, and sugar until fully incorporated.
2. Slowly add dry ingredients to the wet, mixing continuously. The batter will be thick
3. Using cookie scoop or the palm of your hands, create 2 tablespoon balls of dough and flatten into disks, place on cookie sheet, and cover one side with the sugar-cinnamon dusting. Bake for 12 minutes.
Check out all of our 2015 VegNews Holiday Cookie Contest Winners!
First Place: Salted Caramel Cookies by Michelle Norton
Second Place: Gingerbread Fudge Buttons by Anna Jurik
Click here for the 2012 VegNews Holiday Cookie Contest Winners.
This recipe was originally created by Isa Chandra Moskowitz and published on the Post Punk Kitchen blog.
Love vegan food and cooking as much as we do?
Get the BEST, editor-tested recipes inside every issue of VegNews Magazine. Find out why VegNews is the world's #1 plant-based magazine by subscribing today!