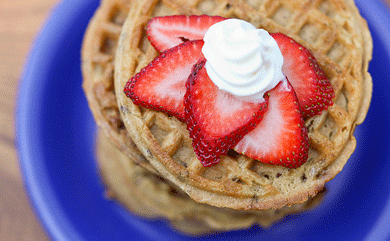 A dose of hot chocolate sauce in this waffle batter creates a decadent brunch offering.
August 20, 2021
Sweet-and-spicy chocolate sauce adds a surprising punch to this breakfast staple. Top with strawberries for an added treat.
What you need:
2 cups flour
4 teaspoons baking powder
2 tablespoons sugar
3 teaspoons egg replacer plus 4 tablespoons water, combined
¼ cup melted vegan margarine
¼ cup canola oil
1-¾ cups soymilk
4 tablespoons Mexican Hot Chocolate Syrup
What you do:
In a mixing bowl, combine flour, baking powder, and sugar and mix well.
Fold in egg replacer and water, margarine, oil, and soymilk and mix lightly until combined.
Swirl 1 tablespoon Mexican Hot Chocolate Syrup over top of waffle mix and swirl with a fork. Cook in a waffle iron according to manufacturer's instructions. Serve immediately. Alternatively, cook waffle batter only and serve Mexican Hot Chocolate Sauce atop.