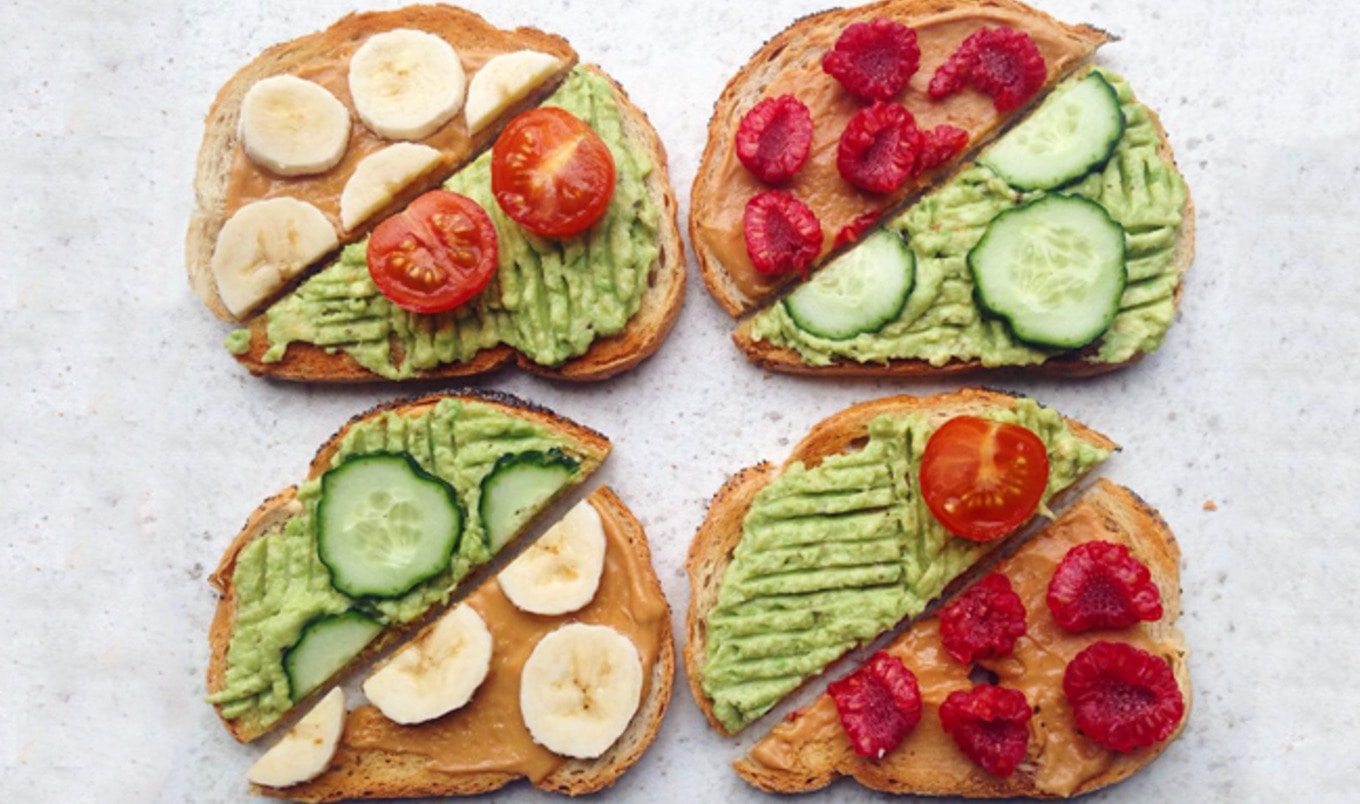 We've got a slew of toasty ideas that'll take your morning meals to new heights.
October 17, 2016
---
Whether you're rushing out the door in the morning or trying to show off your foodie photographer skills, nothing does the job quite like a slab of toast. And what versatility too! Smear on your favorite nut butter for a quick, nutritious, on-the-go bite, dress up your bread with trendy, eye-popping ingredients, or whip out a sweet potato (yes, you heard that right—read on to have your mind blown). However you slice it, there are endless possibilities to be had. So let's toast to toast … with toast!
1. Ever heard of sweet potato toast? Basically, you slice one of the orange spuds lengthwise, carefully toast in your toaster, and pile on whatever your heart desires. @themakeshiftmermaid slathered on chipotle mayo, avocado, bacon bits, onions, and tomatoes for this savory vegan masterpiece. We're jealous.
2. Not convinced yet? Like your sweet potato toast on the sweeter side? @thedishonhealthy's recipe with almond butter, cinnamon, banana, and pumpkin spice coconut chips will get the job done.
3. Sometimes, simplicity is key. @thepositivethread sticks to peanut butter, but pairs it with cinnamon raisin bread and a homemade iced almond milk latte for an easy brunch that's perfect for lazing around on a weekend.
4. @talinegabriel's spread of sliced figs, coconut yogurt, pistachios, edible flowers and maple syrup on spelt sourdough bread is almost too pretty to eat, but we'll find a way.
5. A healthful take on a classic combination. @cookeatcompete is lowering the sugar and upping the fiber and protein by opting for a homemade chia-fruit purée jam, a thin smear of peanut butter, and 100 percent whole wheat bread. (Bonus, subscribe to VegNews Magazine today and get the recipe for your own Blueberry Sangria, Strawberry Lime Jalapeño, and Bing Cherry Vanilla chia jams in the upcoming Health + Wellness Issue!)
6. Kadota figs, Kite Hill's almond cream cheese, and a balsamic drizzle make for a super easy, yet totally divine spread from @myveganplate.
7. HELLO hazelnut chocolate spread, cranberries, pecans, and coconut! This gluten-free marvel from @breadsrsly is topped with a bunch of nutritious ingredients, so it's more like a healthy snack rather than a dessert, right?
8. Well, this puts anything we make to shame. @mynuttydelights' indecision led to this gorgeous pile-up of strawberries, blackberries, raspberries, granola, coconut yogurt, grapes, hazelnuts, peanut butter, jam, chia seeds, and cacao nibs, and we're not afraid to admit that we're a little intimidated.
9. @edgarraw pulled out all the stops with homemade beet hummus, roasted chickpeas, sprouts, sliced heirloom beets, tomato, avocado, and parsley for these wonderfully raw beauties.
10. Topped with a pepita spread, butter pickles, and a smorgasbord of raw and roasted vegetables, @losvegangeles' gorgeous restaurant-quality find at the Go Get Em Tiger coffeehouse in Los Angeles makes us want to book a plane ticket to SoCal immediately.
11. Okay, we're #obsessed with #sweetpotatotoast, so here's one more. @clean_body_ made a fruity cream with red banana protein powder and coconut yogurt, then added peanut butter, fresh fruit, yacon syrup, and cinnamon spice to their potato creation. Bookmarking!
12. Super simple but deliciously unexpected, @healthyisfunky's toast is topped with tomato sauce, baked for five minutes, and topped with freshly shaved fennel and herbs. We can't say it's pizza, but it sure hits all the right notes.
13. Who know buttery mushrooms, roasted hazelnuts, extra virgin olive oil, avocado, and spinach could make for such an impressive meal? @avocadolovefood is on to something here.