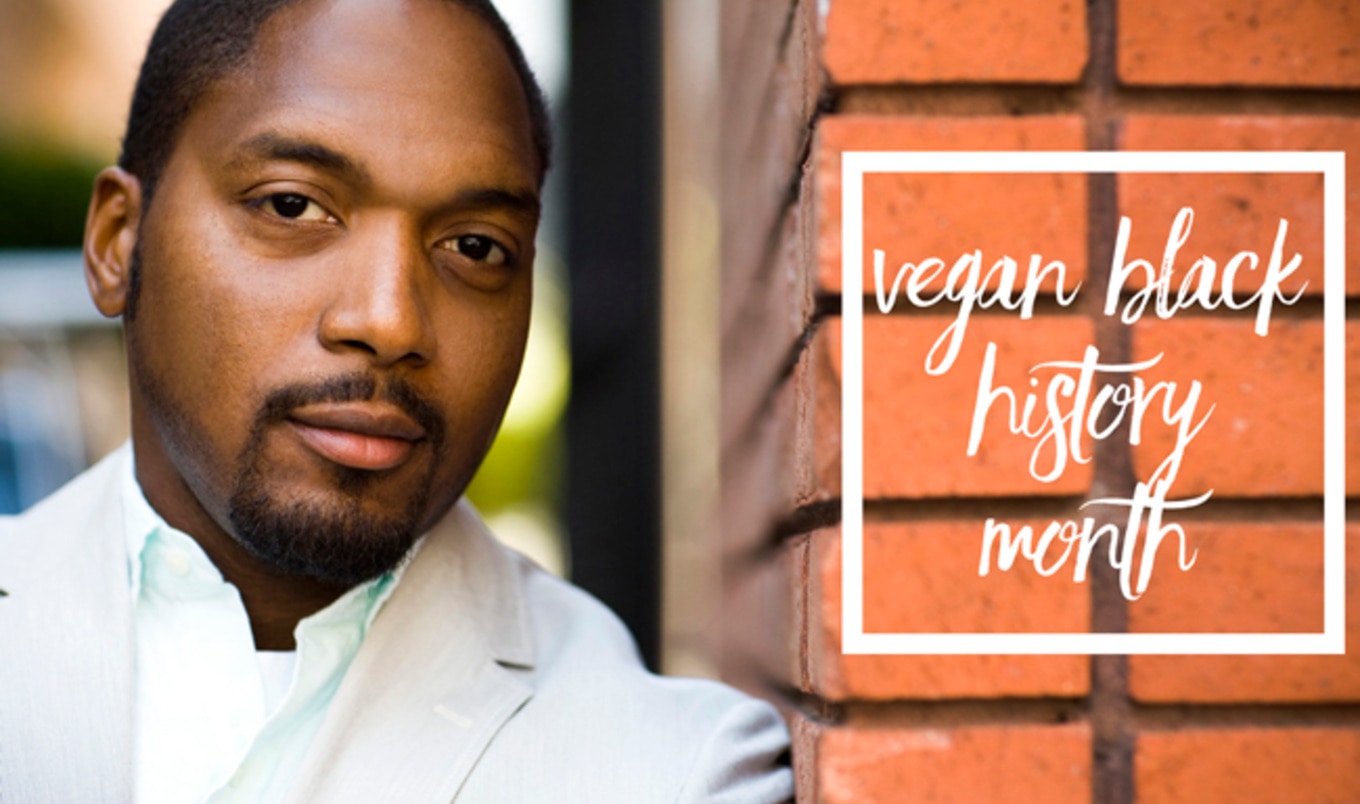 In this exclusive interview with VegNews, famed chef and author Bryant Terry speaks about his efforts to reverse America's health crisis with whole, traditionally Black foods.
February 21, 2016
---
Abstaining from the use of animals for food, clothing, entertainment, or for research has always been portrayed as a radical way of living. Those who live their lives by such principles find themselves part of a small but passionate minority, using their everyday choices to advocate and fight for the rights of animals. But some members of this plant-based group don't have the luxury of making animal rights the center of their lives—they must, at the same time, continue fighting for their own.

One such subsect is Black vegans. While not receiving the same amount of attention as other members of the plant-based scene, the Black community has made, and continues to make, meaningful and important strides in the name of veganism. From the iconic political activist Angela Y. Davis' work stemming back to the 60s, to David Carter showing the world that a 300-pound NFL lineman can be sustained, and thrive, on a vegan diet—we're inspired by the accomplishments of Black vegans.

Every week during February, VegNews is highlighting one Black vegan making history now. This week, we're talking to Bryant Terry, accomplished educator and author of Afro-Vegan: Farm-Fresh African, Caribbean, & Southern Flavors Remixed. A 2015 James Beard Foundation Leadership Award-winning chef and the current Chief-in-Residence at San Francisco's Museum of the African Diaspora, Terry is arguably one of the most qualified people to speak on food issues facing the African-American community.
VegNews: Who has inspired you to change the way America eats and/or in your own life?
Bryant Terry: Chef and cookbook author Edna Lewis has a big influence on my work. Similar to all my books, her mission was to help people connect with the flavors of real food that she enjoyed growing up in the South. After taking New York City by storm with her approach to Southern cuisine at Café Nicholson in the late 1940s and '50s, she went on to write several cookbooks that focused on seasonality and freshness. Her book The Taste of Country Cooking had a major impact on my style of recipe writing. That book reads like a memoir infused with recipes, and it inspired me to draw heavily on history and memory in my own cookbook writing, which I often describe as "recipes as autobiography."

VN: What role does your identity play in your work and everyday life?
BT: My primary focus as an activist is addressing the public health crisis among African-Americans that relates to what we eat. A large part of my work is about helping my people remember that our traditional diet is replete with nutrient-dense dark leafy green vegetables, protein-rich legumes, vitamin-packed fruit, and the like. When we move beyond the reductive way that people imagine African-American cuisine—antebellum survival food eaten by many enslaved Africans and the comfort foods that Black folks most often enjoy on holidays and special occasions—and peel back the layers, it becomes much clearer. We simply need to look back and embrace the eating habits of many of our ancestors from just a few generations ago. And when you consider that for thousands of years traditional West and Central African diets were predominantly vegetarian—centered around staples like millet, rice, field peas, okra, hot peppers, and yams—and that many pre-colonial African diets heavily emphasized plant foods, a plant-based diet celebrating the food of the African diaspora is perfectly fitting.

VN: You were honored by UC Berkeley in 2014 for your commitment to community development and transformative change. How do you use food to strive toward that goal?
BT: We all should be concerned about the way that multinational food corporations are ruining our health and degrading the very foundations of a healthy food system—clean soil, air, and water. African-Americans suffer from some of the highest rates of preventable diet-related illnesses, and many working class and working poor African-American communities face a number of economic, physical, and geographic barriers to accessing healthy, safe, affordable, and culturally appropriate food. Given this, we should be taking the lead in owning and driving the solutions to address this public health crisis that our communities face. I strive to use the sensual pleasures of the table to shift people's habits, attitudes, and politics in regard to food. In my eyes, building community around the table and strengthening the food-justice movement go hand in hand. When one considers that educating, strategizing, and organizing for many social movements throughout the 20th century took place in people's homes, it seems appropriate that the food revolution will find its spark in home kitchens.

VN: A lack of representation in the mainstream vegan movement is an ongoing theme in many discussions in the Black vegan community. Others talk about inadequate access to information and fresh, whole foods in certain areas of the nation. What do you make of these issues?
BT: I feel most passionate about empowering people to take back our food system from the handful of transnational corporations that control it. My guiding mantra for over a decade has been start with the visceral, to ignite the cerebral, and end at the political. In order to take back our runaway food system, we need to engage in grassroots activism while keeping one eye on changing public policies. I see empowering people to prepare and cook real food and share meals with community as a revolutionary first step towards politicizing them around food issues.
Don't miss VegNews' full lineup of interviews for Black History Month, including Tracye McQuirter, Eugene Cooke, and Clifton Roberts.