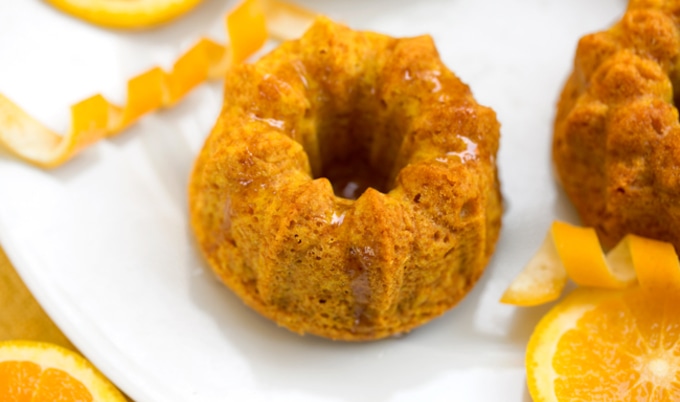 These delightful individual cakes are flavored with tart lemons and sweet agave nectar, and topped with a shiny lemon glaze.
June 22, 2016
What you need:
For the cake:
3 to 4 lemons
2/3 cups vegan milk
2 cups whole grain spelt flour
1/2 cup arrowroot
2 teaspoons baking powder
1 teaspoon baking soda
1/4 teaspoon sea salt
1/4 teaspoon turmeric
2/3 cup agave nectar
1/3 cup olive oil, plus additional for oiling pan
2 teaspoons vanilla
For the glaze:
1/4 cup agave nectar
2 tablespoons fresh lemon juice
What you do:

1. Preheat oven to 350 degrees. Zest lemons, measure out 2 tablespoons, and set aside. Juice lemons, measure out 1/2 cup, and set any remaining juice aside for use in glaze.
2. In a small bowl, place 1/2 cup lemon juice and vegan milk. Stir well and set aside for 15 minutes to thicken. Using a little olive oil, lightly oil the mini bundt pans.
3. In a large bowl, place spelt flour, arrowroot, baking powder, baking soda, sea salt, turmeric, and 2 tablespoons of lemon zest. Stir well, and set aside.
4. In a medium bowl, place agave nectar, olive oil, and vanilla. Add vegan milk mixture and whisk thoroughly. Add wet ingredients to dry ingredients and whisk to form a smooth batter.
5. Divide batter evenly among prepared pans. Bake for 20 to 25 minutes or until golden brown and an inserted toothpick comes out clean. Allow cakes to cool in pans for 10 minutes, then invert onto a rack and allow to cool completely before glazing. These cakes can also be made as a single cake in a 9-inch spring form pan, just bake for 30 to 40 minutes.
6. For the glaze, in a small saucepan, place agave nectar and lemon juice. Bring to a boil, reduce to low heat, and simmer for 5 minutes. Remove from heat and set aside to cool for 5 minutes. Using a spoon, drizzle glaze over the top and sides of each cake.
Love vegan food and cooking as much as we do?
Get the BEST, editor-tested recipes inside every issue of VegNews Magazine. Find out why VegNews is the world's #1 plant-based magazine by subscribing today!