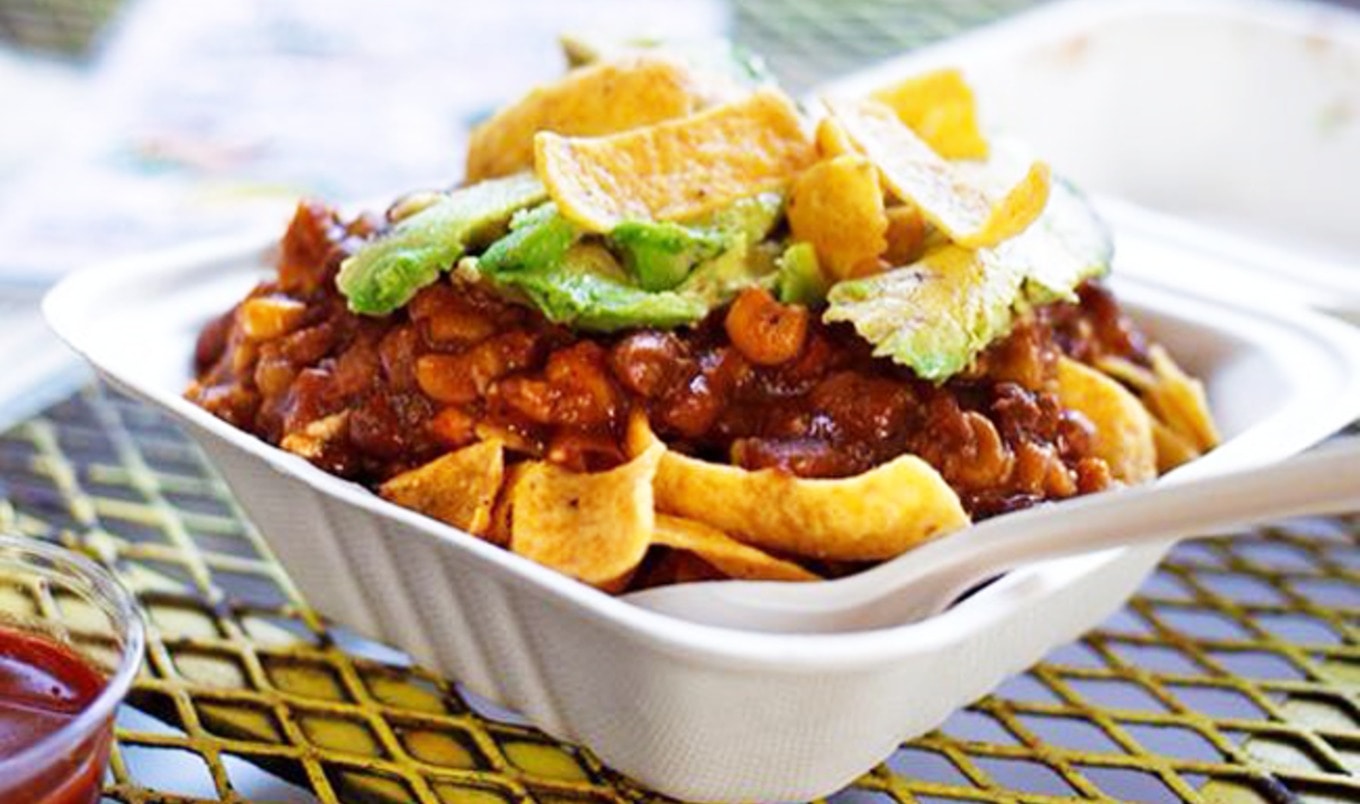 Towering double-decker burgers, deep-fried Oreos, and apple pie pizza are a few of the ways to get into the holiday spirit.
July 20, 2016
---
As vegans, we all love to eat a balanced, whole foods-based diet, right? Still, Junk Food Day comes only once a year and cannot be properly celebrated with a salad and green juice. So we've chosen the 10 junkiest, greasiest, sugar-laden vegan dishes out there to properly get into the spirit. And remember … no matter how unhealthy your indulgence on this day of fried goodness, the fact that no animal was harmed in your pursuit of junky munchies is a step above the rest.

 
1. The Animal @ Next Level Burger (Portland, OR)
We're kicking off our list with one of the most absurd burgers we've ever seen. "The Animal" is comprised of two sausage patties stacked high with tempeh bacon, housemade vegan cheese, crinkle-cut fries, and a tangy combination of secret special and barbecue sauces. Excuse us while we unhinge our jaws!
 
2. Deep-fried Oreos @ Doomie's Home Cookin' (Los Angeles and Toronto)
The classic "accidentally vegan" cookie gets a junkier twist with a visit to the deep-fryer at Doomie's—a vegan fast-food eatery with locations in Los Angeles and Toronto. Battered, fried, and served à la mode with a drizzle of chocolate sauce and sprinkle of powdered sugar, the Oreos at Doomie's will make your heart skip a beat (if not stop altogether).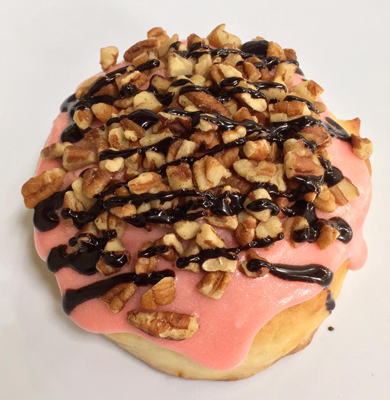 3. Cinnamon Roll @ Cinnaholic (California, Georgia, and Texas)
Every day, this vegan cinnamon roll bakery chain whips up a decadent special with unique frosting flavors such as cake batter, horchata, and cotton candy, plus sweet-tooth-satisfying toppings like marshmallows, gingersnaps, and chocolate chips. Lately, we've been swooning over the Chocolate Strawberry Pancake—a warm cinnamon roll topped with pancake frosting, chocolate cookies, and strawberry jam.
 
4. Vegetarian Menu @ Taco Bell (Nationwide)
If you're looking for fully processed, not-quite-real-food junk, then Taco Bell's your south-of-the-border spot. For years, vegans knew how to hack into the regular menu to make it cruelty-free, but Taco Bell's introduction of a separate certified veg menu last year made it even easier to snack on tacos, tostadas, and Mexican pizzas (simply omit the cheese on all) without the fear of getting milk and meat into your pig-out.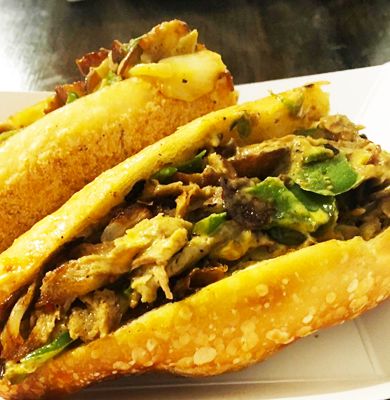 5. Seitan Cheesesteak @ Blackbird Pizzeria (Philadelphia)
The ideal cheesesteak should make your arteries close at first sight, and Blackbird's seitan take on the traditional sandwich—with its hefty smothering of vegan cheese—does just that … in the best way possible. Served on a fresh roll with peppers and onions, this sandwich is so good that it holds top honors as Philly.com's 2016 Best Vegan Cheesesteak in Philadelphia.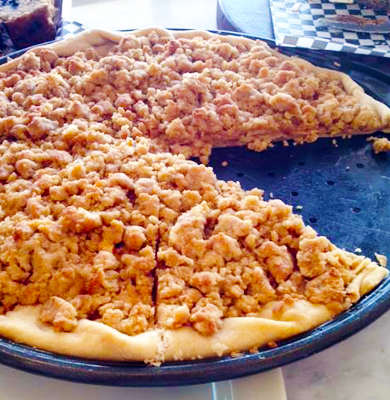 6. Apple Pie Pizza @ Papa Ganache (Matawan, NJ)
This pizza—made from apple pie (or vice versa?)—knocks out two junk foods in one meal. The crumb-topped slices are served in a pizza-like arrangement and are available gluten-free (but really, who cares at this point?). We'll be eating ours on a paper plate and topping it with a scoop of vanilla ice cream to do its apple pie-ness justice.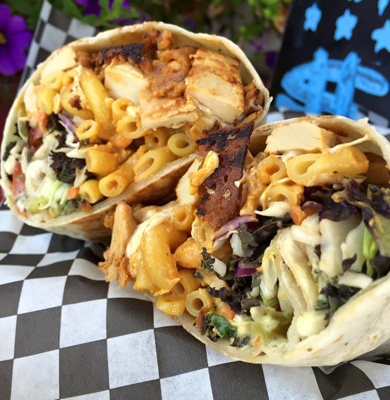 7. Macnocheeto Burrito @ Homegrown Smoker (Portland, OR)
Homegrown Smoker's Macnocheeto Burrito pushes a junk-food binge to the extreme by packing an entire serving of creamy macaroni and cheese into a grilled tortilla with smoked soy curls, green peppers, and onions. The Portland eatery also makes a burger version of this indulgence (the Mac Daddy) and plenty of vegan barbecue meats (ribs anyone?) and sides to make you comfortably stuffed all day long.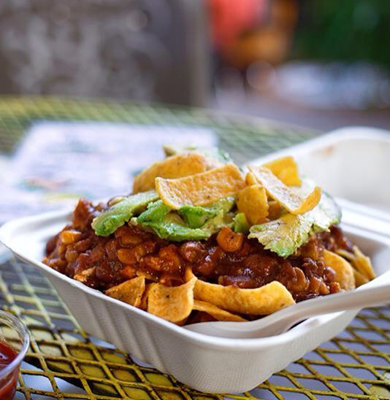 8. Freeto Pie @ The Vegan Yacht (Austin, TX)
Nothing says "junk food" like this longstanding trailer's vegan Freeto Pie, a Texan favorite featuring corn chips smothered in organic tempeh chili and cheese topped with avocado. Grab a few napkins because this one's going to get messy.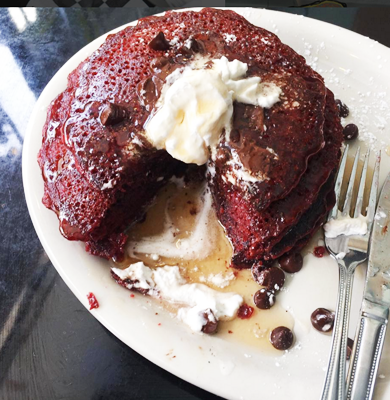 9. Red Velvet Pancakes @ Champs Diner (Brooklyn, NY)
Red velvet is a classic Brooklyn cake flavor that's even better in pancake form first thing in the morning. These fluffy, ruby-colored pancakes are topped with chocolate chips, whipped cream, and as much maple syrup as you can handle. Make it a tall stack (six pancakes!), and make sure to check out Champs' specials for towering milkshakes made with either chocolate or vanilla ice cream.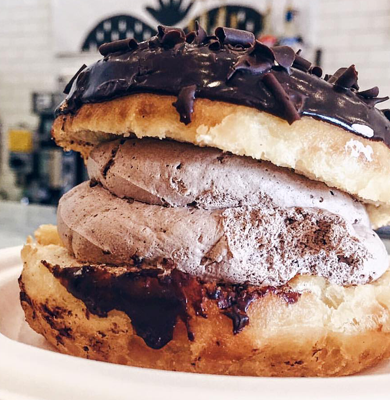 10. The Motion City Sandwich @ Donut Friend (Los Angeles, CA)
On any other day, we'd go with a small square of dark chocolate for dessert (okay, maybe that's a slight exaggeration), but for Junk Food Day, we're going all out with the Motion City Sandwich from over-the-top doughnut shop Donut Friend in Los Angeles' Highland Park neighborhood. The treat is a raised doughnut sliced and filled with your choice of fillings, ice cream, and toppings. We're having ours chocolate (cream filling) on chocolate (ice cream) with chocolate sprinkles toppings. And then we're taking a nap because that's our definition of a food coma.