Food + Recipes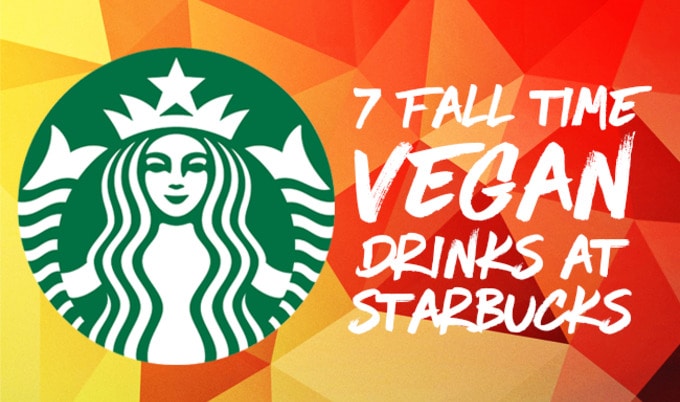 7 Vegan Starbucks Drinks Just in Time for Fall
Whether you're into coffee, tea, blended beverages, or even butterbeer, we're showing you how to make sweater weather even better.
---
Days are getting shorter, the air is more crisp, and sweaters are beginning to make an appearance again. Though the season may be changing, one thing remains the same. We need our coffee.
Enter Starbucks. With nearly 24,000 stores worldwide, the green giant is the go-to for an estimated 3 trillion visitors each year. And fall marks a particularly lucrative time for the coffee company, with countless customers streaming in for seasonal beverages such as this year's Chile Mocha, Salted Caramel Mocha, and the infamous Pumpkin Spice Latte.
Unfortunately for vegans … they're not vegan. But thanks to my eight years as a Starbucks barista, I know a thing or two about coffee, and I'm here to enlighten conscientious consumers about festive, dairy-free coffee concoctions. All you need to keep in mind is to replace dairy with soy, coconut, or (the newly launched) almond milk and to avoid whipped cream, and you're on your way to caffeination bliss.
1. Salted Caramel Mocha
No, this salty-sweet concoction isn't vegan, but it can easily be modified to fit the bill. The bittersweet chocolate mocha sauce, toffee nut syrup, espresso, and sea salt topping are all permissible. Just substitute the dairy-based caramel drizzle for a pump or two of caramel flavored syrup mixed straight into the drink, and you have a winner.
2. Candy Apple Frappuccino
Sugary sweet with real organic apple juice, you'll be transported to a fall time county fair with each sip of this blended beverage. Simply ask for a crème-based Frappuccino with apple juice filled to the first line, your choice of non-dairy milk to the second, blended with cinnamon dolcé syrup, and a half-pump of raspberry syrup. Turn it into a Caramel Apple by switching out the half-pump of raspberry for a full pump of caramel syrup.
3. Cinnamon Chocolate Chai
Starbucks' original Chai Tea Latte is mix of black tea, spices, pepper, and, unfortunately, honey. But if you opt for the Oprah Cinnamon Chai—a brew developed by O herself, along with a little help from the Starbucks team—you'll get the full, bold, ginger-cardamom chai experience sweetened with brown sugar instead. Order an Oprah Cinnamon Chai Tea Latte, add pumps of mocha, and top with nutmeg and chocolate powder (also vegan).
4. Hazelnut Apple Tart Frappuccino
Another blended creation, let this drink serve as inspiration for the festive vegan pastries you'll want to bring to Thanksgiving. Start by ordering a Vanilla Bean Frappuccino with one less scoop of vanilla bean powder and substitute with a pump of hazelnut syrup. Have your barista pour apple juice to the second line, add a few shakes of nutmeg, then blend and enjoy.
5. Butterbeer Latte
Harry Potter fans will revel in this indulgent blend, but even if you haven't read the books, you'll still find it wizarding. Starbucks' steamed organic vanilla soymilk is recommended because of its creamier, rich mouthfeel. Order a soy latte, add caramel, toffee nut, and cinnamon dolce syrups, top with velvety, whipped foam, and add a bit of sea salt topping to draw out all the sweet butterscotch notes.
6. Toffee Coconut Hot Chocolate
Love autumn, but still dreaming of summer? Try this seasonally in-between drink to help you transition to cooler weather with ease. Single-origin Sumatran coconut milk serves as the base to a vanilla and bittersweet chocolate-infused cup of warmth accented with toasty toffee flavors. Simply order a classic Hot Chocolate made with coconut milk and add a couple pumps of toffee nut syrup.
7. Vanilla-Nutmeg Bergamot Tea Latte
Delicate and smooth, the oaky-citrus flavors of Earl Grey tea mingle with steamed milk, vanilla bean, and nutmeg in this infusion good enough for a vegan high tea. Order an Earl Grey Tea Latte, with a scoop of vanilla bean powder and shakes of nutmeg added before being steeped, then finished off with steamed almond milk and a layer of foam.
Richard Bowie is the Associate Editor at VegNews, an eight-year veteran barista, and has triple-checked that mocha (in company-operated US stores) is vegan.
Want to learn how to veganize more 'Bucks favorites? Check out the Vegan Barista's guide to Frappuccinos, Pink Drinks, snacks, and healthy options.

Want more of today's best plant-based news, recipes, and lifestyle?
Get our award-winning magazine!
Subscribe