Food + Recipes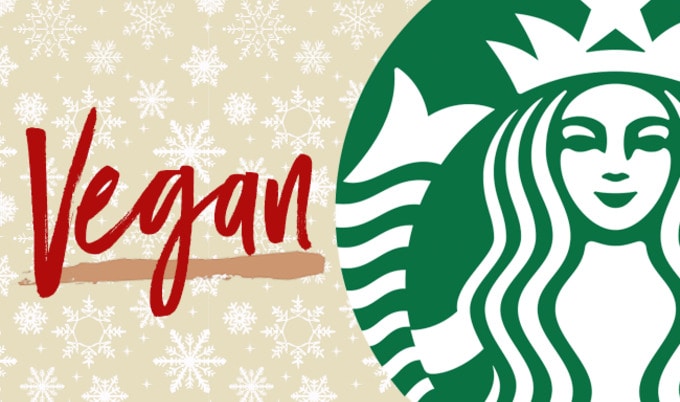 10 Totally Veganized Holiday Starbucks Drinks
'Tis the season of giving, so treat yourself to a festive beverage—minus the dairy.
---
With Thanksgiving just around the corner, and the official holiday season nearly upon us, we all have a busy few weeks ahead of us. What better way to fuel us through the merry mayhem than with good old-fashioned caffeine? With all the delicious, seasonal flavors at our fingertips, VegNews is here with your guide for how to enjoy holiday drinks at Starbucks … the vegan way.
All you have to remember is to substitute dairy for plant-based milk (Starbucks carries organic vanilla soy, single-origin Sumatran coconut, and newly introduced almond), omit whipped cream, and stay away from most thick sauces as they generally contain dairy (this includes white chocolate mocha and caramel brulée—water-based syrups like chestnut praline and peppermint are vegan!). With that in mind, get ready for wintry warmth in a cup, courtesy of VegNews and your local Starbucks.
The Classics
1. Peppermint Mochas/Hot Chocolates
Bittersweet chocolate mocha* is combined with peppermint syrup, melted down with shots of freshly pulled espresso, then topped with steamed non-dairy milk before being garnished with creamy foam and a sprinkling of dairy-free dark chocolate curls. Order it as a Peppermint Hot Chocolate without the espresso for a caffeine-free, kid-friendly drink.
2. Chestnut Praline Latte
The essence of caramelized chestnuts and subtle holiday spices flavor this fan-favorite beverage. Ask your barista to for extra foam when they steam your milk so you can have a pillow of frothy lightness to hold the sprinkle of vegan spiced praline crumbles.
3. Gingerbread Latte
All the fresh-baked warmth of gingerbread mixed with roasty sweet espresso make for an indulgent drink made more fragrant and spicy when topped with ground nutmeg, for a quintessentially seasonal sip.
4. Holiday Spice Flat White
Regular Flat Whites feature specially steamed milk that yields ultra-fine, velvety microfoam, carefully poured over dark espresso for a luxuriously smooth beverage. We're going for this stepped-up holiday version though, with milk infused with a holiday spice blend of ginger, nutmeg, clove, cinnamon, sugar, and a touch of tangerine.
5. Joy Tea Latte
Oaky black, verdant green jasmine, and sun-withered oolong teas meld and mingle with hints of apricot and marigold petals for this revered blend. The tea is brewed and combined with steamed milk and topped with delicate foam, making for a unique holiday drink.

The Hacks
6. Veganized Caramel Brulée
Starbucks' popular Caramel Brulée Latte, unfortunately, is made using a milk-infused sauce, making it unsuitable for vegans. There is, however, a workaround that tastes nearly identical. Just combine caramel and toffee nut syrups to your latte to achieve a tempting burnt-sugar flavor. And don't forget the candied Caramel Brulée topping for extra sweetness and crunch!
7. Caramel Toffee Mocha
This year's newest addition to Starbucks' holiday menu is the Toasted White Chocolate Mocha, which (womp, womp) isn't vegan. But don't let dairy-drinkers have all the chocolaty, toasty fun this winter—a Café Mocha with toffee nut syrup and a touch of caramel syrup will do the trick.
8. Candy Cane Crème Frappuccino
Need a cool caffeine-free Christmas-inspired pick-me-up? Look no further than this creamy blended creation. All you need to do is order a Vanilla Bean Frappuccino and ask for peppermint syrup to be added.
9. Ferrero Rocher Hot Chocolate
You remember those chocolate-covered, hazelnutty treats of holidays past. This beverage—made by ordering a hot chocolate with hazelnut syrup and a dash of nutmeg—will satisfy your nutty nostalgia cravings.
10. Holiday Cookie Cream Coffee Frappuccino
For this indulgent blend inspired by warm spiced cookies layered with coffee-flavored cream, start with an Espresso Frappuccino (ask for a ristretto shot of Christmas Blend espresso for added richness), and flavor with half Mulling Spice and half toffee nut syrup. Top with spiced praline crumbles and a drizzle of chocolate mocha.
*Bittersweet chocolate mocha is vegan in US corporate stores. Ingredients used in non-US and licensed stores will vary.
Love your drinks at Starbucks? Check out the Vegan Barista's guides to veganizeable Frappuccinos, fall-time beverages, and snack and drink pairings!

Want more of today's best plant-based news, recipes, and lifestyle?
Get our award-winning magazine!
Subscribe