Features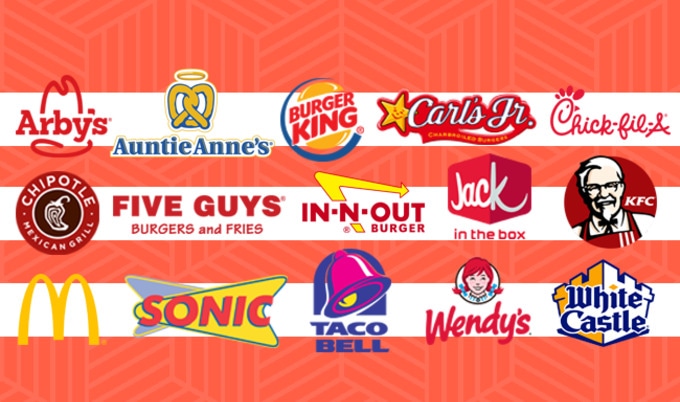 15 Vegan Hacks for Your Favorite Fast-Food Joints
Drive through one of these eateries for the most vegan National Fast Food Day ever.
---
So, you're having cravings for fast food? Or, do you need to eat on the go? Maybe you have some vegan children in the back seat? If the answer to any of these questions is "yes," you're in luck because this easy-to-use guide teaches you how to order vegan at some of the most popular fast-food restaurants in the United States. Keep in mind that menu options change and that this list doesn't take into account cross contamination, shared oil, or well-trained employees.
Arby's
Not surprisingly, Arby's isn't a vegan fast food mecca. In fact, similar to McDonald's (see below), this eatery should probably be considered only as a last resort. However, if you don't mind a shared fryer, the actual ingredients in the curly fries are vegan. And they are very good.
Auntie Anne's Pretzels
Little-known vegan fast-food fact: Auntie Anne's Original, Cinnamon Sugar, Sweet Almond, Garlic, Jalapeño, and Raisin pretzels can be veganized by ordering them without the butter. This process takes an extra five minutes, but it's worth it for a hot, soft pretzel. Try dipping it into Wayfare's Dairy Free Cheddar Dip, and thank me later.
Burger King
I hope you like fries because that's the only thing that's vegan at Burger King (their limited- location veggie burger contains both eggs and dairy). Order up! There might be vegetables, toppings, and drinks you can also order, but otherwise, for now, Burger King isn't the greatest option for the traveling vegan.
Carl's Jr. (and Hardee's)
The French fries, CrissCut fries, hash rounds, and hash-brown nuggets are all vegan. In the restaurant, there's also an all-you-can-eat salad bar with a variety of vegetables and a three-bean salad. Surprisingly, you can also get the grits (which usually contain dairy).
Chick-fil-A
Unless you want a salad without the chicken, the only cooked vegan options at Chick-fil-A are the hash browns (served only at breakfast) and the Waffle Potato Fries. The restaurant also serves a fresh Fruit Cup and Cinnamon Applesauce on the kid's menu.
Chipotle Mexican Grill
The burritos, bowls, tacos, and salads at Chipotle Mexican Grill can be made vegan by ordering braised tofu sofritas instead of meat. The tortillas, fajita vegetables, rice, beans, salsas, chips, and guacamole are all vegan, too, so load up.
Five Guys
Five Guys' hand-cut fries are served in an oil-soaked paper bag and will satisfy any salty craving. Keep in mind, however, that the large fries have 1,200 calories in a single order, which is more than anything else on the menu (including the milkshakes). And while Five Guy's does offer a veggie sandwich (all their vegetables on a bun), the buns contain dairy and eggs, so it's not vegan.
In-N-Out Burger
In-N-Out Burger might make the best fast-food fries on the planet, and there is actually another vegan item that you're going to love. Just walk in and say, "One sandwich, no patty, no spread, and no cheese. Add the grilled onions, please," and you'll get one of their secret menu items called "a veggie." The sandwich comes with lettuce, tomato, and onion on a fresh vegan bun and costs approximately $1.50. Order this with their amazing fries, and you're not going to miss the meat.
Jack In The Box
The list of vegan options at Jack in the Box is so limited that it's hard to imagine making a meal out of it, but they still get high marks for vegan curly fries. The eatery also serves vegan black beans, potato wedges, and a breakfast blueberry muffin.
KFC
Surprise! More fries! One order of fries, a side of green beans, corn on the cob without butter, and the KFC House Salad with the Golden Italian Light Dressing almost looks like a meal if you arrange everything in a strategic fashion before Instagramming it.
McDonald's
The buns at McDonald's are vegan, but the fries aren't. So, on the go, you can get a Big Mac bun loaded with lettuce, tomato, onion, and pickles, and pretend that after "billions served" they finally ran out of beef patties. Not much else at McDonald's is vegan (unless your location still serves salads).
Sonic Drive-In
Sonic's French fries, tots, sweet potato tots, and onion rings remind me to always pack a to-go pack of Just Mayo. Just because.
Taco Bell
By saying "fresco" (which means no dairy, and they'll add pico de gallo) at Taco Bell, you can pretty much eat the whole menu (except the Doritos taco), though it might not hurt to also mention "no cheese or sour cream with vegan rice." Recommendations: bean burrito fresco, tostada fresco (already meatless), and the Mexican pizza.
Wendy's
If you go to Wendy's, you can order a Plain Baked Potato and a Garden Side Salad (the dinner salads have chicken and cheese). The salad comes with mixed greens, grape tomatoes, cucumbers, and bell peppers. Top it with Italian Vinaigrette Dressing, but skip the croutons because they have dairy in them.
White Castle
Harold and Kumar approve of White Castle's vegan sliders made with Dr. Praeger's. Order these bite-sized beauties plain or with a sweet Thai sauce.
Editor's note: The following is based on an excerpt from The Skeptical Vegan.

Eric Lindstrom is the Director of Marketing for Farm Animal Rights Movement (FARM) and the author of The Skeptical Vegan and 2018's Mind Your Peas and Cukes: The Ultimate Guide to Raising Vegan Kids.
Want more of today's best plant-based news, recipes, and lifestyle?
Get our award-winning magazine!
Subscribe