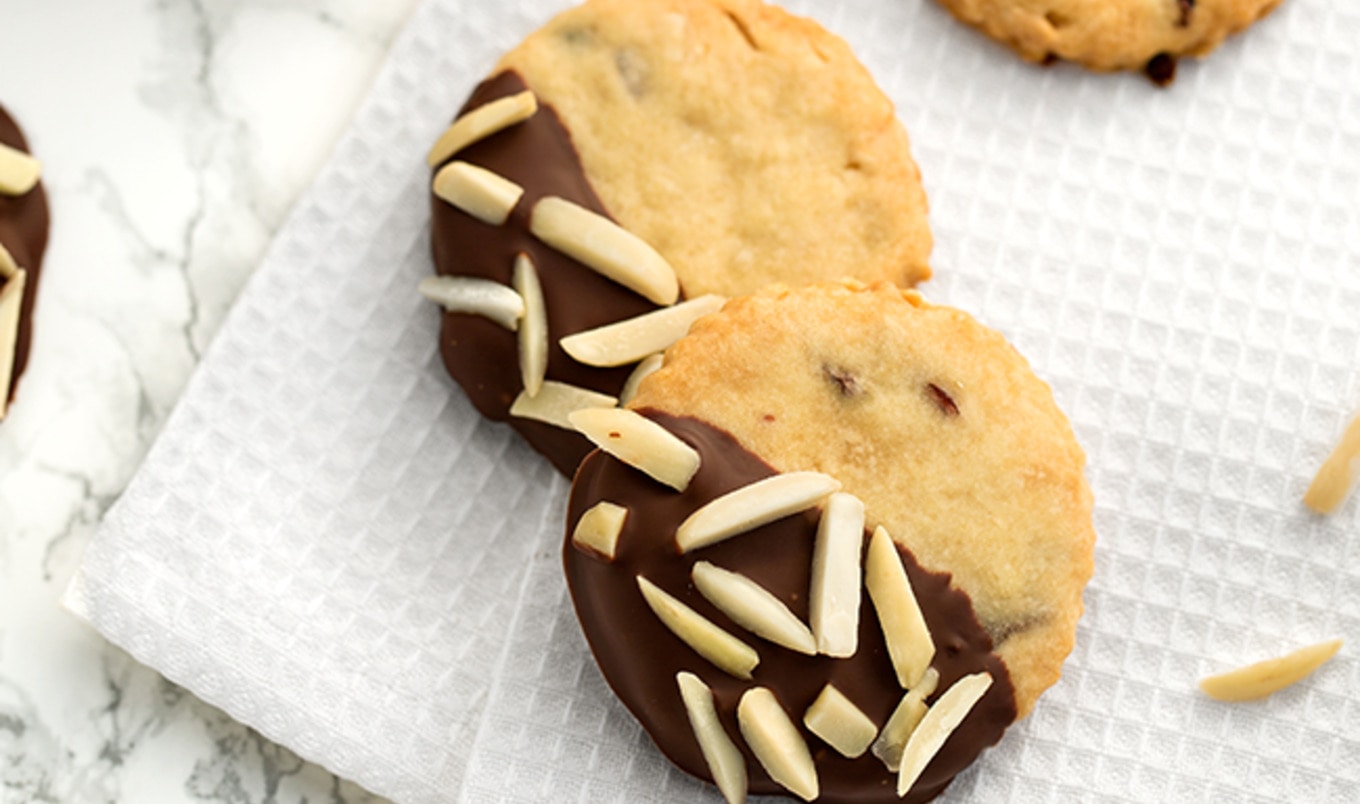 Our first-place cookie pairs an irresistibly buttery shortbread cookie with rich chocolate for a winning combination.
December 20, 2017
Makes 15 cookies
What you need:
For the cookies:
1 cup all-purpose flour
¼ cup sugar
¼ teaspoon salt
½ cup vegan butter, chilled and cut into cubes
½ teaspoon almond extract
¼ cup slivered almonds, finely chopped
¼ cup dried sweetened cranberries, coarsely chopped
For the chocolate coating:
1 tablespoon coconut oil
½ cup vegan chocolate chips
¼ cup slivered almonds, chopped
What you do:
1. Preheat the oven to 300 degrees and line a baking sheet with parchment paper.
2. For the cookies, into a medium bowl, sift together flour, sugar, and salt. Add vegan butter, and mix together by hand until pea-sized crumbs forms. Add almond extract, almonds, and cranberries and mix to combine.
3. Using your hands, form the dough into a ball. Onto a floured surface, place dough, sprinkle with more flour, and roll out to ¼-inch-thick. Use circular cookie cutter (about three inches diameter) to cut out even circles, and place onto baking sheet. Roll excess dough together and repeat until no dough remains.
4. Bake cookies for 35-45 minutes or until golden brown. Let sit on baking sheet for one minute and then transfer to a wire rack to let cool completely.
5. For the chocolate coating, line a baking sheet with parchment paper. Into a saucepan, add coconut oil and chocolate chips and melt together over low heat, stirring constantly, until smooth.
6. To assemble, dip half of each cookie into melted chocolate, place onto baking sheet, and sprinkle with almonds.
Second Place: Gluten-Free Pumpkin Spice Oatmeal Cream Pies by Mary-Kate Lynch
Third Place: Dirty Chai Sugar Cookies by Amy McDonough
Click here for the 2017 VegNews Holiday Cookie Contest Finalists. And for even more amazing holiday cookies, check out the 2015 VegNews Holiday Cookie Contest and 2012 VegNews Holiday Cookie Contest winners.