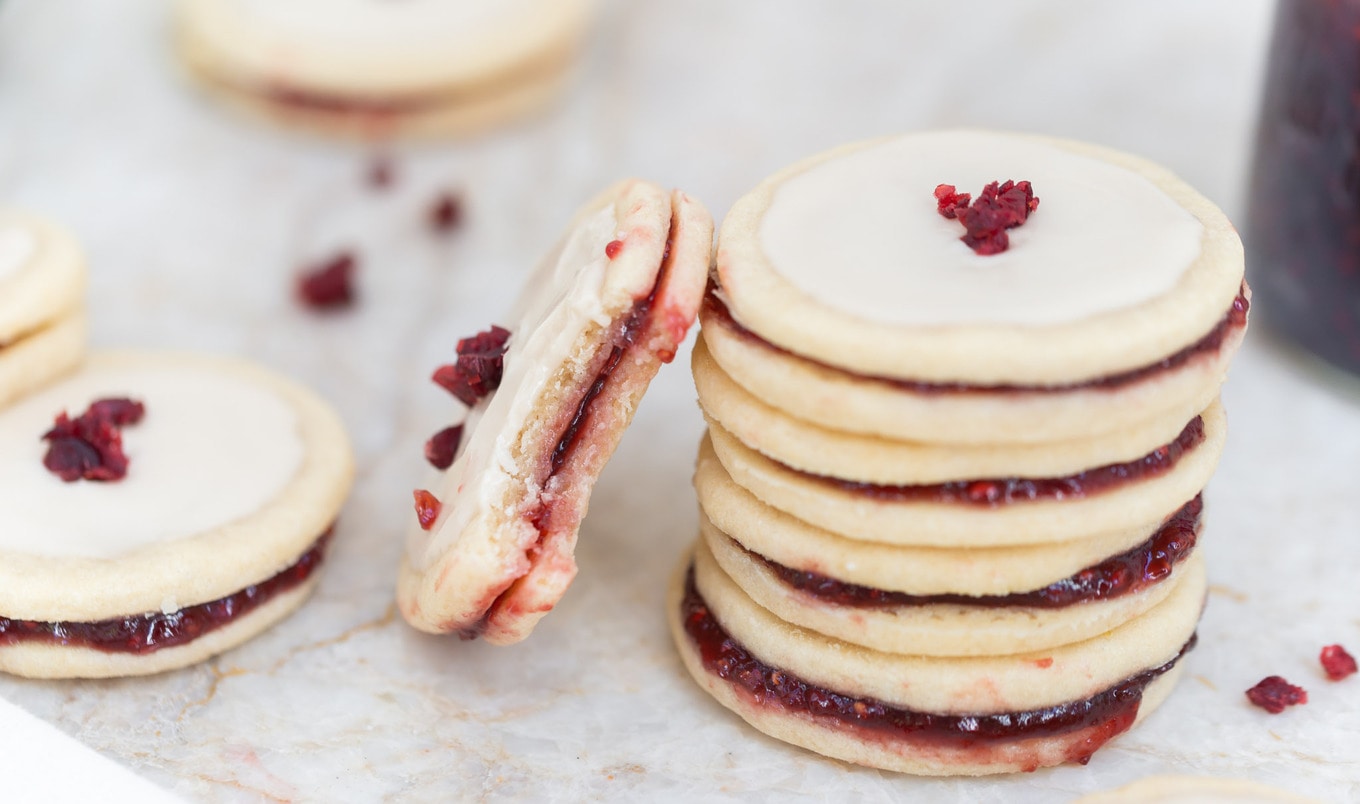 A delightfully buttery shortbread cookie forms the base of this award-winning recipe, which is completed with a tangy-sweet homemade jam filling and delicate icing.
August 14, 2023
These almost too-pretty-to-eat cookies (a winner in our 2022 VegNews Holiday Cookie Contest) make a wonderful homemade gift. Need a shortcut? Swap the homemade jam for storebought.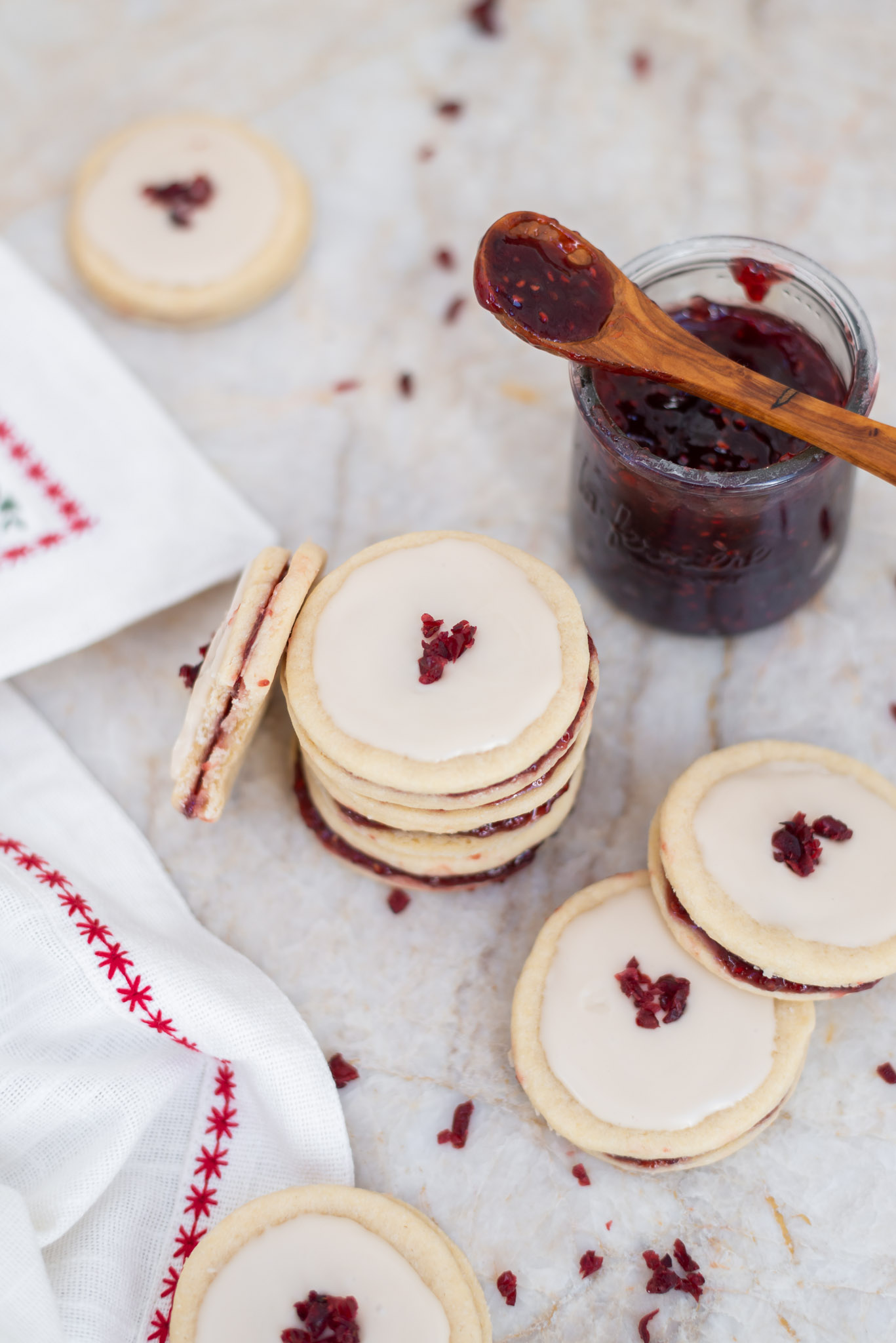 What you need:
For the cookies:
2 cups all-purpose flour
1 teaspoon baking powder
½ teaspoon salt
½ cup vegan butter, room temperature
1 cup sugar
1 teaspoon vanilla extract
⅓ cup plain unsweetened vegan milk
For the raspberry filling:
3 cups frozen or fresh raspberries
¾ cup sugar
2 tablespoons lemon juice
For the royal icing:
1 cup powdered sugar
1 tablespoon plain unsweetened vegan milk
½ teaspoon vanilla extract
1 teaspoon chopped dried cranberries, for garnish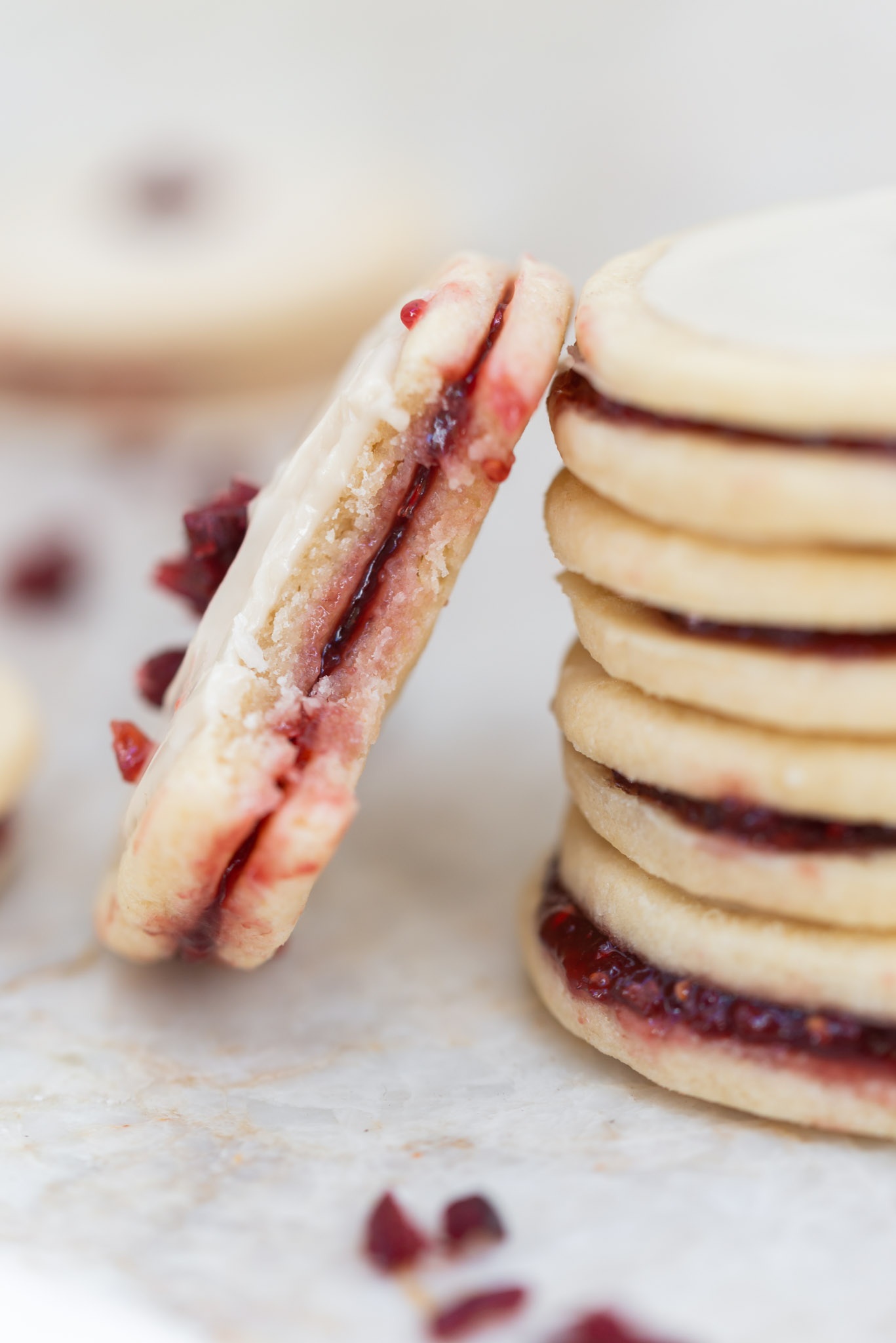 What you do:
For the cookies, into a large bowl, combine flour, baking powder, and salt, and set aside. In another bowl, cream butter, sugar, and vanilla. Once fluffy and smooth, add milk, and continue beating until fluffy.
Add in half of flour mixture, and continue beating until smooth. Add remaining flour mixture, and beat until it's half combined. Mix remaining batter with a wooden spoon until combined.
Into a sheet of plastic wrap, place cookie dough. Wrap dough, slightly flatten into a disc shape, and refrigerate for at least 30 minutes. If you refrigerate longer than an hour, allow dough to sit at room temperature for 10 minutes.
Preheat oven to 325 degrees. Lightly flour a clean work surface, and cut chilled dough in half. Wrap other half, and return it to the refrigerator, so working with one portion at a time. Roll out dough to ³⁄₁₆-inch thick. Using a 2-inch scalloped cookie cutter, cut out cookies.
Onto a parchment lined baking sheet, place cookies. For excess dough, gently press into a flattened disc and roll out again. Cut out as many cookies as possible with remaining dough, being careful not to knead or overwork dough. Repeat process with second half of chilled dough.
Bake one sheet at a time on middle rack of oven for 14 minutes, or until bottoms are just slightly brown, being careful not to overbake. Remove from oven, and immediately transfer to wire racks to cool completely before assembling.
For the raspberry filling, into a sauce pan over medium heat, add all ingredients. Whisk to combine, and cook 10 minutes. Through a fine mesh sieve over another sauce pan over medium-low heat, strain mixture. Using a spatula, press raspberry mixture through sieve. Cook strained mixture for another 5 minutes. Remove from heat to cool completely.
For the royal icing, into a medium bowl, combine all ingredients and whisk until smooth.
To assemble cookies, spread ½ teaspoon raspberry jam on a cookie and top with another cookie. Then spread ½ teaspoon of icing on top to edges of cookie. Finish by placing a small piece of dried cranberry in center. Repeat with remaining cookies.
For more award-winning cookies, read: