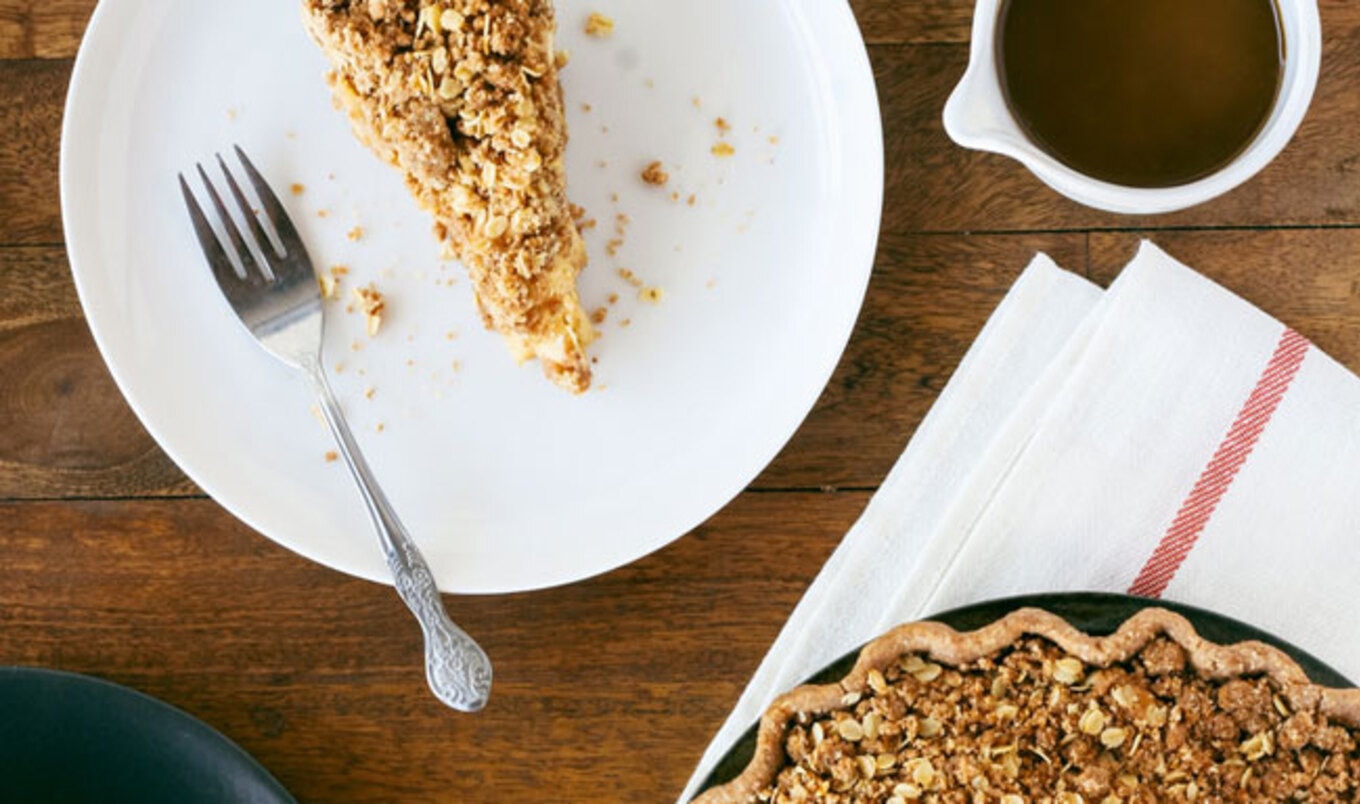 If there's one thing we've retained from eighth grade geometry, it's Pi Day.
March 13, 2017
---
In mathematics, pi is the ratio of a circle's circumference to its diameter and a constant with a decimal representation that never ends. And as you might remember, many middle school teachers help their students learn about pi by holding contests to see who can memorize the most digits of the ongoing numbers. Thankfully for our taste buds, on March 14 (aka, 3.14), only the first three numerals matter, as today is National Pi Day. And what better way to celebrate than with sweet and savory pies? Similar to pi, the vegan possibilities for this beloved foodie holiday are endless, which is why we're bringing you a few tips so you can get your pi(e) fix. Enjoy!
 
Make Pi(e), not war
This year, Pi Day falls on a Tuesday, but if you aren't stuck in the office, get in the kitchen, and make some pie. There are hundreds of terrific vegan recipes online and in cookbooks. Here are three of our favorites.
 
1. Oh, Ladycakes Apple Caramel Crumb Pie
Apple season has come and gone, but this pie from blog Oh, Ladycakes is too good not to make year-round. A massive dome of sugary goodness bursting with caramel-laden apples piled high with crumb toppings, this pie does not disappoint.
 
2. Oh, Ladycakes Cherry Crumb Pie
There's a reason why blogger Ashlae Warner popularized the #pieitforward movement (and that reason is she makes amazing vegan pies), which is why we're including two of her recipes on this list. Another favorite of ours is Warner's cherry crumb pie, an equally gooey, flaky, and delicious as the Apple Caramel Crumb above. Sure, it's not quite cherry season, but it's close enough for us. Our advice: purchase your cherries at a local farmers' market, and have fun pitting those fruit!
 
3. Isa Chandra Moskowitz's Maple Pecan Pie
Simple, delicious, and insanely decadent, this Maple Pecan Pie from vegan cookbook author Isa Chandra Moskowitz is an ideal recipe for those who don't have all day to devote to making pie, as the assembly takes less than an hour. In fact, the hardest part about making this pie is waiting for it to cool. Sometimes, it's just too hard to resist picking off one or two piping hot maple pecans from the golden brown topping. If you do (and we won't tell), don't worry, because the pie is packed with them!
 
Buy pie
Pie making is a labor of love, and not all of us have the time to whip up a tasty vegan delicacy. Thankfully, there are a variety of store-bought options for those whose pastry skills are limited to thaw, bake, and serve. In the freezer section, look for Wholly Wholesome pies, as his brand is distributed nationwide, and all of their fruit pies (apple, cherry, and blueberry) are vegan. Furthermore, many of Marie Callender's frozen fruit pies are also accidentally vegan, including the Dutch Apple, Cherry Crunch, Razzleberry, Lattice Apple, and Lattice Peach. One of the many wonderful aspects about fruit pie is that they are often accidentally vegan, so if frozen pastry doesn't sound appealing, check the ingredients of the pre-made pies—you might be pleasantly surprised to find a cruelty-free dessert. Finally, if you're fortunate enough to live near a Whole Foods Market, forgo the freezer section, and head straight for the bakery department, where a fresh vegan pie awaits (unless, of course, everyone beat you to it). You can't miss these thanks to the large, bright "vegan" label on the packaging.
 
Pi Day discounts
There's nothing like a fictitious food-related holiday to score great discounts, which might explain why small businesses, franchises, and nationwide corporations love to attract more customers by providing an economic and holiday-themed incentive. Check with your local bakery to see if they plan to offer a Pi Day discount. Social media is the most effective way to find this information, so be sure to follow those Facebook and Instagram accounts for pop-up Pi Day deals. Nationwide, both Blaze Pizza and Pieology are offering any pizza for $3.14, while Whole Foods is offering a $3.14 discount on any full-sized bakery pie and large take-and-bake pizzas. If you live in a pizza town (we're looking at you, Chicago and New York), you're bound to find similar deals at your favorite restaurants.
 
Tanya Flink is an Orange County-based vegan, foodie, and certified Master Personal Trainer who thinks Pi Day should be a national holiday.