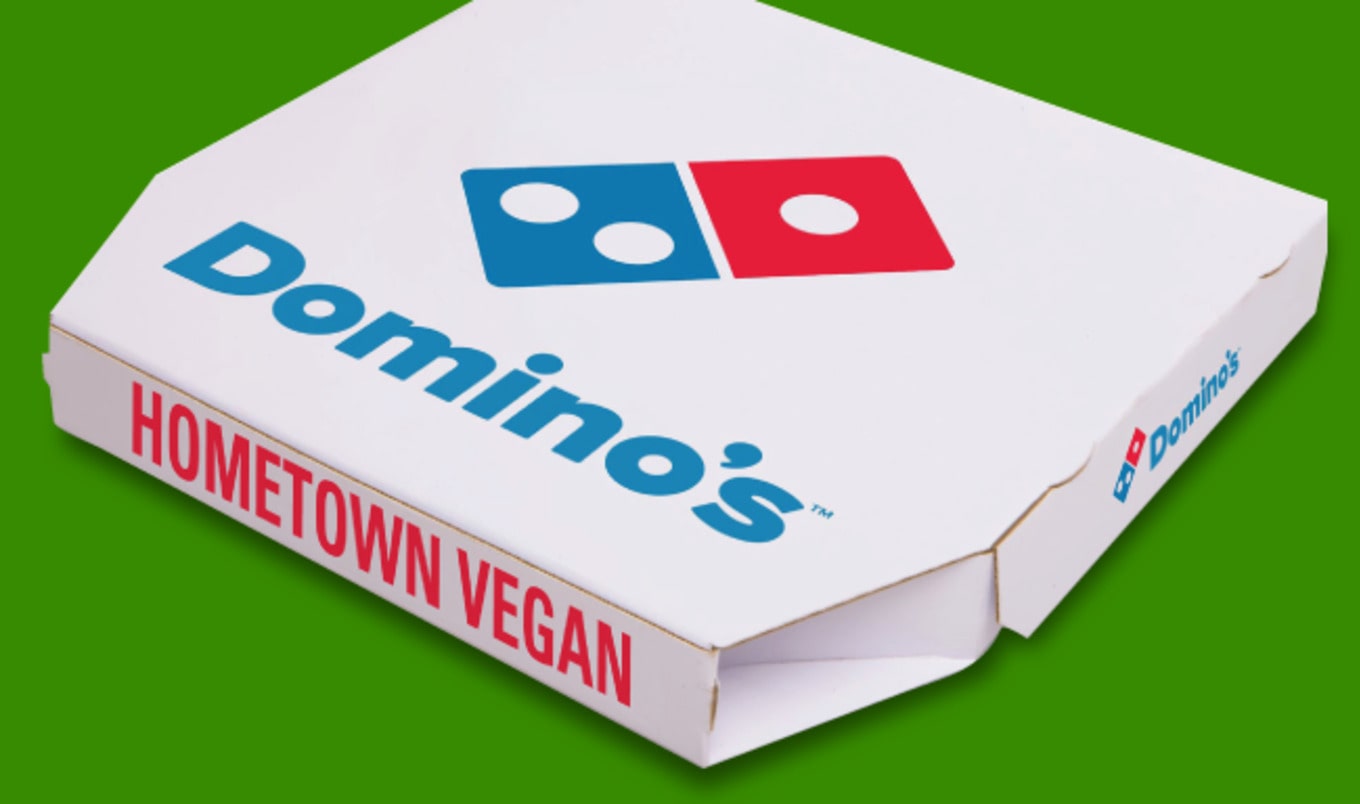 Field Roast, Beyond Meat, Miyoko's, and Daiya to contribute to revolutionary line of plant-based pizzas.
March 31, 2017
---
Popular pizza chain Domino's has announced exclusively to VegNews that it is partnering with four vegan meat and cheese companies to offer the industry's first line of vegan pizzas. The "Hometown Vegan" line will be available for a limited time starting this month, and will be adorned with different plant-based meats and cheeses from Field Roast, Beyond Meat, Daiya, and Miyoko's Creamery, including specially developed products created by each company specifically for the new line. "We listened to our customers who were clamoring for a dairy-free cheese for their pizzas," says CEO J. Patrick Doyle, "and we decided to go 10 steps beyond that with six out-of-this world pies." The line includes:
• The Sicilian Vegan, a rectangular pie with a thick focaccia-like crust, topped with Miyoko's mozzarella, cipollini onions, capers, truffle oil, and specially developed Field Roast Cured Pepperoni and Chao Herbed Ricotta


• The Philly Vegan, boasting a thin crust, grilled peppers, onions, mozzarella, Daiya "cheese whiz," and a specially developed Beyond Meat chopped Philly Sirloin


• The Cali Vegan, featuring chicken, avocado, mozzarella, lime-tossed microgreens, balsamic drizzle, and specially developed Daiya Bleu Cheese crumbles


• The Memphis Vegan, with barbecued chicken, onions, cheddar, provolone, Daiya mac and cheese, and a specially developed Field Roast Whiskey Bacon


• The Iranian Vegan, with mozzarella, walnuts, yogurt sauce, rose petals, and a specially developed Beyond Meat Braised Lamb and a Chao Feta


• The San Antonio Vegan, with cheddar, BBQ pulled jackfruit, jalapeños, sour cream, sweet corn, and tortilla strips, topped with specially developed Chao Queso Fresco crumbles
"We wanted to elevate our first plant-based offerings beyond simple cheese and pepperoni," says Ima V. Eganowicz, head of Domino's research and development. "Developing each pizza with a locale in mind allowed us to go full-throttle with flavors and ingredients, while also helping to familiarize plant-based options to our non-vegan customers."
Doyle tells VegNews that being the first company to bring signature plant-based pizzas to the masses represents a big investment for the brand. "Domino's recognizes the massive potential of the vegan market and hopes to fill the niche for plant-based customers." In the same announcement, Doyle also revealed plans for the company to phase out pineapples from all of its US chains, following a heated public debate about the tropical fruit's validity as a pizza topping. "To be honest, it's just gross—we all know it, and now it's finally safe to admit it." Doyle says. "Domino's is committed to being on the cutting edge of food trends and customer feedback, so we're excited to prove that by launching the 'Hometown Vegan' pizzas, and banning pineapple from every one of our US kitchens." The six limited-time "Hometown Vegan" pizzas will be available April 7 through September 15, with a "strong possibility" of a permanent addition to the menu, should sales and customer reception be favorable. Domino's has more than 5,000 locations nationwide.
Editor's Note: #AprilFools! As more and more giant corporations wake up to the popularity of plant-based foods, a world of fantastic vegan options like this will soon be a reality. Make your voices heard, demand vegan alternatives, and keep fighting.