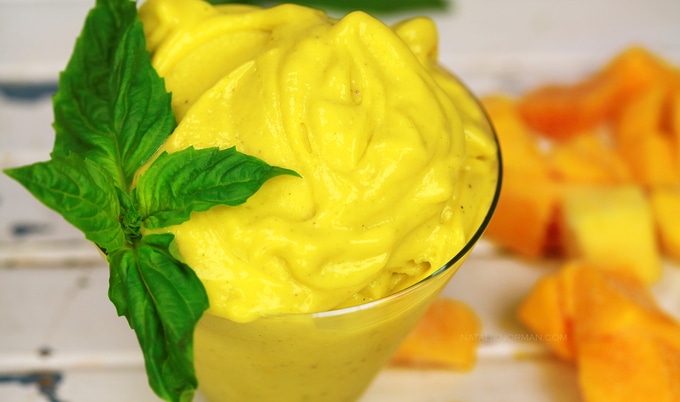 Raw Mango Basil Sorbet
This light, sophisticated sorbet will impress your friends—even if you're not an expert in the kitchen.
There's no better spring dessert than a sorbet, which is why we've created a delightful treat made with just mango and basil. We're not sure what's best about this sorbet—the fact that it's free of sugar, salt, and fat, or that it takes only a few minutes to make using simple ingredients. You decide!
 
Serves 2

What you need:
 
2 cups frozen mango chunks
2 cups frozen banana chunks
1 tablespoon lime juice
1 tablespoon minced raw basil leaf
 

What you do:
Into a blender, place all ingredients and blend until a thick, smooth ice cream consistency is achieved. Enjoy immediately! 
Photo by Natalie Norman
Love vegan food as much as we do? Then you're going to LOVE the VegNews Ultimate Vegan Meal Planner with THOUSANDS of editor-approved, easy-to-make recipes. On sale now for 40% off!
Click here