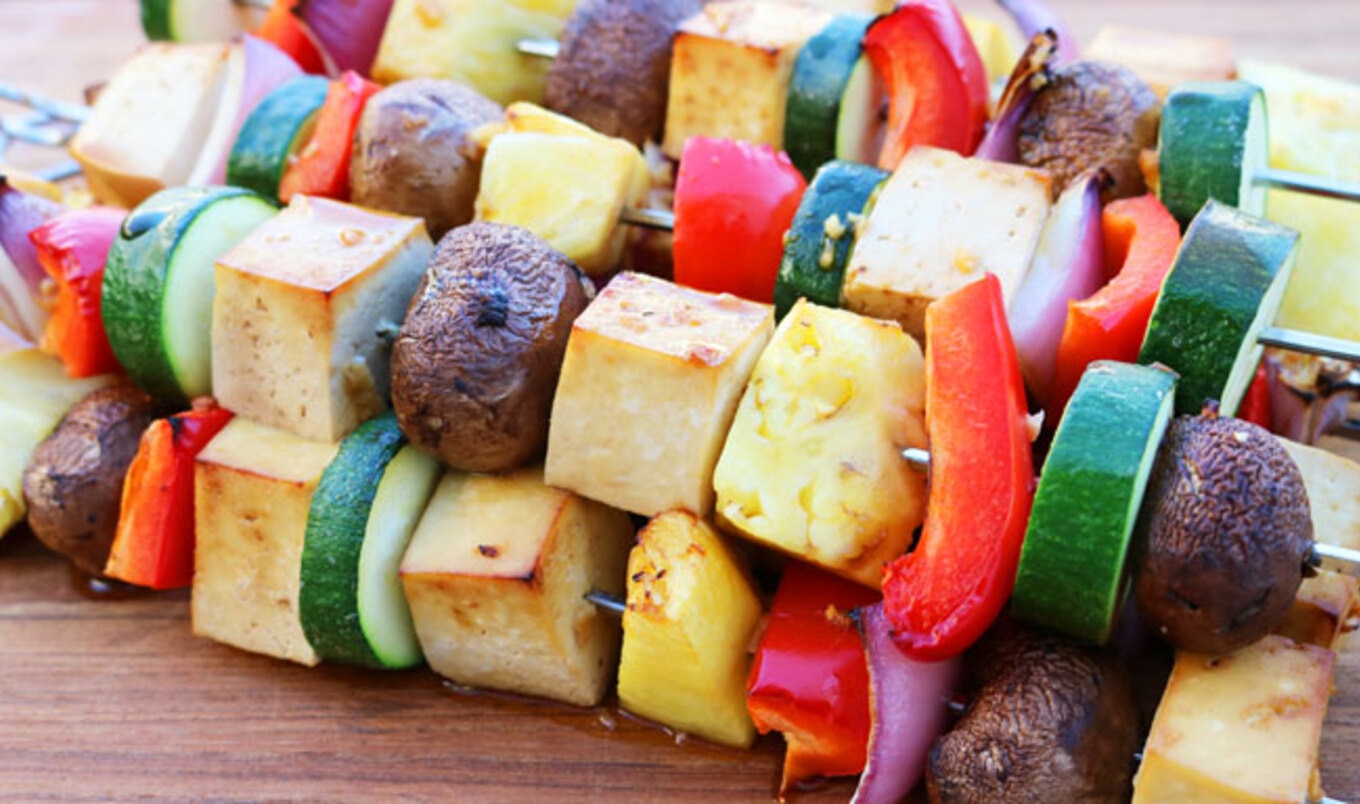 Throw the best barbecue ever with these spring-friendly kebabs.
May 6, 2017
You can't have a barbecue without kebabs, and you can't have vegan kebabs without a protein and some sort of scrumptious fruit. So we've combined cubes of extra-firm tofu with pineapple (and other tasty ingredients) for the ultimate in backyard grilling. Sorry, but a pool and an umbrella-laden cocktail is up to you.

Serves 8

What you need:
For the marinade:
¼ cup low-sodium soy sauce or tamari
¼ cup pineapple juice
1 tablespoon brown sugar or maple syrup
4 garlic cloves, minced
1 teaspoon grated fresh ginger (or ¼ teaspoon ground ginger)
¼ teaspoon sesame oil
For the kebabs:
14 ounces extra-firm tofu, chopped into 1-inch cubes
8 ounces cremini mushrooms, stems removed
1 large zucchini, sliced into ½-inch thick rounds
½ pineapple, chopped into 1-inch chunks
1 red bell pepper, chopped into 1-inch chunks
½ red onion, chopped into 1-inch chunks
8 skewers
 
What you do:
1. For the marinade, combine all ingredients in an 8 x 8-inch pan (or similar sized dish). Add tofu, cover, and refrigerate for approximately 45 minutes, rotating the tofu halfway through. 
2. Fire up the grill or preheat oven to 425 degrees. To prepare the kebabs, thread marinated tofu and remaining kebab ingredients onto skewers. Place kebabs on the grill and brush with leftover marinade. Cook for approximately 15 minutes (or bake for approximately 25 minutes) and rotate every few minutes to ensure they cook evenly. 
Photo courtesy of Crissie Mergogey